Do you wish to upgrade your wardrobe with fresh collections of dresses from trendy clothing brands in India in 2023?
Here you go, as we have listed six innovative fashion brands in India that offer a lot of trending dress collections with the best discount offers.
In those years (in the early 2000s), people used to buy clothes in their favorite designs, patterns and colors. But, a few years ago, the brand-conscious concept played a major role in the Indian clothing market.
Everybody started to see the brand first and then the designs, price, colors and other factors of the dresses they buy. 
Nowadays, brand awareness has become an essential factor for clothing companies to survive in the Indian market. There are a hell lot of clothing brands in India, out of which, only a very few clothing brands in India are popular. 
So, we have only covered some best yet most innovative brands in India to purchase clothing.
Top 6 Clothing Brands in India to Shop Premium-Quality Trendy Dresses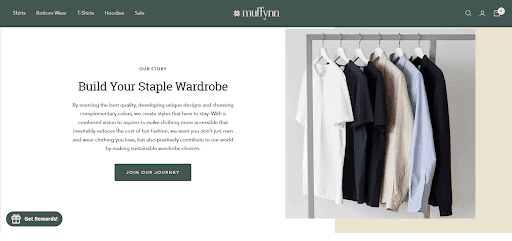 One of the emerging clothing brands in India was launched in 2019 by 3 Indian brothers with many innovative fashion ideas to offer a premium wearing experience for Indian men.
Within just three years, the menswear clothing brand in India became too popular because of the products' delicate quality fabrics and different styles.
Yes, Muffynn only offers a range of menswear collections in India, including shorts, trousers, t-shirts, joggers, denim, hoodies and shirts.
Comparatively, with other clothing brands in India, the prices are affordable with Muffynn as the brand even offers an extra 10% OFF from their regular price of all products.
In terms of quality, the fabrics and finishing touch are in grand style with both shirts and bottom wear. The brand has some unique styles of unisex t-shirt models and kids' t-shirt collections.
So, overall, Muffynn is a go-to menswear clothing brand in India to buy shirts, and men's bottom wear online.
The clothing brand in India is well-known for its Weekend Sale Offer, as the brand, on every weekend for their customers, used to give discounts of up to 50% on their selected products.
FabIndia has a wide range of collections for men, women and kids. 
The online store filtering options are excellent with FabIndia, as the brand provides ten different filtering options. So, without wasting more time browsing many collections, you can easily choose filters and find your favorite clothes from FabIndia.
An interesting fact is that the clothing brand in India, FabIndia, offers customized services to their customers to wear dresses in perfectly fitted sizes.
Like Muffynn, as an exclusive menswear clothing brand in India, Biba sells exclusive and innovative collections for women and girls in India. At BIBA online store, when you shop for more than 4999 INR, you will get a perfume set for free.
BIBA is an Indian girl's go-to store for buying Fancy Kurtis, Suits and Unstitched Suit Sets online. The brand lists thousands of dress collections in each category, each in a unique style and design. 
Mrs Meena Bindra started the clothing brand in 1988. BIBA in the Punjabi language translates as 'Pretty Woman'. The flounder has selected the name to transform every woman prettier when wearing dresses from BIBA.
The clothing brand in India is well-known for offering celebrity-style dress collections.
The International clothing brand Van Heusen is associated with Aditya Birla Fashion and Retail Limited in India and sells a wide range of premium quality yet breathable collections for both Men and Women.
The Van Heusen brand on their store has some good-looking and trendy tunics collections for women. Most of the Tunics listed in the store are in the 1000+ range. But in quality and look wise, the dresses are outstanding.
Van Heusen retail stores are almost there in every Indian city, some popular towns, and most shopping malls in metropolitan cities.
If you are interested in the brand, you can search for the brand's retail stores on their website via the store locators feature, visit the store nearby your location, and shop for your favorite clothes from the brand store. 
Online shopping is also available as they have an exclusive online store for Indian customers.
Louis Philippe is an exclusive menswear clothing brand in India associated with the Aditya Birla group of ventures in India. At Louis Philippe, you could explore a complete range of ethnic wear collections for men.
LP is one of the best clothing brands in India that offer an exclusive wedding store concept for men to shop wedding collections such as three-piece suits, two-piece wedding suits, blazers, Nehru Jackets and more.
If you are planning your next wardrobe update, try collections from the Louis Philippe store and go Premium in your LP branded attire look.
Three brothers of Indian origin first launched the brand Pepe Jeans in London in 1983. A clothing brand in India that was exclusively launched to offer denim pants for both men and women. 
No better brand in India that offers exclusive jean collections in premium fabric than Pepe Jeans. Apart from Jeans, the brand provides top wear and other clothing for men and women. Still, the Pepe Jeans clothing brand in India is highly known for its jeans collections.
If you buy for 3000 or more, you will get up to 500 rupees OFF with Pepe Jeans on your first purchase.
Conclusion
Brand consciousness is actually a good thing. 
If you maintain purchasing dresses only from very few clothing brands in India, then you will feel comfortable, and you never need to waste time searching for a new brand all the time when you are about to buy clothes.
Once you become a repeat customer of one of the above-said clothing brands in India, you will often be notified of deals and discount alerts. So, use that time to buy products with even more discounted prices.
Apart from the six clothing brands in India, there are a few other good brands to shop from for both men and women. But, still, these are the top clothing brands in India at present.