Mango Animate Animation Maker has quickly become the go-to software to create animation videos, particularly for beginners. It has also become one of the most popular products released by Mango Animate, a state-of-the-art software company that is committed to providing the latest technology to help everyone achieve their communication goals. The Mango Animate Animation Maker is the result of their experience and knowledge of the requirements of typical users. As a result, they have come up with a user-oriented animation maker that allows even complete beginners to quickly create their animations. But does it have what it takes to compete in this crowded marketplace? Let us look at the features, pros, and cons of this animation maker to find out. 
Animation videos have become immensely popular in recent times, thanks to their versatility and the myriad benefits they offer. Organizations can convey messages in an engaging and compelling manner using high-quality animation videos. Companies can also use animations for corporate communications and marketing. Teachers find animated videos a great way of explaining difficult concepts in a lucid and attention-grabbing manner. Animation is also a great outlet for those who want to exercise their imagination and tell exciting stories. Unfortunately, many animation makers are difficult to use for those who have no experience with such software or lack a graphic designing background. Some animation programs also have hidden charges, making it difficult to access all the features on a limited budget. Recognizing these problems, Mango Animate has produced an animation maker that combines advanced functionality with ease of use. Only $7.99 can users use the starter version of Mango Animate Animation Maker!
What is Mango Animate Animation Maker?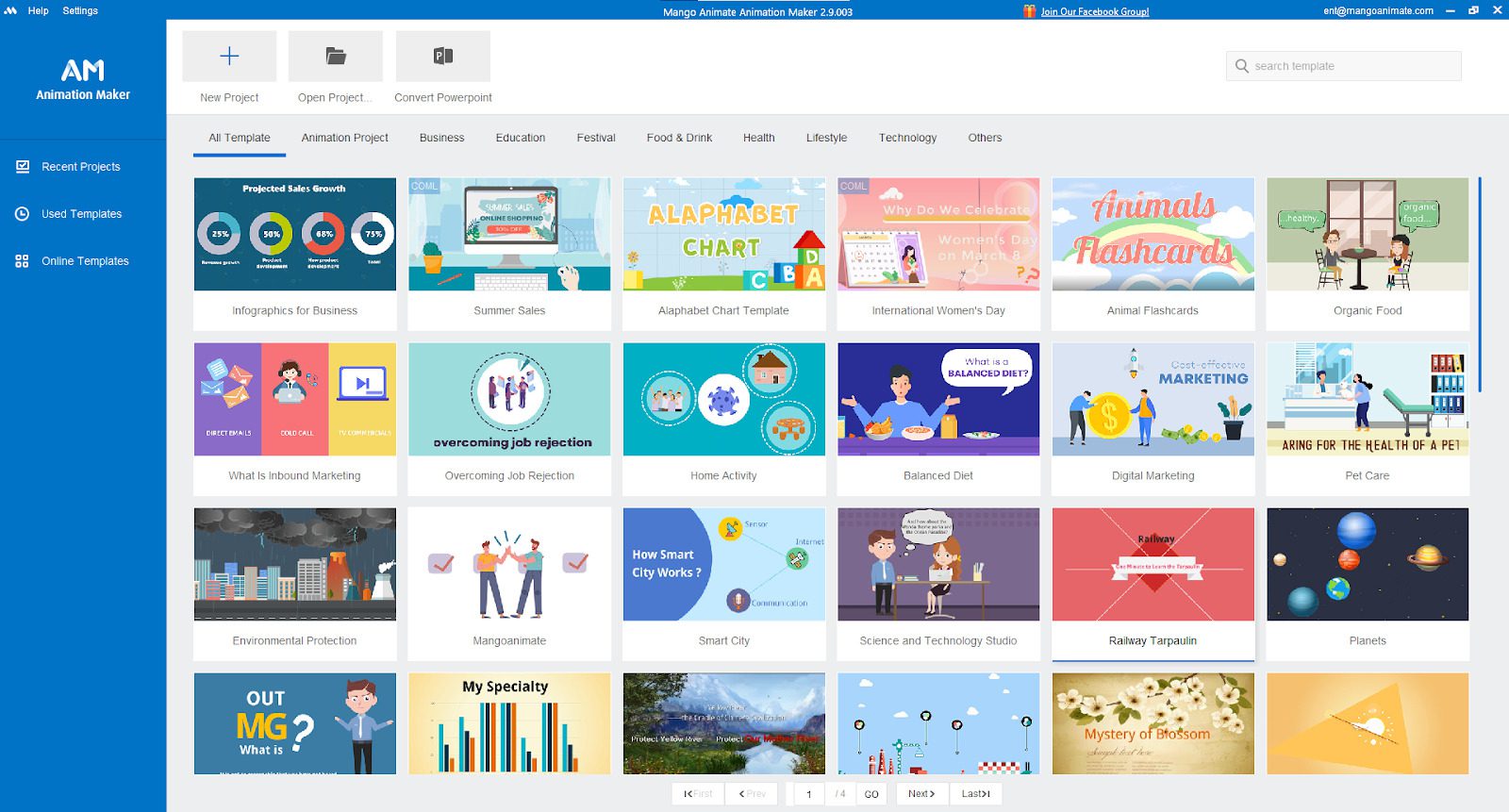 Mango Animate Animation Maker was released to address a critical issue in the marketplace – the absence of an animation maker that can be easily used by complete beginners. Up to now, organizations have had to hire professionals or expensive third-party agencies to create animation videos. Mango Animate identified that, as a result of this, many organizations were unable to benefit from the use of animation as a communication tool.
Consequently, Mango Animate Animation Maker has been designed to combine advanced functionality with simple, intuitive operations. It comes with pre-designed templates, which means that users can create their very own animation in a matter of minutes. Every template is fully customizable, encouraging users to exercise their creativity and put their distinctive touch. Creating professional-grade animations is easy thanks to the easy-to-use interface that allows users to conveniently access the more advanced features. Thousands of free assets can be included to make the animation more exciting. The animation maker also makes it easy to add special effects and incredible scene transitions, along with voiceovers to create a studio-grade production. Once created, the animated video can easily be saved offline or shared online.
Features of Mango Animate Animation Maker
Mango Animate Animation Maker has been conceived as a next-generation user-oriented animated video maker. Created with the needs of a non-technical end-user firmly in mind, this animation maker allows anyone to create videos of professional quality. The pre-designed templates allow users to get started immediately. Mango Animate Animation Maker comes with a library of thousands of free assets, including images, SVGs, effects, widgets, shapes, and charts. The animation can easily be enriched with the addition of these assets. In addition, this animation maker allows users to easily record voiceovers to explain key areas and give the video a personal touch. Subtitles and captions can also be conveniently added to highlight the main points. A particularly powerful feature is the inclusion of over 40 dynamic characters that will act out the script in a natural manner and provide a truly immersive experience to audiences. People from all walks of life are available, including teachers, students, waiters, customers, police officers, businessmen, tour guides, etc.
Mango Animate Animation Maker also has the following noteworthy features:
Unlimited canvas makes it easy to explain the content and manage from whole to part, and part to whole.
Exciting scene transitions
Scene transitions allow users to make their animation look like a studio-grade production.
Create an immersive experience by adding zooming, panning, and rotating camera effects.
Different animation effects
Entrance, emphasis, and exit animation effects bring content to life and help to fully engage and entertain audiences.
Pros of Mango Animate Animation Maker
Mango Animate Animation Maker has many unique advantages that have not been seen in this segment of the market. Some of the main ones are:
This animation maker has been designed to be used by complete beginners, so user-friendly operation is its hallmark.
A vast library of pre-designed templates allows users to create their animation in minutes. As the templates are fully customizable, unique videos can be made by simply replacing the content.
Users can easily combine the animated characters, special effects, and other features in a single, powerful and straightforward interface that allows them to easily manipulate the different elements to create a truly stunning animation.
Flexible video distribution
Once created, the video can be published as an online video, offline video, or GIF, and conveniently shared online or on social media.
Cons of Mango Animate Animation Maker
Feedback for this animation maker has been almost entirely positive, with many users lauding its ease of use and powerful functionality. A few have been initially overwhelmed by the plethora of features available but have quickly become used to it, thanks to the straightforward and intuitive interface.
Conclusion
Mango Animate Animation Maker set out to create a game changer and they have undoubtedly succeeded. No other product on the market can compete with this animation maker's ease of use and extensive features. Mango Animate Animation Maker will surely be the default choice in this category, particularly for non-technical people who want to create advanced animations easily and conveniently.
About Mango Animate
Headquartered in Hong Kong, Mango Animate is a revolutionary software company that creates animation software. Its mission is to help organizations and individuals to achieve their communication goals with the power of animation.