Upgrading to a mobile billing app helps many forward-thinking companies manage their operations no matter where they are. With mobile invoicing, small-business owners can create, send, and monitor bills at their convenience. Compared to how they used to be, monitoring payments and paying suppliers remotely, swiftly, and affordably look easy today.
The use of mobile billing app has several advantages, and the following are some of the most important:
It is a huge money-saver
Saving money by using mobile invoicing is another benefit. There is no longer a need for paper, ink, mail, or staff dedicated to collecting receivables.
Until now, invoices had to be manually filled out by a company employee. Filing, scanning, and arranging accounting papers were also part of the process of invoicing. Mobile invoicing automation saves every 1,000 clients in a database and saves five to eight hours of labor per week. Electronic invoices save between $4 and $8 for every paper invoice in the United States alone.
Mobile invoicing has clear cost-saving advantages. Tracking and matching your invoices eliminates the need for double-invoicing.
It reduces the time it takes to the bill.
Because mobile billing integration speeds up sending and receiving invoices, there will be less of a delay in payments. In addition, you'll get immediate notification of any changes to the bills (such as when they are seen, paid, etc.), and customers will receive notifications of new invoices and any outstanding balances. Automated reminders to clients till the invoice is not paid may be set up as desired.
Also, if your company offers recurring subscription plans, such as weekly, monthly, or annually, or if you supply consumers with specific services on a long-term basis at a fixed fee. As a result, it makes sense to automate the process of sending out invoices. When all the details are considered, the payment procedure is greatly accelerated.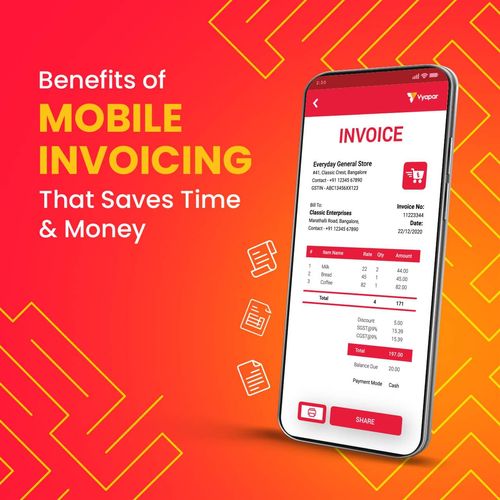 It improves your business-to-customer connections.
In addition to the convenience of being able to access payment information from any location at any time, mobile invoicing provides the ability to securely store all payment information in a single location. Since reminders and alerts have been enabled, there are no more annoying emails or phone calls, and hence customer satisfaction has increased significantly. All of these elements contribute to a stronger bond between the customer and the seller based on mutual trust and confidence.
It takes the signatures and generates receipts instantly after the transaction.
Customers and businesses alike benefit greatly from the installation of mobile billing features. Finger or touch identification enables rapid signature and receipt distribution. In this approach, not only does your time be saved, but someone else's as well if the payment has to be accepted and allowed immediately. The receipt may also be printed or sent to consumers in a matter of seconds by just pushing a button.
It saves your precious time:
Everybody nowadays has their cell phones within reach at all times. Invoices may be created, sent, received, checked, and paid without sitting in front of a computer since all payment data is saved in a single spot with mobile invoicing. As a result, billing can be done anywhere, and clients may release payments much more quickly and easily.
The mobile bills may be sent instantly when the service is completed. You'll have more time to focus on other essential chores and grow your company. The finest invoicing software for your clothes company is Vyapar, an easy-to-use invoicing tool. Its Tailor bill book format tool will allow you to make invoices very efficient and fast. It is simple to use and can be accessed from anywhere in the globe using any device. Vyapar is the greatest software for invoicing and billing since it has a simple interface and is very user-friendly.
It lessens the pressure on the accountant.
Accountants' workloads are made more difficult by convoluted invoicing methods. As a result, the mobile invoicing software identifies which clients are delinquent in their payments.
In summation,
Current entrepreneurs have to keep an eye on their finances on a regular basis, but they won't be spending all of their time in front of their computers. To save both time and money, businesses may use mobile invoicing software to handle their billing process online, making the accountant's job easier and less stressful.
Are you considering using mobile billing in your company in order to boost client satisfaction and speed up the payment process? Vyapar is a reliable online billing app available for you!