Your Earth DAO (YED) is a open-world decentralized metaverse within the #metaweb which Acent has defined as a new immersive gamified internet service. With unprecedented modern technologies applied to a metaverse, YED provides participants (who are called meta-citizens) with an immersive experience within it similar to what one can encounter in popular entertainment products like "Ready Player One," "The Sims" or "Grand Theft Auto." What's most unique is that Your Earth DAO provides tools to help developers and users publish meta-apps that are full-scale apps, high-end games, and other unique services. Supported by the DAO governance system, a free economy will be created with unlimited ideas from the community, forming the basis for a new generation of internet economy.
Your Earth DAO (YED) is an open-world decentralized metaverse that is developed by Acent, a famous web 3.0 technology company.

YED provides participants an immersive gamified internet service experience similar to what one can encounter in popular entertainment products like "Ready Player One," "The Sims" or "Grand Theft Auto."

Participants can earn money by a variety of activities from creating content, products to providing other full services.

Enjoy realistic graphics with AR/VR support, interact with the immense big world and meet friends and community with SocialFi activities

There is a governance system with EDAO token. In addition, EDAO holders can receive sustainable profits from the platform. Acent token ($ACE) holders would have the opportunity to participate in the Acent Pledging program to earn EDAO tokens.

Land spot NFT is an important but limited resource within YED. Participants need it to mine in-game resources, build structures, start businesses, and provide services.

Your Earth DAO Land Sale is scheduled to be held at 11:00, Aug 9, 2022 (UTC)
In a nutshell, what does Your Earth DAO have?
Solid technology background and its ecosystem: Powered by Acent, a Web 3.0 technology company, Your Earth DAO has all the technological advantages developed around it. YED is run on Acent Blockchain based on the POSA consensus mechanism, with high TPS and security. The graphics in Your Earth DAO are surreal because it is powered by Unreal Engine 5, the most advanced graphics engine available today. Finally, users participating in YED will be supported by other Acent products such as Acent Browser and Acent Metawallet, making their #metaweb experience is easy, smooth and secure.
Real enjoyment with realistic graphics and emotional interactions: Enjoyment is what you desire inside Your Earth DAO. Acent aims to bring Your Earth DAO's "One Perfect Life" metaverse to the next level with an open-space environment and seamless lifelike metaverse experience, making everything possible shaped by your boundless imagination. You can do what you want, go to the places you like, meet and interact with friends and the community. The graphics in Your Earth DAO are all 3D objects, AR/VR support with coordinates and can be interacted with. You can also enjoy wearable #NFTs with a meta-avatar that satisfies natural, flexible motion and immersion to express yourself freely.
Diversity and freedom in the "Live-To-Earn #L2E" economic model: Earning scenarios in Your Earth DAO is diverse and suitable for all participants. Any ideas and real-life talents can be realized in Your Earth DAO as you are still using them every day for your current job. If you are a shoe designer you can design them, display, and sell them on the NFT marketplace in YED and become more and more famous. If you are an entrepreneur or an application developer, you can completely bring your models and products and start a business inside YED. Or even becoming a KOL by creating content and distributing it on a content delivery network (CDN). Meta-citizens and business developers will be supported by YED powerful development tools.
Unique NFT system to build and develop the metaverse: YED meta-assets are NFT assets created within the YED ecosystem that can be imported from the YED ecosystem and sold on a third-party NFT marketplace such as Opensea. It can be anything from NFT real estates such as metahomes or NFT digital houses; NFT vehicles, such as cars and spaceships; Wearables, skins, and avatars; Crypto arts;… that can be minted by users. The most important are the Land Spot NFT and the Pylon meta-resource & energy NFT, it's like you need resources and a piece of land to be able to build and start things like creating a new civilization. Details about this interesting mechanism will be covered below.
Attractive, sustainable tokenomics model with EDAO governance/revenue share token: Acent ($ACE) is the cryptocurrency of the Acent blockchain and the equivalent of cash or a unit of value for all financial activities or transactions on the YED metaweb. In order to foster the growth of the metaweb and push its adoption, a maximum of 15% of the Acent ($ACE) cryptocurrency, or approximately 300 million $ACE, is allocated to the Metaweb Incubation Fund. In addition to the incubation fund, YED pools the 3% service charge of all services or meta-app provided within the YED ecosystem in addition to the 91% of all on-chain transaction fees (or so-called Nitro fees) of the Acent mainnet. These are used to: 1) develop the core metaweb ecosystem; 2) compensate the EDAO governance token holders, including landowners; and 3) deploy a self-sufficient, robust, decentralized immersive web service.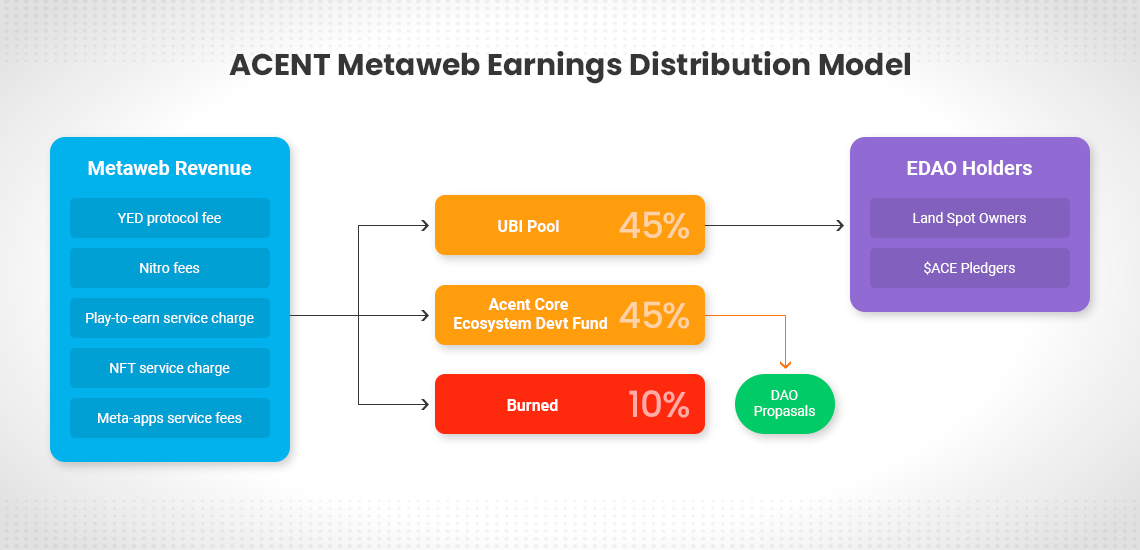 Become a pioneer in Your Earth DAO metaverse to gain early influence.
What is an EDAO token and how will it be used in the YED?
EDAO tokens are ARC-20 governance and utility tokens in the YED metaverse. Holders of EDAO tokens will be able to claim privileges and rewards in the following ways: Actively participating (e.g. trading, voting, development work, contributing, etc.) to receive rewards from the entire ecosystem fee collected in the Universal Basic Income (UBI) Pool; Trading on the Acent DEX; And participating in the key governance voting system of the YED.
More than just a governance token, EDAO was created to create a method of sharing the benefits obtained from the ecosystem, in order to promote economic activities to take place and increase the value of the ACE token. EDAO holders can mine Acent from the Metaweb Incubation Fund and the UBI pool through EDAO pledging. Interest rates are shown in the table below:
Obtain EDAO tokens through Acent Pledging system
EDAO can be mined through the Acent pledging system. Basically, 1 $ACE pledge will grant the pledger an equivalent of 1 EDAO token per year as their reward for contributing to maintenance and security of the Acent network. With EDAO tokens, pledgers can mine more $ACE. The more EDAO tokens users pledge, the more $ACE they can mine from the Metaweb Incubation Fund and the UBI pool.
Acent Pledging Season: Acent token ($ACE) holders would have the opportunity to participate in the Acent Pledging program starting July 21, 2022 at 12pm Central Daylight Standard Time (CDT) to earn EDAO tokens. Every $ACE pledged gets one EDAO compensation token per year, calibrated per minute. EDAO token holders are entitled to receive contribution compensation from the entire ecosystem fee collected in the Universal Basic Income (UBI) pool and the Metaweb Incubation Fund, plus other NFT benefits. Detailed information about this event can be found at the link at the bottom.
Become a landowner for early influence
The Land Spot NFT is something that early investors of Your Earth DAO should not miss. In addition to providing the ability to earn $EDAO, it will be the basis for you to participate in all other profitable activities in Your Earth DAO. As a landowner, meta-citizen can:
Trade land at any NFT marketplace: Owners of YED land will be able to trade and profit from the market value of their land property by listing it on an internal or external NFT marketplace.
Mine meta-resources and energy: Landowners may plant Pylon NFTs on their spot of land to mine a particular meta-resource or energy that can be utilized, sold, or traded at any internal or external NFT marketplace. Pylon is a type of NFT that produces necessary resources for many YED's activities.
Mine EDAO tokens and participate in the metaverse governance: When users own land, they can mine EDAO tokens that enable them to participate in the metaverse governance plus many EDAO pledging benefits.
Rent out their land as the traffic builds: Foot traffic is projected to increase in the YED metaweb service. Landowners can gain income from rental fees incurred by other businesses  that built their properties on their land.
Build businesses with unlimited creative potential: Business ideas can be built in unlimited ways using the resources you own and the powerful development tools provided within YED.
Monetization and creation of creative content through meetings, hanging out, traveling, and interacting with other meta-citizens: People can record and share their moments on a meta-content delivery network within the metaweb. It can turn out to be a new fun and profitable market segment.
Deploy meta real estate: Landowners can buy, design, or build a meta-real estate on their land to increase the amount and quality of foot traffic. The more traffic they get from their land development, the higher $ACE rent can be demanded in the future.
Most economic activities of Your Earth DAO require a land spot to proceed since this is an open-space metaverse and land is an important resource. Your Earth DAO encourages passionate users to own Land Spot NFT early and come up with ideas to jointly build prosperous areas and share benefits. Your Earth DAO Land Sale is scheduled to be held at 11:00, Aug 9, 2022 (UTC)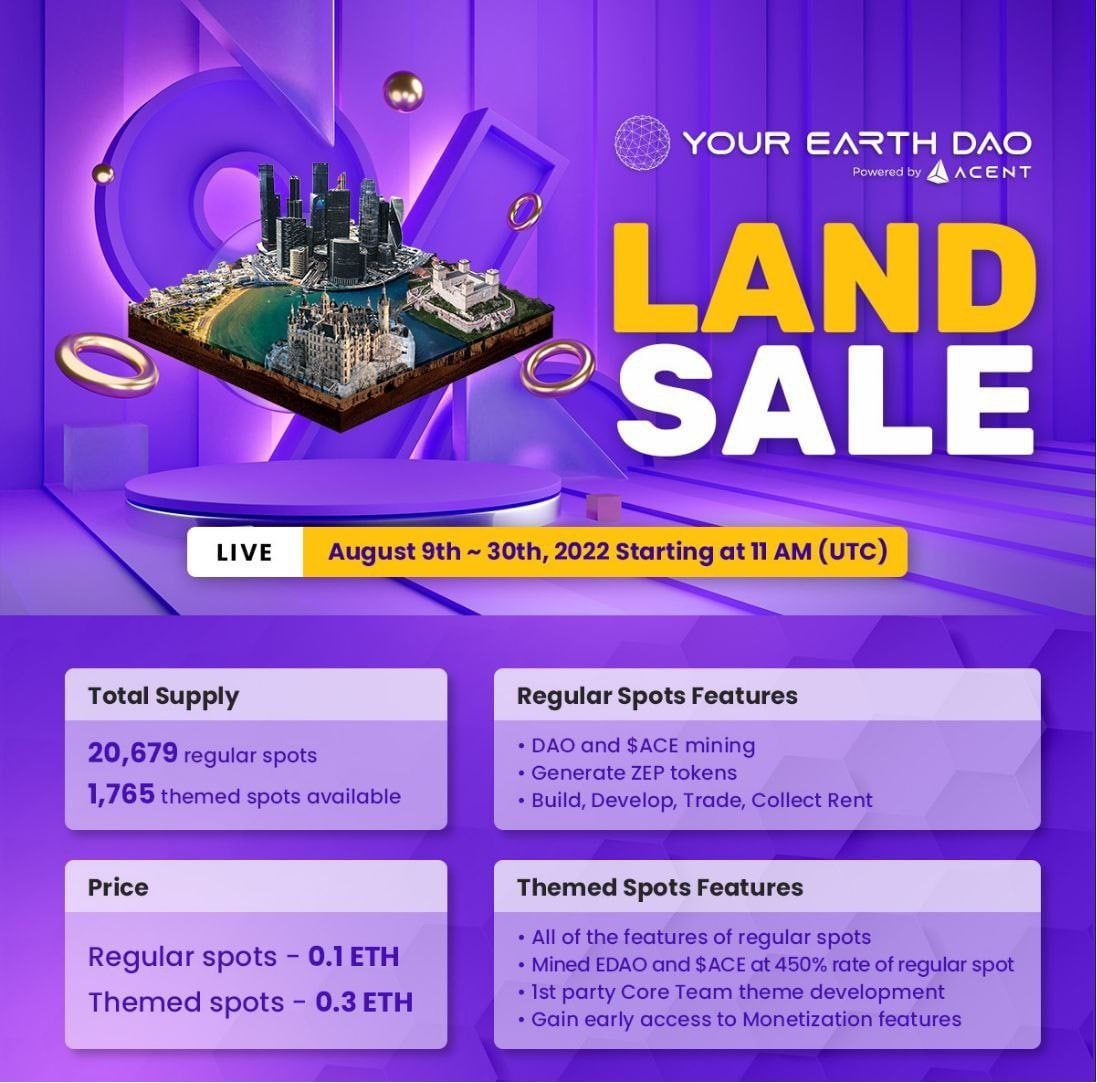 For more details and information about the benefits and privileges of being part of the metaweb, read the Acent Whitepaper 2.0.
For more details and information about the Acent Pledging Season, visit this guideline.
Don't forget to join the Acent community for further information about the upcoming YED land sale. For more updates, please follow Acent & Your Earth DAO on:
YED website: https://yourearth.io/
Twitter: https://twitter.com/Acent_tech
Telegram: https://t.me/AcentOfficialChat