HighIoT Ltd was founded in November 2016 as a response to the DYN attack (one of the biggest DNS Service Providers in the world). HighIoT mission is to protect IoT device users because nothing is more important to HighIoT, than securing the personal data and user profiles of smart home consumers. 
1) Why choose Amazon as your sole distributor?
Amazon is one of the largest online marketplaces in the world. It makes sense for us to work with powerful partners, to make sure HighIoT is available to as wide an audience as possible. Amazon is a great company to work with.
2) Are you done with crowdfunding or do you have plans to kick-start another campaign in the future?
We may decide to do something in the future.
3) After sending off the 12,000 units to backers when do you plan on selling to the public?
We will be doing this as soon as possible, in 2018.
4) When will production begin for the general public and how would it be funded?
Production is already being planned
5) Is the Akita device impenetrable?
Akita is certified unhackable by Israeli security experts.
6) How easy is it for users to set backup systems shut down by Akita?
Very easy, and tech support is available and on hand for that.
7) Once a system has been shut down does Akita provide protection against a repeat attack or does it rely solely on shutdowns?
HighIoT is building a Profile Database along with cloud-based deployment of all business rules (BR) and predictive analytics algorithms that are required for discovering and predicting attacks on IoT devices.
8) Is making Akita a household necessity a sort of indictment against software companies and their attitudes towards protection?  
Hardware and Software companies can coexist as they always have. Hardware and Software solutions complement each other. Akita is a watchdog device that secures perimeters, and what we are saying is that "simply a software approach is not enough."
9) What inspired the design of the device?
The Star of David – the Magen David.
10) What exactly constitutes "unusual activity"?
Unauthorized attempt to access device, DDoS attack, activity that wasn't designed by IoT vendor, malware injection attempt, buffer overflows etc stand for "unusual activity".
11) Do you have more information for our readers?
HighIoT aims to be a leader in IoT cybersecurity service platforms. While there are some standalone IoT cybersecurity solutions, HighIoT is building a HighIoT Profiles Database that can be used to secure smart homes, smart offices, and smart cities. Our motivation and I think everyone's insecurity should be making the world a safer place.
Visit HighIOT website at: http://www.high-iot.com/en/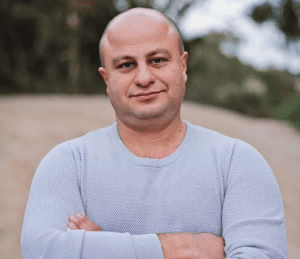 About Igor Rabinovich:
Igor Rabinovich is the CTO and Co-founder of HighIoT, the cybersecurity company behind the Akita IoT security device, and provider of smart home security as a service.

Igor has 18 years of experience in software development and R&D management. He served in the IDF (Israel Defense Forces) technological intelligence unit. Igor has vast experience in large-scale systems for operators and a strong background in C4I systems development and specializes in the cybersecurity of smart home devices.