Do you want to be a badass? Well, you're in the right place! Looking and feeling like a badass doesn't happen overnight—it takes effort, style, and attitude. But the good news is that anyone can pull it off with the proper guidance.
Every man wants to look his best, but there's something special about having a wardrobe that makes you look like a powerful, confident, and stylish badass. Dressing like a badass man means expressing your style and taking fashion risks that set you apart from the crowd. It's about creating an iconic look that is uniquely you, and with the right clothing, accessories, and attitude, you can do just that.
This blog post will dive into badass fashion and discover how to dress like a badass man. We'll look at the importance of choosing the right clothing and accessories and how to put together a badass outfit.
1. Three-button henleys
This timeless design has been a staple of masculine fashion for over a century, and it's as stylish today as ever.
A henley is a pullover shirt with a collarless neckline, typically with two or three buttons running down the front. This simple design gives you a strong, masculine silhouette that looks good on almost any body type and age. Whether you're dressing for a casual day out or a night out on the town, the henley is a versatile choice you can style in many ways.
The three-button henley is a great choice for the modern man. It's a classic look that will never go out of style, and the buttons give it an extra level of detail that can set off an outfit. The buttons also allow you to adjust the shirt's fit, so you can wear it fitted or loose as needed.
A black henley is a must-have for any wardrobe, but white is also a great option if you want to add some color and contrast. If you're looking for something more casual, there are also henleys made of thermal or loose cotton fabric. Or, if you want to take your look up a notch, some brands like Cuts offer more premium henleys with a minimal collar, flawless fit, and bottom hem option.
2. Boots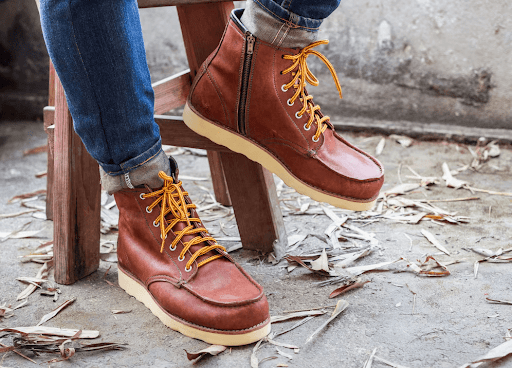 A solid pair of boots is one of the essential pieces of clothing in your wardrobe. From engineer boots to chukkas, Chelseas, and wing tips, boots are the ideal footwear for any man looking sharp and stylish while also exuding a sense of strength and confidence.
Not only do boots provide a great look, but they also offer unrivaled protection and durability. High-quality boots like engineer boots are designed to support your foot, offering superior traction and stability on any terrain. A good pair of boots can keep you safe and secure when navigating city streets or a muddy job site.
When it comes to style, boots offer a variety of options to suit any man's needs. Chelsea boots, for example, offer an outstanding balance of style and ruggedness, while chukkas provide a more classic look. If you're looking for something more daring, you can always opt for a pair of the engineer or wingtip boots.
No matter what kind of boot you choose, you can be sure you'll look as badass as ever. Boots are the perfect choice for any man who wants to look stylish and confident without sacrificing safety or comfort. So if you're looking for the ultimate footwear option, it's time to break out those badass boots.
3. Flannel shirts
Flannel shirts are versatile and can be paired with a variety of outfits. Whether it's with jeans, chinos, or a suit, a flannel shirt will always add an air of sophistication and timelessness to your look. To nail the look, you should layer it over a tee shirt or henley. This will give your outfit an extra layer of warmth and make it look more attractive. If you get too hot, you can simply unbutton your shirt and throw it around your waist for an easy yet stylish look.
But that's not all! Flannel shirts can also be worn solo. Whether it's a casual day or a more formal occasion, it will always help you make a statement. You can style it with chinos and sneakers for a classic look or choose a more modern approach with ripped jeans and boots.
The great thing about flannel shirts is that they come in many different styles, colors, and patterns. You can choose a traditional plaid pattern or go for something different, like a check or tartan. Whatever your choice is, you'll make a bold fashion statement.
So, if you're looking for a classic piece of clothing that will never go out of style and that can be worn in various ways, a flannel shirt is a perfect choice. Layer it over a tee shirt or henley, wear it solo, or throw it around your waist – the options are endless.
4. Cargo pants
Cargo pants are an ideal way to add an edgy, masculine look to any wardrobe. Not only are they comfortable, but they also provide plenty of room for all your essentials. The secret to pulling off a badass look with cargo pants is ensuring they fit right. Go for a slim fit that's tailored through the leg, and opt for hidden pockets instead of big, bulky flaps.
Pair your cargo pants with boots and a simple henley when putting together an ensemble that looks like the epitome of badass. They're classic pieces that will never go out of style. Whether you're headed to a casual gathering or a night out on the town, your cargo pants and henley will ensure you stay effortlessly cool.
Add accessories like a belt and a watch for a final touch. A pair of sunglasses can also help you exude that air of badassery.
Make sure you know your measurements when you're buying your cargo pants. Getting a good fit is essential to achieve the look you're after. With the right pair of cargo pants, you can easily pull off the badass look.
5. Jackets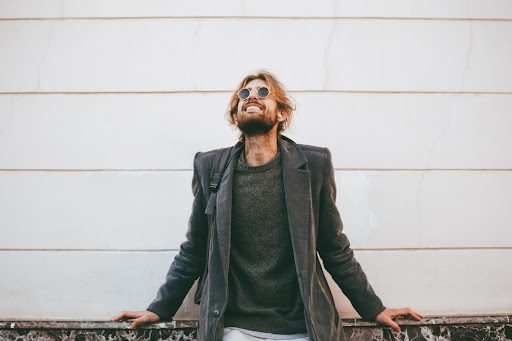 Fall is the best time for men to experiment with various styles and looks. With the chill in the air and the leaves falling from the trees, there's no better time to dress like a badass man.
One of the best jackets to achieve this style is the suede jacket. Whether it's a bomber, trucker, or trench, suede has a rich fall texture that adds depth and dimension to an outfit. Not only is it stylish, but it also helps to keep you warm on those cool days. The best part is that you can pair it with almost any other item. Try pairing it with dark jeans and a chambray shirt for a more classic look.
For a more contemporary look, the sherpa-lined denim jacket is perfect for the fall and winter. This style is incredibly badass and pairs with various items, from cargo pants to chinos and corduroys. To make it stand out, opt for thin wale corduroys – a style that will be huge this fall and winter months.  My jacket is from mediumtall.no and is the best I've ever tried. The fabric is of superior quality, and I ordered a jacket with two pockets on the side. This removes the bulk of the fabric in the front, resulting in a jacket that looks and feels perfect.
The last jacket to complete the look is a full-zip sherpa jacket. This style is my new obsession since it's more stylish than a standard sherpa, and the fit is flawless. Plus, it has pockets that zip, adding functionality and convenience.
With these three jackets, you'll have all the looks you need to elevate your badass style. So, don't be afraid to get creative and try new looks this season!
6. 'Fuzzy' suits
Fuzzy suits are the perfect way to look stylish yet maintain a casual vibe. These suits are made from a richer texture fabric and have a 'fuzzy' look, making them ideal for everyday wear.
The best thing about wearing a fuzzy suit is that you can dress them down or up depending on the occasion. You can pair your fuzzy suit with a nice pair of chinos or jeans for a casual look. Alternatively, you can dress them up with a dress shirt, tie, and pocket square. The options are truly limitless!
When it comes to colors, there are a variety of shades to choose from. My favorites are brown with navy chalk strip, dark charcoal with light gray chalk strip, and light gray with dark charcoal. These colors are versatile and can be dressed up or down depending on the occasion.
7. Hoodies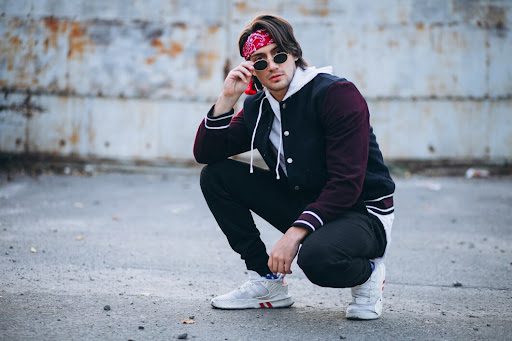 Hoodies have come a long way in recent years, with improved fit and more premium fabric. The hoodie is the best I've ever tried and is perfect.
Not only is the fabric amazing, but it also has two pockets on the side to avoid extra fabric in the front. This makes it ideal for those who prefer a closer fit. It's also great for outdoor activities, as the hoodie is incredibly comfortable and won't let in the wind.
The hoodie is also incredibly versatile. It can be dressed up with a nice pair of jeans or dressed down with a pair of shorts or joggers. It looks great with a plain t-shirt or layered with a jacket. You can even wear it casually with a pair of sneakers.
8. Black jeans
Black denim is a timeless and versatile piece of clothing, making it the perfect choice for any man who wants to dress like a badass. Whether you're dressing for a night out, a casual day at the office, or a formal occasion, black jeans can be dressed up or down to fit any style.
When pairing black jeans with brown, you can create an effortless and stylish look. Pair your jeans with a brown leather jacket, a white shirt, and brown boots for a classic, timeless look. To dress the look up, add a brown dress belt and some dressier shoes. Wear a more casual look with a brown t-shirt and sneakers to dress it down.
You can pair black jeans with a black t-shirt. This look gives you a sleek, sharp look that is as stylish as comfortable. To dress it up, add a dress shirt and dress shoes. Wear a casual look with a plain t-shirt and sneakers to dress it down.
Black jeans are also a great choice for layering. Wear them under a blazer or a hoodie for a cool, casual look. Or, pair them with a dress shirt and a leather jacket for a more formal look.
9. Cardigans
The lightweight cardigan is a must-have for any stylish dude. They are versatile and work great for layering over tee shirts and henleys. Cardigans are the perfect way for a man to look dapper, stylish, and polished.
Cardigans come in various styles and designs, so you can easily find one that fits your style. From plain and classic styles to vibrant and patterned designs, there is a cardigan for every man. No matter if you prefer a more preppy look or one that is more casual, cardigans are the perfect garment to complete your look.
You can wear cardigans with many other pieces to achieve different looks. Pair a cardigan with a crisp button-down shirt and chinos for a preppy look. If you prefer a more casual style, pair it with a tee and jeans. You can even dress up an ensemble with a cardigan over a dress shirt and pants.
While dressing like a badass can help you feel confident and empowered outside of your home, ensuring that your living space reflects your style and personality. One way to do this is by upgrading your windows and doors to ones with strength and sophistication. With various options, such as sleek black frames or rugged steel construction, you can find the perfect fit for your home and create a cohesive look that complements your badass fashion sense. Not only will this add to the overall aesthetic of your living space, but it can also improve your home's security and energy efficiency. So remember to extend your badass style to your home's exterior! You can take the help of varigfasade.no, if you are from Norway.
Summary
Anyone can transform themselves into a badass man of style. Anyone can create an iconic and unique look with the right clothing, accessories, and attitude. By following the tips outlined in this blog post, you can learn how to dress like a badass and own it. So, go ahead and make a statement with your wardrobe and be the man of style you've always wanted to be.
Looking and feeling confident are important. When you dress to impress, you'll feel more confident. Looking good makes you feel good, and it's never the wrong time to remind yourself that you're a badass. I hope this article has been helpful. Let me know in the comments below – I'd love to hear from you!