B2Prime, a global Prime of Prime multi-asset liquidity provider, has taken the initiative to enhance its services by implementing measures that increase regulatory adherence, expand liquidity offerings, and improve leverage packages. In addition to these developments, B2Prime announces the launch of their newly renovated website.
This is an exciting time for B2Prime as they work to provide their customers with the utmost quality and security of services. All of these efforts combined are sure to create even more successful partnerships and relationships between B2Prime and its clientele.
Strengthening Trust and Achieving Compliance Through Regulation 
As a leader in its field, B2Prime has dedicated itself to upholding industry standards by implementing rigorous regulatory frameworks. The company continuously reinforces trust and reliability for its clients, taking every measure necessary to ensure adherence to stringent compliance regulations.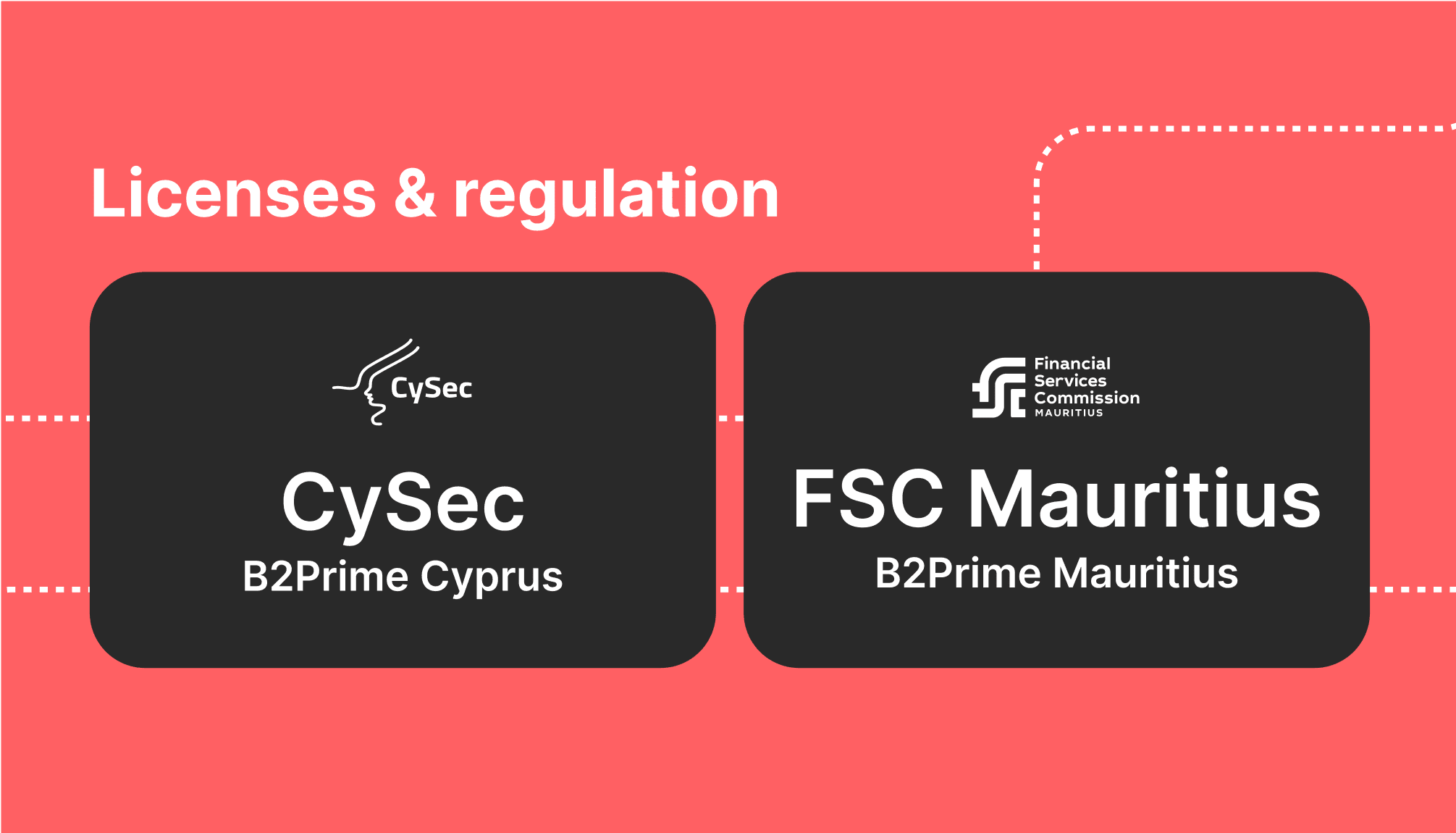 B2Prime Cyprus (CySec)
B2Prime Cyprus has created a reliable, EU-regulated environment for institutional market players and corporate clients throughout the European continent. This allows brokers to access a dependable liquidity provider offering an array of crypto CFD pairs, NDFs, and even natural gas options. 
Moreover, B2Prime Cyprus is authorised to cater to clients from beyond the EU's boundaries, including Malaysia, India, Indonesia, Kuwait and Vietnam. This extensive coverage offers unparalleled opportunities for businesses and financial institutions alike. For a full list of supported countries, visit this page.
B2Prime Mauritius (FSC Mauritius)
B2Prime has also expanded its regulatory reach to include Mauritius, catering to institutional market players and corporate clients beyond Europe. This innovative settlement flow solution for this jurisdiction introduces a new level of convenience. Now, settlements to the margin account, including platforms like OneZero and PrimeXM, support both fiat (EUR/USD) and digital currencies (major coins + stablecoins) for deposits and withdrawals. 
This offering is specifically designed for brokers who value transparency and stability and prefer a fully regulated liquidity provider over offshore entities. Licensed brokers in Mauritius can now collaborate with a regulated liquidity provider within the same jurisdiction and gain access to crypto CFD, NDF CFDs, and a diverse range of other CFD assets.
With a strong dedication to delivering a transparent and seamless experience, B2Prime unifies its website and commercial offer structure across jurisdictions, ensuring that all clients are treated equally and can access the same products and services.
Upgrading Liquidity Offer
B2Prime's multi-asset liquidity offering has made waves across the industry. By providing clients with a single margin account and 24/7 streaming liquidity for 93 crypto CFD pairs, the company is redefining what it means to be an EU-regulated liquidity provider. Further strengthening their offer is a competitive 10% margin on major Crypto CFD pairs and 1% on FX pairs.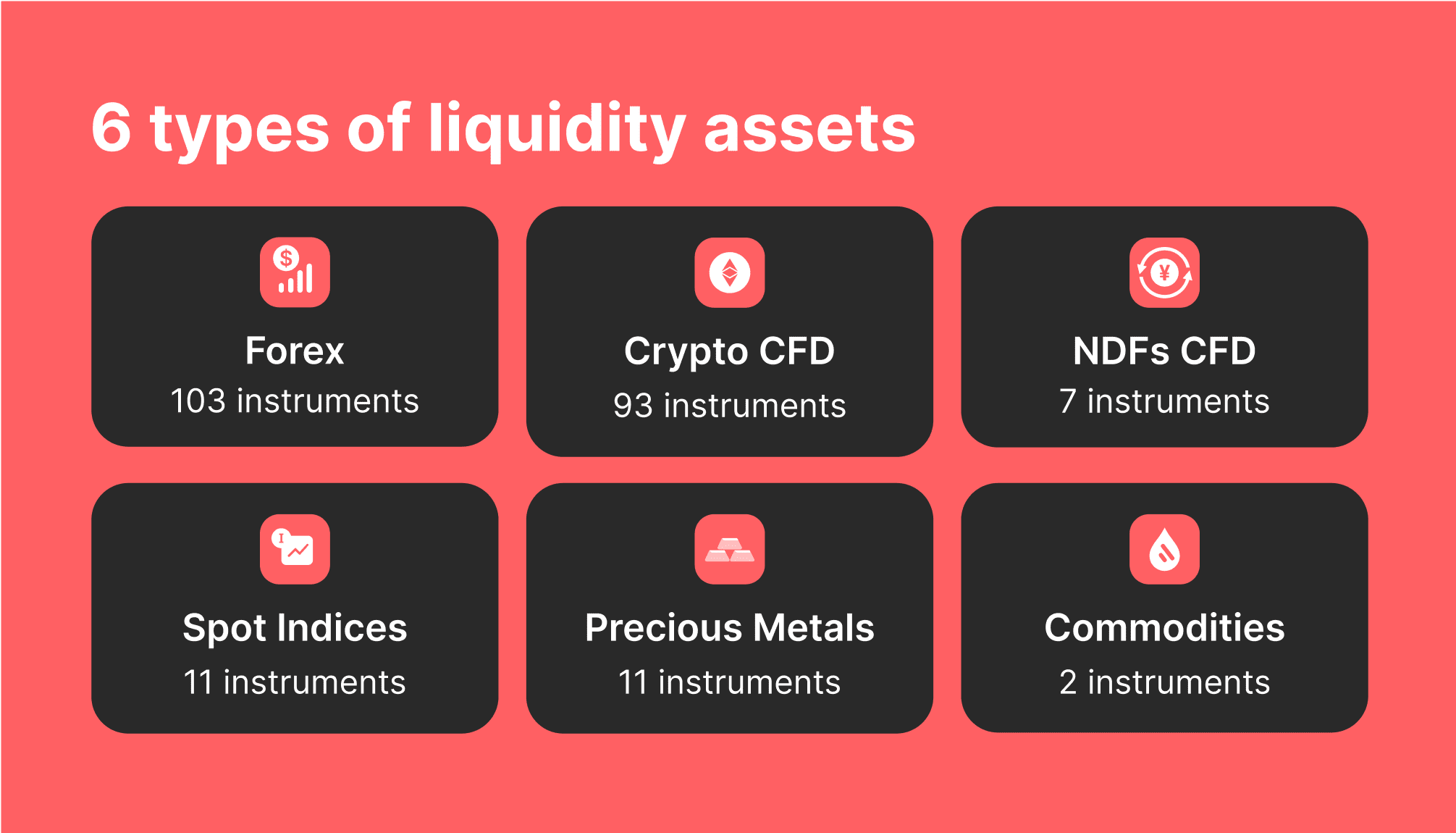 The list of instrument offerings at B2Prime continues to expand. Clients can access these offerings via FIX API on renowned platforms like OneZero and PrimeXM, ensuring the highest level of security for their investments.
B2Prime is offering an unprecedented solution that will allow traders to maximise their capital efficiency and gain a competitive edge in the industry. Through its aggregation model, B2Prime offers some of the tightest spreads available coupled with incredibly competitive financing charges.
In addition, they have introduced a new concept – NDFs as CFDs. Moreover, B2Prime has reduced margin requirements on 10 more crypto CFD instruments to just 10% or 1:10 leverage. This move allows brokers to access greater exposure with less upfront capital, further demonstrating B2Prime's commitment to providing unmatched liquidity options.
Revising Distribution Methods
B2Prime is making sure its clients have access to the most efficient aggregation and distribution technologies on the market. Through integrations with industry leaders such as OneZero and PrimeXM, as well as an extensive list of FIX API-compatible solutions, B2Prime has ensured its clients benefit from a comprehensive set of multi-asset institutional liquidity solutions.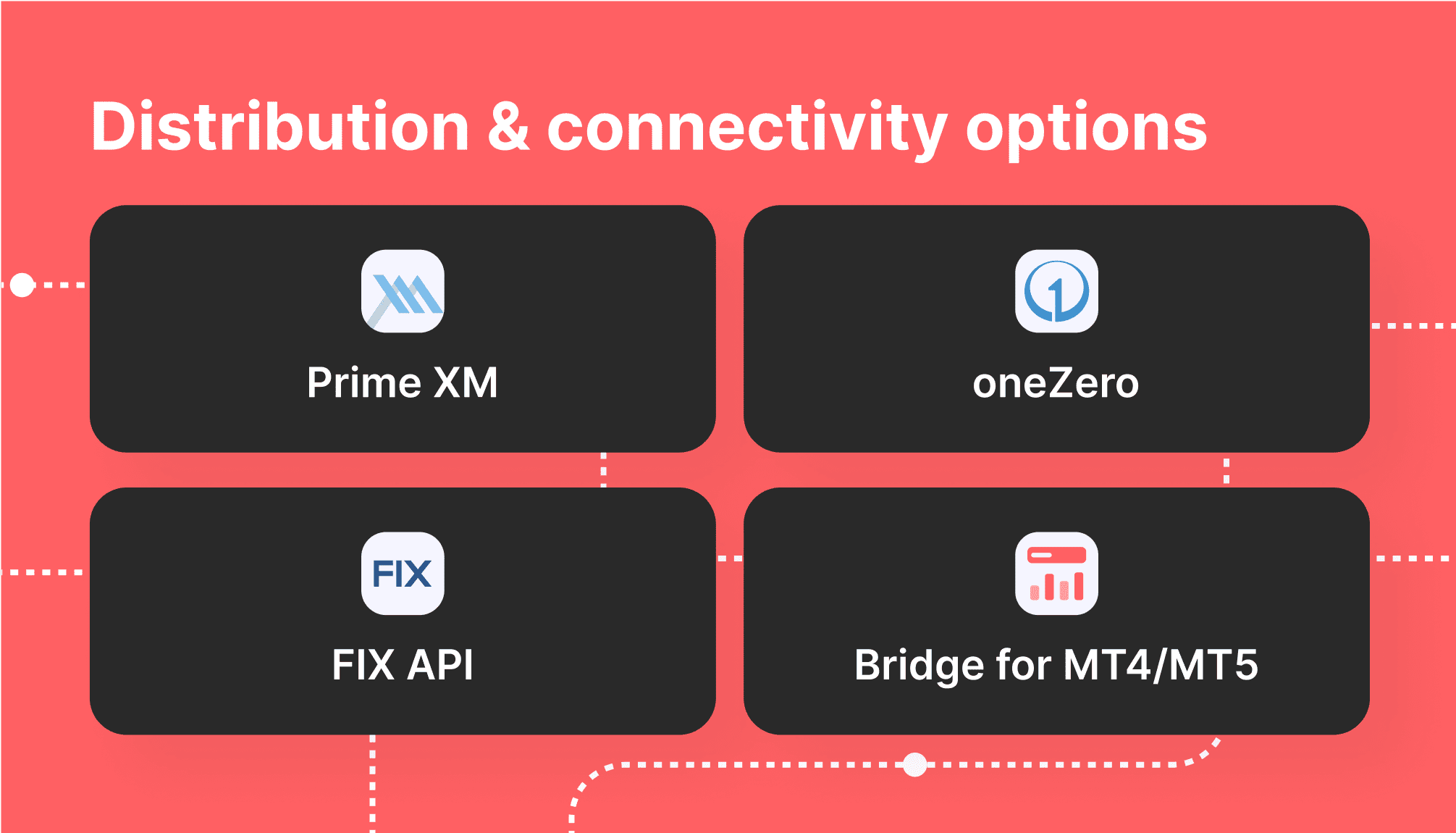 Furthermore, Bridge Gateways for MT5 and Bridge Plugin for MT4 make it easy to integrate with MetaTrader, while Hub-to-Hub connections give existing users of Trading Liquidity Hubs an even greater level of connectivity.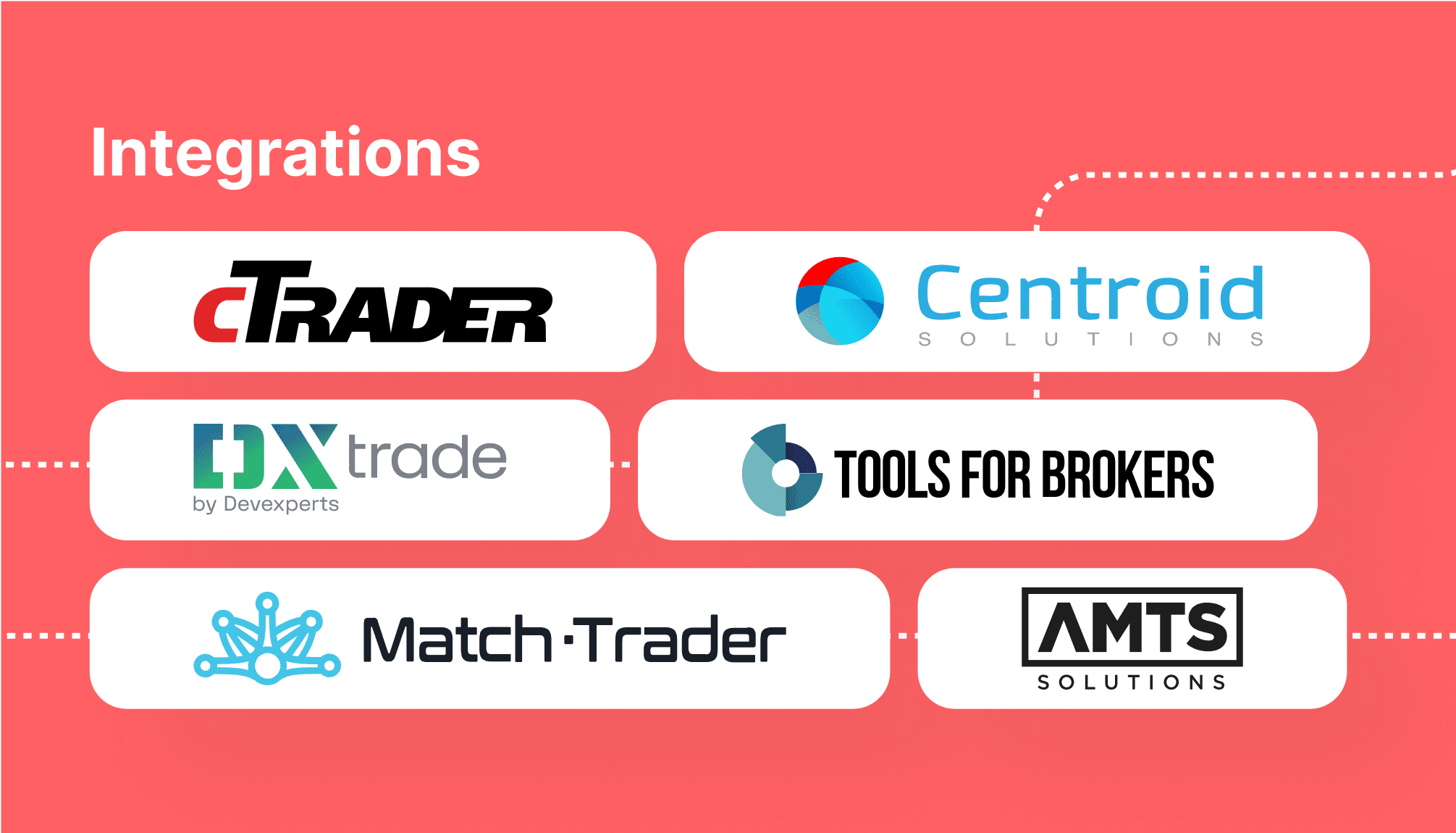 With integrations also available with cTrader, Centroid HUB, T4B Trading engine, YourBurse Hub, Match-Trader platform, DXTrader platform and FxQubic Bridge via FIX API protocol, brokers can onboard with B2Prime and obtain access to a single prime margin account. What's more, whitelisting of IP addresses and access to all instrument pairs (covered in this sheet) are also included.
Achieving an Extremely Competitive Pricing Model
B2Prime's highly sought-after multi-asset liquidity is now available with incredibly competitive business terms. For instance, there are no setup fees for Prime Margin Accounts, and the minimum monthly liquidity fee is a fixed $1,000 (including FIX API or Hub-to-Hub connectors). An optional MT Gateway/Bridge can be availed of for an additional $1,000 per month. Plus, clients can begin doing business immediately with a minimum initial deposit of just $10,000. You can request full details of B2Prime commissions on instrument pairs here.
To top it off, B2Prime will offset the fees mentioned here against any commission charges that are aggregated monthly based on trading volume. With these remarkable business terms in place, clients can leverage a significant advantage at cost-effective prices.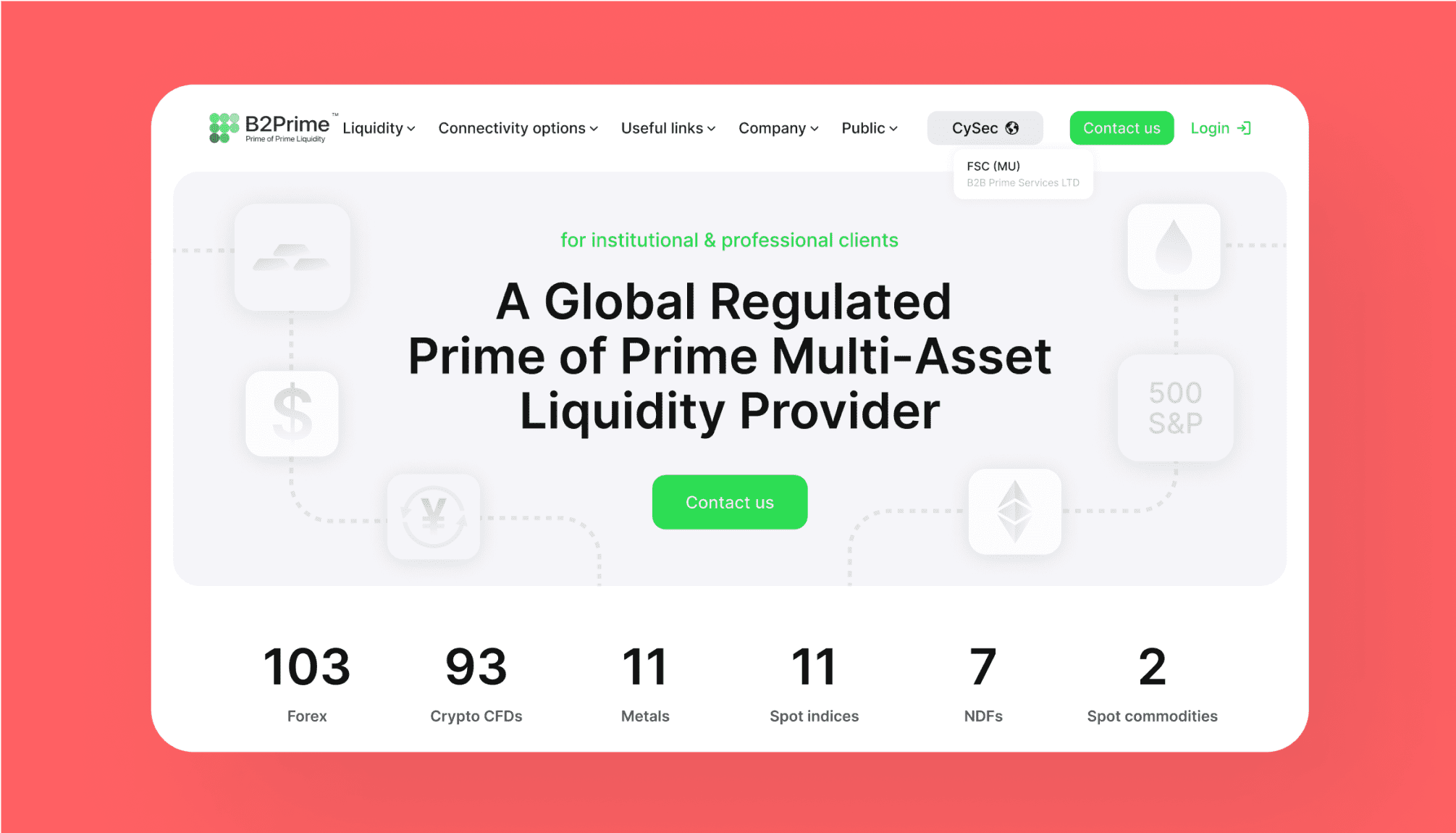 Unveiling Comprehensive Enhancements to Website Design and Structure
B2Prime has unveiled a redesign of its website geared towards providing an even better user experience for its institutional liquidity offering. The reimagined layout places functionality and content presentation at the forefront, making it simpler to find all essential information in an intuitive manner.
The website is now equipped with the following enhancements, allowing users to get the most out of their interaction with B2Prime solutions:
Visual Air Reduction

– B2Prime has enhanced the website by reducing visual distractions, resulting in a more focused and uncluttered content experience.
Compact Blocks

– B2Prime has streamlined all blocks, eliminating unnecessary data while retaining the core information. This guarantees that each block is succinct, improving both readability and ease of navigation.
Redirection Based on Location

– B2Prime's website now intelligently redirects visitors according to their geographical location. This powerful feature not only enhances user experience but also helps our sales team identify lead origins with precision.
Header & Footer Redesign

– B2Prime has given a fresh makeover to the header and footer, aligning with the latest UX/UI standards. The revamp brings a more streamlined and compact design, allowing quick access to crucial links and information.
These modifications come together to provide a clearer, more organised perspective on B2Prime's products and values.
Conclusion
B2Prime's commitment to excellence is undeniable. With its expansive liquidity options and unparalleled offering of 93 Crypto CFD pairs, B2Prime has established itself as the industry's leading regulated liquidity provider. Its dedication will be further highlighted at the upcoming iFX Cyprus Expo – a conference attended by top professionals in the field – where they plan to present a comprehensive range of services and the latest innovations.
It is clear that B2Prime will continue to set the bar for excellence and remain a reliable source of liquidity for years to come.