B2Broker, a worldwide provider of crypto and FX liquidity and technology, is pushing its white-label offering to the next level by teaming up with Match Trader. Now, the company's customers will benefit from exceptional commercial opportunities, immediate integration with the in-house B2Core platform, and all the features that Match Trader has to offer! Coming after its successful cTrader integration in 2022, B2Broker's new initiative demonstrates how dedicated it is to offering its clients comprehensive yet adaptable services.
Match Trader While Label Solution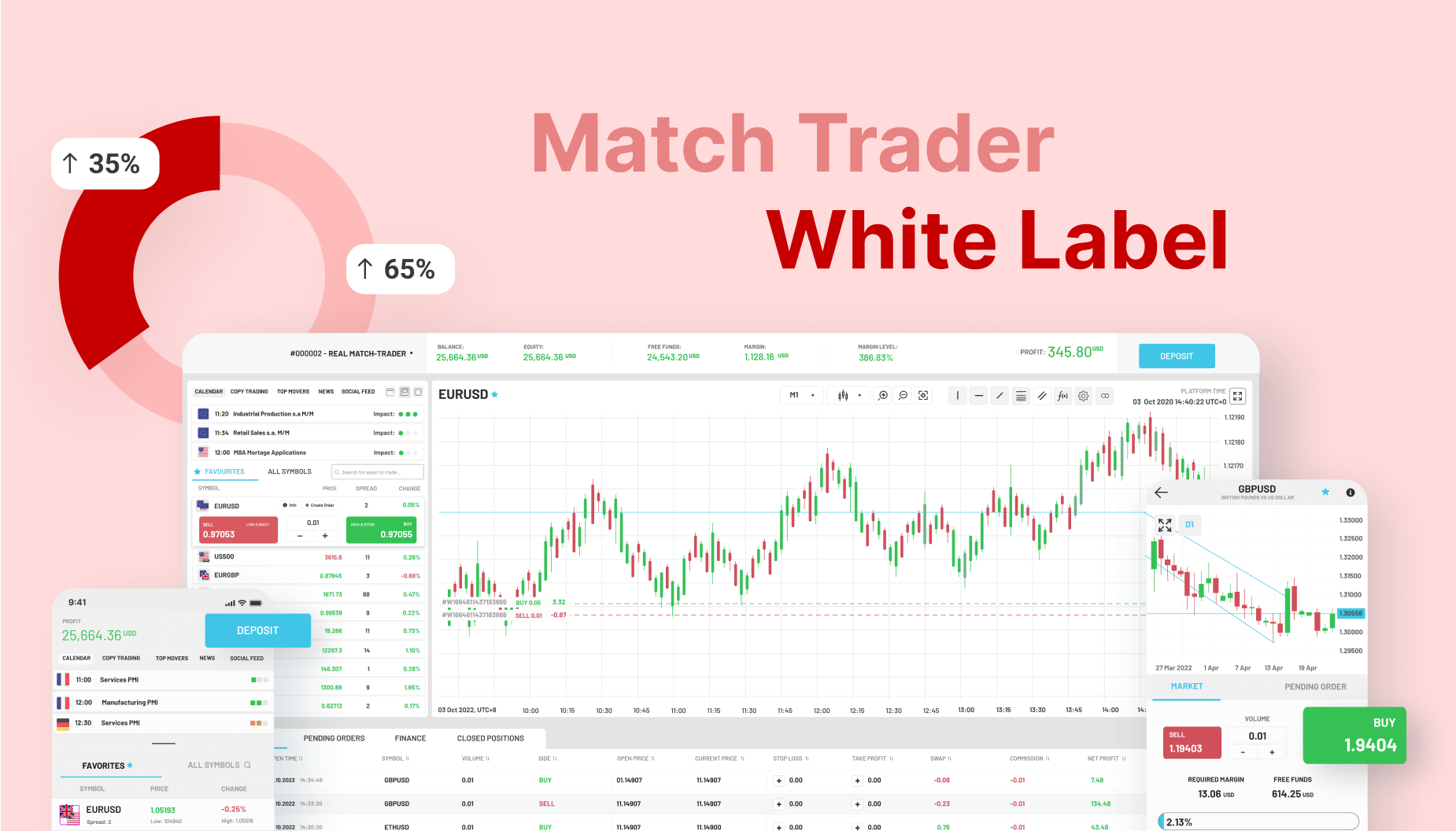 B2Broker has developed a new white-label solution to provide both brokers and traders with a fully featured Match Trader experience. This unique package consolidates all essential technology into one convenient bundle designed to save brokerages time and money. Boasting features such as crypto payment processing provided by B2BinPay, CRM system technologies offered through the B2Core platform, plus access to the Prime of Prime liquidity pool from B2Broker – the Match Trader white label package is sure to be a major success in the brokerage industry!
Match Trader White Label solution provides brokers with a convenient approach to managing their brokerage. In addition to 24/7 server support and a personalized account manager to answer all the broker's questions, B2Broker also offers an in-depth training program so that the brokerage's employees can use the software with confidence.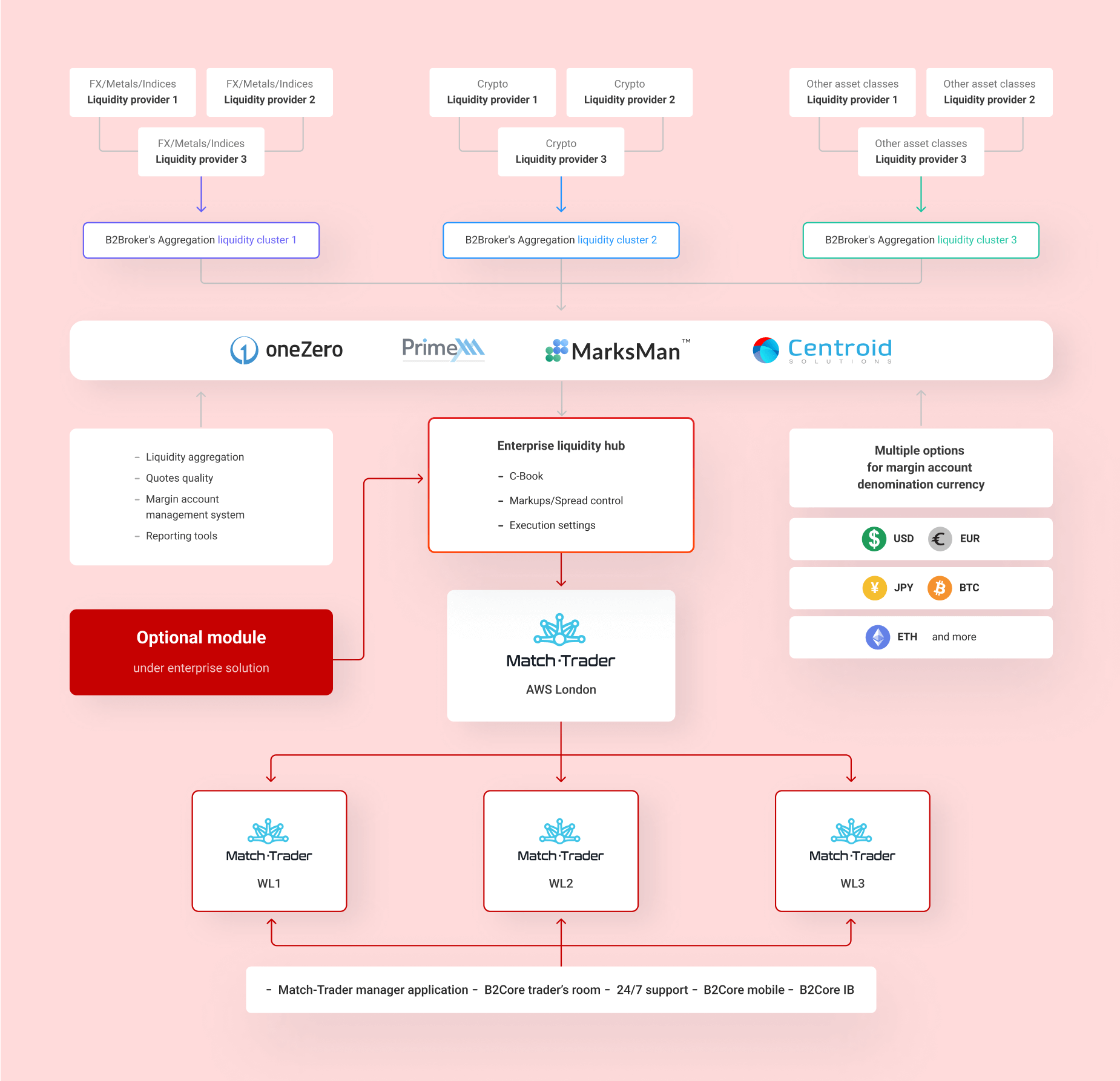 Match Trader White Label works especially well for businesses searching for competitive trading commissions and affordable liquidity costs. Also, with no setup fee required, all that stands between you and success is a three-month minimum liquidity charge. To sweeten the deal even further, B2Broker offers its clients one free month in terms of monthly connection and liquidity costs!
Match Trader x B2Core integration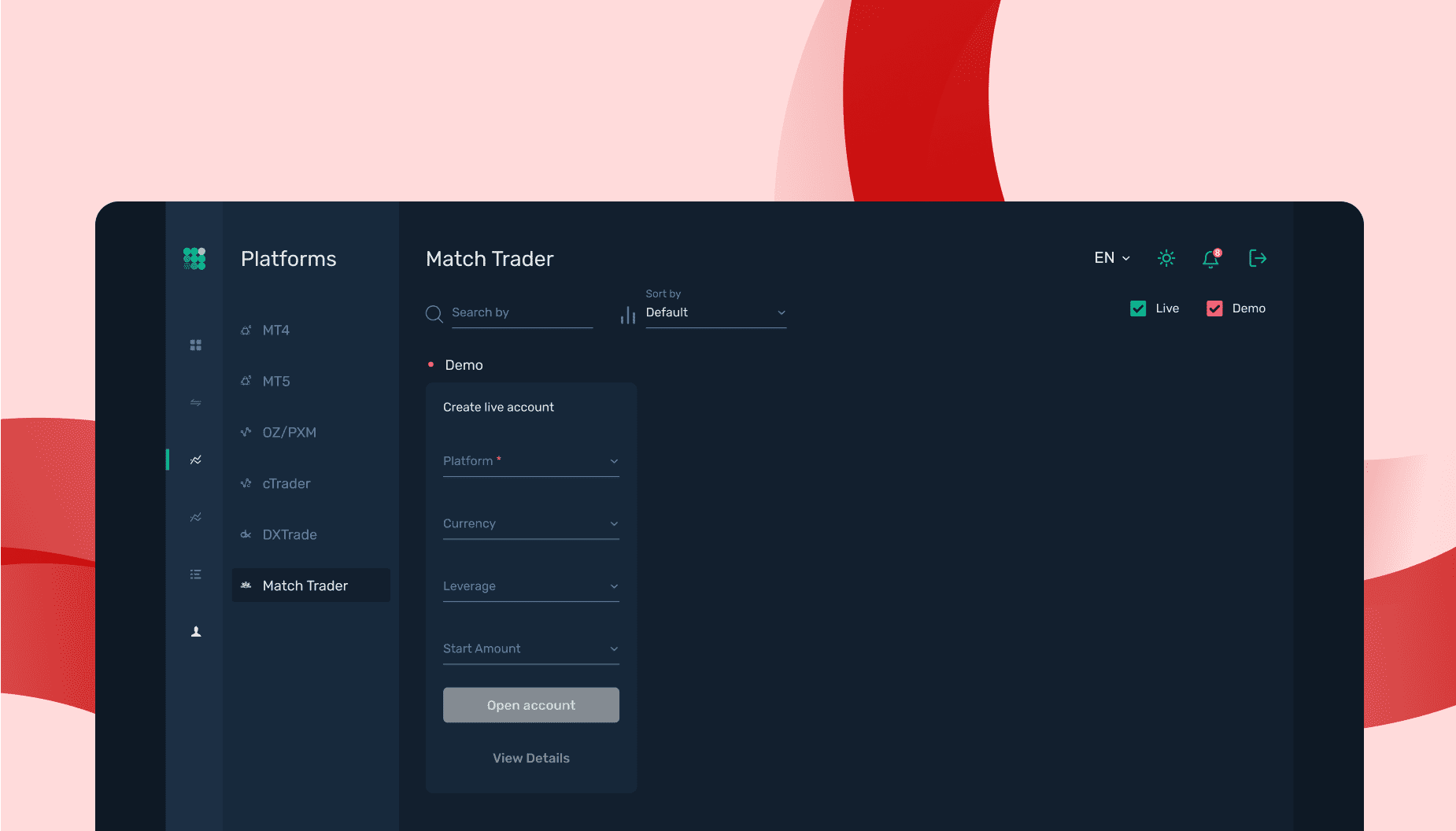 With its integration with the B2Core platform, white-label Match Trader gives brokers the ability to deliver a top-notch experience to their customers. This includes providing them with an easy way to connect with the trading accounts they open or manage – directly from the trading room – as well as access to all of the platform's features from the B2Core platform. 
Getting started with Match Trader through B2Core to open a margin trading account is quite easy. To begin, you will simply need to set up a user profile that connects all your various accounts. Then, you can easily link this new user profile to your newly created margin trading account and start investing!
Additionally, the B2Core Platforms tab has been upgraded with a Match Trader section. With the ability to open both demo and live accounts, users can now practice different trading techniques in real-time. What's more – deposits, withdrawals, transfers, and internal transfers are all achievable within this platform. And there's even an easy download button for the standalone Match Trader terminal that allows users to jump into action straight away.
Conclusion
By joining forces with Match Trader, B2Broker has created an extraordinary opportunity for brokers to provide their customers access to a comprehensive online trading platform. This bundle, with its tremendous features and capabilities, is an excellent choice for firms wishing to take advantage of the latest technology available in the market.
Also, the integration of Match Trader with the IB program is soon to be a reality. This will give B2Broker clients access to advanced tools that are powered by the dependable and user-friendly features of Match Trader – perfect for any size or type of trading business! With this connection, users have unrestricted access to all the options they need to achieve their trading objectives.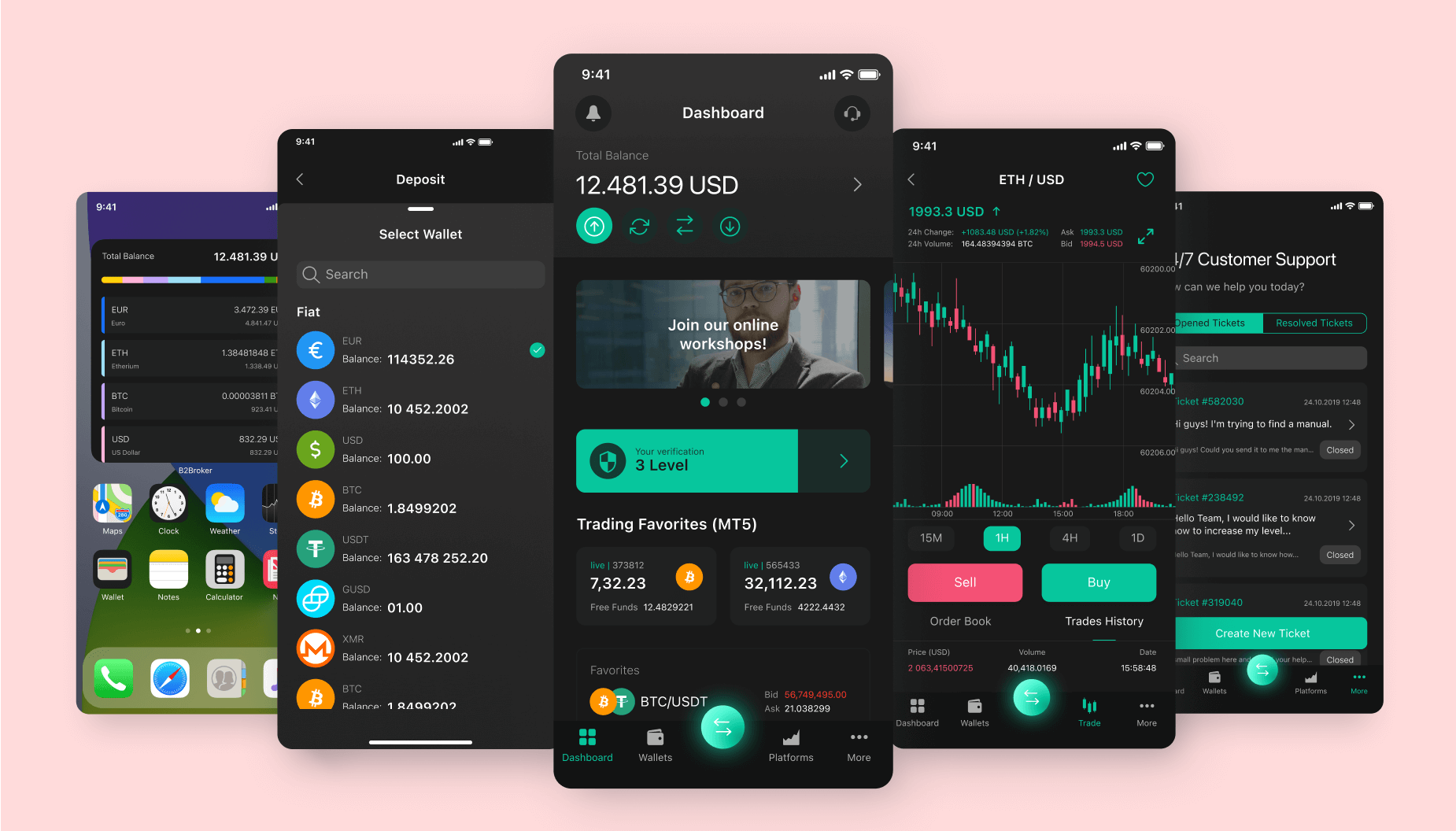 In addition, Match Trader is also set to integrate with B2Core mobile, allowing brokers to provide their traders with all they need through a single application. Stay tuned for the launch of these exciting new features!