The new White Label cTrader platform from B2Broker, a dominant player in offering liquidity and technology solutions for the Forex and cryptocurrency industries, has been completed and is now available to the public. In order to provide brokers with exposure to one of the most popular multi-asset trading platforms currently on the market, a new product was developed. The cTrader platform is widely recognized for its state-of-the-art features and advanced trading tools, thanks to which the platform is a preferred choice among traders. Brokerage companies can provide clients with a complete trading environment on the cTrader platform by employing the B2Broker White Label solution.
About White Label cTrader
Anyone may quickly start their own Forex, cryptocurrency, or any other type of broker. For those already running a brokerage, this solution will provide a new avenue of attracting customers and increasing profits. You will certainly not regret choosing B2Broker's White Label cTrader solution. Thanks to the platform's amazing UI, which can be customized to fit any imaginable aesthetics, all types of businesses may quickly provide their clients with tailored products.
"cTrader is a well-known platform with a proven track record of success, and it is used by all the market's top brokers. A quick search on the Appstore for cTrader will reveal all the major companies that use this platform.
We believe that in today's ultra competitive markets, every broker must offer a wide variety of trading platforms to its clients. Otherwise, the broker would lose clients who wish to trade on the cTrader platform. In addition to the traditional trading capabilities provided by the MT platform, cTrader will almost certainly attract a new category of traders and investors.
When it comes to managing your crypto brokerage, and its algo capabilities, cTrader is one of the top solutions on the market.
Since 2021, we have been seeing a growing demand for cTrader among cryptocurrency brokers. Since many cTrader brokers use our liquidity offering, we decided to open a whole new world for brokers that want to grow more sophisticated and cater to traders' needs, rather than requiring them to use a single platform," B2Broker CEO Arthur Azizov.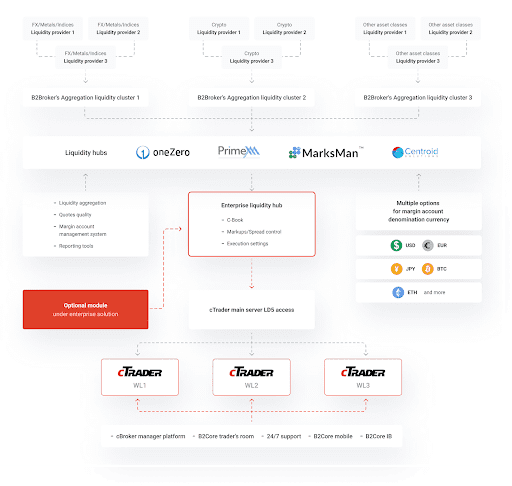 The White Label cTrader platform gives brokerages all the tools they need to be successful. It was designed to make everything simple. Therefore, you don't need to worry about purchasing a server license, establishing a backup system, creating a worldwide network of accessing data centers, engaging staff to install and administer the server structure on a regular basis, and much more.
Features
Firstly, WL cTrader is an entire infrastructure that includes liquidity solutions, trading platforms,

trader rooms

, payment networks, and IB programs. The combination of cTrader's complex trading tools and B2Broker's collective liquidity pool and continuous client assistance makes an attractive solution for everyone involved.

Secondly, your brokerage team will be given a thorough overview of the WL cTrader and cBroker user interactions and capabilities. An adoption to the cTrader platform, as well as a description of the features, will be included in the training session.

Thirdly, everyone gains access to the largest

liquidity

there is on the market, mainly thanks to banks and other institutions. This means that you may deliver your clients' narrow spreads with high throughput and swift execution at all times.

Next, B2Broker offers 24-hour assistance for everyone. Therefore, your problems will be resolved quickly, whatever they may be. B2Broker ensures you never walk alone and therefore offers trustworthy and efficient international services at all times.

In addition, C#-based algorithmic trading with configurable indications and automated tools is available. Using B2Broker's WL cTrader, you also can provide your clientele with an easy-to-use and configurable machine trading solution.

Furthermore, Your company will maintain all relevant licenses and permissions to keep everything running smoothly. Legal formalities are handled during installation, allowing you to concentrate on what matters most, expanding your organization.

Also, another exciting aspect is getting exposure to a demo environment, third-party integrations, STP, accessible prices, and an advanced user interface, among others. With proxies perfectly positioned worldwide, you can be confident of a stable connection with minimal time delay.

Lastly, the cTrader platform is a complete trading solution that includes everything a broker requires to thrive. With B2Broker's WL cTrader, you can provide your customers with a unique trading journey consisting of all the features and capabilities they require to trade successfully.
Final thoughts
B2Broker's White Label cTrader is the ideal solution for brokers wishing to provide their clients with an elite type of trading experience. Your clients may trade confidently with direct exposure to all of the tools they seek. Worth remembering is that with B2Broker's 24/7 customer service, everyone can expect help in case of an issue. Everything will be resolved quickly and efficiently. Thus, if you're seeking for a dependable and complete trading solution for your brokerage, B2Broker's White Label cTrader is the answer.