Table of Contents:
Introduction To B2B Marketing Automation

How does B2B Marketing Automation work?

Core differences between B2C vs. B2B marketing automation?

Top 5 use cases/examples B2B marketing automation 

Benefits of B2B marketing automation [can become an infographic]  

Choosing the best B2B marketing automation software for your business

Conclusion 
 Introduction to B2B Marketing Automation
Over time, marketing has evolved drastically. Today, it's a highly sophisticated domain powered by innovative technologies such as B2B marketing automation, AR/VR, and ML, to name a few.
Automating your marketing processes is no longer an option. It has evolved into an essential component of any business. Without marketing automation, you will be unable to keep up with changing customer expectations or your competitors. 
According to a State of Marketing Automation report, B2B marketers use automation to streamline marketing and sales efforts (38%), improve customer experience (34%), and engage customers (28%). However, only 20% believe they are fully utilizing automation tools. It is time to stay tuned to the B2B marketing automation trends.
With digital marketing and social media users continuously growing, it's not surprising to see the growth in the global marketing automation market size – it will grow at a CAGR of 12.3% to reach $14,180.6 million by 2030.
How Does B2B Marketing Automation Work?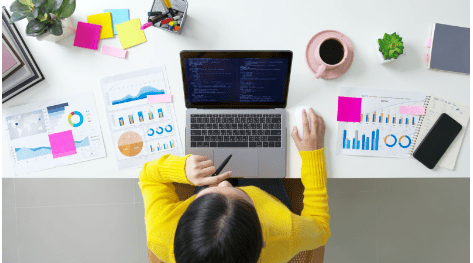 B2B marketers worldwide are enthusiastically incorporating marketing automation in their marketing efforts. However, not all of them produce immediate results because marketing automation requires a thorough understanding of both the processes and the tools. With 62.5% of the world population now moving to the digital world for all transactions, marketers need to adapt and integrate advanced tech tools and strategies to expand brand reach and capture new markets.  
Managing the B2B marketing funnel requires an integrated approach. While it may appear complicated, we'll simplify it.
Drive traffic towards your website, capture leads, retarget unconverted traffic, capture returning visitor leads, nurture leads via email, track revenue sources, and measure performance for consistent improvement.

To boost your website's traffic, you need paid and organic promotion, including social media, search engines, paid media, referrals, etc. You must connect the site with a social media publishing tool for organic social posts.

A CRM linked to your social media accounts and website to capture leads.

You can adopt paid tools like Google, YouTube, or Microsoft advertising accounts to retarget traffic. It's crucial to link these tools to your website and CRM.

Email automation software is key to nurturing leads and digitizing your sales funnel. You can link this to your CRM, website, and/or social media forms.

To track revenue sources, you must be able to correlate visitor behavior across all platforms with sales revenue. So, you must integrate website traffic, email automation, CRM, and social media channels to gather insight into your customer base. This includes the multiple touchpoints you must focus on to convert a lead to a sale.
Marketing automation involves using software or tools to automate repetitive marketing tasks and complete them much faster than a human could. It gathers data from many sources, analyzes target customer behavior, and uses the discovered insights for automating different marketing operations.
By automating routine tasks, companies can free their skilled human resources to shift attention to areas that thrive with human intelligence and cognition. Thus, it allows for resource optimization and cost reduction. Marketers use automation tools across every aspect of marketing, including CRM, lead nurturing, social media management, etc.
Brands can use automated messaging and email marketing to engage and retarget customers using automated messaging and other strategies. This fosters long-term customer-brand relations and also boosts customer retention. Automated messages and mailers can convey important brand information to target prospects/customers and position the right products as a solution to their challenges.
Ultimately, B2B marketing automation enables brands to enhance the customer experience (CX), increase ROI, reduce costs, and optimize the usage of human capital. 
Core Differences Between B2B vs. B2C Marketing Automation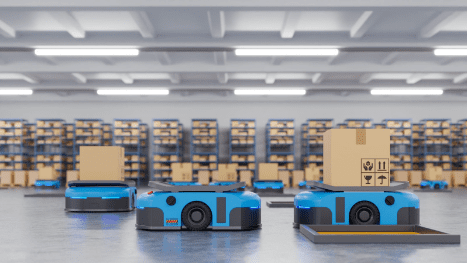 In B2C relationships, the emphasis lies on the consumer and targeting their emotions. Typically, the B2C buyer makes their own purchasing decisions, which can be an impulse buy or a purchase that does not require much thought or research.
However, B2B relationships emphasize high-priority accounts backed by a purchasing committee or multiple key decision-makers. Marketers must cultivate business relationships while providing information to nurture leads. It demands thorough market research and is usually more time-consuming.
The three major points of difference between B2B and B2C marketing automation are:
Engagement platforms –
B2C marketers can reach out via email, web, mobile, and social, but also via conventional channels like TV, radio, billboards, flyers, etc. B2B marketers do not use as many channels as B2C marketers. Email marketing is the most common B2B channel, but B2B marketers can also use mobile, search, and social media platforms.
Marketing automation KPIs –
While generating revenue is the ultimate goal for B2C and B2B marketing, different metrics are used to assess how well their campaigns perform.
B2B marketers consider:
Quality of leads generated 

Account lifetime value 
B2C marketers consider:
Email open rates 

Shopping cart abandonment rates 
Purpose of Engagement –
B2C marketing automation focuses on individual customer retention and retargeting. While retention is essential, B2B marketing automation focuses on lead scoring and nurturing at the account level. B2B technology assists marketers in capturing both account and individual-level intelligence to create engagement that feels personal, as it does in B2C.
Marketing automation allows businesses to stay in touch with leads and customers regularly. In B2B marketing automation, triggering an automated message or series of messages in response to email subscriber activity is the ideal approach. However, PPC advertising is one of the most effective B2C lead generation strategies because it drives qualified leads who are ready to buy. PPC ad visitors are 50% more likely to purchase than organic visitors. While both aim to target subscribers with the appropriate message in real-time, their approaches differ.
While B2C is all about personalization, B2B marketers focus on educating their clients. Hence, B2C marketing strategies primarily involve product recommendations, curated ads, dynamic content, and targeted offers based on past consumer actions. Contrarily, B2B marketing automation comprises trigger marketing, gated content (whitepapers, case studies, etc.), self-nurturing content, and chatbots, to name a few. 
Top Five Use Cases of B2B Marketing Automation 
Lead nurturing
Lead nurturing uses email marketing to nurture leads and get them sales-qualified. The most common B2B marketing automation use case is lead generation through the acquisition cycle. Once you add a lead to your list, marketers must follow cold leads with targeted content to convert them into warm leads, ready for the sales team.
The lead nurturing strategy should help you – 
(1) Track leads as they progress through the buyer's journey 
(2) Adjust your digital marketing tactics and messaging based on individual journey stages. 
Omnichannel campaigns
Increase your campaign's reach and brand awareness by triggering relevant automated communications across multiple channels. If you've just started marketing automation, concentrate on mastering one channel at a time. 
Simple email nurturing campaigns are an excellent place to start. Customers today seek a seamless experience – so you must be able to juggle multiple channels without hiccups. Omnichannel automation targets lead at numerous touchpoints along the buyer journey through many channels.
Automated email sequences
Regarding emailing, nearly six out of ten B2B marketers (59%) say it is their top revenue-generating channel. However, many marketers struggle with timely follow-up with leads and getting the right email content to them.
Automated email sequences solve this problem by helping you perfect your outreach at scale. Assume a prospect visits your website and subscribes to your newsletter. Instead of manually sending out emails by going through the cognitively taxing process of identifying the right time, automated email sequences deliver the correct message to your prospects at the right time. This helps create a highly personalized experience without spending much time on each lead.
Chatbots
The global chatbot market will reach USD 3,619 million by 2030, growing at a CAGR of 23.9% (2022 – 2030). If used correctly, chatbots can be a huge marketing asset. The best aspect of chatbots is that they can service customers 24×7 – they can answer customer queries and direct them to helpful resources on your website. Rather than going through actual people, this method instantly provides leads with the necessary information.
If your team faces similar questions repeatedly, creating a chatbot like this is an excellent solution. Today, nearly 74% of people prefer chatbots to offer simple answers, which directly impacts your customer experience.
Website tracking
Using the data obtained from web page visits to trigger automated B2B marketing campaigns is a highlight of marketing automation. 
'Website behavior' refers to specific landing page visits and/or link clicks. Anything a lead does on your website matters. It's an excellent opportunity to follow up directly with more information, whether for product pricing or a specific product. Marketers can install tracking software to obtain insights on on-site visits, time spent (by a prospect) on a particular web page, and capture their email addresses, making the mailing list richer.
Highlights of B2B Marketing Automation 
Though numerous apps can assist you in running your promotional initiatives, managing and implementing your marketing operations is a major challenge. Even the most powerful email apps or content marketing tools will fail if not integrated with suitable brand marketing activities.
Top benefits of B2B marketing automation:
​​Identify new sales opportunities 

Better lead management and conversion  

Creating a better customer experience

Increase the customer lifetime value 

Reduce customer churn 

Increased ROI from marketing campaigns

Streamlined processes

Optimization of cost 

Optimal resource usage 

 Increased sales & consistent business growth 
These reasons make marketing automation critical for modern B2B businesses, irrespective of their size. Marketing automation streamlines your marketing tasks and completes them faster. Marketing automation platforms fast-track lead generation for SMB owners by ensuring real-time data sync across software platforms and automating the operational aspects of B2B digital marketing tasks—whenever you deem fit—letting you focus on the larger B2B marketing roadmap.
Choosing the Best B2B Marketing Automation Software for Your Business  
As marketing automation becomes more popular, marketing automation services are becoming more affordable for small businesses. 
Marketing automation tools range in price and feature set. Some are better suited to eCommerce and small businesses, while others are apt for enterprise marketing. 
Below are a few features you must look for in a marketing automation platform – 
Omnichannel marketing campaigns across various stages of the customer journey.

Tracking visitors/pages to learn who is visiting your website and how they interact with it.

Reporting and analytics for performance evaluation.

Segmentation for categorizing your lists based on various criteria such as contact behavior or interests.
Review the marketing automation software to ensure it fits your requirement. Find out if it synchronizes with the current technologies you're using. It should also come with a rock-solid content strategy – creating content for the target audience and shooting it out at the right time is crucial. 
Above all, the B2B marketing automation software must be easy to use, adaptable, and allow for timely content delivery to assigned audiences. At Smarketers, our marketing automation solutions can seamlessly automate marketing and sales operations like customer profiling on landing pages, lead scoring, and sending automated personalized emails to support customer engagement and lead nurturing. 
Conclusion 
Marketing automation is here to stay and has a promising future ahead. As businesses grow, managing customer journeys, delivering personalization, and managing a slew of other tasks becomes impossible. This is where marketing automation enters the scenario.
The key to marketing automation success is choosing the right platform for your business and identifying the processes that you can automate for better marketing performance.
We hope this blog gave you some ideas for taking your B2B marketing automation strategy to the next level. 
If you want someone to help you get started, reach out to us now!