2020 was the year of eCommerce. With a pandemic ravaging the globe, manufacturers, distributors, wholesalers, and other B2Bs relied on eCommerce to keep the doors open. It was also the year that big differences became apparent between companies that had previously invested in eCommerce and those that had not.  According to Brian Beck, Managing Partner of Enceiba, "This crisis is widening the digital divide among those who made earlier investments in eCommerce and those that didn't. Some of those that didn't, won't survive." For those looking to enter B2B eCommerce for the first time or up their existing game, here are the best practices for 2021.  
The Importance of the Customer Journey
It's no surprise that most of the 2021 B2B eCommerce practices are concerned with providing the best customer experience possible. That's because 2020 was the year customer experience surpassed price as the key differentiator with buyers. Now, 64% of buyers place more importance on experience than price. And 86% of buyers are willing to pay more for a better experience.  Whether it's a complete digital transformation or just a refresh of the website, make the customer experience the centerpiece of your focus for 2021. Every new feature and every new project should start with the question, "how does this improve the customer experience?".
User-Based Account Permissions
In case you haven't noticed, Amazon Business is huge, with sales expected to reach $31 billion by 2023. This marketplace serves large and small companies in every industry. From hospitality to healthcare, business buyers like the convenience. 
One of the most popular features is the ability for users to control their accounts. This practice, known as user-based account permissions, allows the account user to establish spending limits and approval processes that mirror their internal hierarchy and purchasing processes.  It provides purchasing managers a level of comfort that purchases fall within established parameters and accounting staff assurance that only authorized purchases are made. Reporting is simplified as well.
Amazon isn't the only B2B seller that can offer this level of service. If your eCommerce platform isn't a repurposed B2C solution, you should have this functionality. If you are still using a repurposed B2C solution, 2021 should be the year you move to a B2B solution. Business buyers have different needs than retail consumers, even if they have many of the same expectations. A B2B solution provides the functionality necessary to keep business buyers happy. 
Lighting Fast Page Loads and Fully Responsive Mobile Experience
People are impatient. Period. Google research found that as page load times went from 1 second to 10 seconds, the bounce rate increased by 123%. How fast are your pages loading?
Make sure your CMS isn't holding you back. If you haven't already, implement best practices to improve load speed. This ranges from image compression to deploying a CDN. 
Ensure that every aspect of your web experience is optimized for mobile devices. With more and more people working from home, the desktop in an office is going the way of the dinosaur. 
Workers may start the day on the laptop in their home office, take their tablet to work on the balcony, and continue with a smartphone while they walk the dog. No matter what device accesses your website, the customer experience must be stellar. 
Rich Content 
Business buyers want as much information as possible. The 2021 customer experience builds on the self-serve model. 
Make sure your website is features:
Eye-catching quality graphics (optimized for page speed)

Complete product information

Downloadable brochures

User manuals

Installation guides

Troubleshooting tips

Videos showing your wares in action

Audio of informative podcasts or other information
People want to find answers to their problems, and after-the-sale-support should be as easy as possible. And for those times when only human interaction will do, make sure your phone number prominently appears, and online chat with customer service is available. 
 Progressive Web Apps
Another feature popular with buyers is the progressive web app. What is a progressive web app? Well, if you've ever used Instagram or Pinterest for your personal use, you've used a progressive web app. 
These web apps appear to the user as stand-alone apps, but they are powered by the web. Instead of opening in a browser, they open in an app window. When's the last time you went to Pinterest.com and logged in to your account? If you use the Financial Times or Forbes app to stay on top of the news, you've used a progressive web app.  
For the buyer, it's the power of the web for speed and utility and for the seller, it increases reach. 
Think of how a progressive web app will increase the experience with your brand. 
Integrations with Distributors and Wholesalers 
In the beginning, EDI was used to connect purchasing departments with their vendors.
In 2021, APIs will be used to connect manufacturers with distributors and wholesalers. And distributors and wholesalers will connect with their customers as well. Animal Supply, one of the largest pet care product distributors in the US uses a combination of integrations and headless architecture to support their network of small and large retailers. 
Through integrations, dropshipping is much easier as it reduces duplicate data entry.   
As supply chains struggle to get inventory from point A to point B, drop shipping simplifies the transportation process. If you support a distribution network or work with wholesalers, integration for dropshipping improves end-user customer satisfaction and in return, this improves the experience you are providing to your customer.
Flexibility
Another lesson B2B sellers learned in 2020 was that agility is key to survival. In 2021, flexibility in eCommerce will be more important than ever.
As markets continue to evolve and adapt to the new normal, business models will change to meet these demands. You may operate multiple websites for multiple brands or represent all brands in one instance. 
Manufacturers must have a website that is prepared to move from B2B to D2C if the market dictates, knowing that the end consumer may have higher expectations for support than a distributor or wholesaler. Be prepared to pivot your business models with the eCommerce application best suited to the current market conditions. While this may seem a daunting task, a B2b eCommerce platform that supports multiple front-ends with a single backend makes the process much easier. 
The Future of eCommerce is Bright in 2021
2020 was a great year for B2B eCommerce and 2021 is expected to be even better. Statista anticipates sales will reach $1.2 trillion.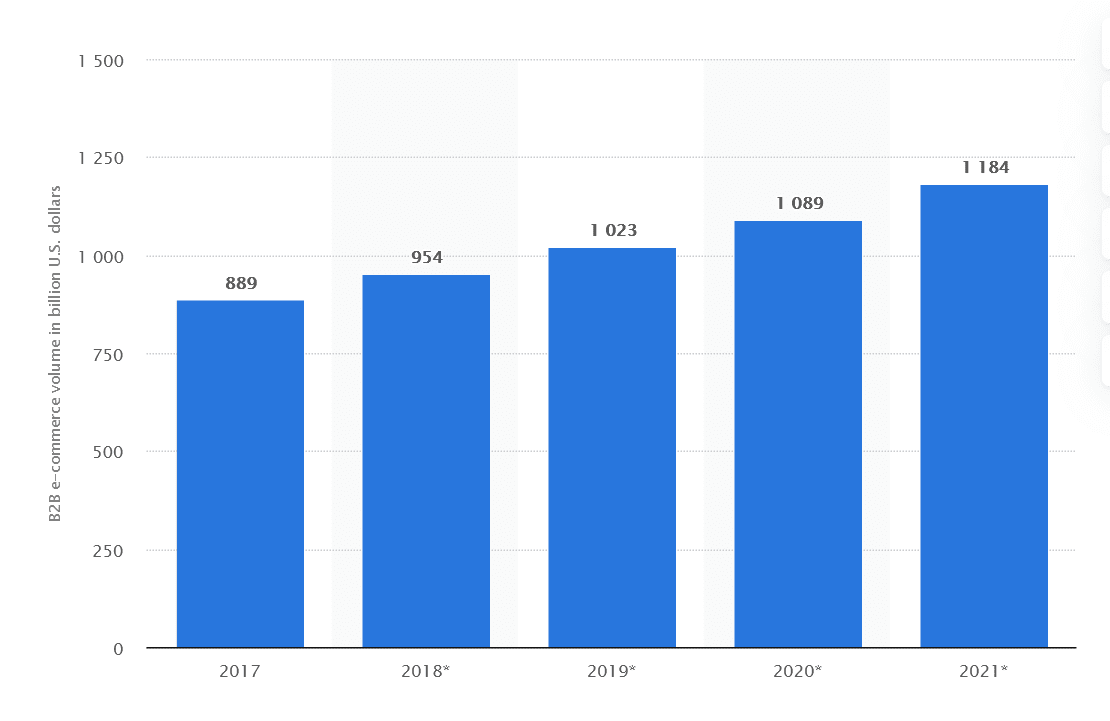 Focus on providing the best customer experience possible and following these eCommerce best practices to optimize sales through your digital channels in 2021.