AurusDeFi (AWX) is the Aurus Ecosystem utility token, limited to a total supply of 30 million units. AWX is an essential component of the decentralized nature and ultimate success of Aurus precious metals-backed tokens: AurusGOLD, AurusSILVER, and AurusPLATINUM.
AWX represents a stake in the Aurus Ecosystem, offering investors exclusive benefits. Most notably, by staking AWX tokens in the Aurus App, holders receive a proportional share of ecosystem rewards, which are claimed in Aurus precious metals tokens.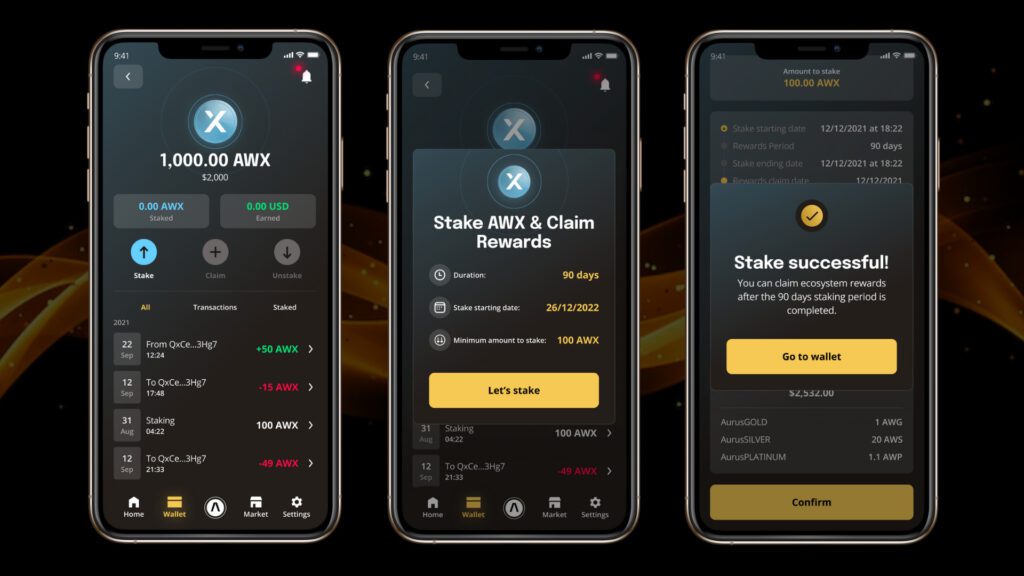 AWX Stake & Claim — Launching 1 April 2022
With the recent launch of the Aurus Mobile App and token interoperability with the Polygon Network, Aurus is nearing closer to the long-anticipated launch of AWX Stake & Claim. Upon activation, AWX stakers as well as ecosystem partners will start earning passive precious metals rewards.
Development status
Smart contracts — complete (100%)
Design — in progress (85%)
App developments — in progress (70%)
AWX staking Mechanism
In order to start earning rewards in gold, silver and platinum, users will need to stake a minimum of 100 AWX for an initial period of 90 days. The first staking period will initiate April 1st 2022 and will operate on quarterly (3 months) staking cycles. From hereon, AWX tokens can be staked at any time with rewards distributed on a quarterly basis.
→ AWX available on QuickSwap exchange here.
$10,000 bonus Pool in Gold for early investors!
In celebration of this milestone, we've created a $10,000 bonus pool in gold for early AWX investors! Pre-register your Aurus wallet to stake AWX and earn your bonus share of $10,000 in Gold. You can register here.
About Aurus
Aurus provides the software, network, and crypto infrastructure for global precious metals businesses to merge with the future of finance, in the form of DeFi and Web3 applications — giving them high-tech products, a huge addressable market, and passive revenue streams.
Stay tuned for regular updates in Aurus Telegram and Twitter channels.