On Yanda's automated crypto trading platform, you have the ability to manage multiple crypto exchanges from one place. CEO Mario Stumpo shares more details with us in an exclusive interview with TechBullion.
Please tell us your name and about yourself, what inspired you to start Yanda?
Yanda solves problems that many cryptocurrency traders experience, fear! 
Fear of your crypto profits becoming losses. 

Fear of making a trading mistake.

Fear of missing a trading opportunity.
We spoke to CEO Mario Stumpo, founder of the automated cryptocurrency trading platform Yanda as part of them recently launching the new 2.0 version of the trading platform. You can get a free trial here. 
We interviewed Mario and asked him what pushed him to start a crypto automation company back in 2017. 
"The first idea of Yanda came from the need I had to solve our trading problems back in 2013. Whilst working a full-time job, and studying for a third master's degree, I felt that I was missing profitable trading opportunities while I was at work (or anywhere far from my laptop).
After much research, it stood out to me that if I could somehow include automation into my trading it would solve my problem, and that's where it all began. 
My biggest fortune was that I found other like-minded people that, and for similar reasons, shared the same vision of creating a software that would solve the problems of many crypto traders. Jonathan Price and Samir Allous were among the first to join this, and together we developed the very first set of trading automation tools. 
It wasn't long before we realized that what we had created was something that not only worked, but it was working better than the other automating trading software available. 
We started to share this between trading friends and it wasn't long before they were also reporting back with better trading success rates than manually doing it themselves. That's when we knew we had created something that had great potential that would improve crypto-traders results around the world. 
In 2016, the first prototype platform was created and since then, it has grown to have over 12000 registered users and processed over $50,000,000 million in volume." 
What is Yanda and what problems are you solving?
Yanda is an automated crypto trading platform, where traders can connect multiple crypto trading exchanges and trade across them all from one location. Traders can use their API keys to connect their favourite trading exchanges such as Binance, Coinbase Pro, Bittrex and more to trade automatically 24/7.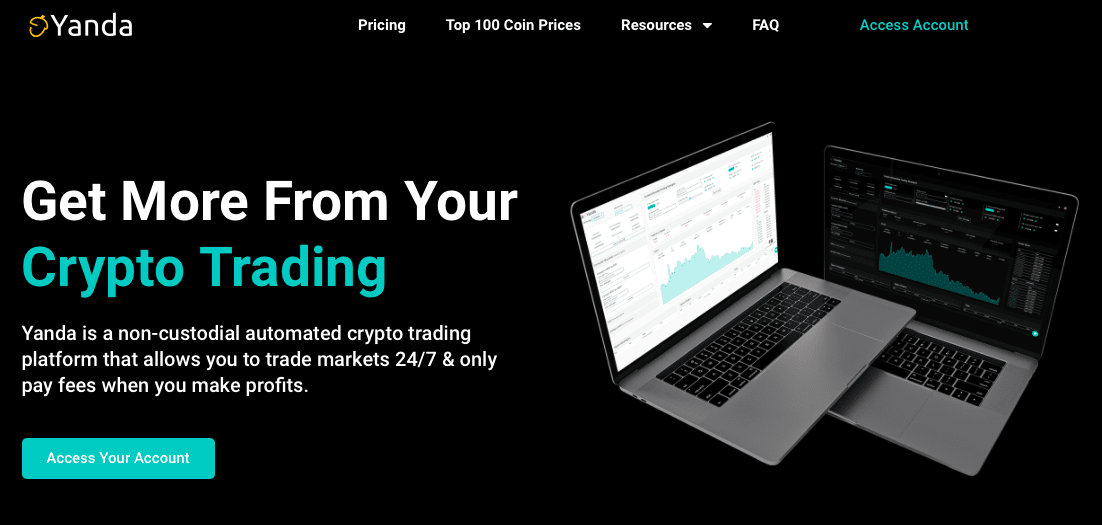 Yanda's main aim is to make trading automation available to everyone no matter where they are in the world or where they are starting in their trading journey. When you use Yanda to automate, you no longer need to worry 'am I making the right decision here'. You create trading bots that trade the markets for you so you never miss an opportunity, even whilst you are sleeping. 
It's a simple 3 step process. You select the parameter for your bot to follow, you launch your strategy, and then let the bot work it's buying and selling magic to accumulate more profits for you.  
What features and services make Yanda better than other trading platforms in the market?
Yanda integrates multiple exchanges via API keys so users don't need to jump from one exchange platform to another to make different trades. Yanda takes security seriously, and the use of API keys is a strong method when it comes to the security of the traders' funds. Traders' funds never leave their exchange account, and that's how Yanda allows traders to create automated trading strategies without making a trading deposit. 
Traders of the platform have now launched more than 21,000 trading bots, and kept a 97% success rate throughout. The reason behind that is related to the outstanding activity of the entire team by making the platform easy to use.
Recently Yanda 2.0 was released for its user to use in beta. The new Yanda platform comes with better user experience and a complete rework of the design. They have also released some new features to help maximise their trader's profits. Say hello to AI and Optimal Trading Indicator.
The crypto market seems to be volatile lately, why should crypto traders be considering using Yanda's automation platform to help them trade? 
There are many reasons why crypto traders would want to use Yanda for making profits. First and foremost, the high level of volatility in the price of cryptocurrencies creates an almost-constant opportunity of making profits. Trading manually is very tedious and inefficient, that's why we offer an automated trading solution that can catch all opportunities when they arise.
Another reason why crypto holders should use Yanda is because it's performances over time. In fact, we have launched the software back in 2017 and the profitability score (calculated on top of over 21 thousand trading bots created by our users) is about 97%. I am very proud of what our team was able to achieve in terms of technology and performance, that's also why I am here happy to promote what we did. 
Yanda has been tailored according to the needs of our users, so every trader will find it easy to navigate and to start with. You can literally start trading and make profits in minutes since you register.
Where is Yanda heading in terms of technology? Shall we expect some major improvement?
The team is currently busy working on enhancing the scalability of our platform together with deploying our new single page application that will make the user experience much better and smooth.

We are also considering implementing web3 on our software to make it compatible with the majority of the wallets like metamask out there.

Do you have any current investment opportunities and partnerships available at Yanda? 
After we raised some capital this year to further develop and promote, we are about to start welcoming investors for our next round of investment, therefore I encourage investors to reach me out on my personal linkedin page so that we can start discussing.
Partnership wise, we are happy to get in touch with all crypto-exchanges and to start focussing primarily on the new cutting edge software built for solving the real need of the crypto traders. We also are happy to discuss with individual traders that would like to share (for a fee) their strategies to the users of Yanda.
Yanda has 2 main ways for you to enjoy crypto automation.
The first option is to add Yanda Credit (pay-as-you-go). Think of this option like topping up a mobile (cell) phone. You only pay for what you use. This option is great for the casual trader and traders who are trading with a total less than 0.5 BTC in their exchange portfolio as you only pay a fee from the credit when your crypto bot is profitable. No Profits, No Fees… 
The second way is to take advantage of unlimited monthly bot launches. Unlike, some crypto bot platforms we don't limit you to how many bots you can launch! You can join our monthly membership option and enjoy Yanda as much as you like.  We also recently released the new version of Yanda 2.0 and we introduced a new way to try the Yanda platform on a free trial. 
Yes, we welcome you to visit Yanda.io to find out more and to create an account with us. You can also visit our YouTube Channel where we post all our training tutorials and platform updates so make sure to subscribe there.
If you have a question about automating your crypto trading with us please visit the website; https://www.Yanda.io, send an email to support@yanda.io or join our Telegram Group .