Aurus is empowering the precious metals industry with blockchain technology, accelerating its growth and turning it into an inclusive market that everyone can join and benefit from. At Aurus it is our mission to provide the tools and support for enhancing the usability of tokenized precious metals while leading the expansion of the Aurus Ecosystem and driving revenues towards its participants and AurusDeFi holders.
In this article, we want to introduce you to Aurus V2, a new chapter that we consider to be the most important milestone in the history of Aurus, as it contemplates outstanding innovations and upgrades to the Aurus Ecosystem and its tech infrastructure.
Aurus V2 Launch – 1 November
The Aurus team has been working for months on several updates regarding the smart contracts and IT infrastructure to bring the Aurus vision closer to reality. Aurus will announce and launch this update on November 1, 2021. Amongst these updates you will find:
Integration of Polygon Scaling Solution
Activation of the Revenue-Sharing Mechanism 
Launch of the Aurus Mobile App
Launch of the Aurus Vault Signer Card
Rebranding of Aurus and New Website
New Exchanges & DeFi
---
1. Polygon Integration (Layer-2)
All of us have been suffering the negative effect of the high gas fees associated with the Ethereum network, but finally, we have the solution, and it is already integrated into the Aurus protocol and smart contracts. The Polygon Layer-2 scaling solution enables transfers of tokens at minimal fees (fractions of cents) and virtually instantly. The forthcoming multi-chain approach will greatly reduce dependence on the highly congested Ethereum Network.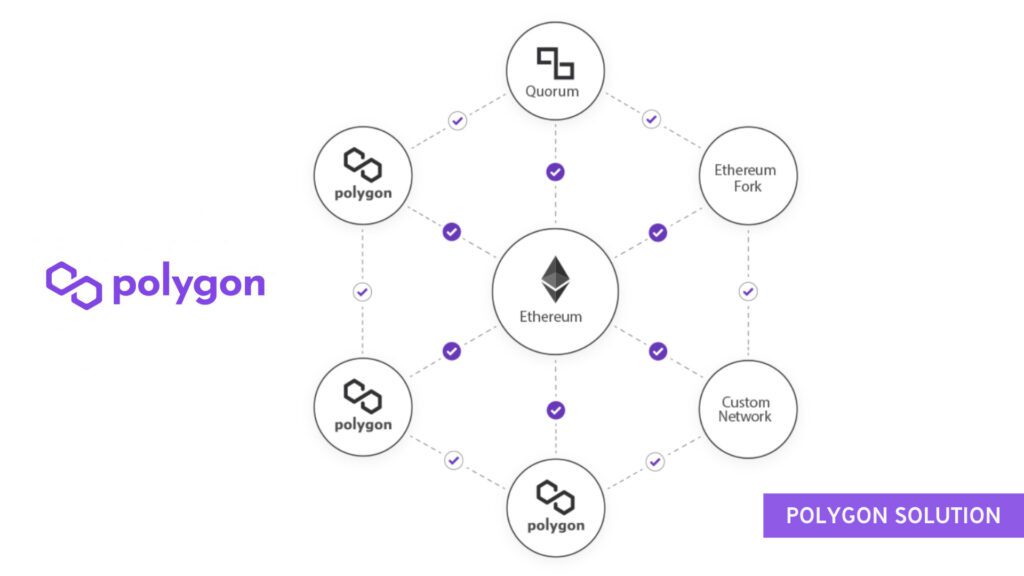 Aurus distributors and users will be able to choose the network on which token transfers will occur. For example, if you prefer Polygon, Aurus ERC-20 tokens can be wrapped into Polygon via an easy-to-use bridging tool available in the Aurus app or on the Polygon website. The mobile app operates on the Polygon network by default and offers users the option to use other networks (e.g. Ethereum). All Aurus token mintings and burns will still be executed on Ethereum to keep the information recorded on one network.
Here is a comparison between the functionality of Ethereum and Polygon regarding transactions:
2. Activation of the Revenue-sharing Mechanism
With the integration of Polygon comes the highly anticipated activation of the revenue-sharing mechanism in the Aurus ecosystem. Bullion Providers will start paying token minting and burning fees for using the protocol, while modest storage and transactions fees will be charged for the retail usage of Aurus precious metals-backed tokens. All accumulated fees will be accumulated and proportionally distributed amongst Aurus Bullion Providers and AWX holders, with the revenues being paid in AWG, AWS and AWP, which can be claimed via the Aurus App.
Below you can find a visual of the Revenue-Sharing Mechanism with the fees to be collected and the revenues to be distributed to you as AWX holders and to the bullion providers: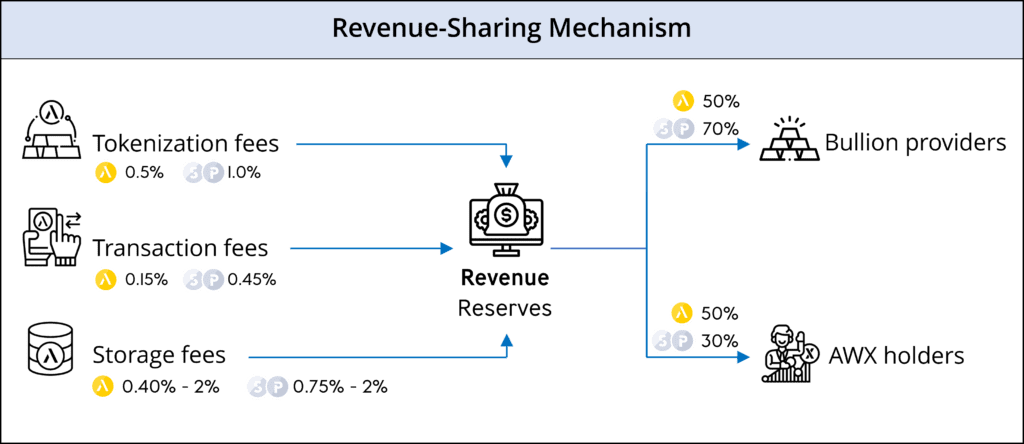 3. Aurus Mobile App
The Aurus mobile app is one of the key projects that Aurus has been working on, as it will be the main tool to drive massive adoption across the retail market. Our mission is to deliver an app with outstanding design, supported by innovative features and a user-friendly interface. All the new functionalities of the mobile app along with the integration of Polygon have been already built. Now we are completing the UX and UI with our developers at Bucharest and designing the last few screens with a Branding Agency also based in Romania.
Below is a sneak peek of the new Aurus App: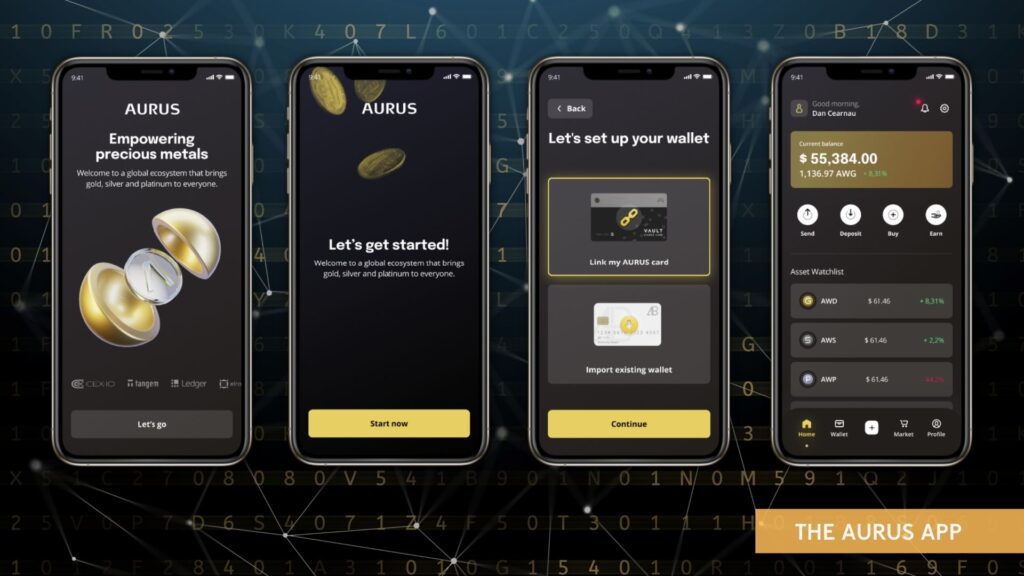 Most Aurus token holders currently use MetaMask to store their tokens. Once the app is launched in November, Aurus will guide current token holders to bridge their tokens to Polygon on MetaMask and transfer the assets to the Aurus App wallet at minimal fees.
4. Aurus Vault Signer Card
The Aurus Vault Card is a multi-asset compatible hardware wallet that enables you to store AurusGOLD, AurusSILVER, AurusPLATINUM and AurusDEFI on it. It is basically the upgraded version of the Gold Card. Users will also be able to generate a backup of their Vault Card on the Mobile App, with the chance to add a PIN code to enhance its security. Our distributors will start accepting pre-orders in the next few days. The mobile app will also support the Aurus Gold Card (V1), and if you are holding one of these cards today and wish to upgrade to the Vault Card, our distributors will be offering an exclusive discount for existing Gold Card holders.
Our current Aurus brand image and website is outdated and no longer represents what we are doing and offering to the precious metals industry. It is why we are making a disruptive change that will reposition Aurus as a market leader, bringing more simplicity and professionalism to the brand. We hired a renowned Dutch agency specialized in designing customer journeys, who already finished the new skeleton and wireframe of Aurus.io website V2.
In order to bring the new website wireframe to life, we are currently working with a Romanian Branding agency that is redesigning the entire brand, visuals and style for both the website and the mobile app. At Aurus we are extremely excited about this project as we have deployed several resources and all of our passion to present Aurus as what is meant to be, a global ecosystem that empowers precious metals with blockchain technology.
Here is a sneak peek of the upcoming branding concepts: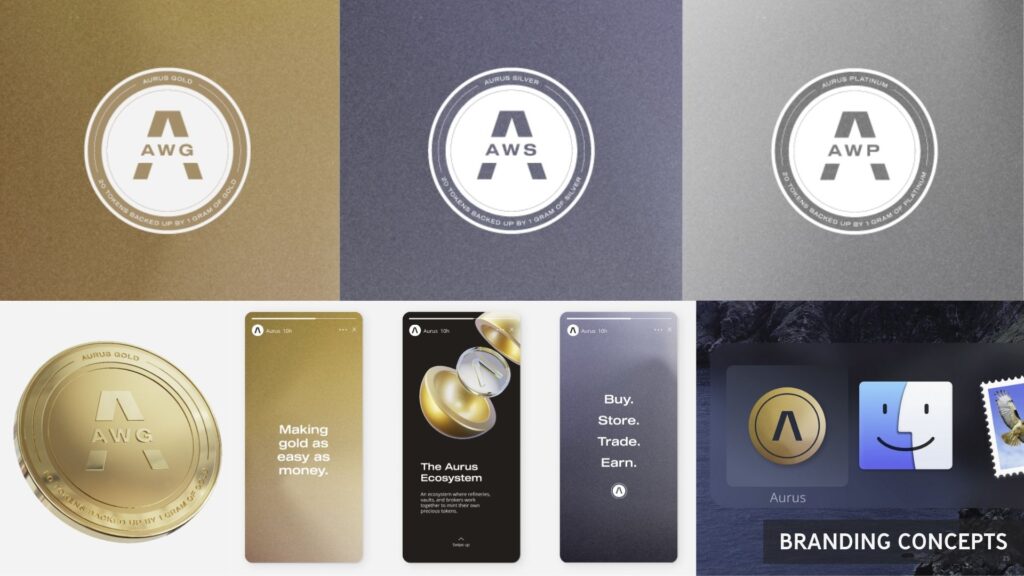 6. New Exchanges and DeFi
Aside from integrating new Bullion Providers and Brokers, we are working to list the Aurus tokens on two Tier-A exchanges to bring you new fiat on-and-off ramps and to enhance liquidity while tapping into new communities. We are currently going through the due diligence process and expect to list AWG, AWS and AWX by the end of November 2021 in at least one of these exchanges. On the other hand, our team has been reaching out to exchanges that operate within the regions where our current precious metals dealers operate in order to increase accessibility and provide users with the opportunity to enter and exit token positions using their local fiat currencies.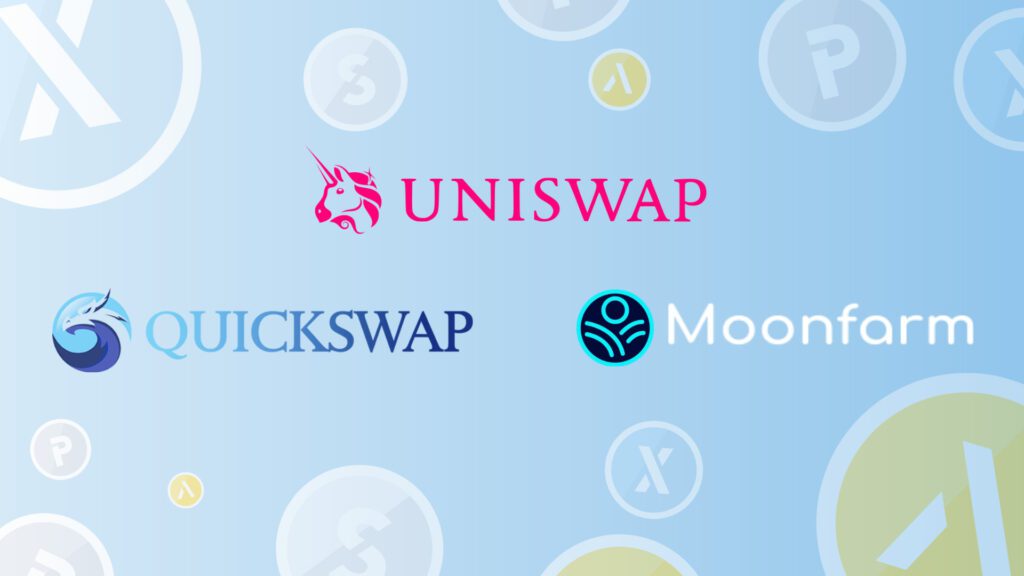 The DeFi space has been growing at exponential rates, from USD 2.2 billion in total value locked in September 2020 to over USD 150 billion in September 2021 (over 6,700% growth).
This market entails different platforms such as decentralized exchanges including Uniswap, QuickSwap. At Aurus we have already launched pools (AWS/ETH) and will be bringing new partners and tools to build deeper liquidity pools, for us to attract a broader audience of investors. With our newest partner Moonfarm, we will enable anyone to earn a yield on precious metals by providing liquidity with their Aurus tokens. DeFi is revolutionary, as it is opening the door for any individual to benefit from new revenue opportunities encouraging a more inclusive and collaborative environment for all.
---
We hope you are as excited as the entire Aurus team is doing. After these updates come effective in November 2021, you can expect several more features and functionalities to come, which will boost the expansion of the Aurus Ecosystem.
Want to join us in the new chapter and start earning precious metals? 
Get your AurusDeFi (AWX) tokens before launch here.