Aurus to utilize Polygon full-stack scaling solution to expand its tokenized precious metals ecosystem globally, supporting its vision of creating a more inclusive and efficient precious metals market.
Aurus, a decentralized precious metals tokenization platform is proud to announce it has deployed its suite of tokens, supporting products and applications on the Polygon Network. Polygon's full-stack scaling solution provides Aurus the infrastructure to facilitate low-fee and fast trading of its tokens.
Furthermore, polygon interoperability has enabled Aurus to activate the platform's unique reward system, which distributes precious metals rewards in AWG, AWS and AWP to key Aurus ecosystem participants including Aurus industry partners and AurusDeFi (AWX) token holders.
What is Polygon?
Known as one of the fastest-growing blockchain networks, Polygon provides scalable, secure and instant Ethereum transactions using Plasma side chains and a Proof-of-Stake network. It is one of the most active layer-2 Ethereum scaling solutions in existence today. 
As an Ethereum-native platform, Aurus' growth has been hindered by the highly congested network, with transactions averaging $30 in gas fees over the last 6 months. The Polygon Layer-2 scaling solution enables transfers of tokens at enhanced speeds and at minimal fees (fractions of cents). Following a grant received from the Polygon Foundation, Aurus has successfully integrated and is preparing to launch its precious metals ecosystem on the Polygon Network. The forthcoming multi-chain approach will greatly improve scalability and reduce dependence on the congested Ethereum Network.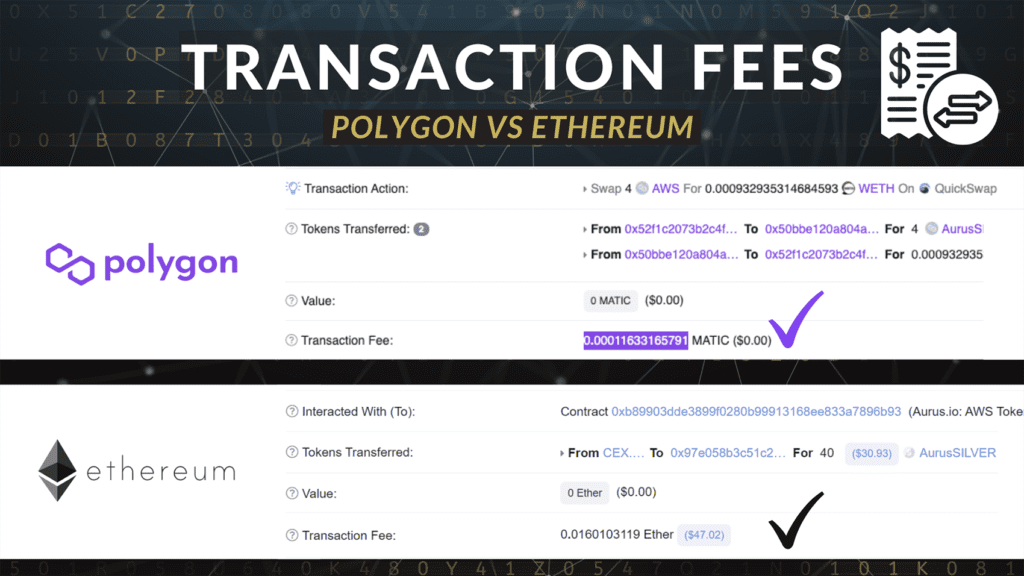 What does integration mean?
Polygon integration entails multi-chain token interoperability with the Aurus Mobile App, Aurus Vault Card, and partnered exchanges. All Aurus token mintings and burns will still be executed on Ethereum to keep the information recorded on the main network.
The newly launched Aurus Mobile App operates on the Polygon network by default and offers users the option to switch between networks via an easy-to-use in-app bridging tool. The new Aurus Vault Card, a multi-asset hardware wallet powered by Tangem is also Polygon compatible, providing seamless cold storage security. Aurus partnered exchange, CEX.IO now supports deposits and withdrawals on the polygon network, making the buying and selling of Aurus tokens an inexpensive exercise.
The advantages of Polygon to Aurus
Polygon is a game-changer for Aurus and for precious metals as a whole, especially considering the drawbacks of limited transportability and high premiums associated with physical precious metals. Aurus partnered bullion dealers gain a significant competitive advantage being able to offer instant global settlements at fractions of cents, significantly reducing operational costs. The upgrade offers investors the opportunity to buy and trade precious metals, easily, 24/7 and at minimal costs. With Polygon Aurus is ready to scale globally, supporting its vision of creating a more inclusive and efficient precious metals market.
Furthermore, Polygon enables Aurus to activate the platform's long-anticipated fee system, economically. Upon activation, Aurus stakeholders; partners and AurusDeFi (AWX) token holders will begin generating ecosystem participation rewards derived from the fees of Aurus precious metals-backed tokens: AurusGOLD (AWG), AurusSILVER (AWS), AurusPLATINUM (AWP).
Polygon Integration details
Aurus Mobile App (IOS, Android) [COMPLETE]

CEX.IO exchange polygon deposit/withdrawals [PENDING – Q4 2021]

In-App polygon bridge functionality [PENDING – Q4 2021]

Tokens: AWP [PENDING – Q1 2022]

Ecosystem reward system activated [PENDING – Q1 2022]
About Aurus
Aurus is the decentralized financial infrastructure empowering gold, silver, and platinum-pegged digital assets, creating a more inclusive and efficient precious metals market. The Aurus Ecosystem is a global network of independent precious metals providers, vaults and distributors working in synergy to tokenize their own precious metals. Aurus tokens are highly liquid, transferable and easy to store, making it the perfect way to invest in precious metals.
Website | Medium | Twitter | Telegram | Email
About Polygon
Polygon is the leading platform for Ethereum scaling and infrastructure development. Its growing suite of products offers developers easy access to all major scaling and infrastructure solutions: L2 solutions (ZK Rollups and Optimistic Rollups), sidechains, hybrid solutions, stand-alone and enterprise chains, data availability solutions, and more. Polygon's scaling solutions have seen widespread adoption with 3000+ applications hosted, 1B+ total transactions processed, ~100M+ unique user addresses, and $5B+ in assets secured.
Website | Twitter | Ecosystem Twitter | Telegram | Reddit | Discord | Instagram | Facebook | LinkedIn