ArtPro is indeed the Art of Blockchain, a marketplace for private dealers and contemporary artists that connects artists and buyers for valuing, authenticating and acquiring art while dispensing with excessive fees and intermediaries. The CEO Oliver Hams will be discussing the ArtPro project with us in this interview.
Please tell us your name and about yourself?
My name is Oliver Hams, I'm the co-founder and CEO of ArtPro Platform. I've been managing portfolios for the past ten years, with a primary focus around contemporary art since 2011.
What is ArtPro?
ArtPro is the first blockchain powered online art market designed to connect artists with buyers, removing the need for intermediaries and building a marketplace based on transparency.
Categorically, what are the unique specific services you provide at ArtPro?
Utilising the distinct immutability of blockchain technology, ArtPro provides a platform for the sale and listing of authenticated artwork. With provenance reports hashed to the blockchain and paired with the ERC721 token, each individual work is recognised as unique. As well as allowing artists to bypass the typically high auction and gallery fees, we allow buyers to purchase with confidence by adopting a rating system to encourage end to end transparency.
How does the ArtPro ecosystem work, what is the technology behind the project?
The ArtPro ecosystem is built on the Ethereum blockchain using the ERC20 token. With the sanctity of authenticity at the forefront of our mission, we chose to adopt the ERC721 token on the basis of its non-fungibility. Unlike the fungible ERC20, each ERC721 token is completely unique making it the ideal standard to assign to a collectible such as art. A PDF certificate of authenticity can be provided by the artist and scanned to the interplanetary file system (IPFS) generating a hash of the file which is then stored on the blockchain creating the first leg of the journey. As each piece of art moves within the ArtPro ecosystem, a new block is created in turn providing a complete chain of provenance.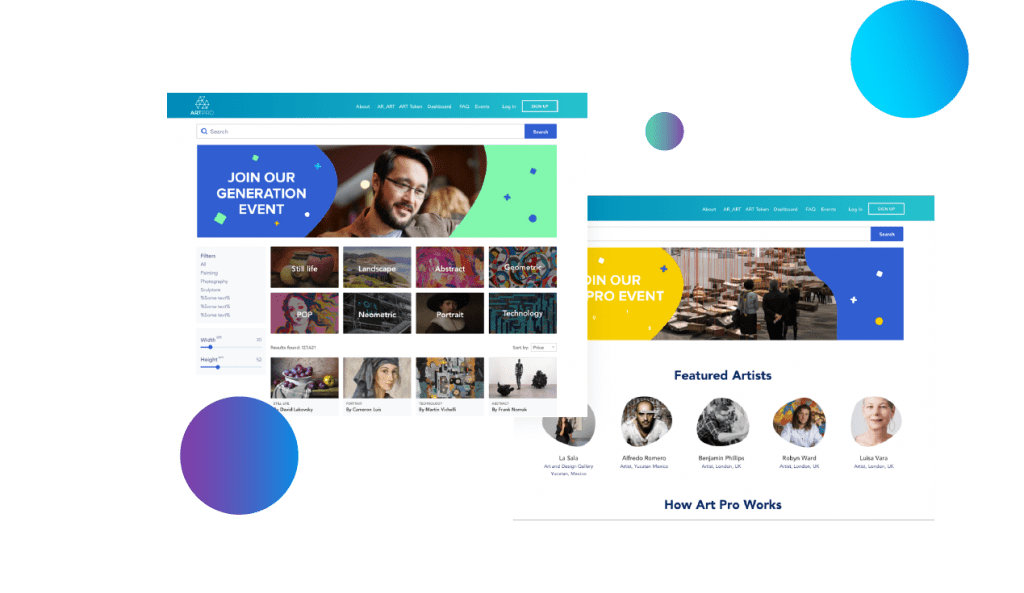 The ArtPro Platform acts as an ecommerce platform connecting emerging artists and buyers. Buyers can browse art, check the provenance and use our AR dApp to view artwork in situ, with transactions in the native ERC20 token, APT.
Would you like to share with us, any artists or Museums you are already working with or who are interested in your project?
We are incredibly excited about the partnerships we have already formed; including Alfredo Romero, Robyn Ward, The La Sala Gallery and Benjamin Phillips, who joined the ArtPro journey very early on. We still have a number of fantastic artists and organisations to join our Partners board over the coming weeks so watch out for the announcements.
What is the current development stage for your platform and what is next on your roadmap?
We are currently working behind the scenes with our developers and designers to ensure the reality of the platform is coherent with our vision. As a team, our most common denominator is our shared drive for perfection so we won't be happy releasing anything less than amazing.
Next on our roadmap is the Pre-ICO starting 24th September.
Do you have any investment opportunities to share with us?
Yes! We have some fantastic opportunities available to early investors and are currently engaging in conversations with VCs. To discuss investment in ArtPro, please e-mail me: oliver@art-pro.io
Tell us more about your team and the ArtPro community.
ArtPro started as a conversation between myself and our COO, Ashleigh over a year ago. Realising our dream of building a revolutionary platform would not have been remotely possible if it were not for the talented team of developers, designers, marketing managers and advisors we are lucky enough to have on board. It has been an incredible journey and we have been blessed to build relationships with people who believe in ArtPro so much that they have contributed to the concept of development in ways that have been immeasurable.
The ArtPro Community is growing daily but we have so many people who have been with us since our Telegram Group was little more than administrators! Come and join us!
Do you have more information for our readers?
Find out more about ArtPro from our Whitepaper.