Arrived Homes is a marketplace and real estate investment platform. It strongly focuses on rental homes and vacation rentals and is backed by venture capital titans Bezos Expeditions, Time Ventures, Uber CEO Khosrowshahi, former Zillow Group CEO, and more. Arrived Homes has funded more than 197 properties and has more than 178,000 registered investors. Despite having launched its first product less than two years ago, it has already surpassed $72 million in property value funded.
Fundrise is a crowdfunded real estate investing platform headquartered in Washington, DC. It's one of the biggest real estate investing platforms in the US, with more than 371,000 active monthly investors. It's also one of the more accessible, with an industry-low minimum investment of just $10 and more than $7 billion worth of assets spread across the best-performing real estate categories, including apartments and single-family properties.
In this quick Arrived Homes vs. Fundrise review, we will compare the best features of each platform and compare them side by side. If you're looking for a more in-depth review, we recommend checking out our full Arrived Homes vs. Fundrise review.
Arrived Homes vs. Fundrise – Side By Side
Starting with the similarities, both platforms offer access to:
Low minimum investments
Exposure to the real estate market
Consistent quarterly dividends
Diversified real estate properties
Hedge against inflation
Long-term wealth generation
Arrived Homes and Fundrise offer exposure to a wide array of real estate properties and exclusive opportunities like rental homes and vacation rentals. Real estate is an excellent hedge against inflation. If you can afford to stick to the time horizon of 5-7 years recommended by these platforms, and based on historical data, you're very likely to realize a hefty profit.
Both platforms pay quarterly dividends and are available for accredited and non-accredited investors in the US. Here are some of the key differences that are worth mentioning:
| | | |
| --- | --- | --- |
| Platform | Arrived Homes | Fundrise |
| Minimum Investment | $100 | $10 |
| Available for non-accredited investors | Yes | Yes |
| Dividend Payment Schedule | Quarterly | Quarterly |
| Customizable Investments | Yes | Yes |
| Real Estate Focus | Rental homes and vacation rental apartments apartments | Aapartments apartmentsoperties accessible accessible accessible |
| Aaccessible accessible Investors | No | No |
| IRA Investing | Yes. Through its partnership with Rocket Dollar | Yes |
| Annual Fees | 8% | 1-2% |
| Early penalty veryenalty | Very limited redemption program | 1% |
| App available on mobile devices | No | iOS and Android devices |
Arrived Homes and Fundrise have very low investment minimums, which means even small, everyday investors can gain exposure to this growing asset class. Arrived Homes generates returns to investors in the form of property value growth and rental income. It is usually best for experienced investors who are comfortable doing their research and hand-picking their investments. You can read more about Arrived Homes' investment philosophy in this Arrived Homes review.
Fundrise, on the other hand, offers premade portfolios for beginners and small investors. As you increase your holdings with Fundrise, you'll have access to more features, including customizable investments, specialized funds, and accredited-investor-exclusive opportunities. If you want to read more about all the five accounts available and how you can access the features, check out our full Fundrise review.
Arrived Homes fees are considerably hiFundraisersFundrise's, starting with a sourcing fee ranging from 3.5-5% of the property purchase price. Arrived Homes has a very limited quarterly redemption program with no secondary market, which means it's considerably more illiquid than Fundrise.
With all that being said, which one is the right platform for you?
Our Recommendation
If you're still unsure which platform is a better fit for you, these are our recommendations.
If you're not looking to spend a lot FundraisersFundrise's $10 minimum is the lowest for real estate investing platforms
If you're looking for a platform with higher liquidity, Fundrise is the best option, with a flat 1% early redemption fee on eFund and eREITs
If you're a beginner that would instead start investing in premade portfolios but would like the option to customize investments down the line, Fundrise is for you
If you're a more experienced investor familiar with the real estate market, Arrived Homes offers highly focused, alternative real estate investments
When it comes to investing platforms, it's a good idea to start with the more affordable option and work your way up. That's why we recommend Fundrise to most investors. You can also check ouFundraisersFundrise's biggest competitors right now.
Arrived Homes Fees vs. Fundrise Fees
Arrived Homes
Property Management Fee: 8%
Sourcing Fee: 3.5-5% of the property purchase price (one-time)
AUM Fee: 0.125-0.15% of the property purchase price (quarterly)
Gross Rents Fee: 5% of gross revenue
The property management fee is calculated from the gross rental income. Keep in mind property managers may charge additional, one-time payments for llease-upfundraising.
Fundrise
Annual Advisory Fee: 0.15%
Annual Management Fee: 0.85-1.85%
Early Redemption Fee: 1%
Fundrise's annual management will depend on the investment product you choose. The early redemption fee applies to eREITs and eFunds, and only if you want to liquidate your shares before the 5-year mark.
Signing Up With Arrived Homes
Signing up for Arrived Homes is very easy, but only US citizens or permanent residents over 18 can participate. Arrived Homes is available for accredited and non-accredited investors alike. Here are the steps to sign up:
Visit Arrived Home's website
On the top right, click Sign Up
Enter a valid email address and create a password
If you sign up using our link, you will get bonus shares on your next purchase and the option to sign up for their referral program if you meet the requirements.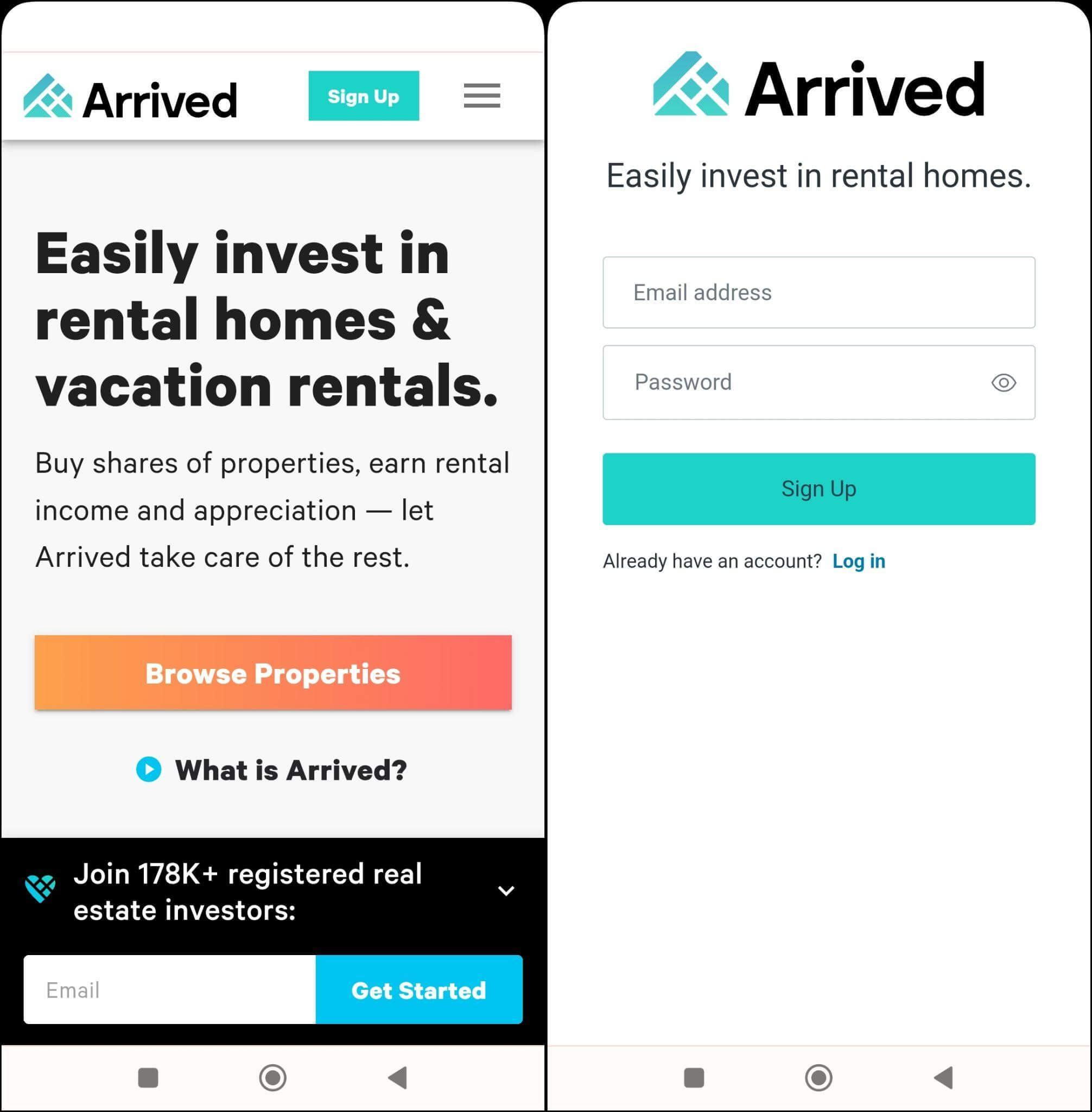 Signing Up With Fundrise
Fundrise is available to accredit and non-accredited investors, but it's restricted to US citizens (or permanent residents). Here are the steps to sign up:
Visit Fundrise's page
Click Get Started
Enter a valid email address
Create a password
If you sign up with Fundrise using this link, you'll get a welcome bonus ranging from $25 to $100, based on your initial investment.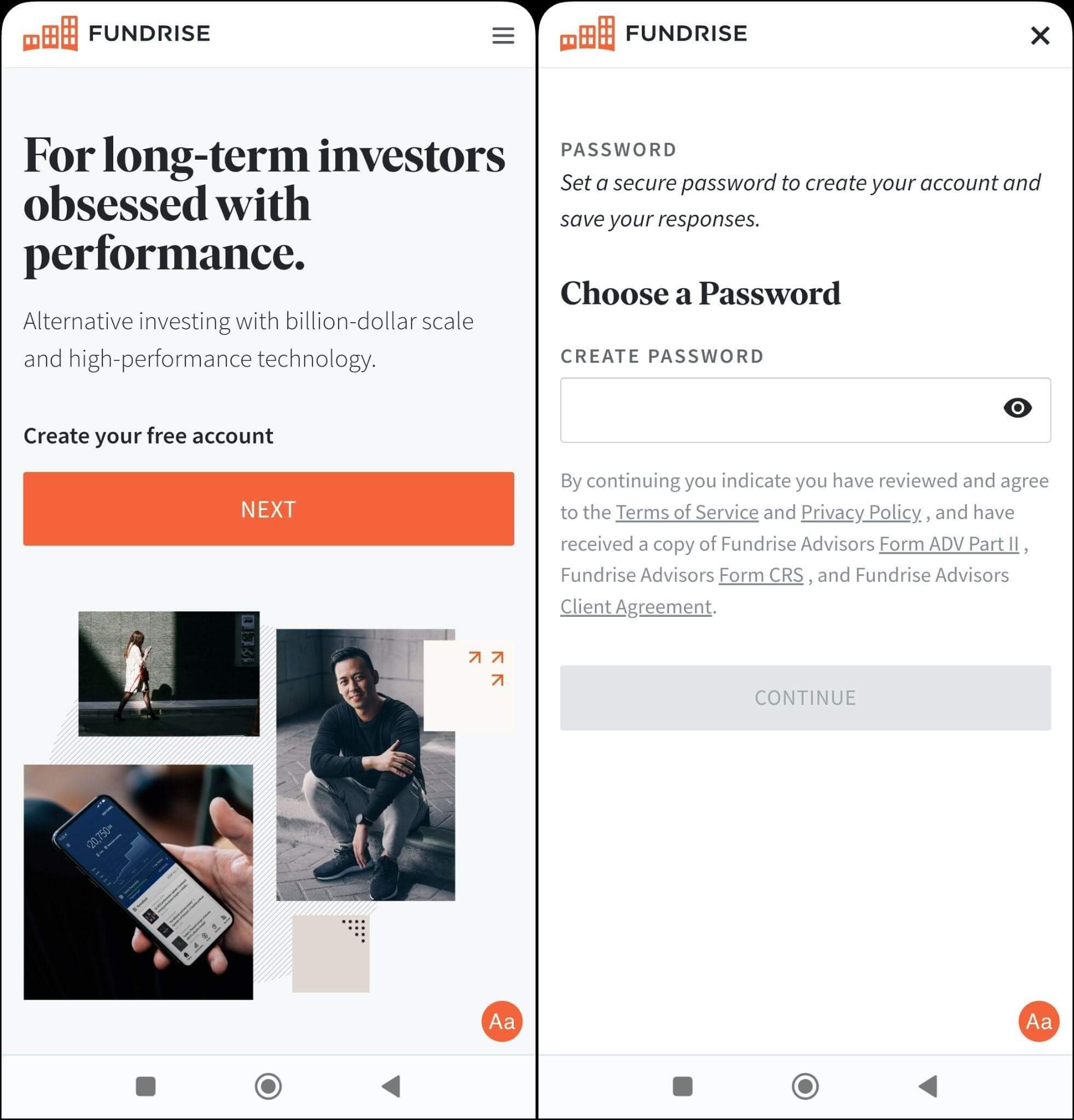 Conclusion
In recent years, real estate has become more and more accessible to everyday investors. Platforms like Arrived Homes and Fundrise offer a safe way to access real estate by offering only highly-vetted properties with consistent dividend payments and growth potential. Beginners and experienced investors can't go wrong with Fundrise, with its premade portfolios of properties plus the option to customize investments. Arrived Homes is backed by the likes of Bezos Expeditions and is more geared towards self-directed real estate investors who do their oesearco matter which one you pick, investing in real estate is one of the best investments you will ever make.