What Is Arrived Homes?
Founded in 2019, Arrived Homes is a real estate investment marketplace that focuses on rental properties. The main selling point of Arrived Homes is how easily everyday investors can gain exposure to the real estate rental market. To get started using this platform, you only need $100, but keep in mind prices may vary depending on the property. There are 184 properties to choose from, and some of the investing categories available include appreciation-focused and newly-built vacation rentals, plus leveraged properties.
Arrived Homes was founded by Ryan Frazier, Alejandro Chouza, and Kenneth Cason, and it is available for accredited and non-accredited investors in the US. Thanks to its partnership with Plaid, funding your Arrived Homes account takes just a couple of minutes, and they're planning to include investments from self-directed IRAs – such as Alto Ira.
In this Arrived Homes summary, I will quickly go over the best features of this platform and what you can expect in terms of returns. If you want to read our more in-depth analysis, check out our Arrived Homes review.
Pros & Cons Of Arrived Homes
Pros
Low minimum investment ($100)
Over 184 properties funded
Reach across more than 30 active markets
$67 million total property value
Regulated by the SEC
Partnered with Plaid to keep your banking information secure
Earn passive income
Access a unique investment opportunity in Vacation Rentals
Cons
Long-term investments (5-7 years)
Minimum holding period of 6 months
Access Diversified Real Estate Investments
With Arrived Homes, you can invest in different categories of real estate, like vacation rentals, leveraged, appreciation-focused, and more. Arrived Homes has over 184 properties you can choose from, with an estimated total property value of $67 million. To start investing, you need to follow four steps:
Browse homes
Select shares
Link your bank account and start investing
Earn passive income
Arrived Homes is partnered with Plaid, one of the most extensive and secure data transfer networks in the world, and provides a seamless and highly secure link between your bank account and your Arrived Homes account. Arrived Homes is open to accredited and non-accredited investors alike.
The main disadvantage of Arrived Homes is that it focuses on the rental market – if you are interested in high-performing commercial properties, we recommend First National Realty Partners.
Historical Returns
Arrived Homes offers access to a diversified portfolio of more than 184 hand-picked real estate properties. The top two performers are the Lierly and Soapstone properties, listed in the Northwest Arkansas market. Annualized returns for these two properties range from 82%-94%, and the annualized rental income is 7.5% and 6.3%, respectively. These two are the most expensive options available in Arrived Homes – with share prices of $22.34 and $20.74. Still, they're considerably cheaper than real estate investing platforms like Fundrise ($500 minimum investment) and Realty Mogul ($5,000 minimum investment).
Early Redemption Program
Arrived Homes is an excellent platform if you're looking for real estate investments for the long term – think between five and seven years. If you want to redeem your shares before that period, Arrived Homes has a quarterly buyback program where you can redeem your shares at the current price.
Keep in mind that to participate in the buyback program, you need to hold your shares for a minimum of 6 months (or two quarters). As of late 2022, Arrived Homes has already submitted a proposal for a redemption program that will include a secondary market for shares to increase liquidity and is pending approval from the SEC.
Educational Resources
Arrived Homes offers new investors access to their Real Estate Investing Guide, which goes in-depth over all the benefits of investing in real estate and includes topics like:
Ways to invest in real estate
How to find your first real estate investment
Mistakes to avoid when investing in real estate
Flipping & Crowdfunding
Additionally, the CEO, Ryan Frazier, hosts weekly webinars and live Q&A sessions with the team at Arrived Homes where they answer questions and interact with the community.
Arrived Homes Fees
Sourcing Fees: 3.5%-5.0%
Assets Under Management Fee: 0.125%-0.15%
Minimum Investment: $100 (10 shares)
Sourcing fees cover any cost for financing and holding the property, and it's included in the share list price – and it's only paid once. The assets under the management fee are deducted from the income generated by the property, so you don't need to make any payment; this fee is mainly used to cover tax preparation and tax forms.
Sign-Up Process
Anyone can register and create an account; to get started, you only need a valid email address. To create an account and start investing:
Visit Arrived Homes website
On the top right, click Sign Up
Enter your email address and create a password
The last step is to connect your bank account. Home Arrived will take care of all the investing and managing for you. Arrived Homes is always running great offers for newcomers, so use our link to sign up and let them know we sent you (our code will be applied automatically if you use our link).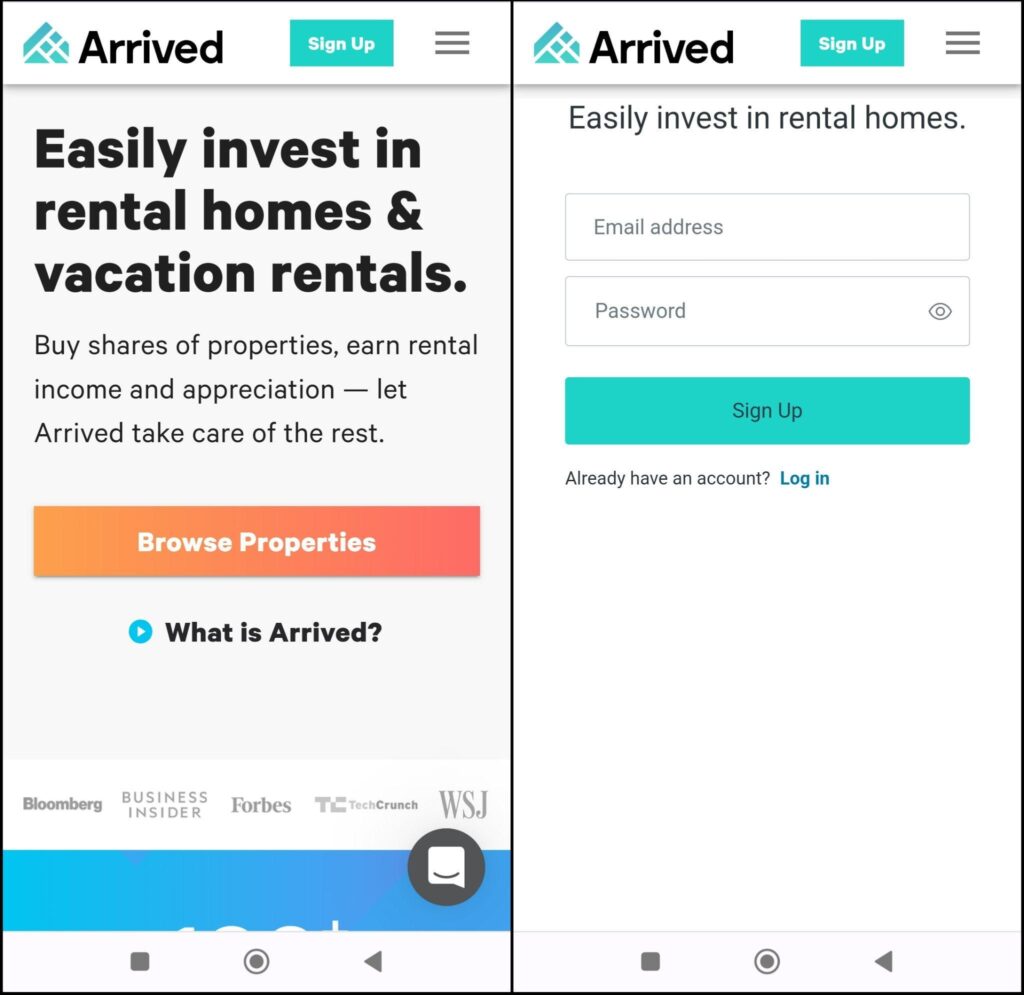 Final Thoughts
Arrived Homes is an excellent real estate investing platform for non-accredited and everyday investors who want to gain exposure to rental properties. Arrived Homes makes this asset class, which has been historically reserved for the wealthy, open to all investors with at least $100. For those reasons, we recommend this platform for individuals looking to dip their toes in the real estate rental market.