What Is APMEX?
Founded in 2000 by Scott Thomas, APMEX is a metals dealer with headquarters in Oklahoma City, Oklahoma. It operates in over 30 countries worldwide and is one of the largest precious metals dealers in the US, with over 2 million active customers and over 40,000 products ranging from coins, rounds, jewelry, and bars, to bullions and rare coins from countries all around the world.
APMEX offers access to some of the most stable metal commodities in the market: Gold, Silver, Platinum, and Palladium. All of these make for a good addition to any portfolio and will add stability in periods of heavy market unrest. Through its partnership with Brink's Global Services, APMEX offers low-fee storage services for all metal assets, full insurance, and many other perks.
In this APMEX review, I will outline the best features of this platform and go over the main benefits. For a more in-depth breakdown, you can check out our full APMEX review.
Pros & Cons of APMEX
Pros
Extensive offerings of Silver, Gold, Platinum, and Palladium
All deposits are insured by Brink's Global Services
APMEX Membership
Low storage fees
No minimum purchase
Set up automatic purchases with AutoInvest
Available in over 30 countries
Secure vaults in New York and London
Quick sign-up process
Cons
Minimum of $1,000 when selling metals
Discounts only applicable to select payment methods
Features & Benefits
1) APMEX Club
After you receive your second shipment, you will automatically earn your APMEX Club membership. This membership comes at no cost, and as you order more shipments, you will climb the tiers and access exclusive benefits. Here are the requirements for each rank:
Select: Complete 2-5 orders (or spend >$5,000)
Premier: Complete 6-9 orders (or spend >$9,000)
Elite: Complete 10+ orders (or spend >$20,000)
There's also a VIP tier, but you can only upgrade to that tier by invitation. Here are the best features of each tier:
The Select tier is like the basic tier and offers only the most basic features
The Premier tier offers priority order fulfillment and an anniversary gift
The Elite tier offers same-day shipping on eligible purchases and exclusive promotions
The VIP tier offers expedited shipping on large orders and shipping discounts
Keep in mind all the benefits of the higher tiers include everything from the lower ones.
2) APMEX AutoInvest
With APMEX, you can set up automatic purchases to minimize the effect of fluctuations in the precious metal market. This approach is a proven method of investing, known as Dollar Cost Averaging (DCA), and has proven effective in all types of investments.
Through the APMEX dashboard, you can also set up incremental purchases on a daily, weekly, biweekly, monthly, or quarterly basis. as a way to build up your portfolio quicker. If you're familiar with Acre Gold's monthly plan, APMEX's AutoInvest is very similar – even though Acre Gold offers great deals on gold, it doesn't support any other metal.
Keep in mind not all products support AutoInvesting – products that do, have a 'Start AutoInvest' button on top of the 'Add to Cart' button.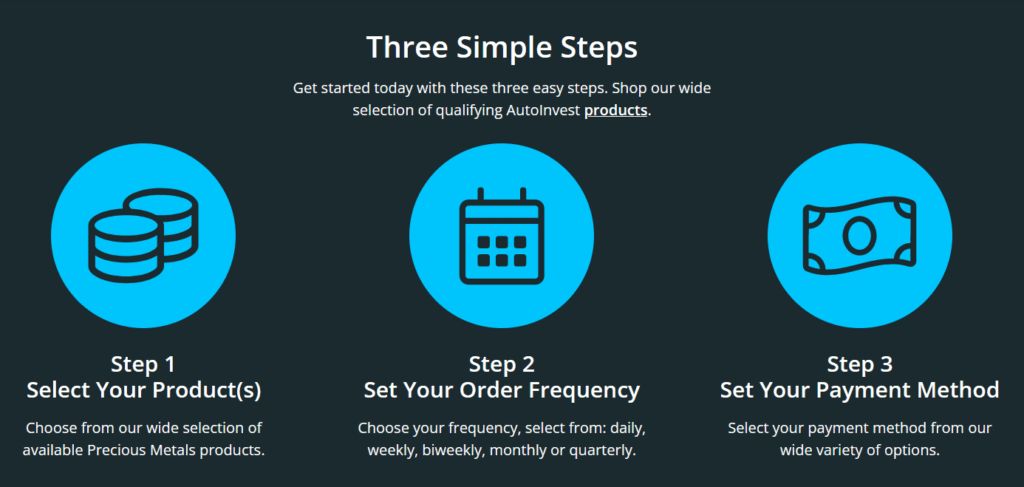 3) Low Storage Fees
If you don't want your assets directly sent to you and would rather store them somewhere safe, APMEX offers storage services through their partnership with Brinks Global Services. It offers competitively low fees, and when you use this service, all your assets are completely insured against theft, damage, and loss.
The fees for storing your metal assets are a percentage and depend on the total value of your portfolio. If the total value of your portfolio is:
Less than $1 million: 0.55%/year
Less than $10 million: 0.50%/year
Over $10 million: 0.45%/year
You can request at any time to have your assets sent to a different location, and, based on the total value of your portfolio, you may have to pay a small delivery fee. Alternatively, you could try a platform like JM Bullion, which offers free storage for up to six months on orders over $3,000.
APMEX Fees
Apmex offers plenty of options to purchase your first precious metals. Keep in mind there is no minimum; you can spend as little as you want when purchasing. However, if you want to sell to APMEX, the minimum is $1,000 worth of metals. Here are all the supported payment methods when purchasing, and the applicable discounts:
eCheck: 4.167% discount
Bank Wire: 4.167% discount
Paper check: 4.167% discount
PayPal: No discount
Debit card: No discount
Credit card: No discount
Cryptocurrencies: No discount
Supported cryptocurrencies include Bitcoin, Bitcoin Cash, Ethereum, USDC, BUSD, and PAX.
Shipping And Handling Fees
Fees for shipping domestic orders:
For orders >$199: Free shipping
For orders <$199: $9.95 shipping fee
Fees for shipping to the APMEX vault:
For orders >$500: Free shipping
For orders <$500: $9.95 shipping fee
For all the four metals APMEX trades (Gold, Silver, Platinum and Palladium) the shipping fees are the same. If you're looking for other metals to add to your portfolio, you might want to consider a platform like Money Metals, which supports six different metals and offers high LTV collateralized loans using your deposit as collateral.
Sign-Up Process
APMEX Global operates in over 30 countries worldwide, including the US, Canada, Australia, and most European countries. The signup process is very quick and won't take more than a minute. Here are the steps:
Visit APMEX's website
Open the menu on the top left and click My Account
Click Create An Account
Enter your name and a valid email address
If you use this link to create your APMEX account you will get a rebate on your first purchase and a complimentary APMEX coupon.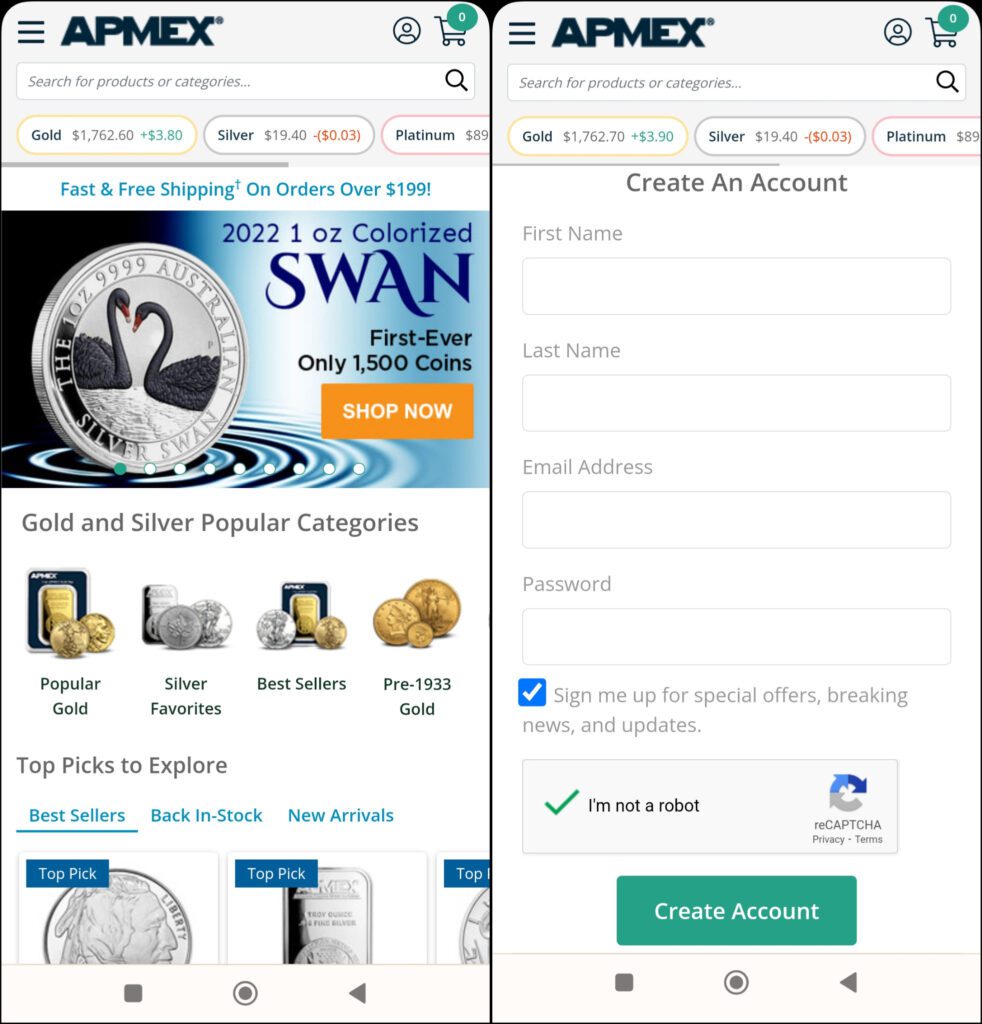 Before placing an order make sure APMEX operates and sends shipments to your country (you can check this from the knowledge center under Buying Internationally).
APMEX Security
APMEX stores all metal assets in Brinks' Global Services depository building, one of the largest precious metals storage services in the US, through one of their subsidiaries, Citadel Global Depository Services. The storage facilities are fully managed by Brinks, and all assets are fully insured against theft, damage, and loss.
Brinks operates worldwide and is an authorized depository for NYMEX/Comex and the London Bullion Market Association in New York and London, respectively. Additional services provided by Brinks Global Services include worldwide shipment (including the whole shipment preparation process up until third-party inspection and assaying), inventory management, and delivery of your valuables.
Customer Support
You can contact APMEX or Citadel's customer support at any time from the Customer Care Center on their website, and they will be happy to assist you. You can also keep track of the status of your orders right from the Customer Care Center – by clicking 'Where's My Order?' and entering your order number and your email address. They also have a very thorough Knowledge Center where you can learn everything about metal investments, for free.
Final Thoughts
APMEX is a great option if you want to add some stability to your portfolio by investing in precious metals. It provides access to four of the most valuable metals, and unlike many platforms out there it doesn't have a minimum; you can get started with as little as you want. One major benefit of APMEX is that it has worldwide reach; you can purchase and have metals delivered to your doorstep in over 30 countries. For those reasons, we're confident APMEX is one of the best platforms for investors in the US and outside.