Have you ever met the difficulty of cloning your data from a partition or a hard drive, especially after your operation, some of them are lost somewhere and nowhere to be found? Clone is not just the way to move or transfer the files and data from one location to another, what the most important is that those contents you move should be intact.
Many users choose the "copy & paste" operation in Windows, if the files are small or some folders with few files, that would be fine. However, lots of lessons show that things are not like that, people may lose files or can't execute the copy operation because of incorrect operations during the processes. So, here's a guide to clone safely and free.
Copy & Paste via Windows
We didn't say "copy & paste" is an impracticable method, it's still the most convenient choice when you want to clone small files.
Step 1. Select the files or folders you wish to move, right-click one of them.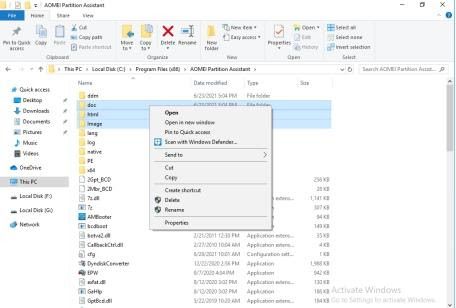 Step 2. Open the destination space, right-click and choose "Paste".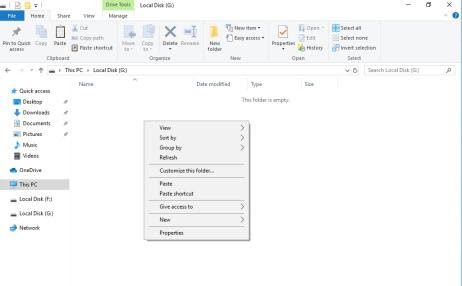 Clone via drive cloning software
As we mentioned above, what users need is an unlimited clone, safe and free. Free from the worry of losing data and free from cost.
AOMEI Partition Assistant Standard, your reliable data clone manager, is what you are looking for. Because of its various functions, like clone disk and clone partition, even resize partition, delete partition…you can build your personal drive with this powerful disk manager, and it's free!
Download it and let's see how to easily and safely clone disk and partition via this versatile assistant.
Section 1. Clone partition
Step 1. Launch Partition Assistant, right-click the partition that you want to copy, and select "Clone Partition" in the main window.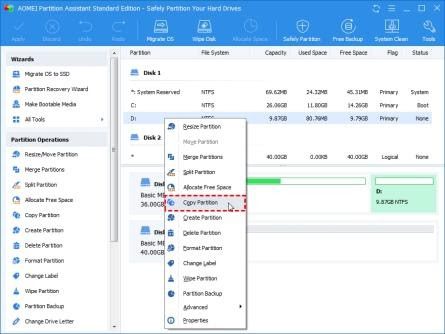 Step 2. In the new pop-up window, you will two different ways to copy partition: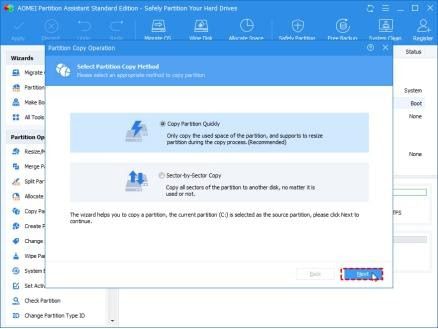 "Clone Partition Quickly": this only copy the used space of the partition and supports resizing partition during the copy process."Sector by Sector Clone": copy the whole partition no matter it's used or not, this may need a considerably long time.
Anyway, choose one and click "Next" to continue.
Step 3. Select the destination location (unallocated space) to hold your source partition, and then click "Next".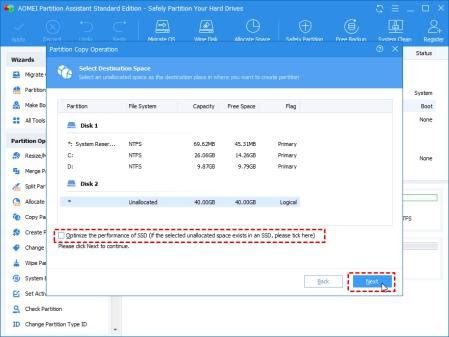 Note: Here is an "Optimize the performance of SSD" option under the box. If you want to copy a partition onto an SSD (Solid State Drive) disk, ticking this option will optimize the reading and writing speed on this partition. It can also extend the life of the SSD disk.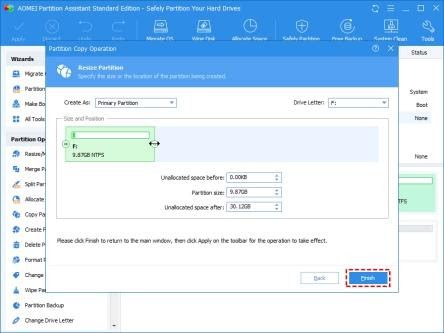 Step 4. Adjust the size of the source partition to fit the target partition based on, or directly skip the step and click "Finish".
Step 5. Click "Apply" on the toolbar to commit partition copy.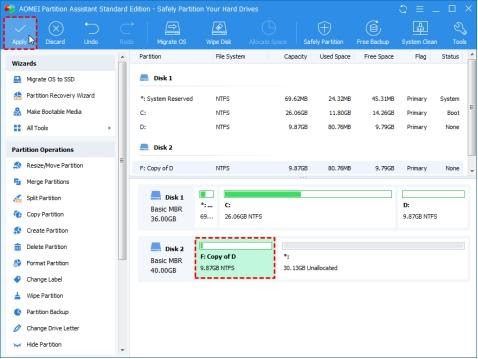 Section 2. Clone disk
Before we start, please check the size of your new disk is smaller or larger than the old one.
Step 1. Install and launch AOMEI Partition Assistant, then click "All Tools", find the "Disk Clone Wizard" feature.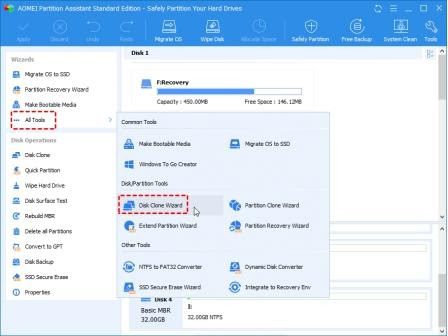 Step 2. In the new window, we will see two clone ways, choose "Clone Disk Quickly" if you are going to copy the hard disk to a smaller one. If your new disk is larger, then choose the one you need.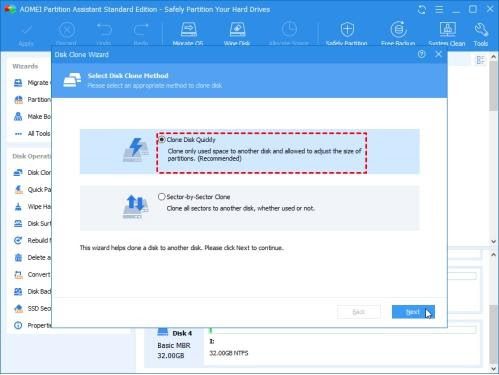 Step 3. Choose the hard disk that you need to clone as the source disk, and click "Next".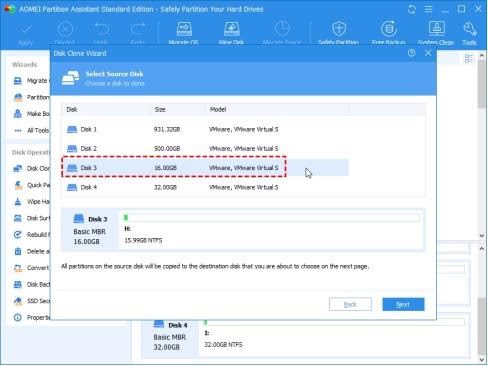 Step 4. Select the destination disk to put the data of the source disk on, and then click "Next".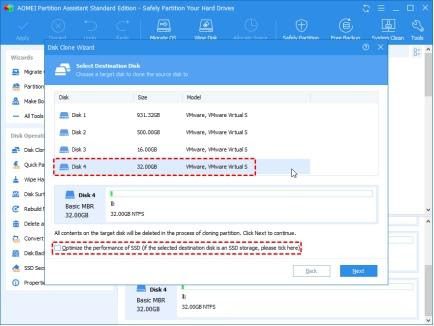 Tips: You can tick "Optimize the performance of SSD" to improve the reading and writing speed of SSD if the selected destination disk is an SSD storage.
Step 5. You can adjust the partition size on the destination disk.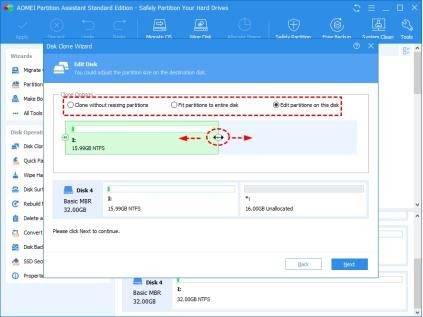 Note: You can see 3 options in the window: "Clone without resizing partition", "Fit partition to entire disk" and "Edit partition on this disk". After finishing the adjustment, please click "Next". If you clone to a smaller SSD, the first option will be grayed out.
Step 6. Please click "Proceed" and "Apply" to finish.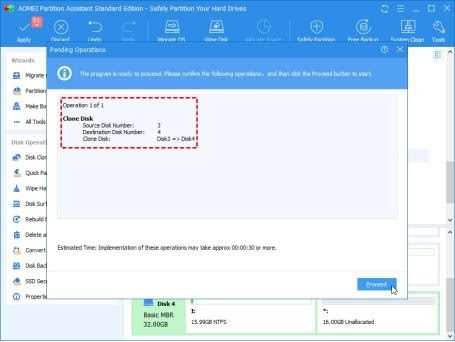 These two types of clones don't require users to manually operate their files and data, thus users can avoid file loss due to misoperation. AOMEI Partition Assistant, the free partition manager minimizes the risk of manipulations of clone or adjustment of disk and partition and proffers you simple steps to build your personal hard disk.