Powered by Binance Smart Chain [BSC], Animalia is a free-to-play and play-to-earn online non-fungible token [NFT] trading card game. Featuring a plethora of crypto-inspired gemstones and memes, Animalia is pioneering a paradigm shift in how users collect and make use of NFT decks, skins, and cards. 
Inspired by meme coins and the billion-dollar NFT market, the idea behind this innovative gaming platform was born by a group of enthusiastic gamers with the goal being to popularize crypto memes, gemstones as NFTs that can be customizable, and tradable. Animalia's vision of this moonshot is to bridge the gap between blockchain technology and people — it seeks to offer unlimited access to blockchain to people from across the globe, offering them an opportunity to become acquainted with the play-to-earn [P2E] revolution. 
The Chronicle of Animalia Kingdom — The Race Against Time 
At a time when the world, as we know it today, was nothing short of a boundless sea covered by an unending sky, two Titans emerged — Bulls and Bears as they engaged in countless battles for centuries. However, things began to quell as 87 million of the other species co-inhabited amicably, albeit with the two factions. Alas, the never-ending tension between these Titans reached a breaking point. 
An unassuming Shiba Inu, Doge resurged as a force to be reckoned with in the new era of memes. In an attempt to safeguard what's left of the Animalia Kingdom, Doge and his team, by sheer coincidence, unearthed a throne, in the process recovering an ancient diamond mining ax long lost and forgotten. As they traversed through the landscape, they stumbled on a hidden, ancient scroll containing secrets of unique and never-seen-before gemstones that are capable of saving Earth and the millions of species inhabiting it. In a race against time, Doge and his team must collect all of these gemstones, and through critical thinking, decrypt the existing chain of encryption as they seek to save their beloved planet from total obliteration. 
Customizable NFT Cards and Decks 
Infusing all of the elements of NFTs into this independent free-to-play gaming platform, the developers hope this move will introduce the world to the concept of blockchain in a particularly engaging, intriguing, and fun way. 
Players can gather rare cards, build custom decks, create unique NFTs, battle, and trade cards with others. By offering support to in-game assets with BSC-powered digital collections like NFTs, players can claim total ownership of these assets. 
In an unprecedented fashion, each player will choose a Titan — Bull or Bear — as a representation of their avatar, which determines special cards and unique powers. Leveraging scarcity as the core feature of NFTs, a tiered structure has been put in place by the development team — Free, Common, Rare, Epic, Legendary, and Arcana. Through participation in the marketplace and in-game activities, players can obtain rare items. 
The Animalia Marketplace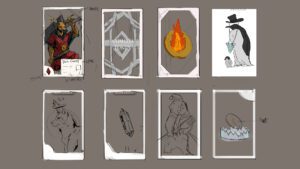 With plans underway to integrate an in-house marketplace, Animalia as a trendsetter in the card game industry will offer users an opportunity to trade customized game landscapes, NFTs, and other in-game assets using the native token, $ANIM. This token will also act as a governance token. Community members will be able to provide their constructive suggestions and recommendations towards the future of the project, as well as, engaging directly in the voting process that will determine decisions made for the game. 
Customization through Animalia Workshop
Customization is what allows for creativity and differentiation, whether it is for a set of unique characters or items that make one item stand out from the others. The Animalia Workshop will serve as a platform for creating unique customizable skins, templates, and items that will allow the gameplay to grow and improve in an ongoing manner. The community can create and submit their own unique cosmetic NFT in-game assets, which will be curated by the Animalia team and then reviewed and approved by the community through the governance model. The approved user-generated cosmetic NFTs are tradable in the Animalia Marketplace. 
Designed with a sustainable and long-term P2E model, intriguing gameplay and highly relevant yet educational content approach, the workshop and marketplace functionality provides a complete experience for any gamer's needs.
Follow Animalia's channel for more updates and progress to the game here.