Indoleads is an international CPA network with headquarters in Kuala Lumpur and local offices in 6 countries from India to Brazil working with publishers and digital specialists from 182 countries, who know how to monetize their traffic and are ready to promote offers from advertisers. Indoleads also works with potential new e-advertisers, brands and companies searching for result-oriented online marketing solutions for their business that will help to increase their ROI. In this interview with TechBullion, CEO Sergey Gaydar will be telling us more about the CPA network and how to make more money both for individuals and businesses through Indoleads.
Please tell us  more about yourself?
My name is Sergey Gaydar and I'm a founder and CEO of Indoleads CPA network – a premium affiliate network headquartered in Malaysia with local offices in Brazil, Hong Kong, Vietnam, India & Russia. 
I studied engineering, but my true passion has always lied between entrepreneurship and innovation. I'm a serial entrepreneur and prior to Indoleads have founded several businesses. I've been working in affiliate marketing for over 20 years now, starting when I was 17. My path began as an affiliate for US-based pharma companies. To be frank it brought quite good money for a student. 
But then I switched to other roles to get more experience in business administration and marketing, as well as to see things from another angle. At the age of 25, I co-founded a fashion e-commerce brand, which was acquired for 40M USD after 2 years of operation.  
What is Indoleads and what unique solutions do you provide?
Indoleads is a CPA network which connects affiliates with the best advertisers all around the world, while taking on all routine operations and providing a solid foundation for this "bridge" between publishers and companies. On our platform publishers can choose from more than 2000 rigorously selected affiliate programs from 180 GEOs in all popular niches – from e-commerce and finance to education, travel, software, cybersport and many others – connect to them within a couple of clicks and earn commissions.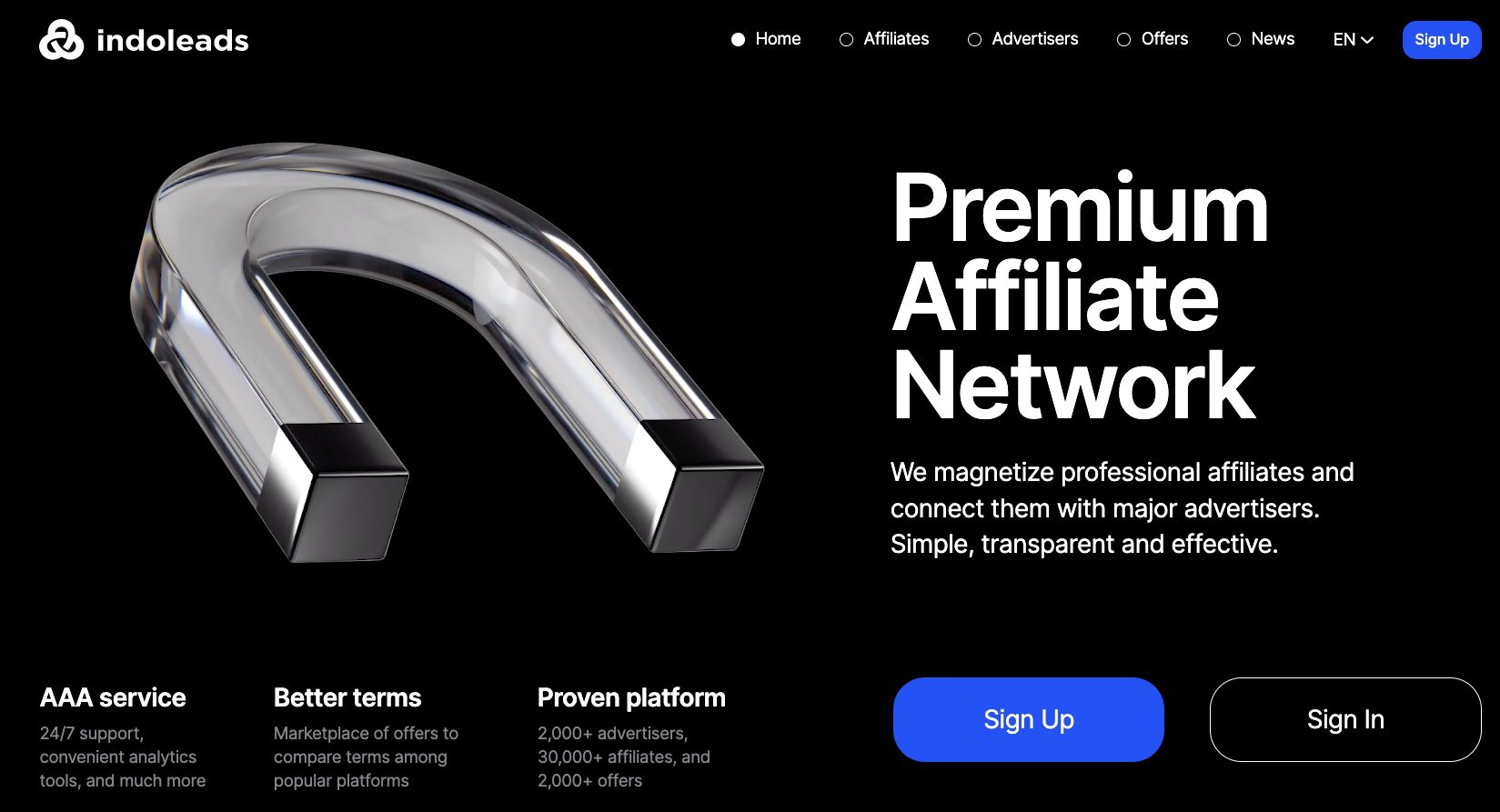 Indoleads aims to build a more innovative, reliable and transparent CPA network, what specific problems was CPA facing before Indoleads?  
As I see it, one of the biggest problems is a large spread of affiliate programs and networks and therefore – a waste of precious time on many formal procedures. Publishers spend time they could use to generate income on comparing conditions, joining different networks going through numerous moderations, discovering that some partners are not reliable at all.

We rely on bespoke approach. Our team do a lot of everyday work to offer the best conditions, to find the most trustworthy partners, to give the most updated instruments for efficient performance.  So, our publishers just have to browse, compare, connect and start earning money choosing programs on our platform. 
If we speak about some challenges we experienced personally at the moment of our launch in 2017, I have to admit that in Malaysia there was a serious lack of IT professionals with previous solid experience in affiliate marketing as affiliate marketing was almost non-existent. 
We were pioneers on a mission. Today we can be really proud that our portfolio includes key players from APAC region. 
We have managed to create an efficient team of IT specialists who can implement the most complicated projects. Everything on our platform is powered only by Indoleads' in-house development. Accurate tracking and fraud protection have always been high on our agenda. And it can be handled efficiently only using in-house tracking system that needs to be constantly improved. So, a professional team always ready to offer advanced functionality for a faster and smoother operation helps you to be the first in line or even ahead of the curve. It is the best solution to any challenges. 
What inspired you to go into this venture, could you give us a walkthrough of the platform; how it all started and how it works?
Having accumulated valuable experience under my belt – both in the role of the advertiser being an e-commerce project owner, and the affiliate – I've decided to switch back to my original path and launch a digital platform to fulfill my own vision and create a perfect solution for both publishers and advertisers. 
Malaysia was one of my top destinations for launching a company based on personal research, as it's a technologically innovative country with overall a very positive business climate. We started as a small company with 3 employees in a coworking space in Kuala Lumpur, and now 5 and a half years later, Indoleads is one of the biggest players in the affiliate marketing, especially in Southeast Asia and one of the fastest-growing in LATAM region.  
Today Indoleads has more than 2000 affiliate programs from top-notch companies and brands in all profitable niches. Affiliates register on our platform going through easy and quick moderation and get access to all our in-house affiliate programs as well as to Affiliate Marketplace with offers from our partner-networks. All the statistics on conversions is available in the affiliate's account where one can easily check the earnings and apply for withdrawal.
Who are your customers, who are your target audience, who works with Indoleads and who is the platform for?
Our customers are both world-known brands as well as popular local companies from more than 180 countries. These are the companies focused first of all on attracting quality leads and reaching sales goals without any prior investments. Our advertisers always pay only for the result.

Adidas, Nike, Aliexpress, Farfetch, Adobe, Shopee are already among our advertisers, and we constantly expand the connections with brands to provide our publishers with the most high-converting offers. Many advertisers come on their own, thanks to Indoleads' reputation as a reliable CPA network. Frequently we manage to get exclusive cooperation from big companies, such as Etihad Airways or KLM. Their affiliate programs are not presented in any other network in the world.
Our target audience are both them and affiliates – publishers, owners of online resources, digital marketers, bloggers – people who have digital audience and want to monetize their online presence to get the most out of it. Indoleads platform is definitely for all those seriously engaged in affiliate marketing – advertisers and publishers. 
What unique benefits does Indoleads offer to Affiliates and Advertisers specifically, why do clients and affiliates choose Indoleads?
At Indoleads we base our work on three main pillars: Innovation, Reliability and Transparency. Having previous experience by working in different roles in affiliate marketing, our team knows first-hand what kind of problems companies and publishers face when engaging in digital promotion. That's why we offer an absolutely transparent system of efficient and mutually beneficial collaboration between advertisers and publishers: signing up for our affiliate programs as well as tracking conversions with us is completely transparent and clear. We provide all the statistics on completed conversions as well as flexible methods of money withdrawal. At the same time our advertisers get high-quality traffic and grow their businesses by reaching their goals.

Our team checks the quality of traffic of new publishers and the same principle applies to advertisers – all applications from advertisers go through our business development team to check advertisers against certain criteria. This is done in order to ensure the highest efficiency for all parties involved: Indoleads' client must achieve their sales or audience growth goals, and the publishers must be interested in promoting the advertiser's products or services. By making so, we ensure that both our affiliates and advertisers get what they come for in the first place: effective promotion and monetization. 
Is the breakthrough solution the affiliate marketing industry has been waiting for, any success stories to share with us so far?
We've been among the first to launch an innovative breakthrough Affiliate Marketplace to operate as a "single window" solution for all affiliates, so that they could view and compare offers from major CPA networks, immediately join those affiliate programs that they choose based on their own comparison and even promote the same product from different networks, while getting all the statistics and payouts on one platform.

Who are the brains behind the Indoleads platform, could you tell us more about your team at Indoleads?
Indoleads team consists of true talents within the affiliate marketing industry. We have seasoned affiliate marketing professionals who have been working in the industry for years, are multilingual and have first-hand experience within the industry in almost all markets of our presence, enabling us to be at least one step ahead of our competitors. The fact that we have a global team consisting of people from different continents and countries is one of the crucial factors behind our big success – Indoleads people have a full command of what is going on local markets and foresee the upcoming trends. 
In the very beginning like many entrepreneurs I was searching for specialists by myself, which was very challenging due to the specifics of business culture in Malaysia and some restrictions for hiring foreign professionals. And a lot of people who are working at Indoleads now have been with us from these first days – something I'm proud of. Now we have an HR department, which makes hiring processes much easier and more well-structured.     
Indoleads is a young but very dynamic network, with offices around the world within 5 years. Tell us more about this impressive expansion and what is next on your roadmap?
Affiliate marketing is a global industry, it is not and actually cannot be limited by a particular country's boundaries. That's why from the very beginning I've put a great emphasis on spreading business to other regions while maintaining our headquarter in Malaysia. With more and more advertisers joining our platform as well as with the growing number of affiliates, I've realized that we need to broaden our presence. 
It was a right decision, as now we have become really global. And having our Indoleads people overseeing key markets contributes a lot to overall success. But I am sure the number of our local offices will increase. It's high time to concentrate more seriously on further expansion in Europe and North America.