Virtualization is a hot solution for digital transformation. It creates software-based or virtual representations of applications, servers, storage, and networks to reduce IT expenses while boosting efficiency and agility. Hypervisors and virtual machines are the primary mediums to implement virtualization.
As organization migrates their businesses to virtualized platforms, the approaches to perform data protection need to change with them. In this regard, virtual machine backup tools are widely accepted.
Virtual machine backup is considered the simplest, most low-cost, and most basic way to protect VM data. You can either backup VM data at the guest level or at the host level. Creating image-based virtual machine backups at the host level eliminates the need to install an agent on each guest machine.
If you haven't chosen the right virtual machine backup tool yet, you can try AOMEI Cyber Backup, an easy-to-use and free enterprise backup solution for virtual machines.
An efficient virtual machine backup tool – AOMEI Cyber Backup
AOMEI Cyber Backup is a free VM backup solution for enterprises and offers centralized management for VM data protection. It simplifies the backup process and presents the steps with an intuitive GUI interface.
With AOMEI Cyber Backup, you can enjoy the following features for free:
Agentless VM Backup: create a complete and independent image-level backup for VMware ESXi or Hyper-V VMs.
Multiple Storage Destinations: Easily back up to local or network destinations.
Flexible Backup Schedule: Create full/differential/incremental backups and automatically run them daily/weekly/monthly.
Restore from Any Point: Restore immediately available VMs from any restore point.
AOMEI Cyber Backup supports VMware ESXi 6.0 and later versions, as well as Hyper-V in Windows 8/8.1/10/11, Windows Server/Microsoft Hyper-V Server 2012 R2, and later versions.
Take VMware ESXi as an example, the next section will show you the specific steps to create an automated backup task that covers multiple ESXi VMs.
Steps to backup and restore multiple virtual machines
To back up the VMware ESXi/Hyper-V VMs, before you start, you will need to bind the standalone ESXi host/vCenter Server or Hyper-V host for authorization. Once authorized, you are free to manage the protection of all VMs on the host without installing an agent on each of these VMs.
Create backup task
Navigate to Backup Task and click Create New Task, it will pop up an intuitive wizard for you to set up.
Name the task
You can provide a unique name for this backup task, or just use the default numbered name. And then specify to perform VMware ESXi Backup.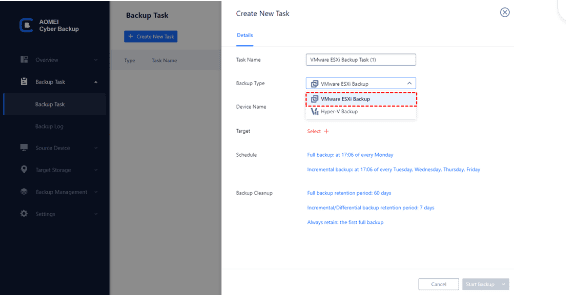 Select VMs to backup
Select the VMware ESXi host and VMs you want to back up. You can cover multiple VMs in one task.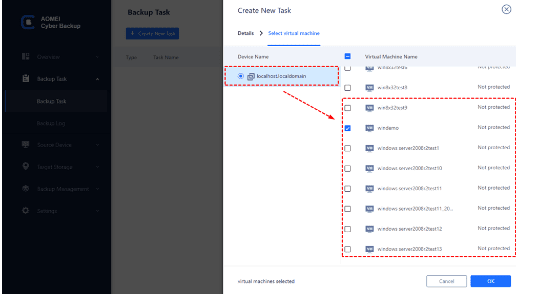 Specify storage destination
Select a local folder or a network path to store the VM backups.
Create an auto backup schedule (Optional)

Click Schedule and specify to perform full/differential/incremental backup on a daily/weekly/monthly basis for automatic execution. Then you can click Start Backup.
Created backup tasks will be listed and monitored separately, for later restoring, progress checking, and schedule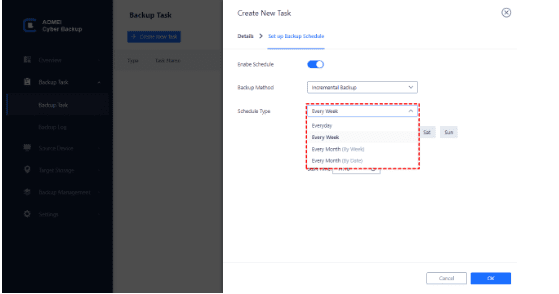 changing.
A good backup schedule ensures minimal data loss and multiple restore points, and you can restore the entire VM from any point you like.
Restore VM from backup
Select the backup task that covers the VM you want to restore, and click … > Restore to open the wizard.
Or you can click Backup Management > History Versions. Specify a VM and select a restore point from the left list.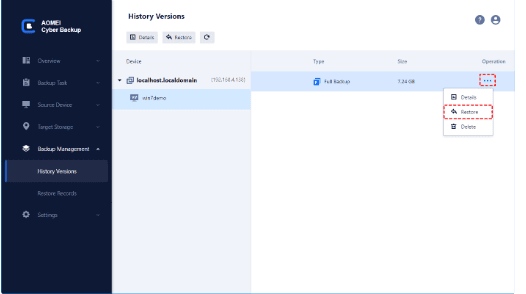 Select restore destination
Select the VM you want to restore, and select Restore to the original location. Click Start Restore to recover the virtual machine in place.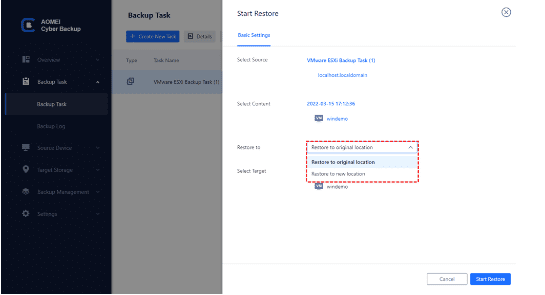 Summary
Regular virtual machine backup and restore is one of the most basic measures to ensure VM data security. In this regard, a reliable virtual machine backup tool is necessary to protect critical business data and reduce the risk of data loss. You can try AOMEI Cyber Backup, a dedicated enterprise backup solution that performs VMware auto backup freely and efficiently.