KStarCoin, with its services of providing Korean culture fans with updated information on different events, such as plays, dramas, music, fairs, video contents and fashion related materials, is a blockchain based token that will enable millions of fans and enthusiasts around the world to connect, develop communities and allow them to purchase products, services and take part in the cultural phenomenon that is taking the world by storm.
The KStarCoin has been specifically designed for not only fans of Korean culture, but the Koreans also, enabling Korean producers, organizers, planners and merchants to have an international outreach.
What does KStarCoin Offer?
KStarCoin is part of a unique platform and ecosystem that tackles inefficiencies faced by the Korean culture as a general in exporting its products and services worldwide. With the token, the following is possible:
Hallyu Community

: Enabling an easy meeting of

Hallyu

, or Korean Wave fans, online, creating a one-stop solution for them to get updated content. Any activity that generates traffic, such as content creation, whether articles, blog, video- even sharing of these, will be rewarded with KStarCoin. More content will lead to more traffic and consequently, more value to the token.

Crowdfunding

: With the ability to raise funds from millions of people at the international level, ordinary people will be able to participate in getting to see their favorite idols perform in their countries.

Elimination of Black Market Ticketing

: One the most painful thing to watch, for any fan, is that an organized mafia buys tickets to any show or concert and then resells it for a steep profit. This is countered by KStarCoin by creating a verifiable blockchain ticket that will not be transferable and thus, cannot be resold. This means that a black marketer will not benefit from buying tickets, giving real fans the choice to see their idols in real.

Commerce

: It is very difficult for Korean culture fans all over the world to buy genuine merchandise and products. This is mainly due to different financial systems and multiple banks involved in the system (or lack of, thereof). KStarCoin will leverage the power of blockchain to provide instant payments across the world instantly and securely from buyers to vendors.
KStarCoin Tokenomics
The KStarCoin is a blockchain based token that runs off the Ethereum main chain. An ERC 20 compliant, the token meets certain stability and technical requirements that make it secure and reliable. A total of 1 billion KStarCoin will ever be minted. The distribution of the tokens are as follows: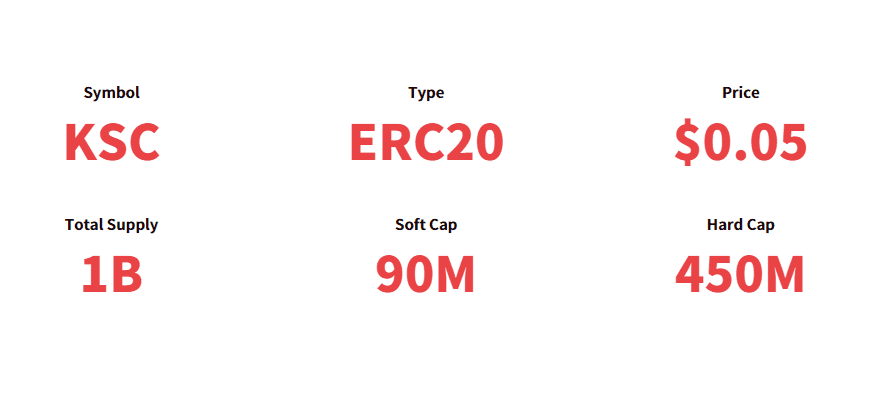 ICOs, Bounties and General Use

: 70% or 700 million KStarCoin. These tokens will run on the platform, powering the ecosystem and its economy. With different services offered by the KStarCoin platform, the availability of sufficient tokens to the ecosystem means a smooth supply and transactions. The listing of the token on specific exchanges will also allow users to trade these tokens, bringing an overall increase in value of KStarCoin as a digital medium of exchange and an asset to hold on to, creating wealth.

Team Reserves

: 10 percent (100 million KStarCoin). These are meant to pay for the developer fee and salaries. These will be locked initially to bring price stability to the KStarCoin. After a set period (6 months), it will be released slowly to the team, ensuring that the influx will not flood the market and create a cascading fall of value overall.

Reserves

: A total of 150 million, or 15% of the tokens will be kept in reserve for any unforeseen circumstances and any future development that may require more fundraising. Likewise to the team reserve, it will be locked away for 6 months to control supply and demand flow of the KStarCoin.

Partners & Advisors

: External team members, such as advisors and consultants will be paid through the rest of the 5 percent KStarCoin left (50 million). This amount will also include and payments or strategic trades that will be made with other partner agencies and firms. This amount, like the above two, will be also locked for half a year.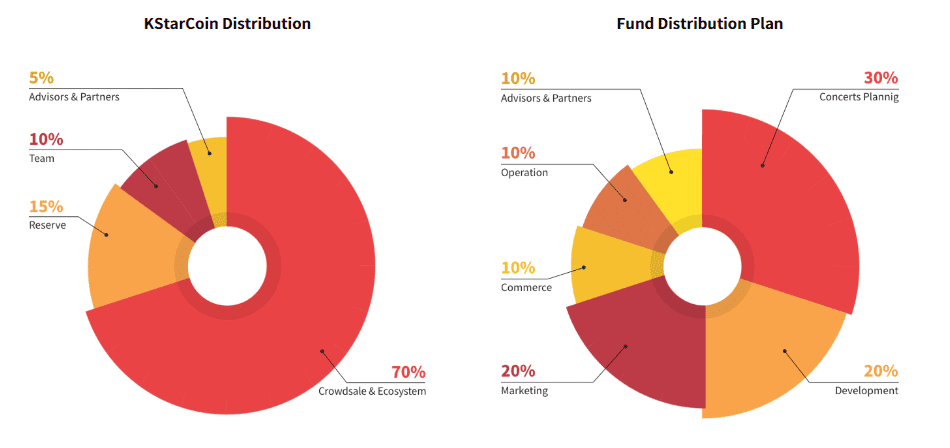 Looking at the ICO and sale distribution, the KStarCoin will have a soft cap of 90 million, while a hard cap of 450 million will be implemented. The token will be sold at a basic price of USD 0.05 with different levels of discounts and bonuses over the course of its ICO.
There is also a bounty program, which includes 10,000 KSC points for email subscription, another ten thousand for Ethereum wallet registration and a 20,000-point bonus for a successful referral. These points will be redeemable at a rate of 100: 1 to the KStarCoin and a minimum of 40,000 points must be accrued.
For users and fans creating and posting original content, the platform will also reward them with various amounts of KStarCoin directly. The earned coins will be released to the users on a monthly basis.
Visit the website for more information: https://www.kstarcoin.io/