History of chess
The game of chess was captivating the minds of men already fifteen centuries ago. Noblemen of the ancient India enjoyed the game of chaturanga that imitated the warfare of the four military divisions: infantry, cavalry, elephants and chariots. The game was realistic in imitating the cobwebs of real warfare, and aristocrats were spending hours enjoying the new hobby. The smart game spread over continents quickly and was adored by noblemen and intellectuals alike. 
Chess, with its intellectual savor, appealed to bright characters and noble minds. Plenty of chess pieces from various centuries found in archeological excavations in Asia, North Africa and Europe show how popular chess has been among almost all social strata. However, in ancient times the game was enjoyed mainly by nobility and was known as the 'royal' game. Already in old times, a daintily styled chess set crafted out of a precious material – rare wood, ivory, porcelain or gemstone – was a feature possession of men of power and wealth. Glamorous, showy chess sets were meant to witness the keen wit and noble status of owners. 
A variety of materials were used in old time chess sets. The earliest chess pieces known today are those found near Samarkand in Uzbekistan. Seven chess pieces dating about 760 AD are made of ivory. The oldest European chess pieces are made of bone with ivory topping. These are Venafro chessmen dating about 980 AD. The famous Isle of Lewis chessmen dating to circa 1150 were made of walrus tusk. The chess pieces of Norse or Icelandic origin represent the authentic medieval European chess style. It took little time before custom handmade chess began to be produced out of a variety of premium materials, such as porcelain, glass, marble, mahogany, and even gold…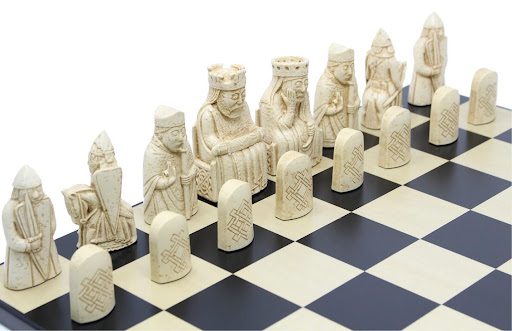 The diversity of custom chess
Nowadays, custom chess sets are there to satisfy an avid player's appetence for uniqueness. Every player or keen collector just must have a very own distinctive chess set. These beautiful handicrafts are more than just a chess set – each of them is a piece of art intended to keep the passion for the game alive or just to adorn a true chess lover's collection.
Today's custom chess sets feature a huge variety of materials that provide authentic playing experience for chess lovers. Wood is traditionally the most preferred material for chess. Luxury custom chess sets feature rare and precious wood such as ebony, rosewood, sheesham, and some others. 
Porcelain chess offer great playing experience for seasoned professionals. The exquisite porcelain figurines have a great look and even feel good in your hand. High-end porcelain chess pieces are hand-painted and meticulously garnished – they are usually based on historical events and epochs. These luxury chess sets have also established a reputation of magnificent exclusive presents: it is still remembered that USA President Richard Nixon presented a custom porcelain chess set to the Soviet government during his visit to the USSR in 1972.
And for those who seek a genuinely aristocratic savor, there are marble chess sets. The inimitable beauty of marble with its unique natural veins makes marble chess an ideal present for the very special gentlemen of virtu. These luxurious handicrafts are meant to fit into an exquisite interior or to serve as a worthy exhibit in a vintage collection. 
Amber is another option for custom chess. Amber was known as a precious stone already in ancient times. The mysterious beauty of the sunny stone made it number one choice for dainty souvenirs including chess.
The uniqueness of amber chess
The southern coast of the Baltic sea has been the prime source of amber in Europe for many centuries. No wonder the first amber chess was crafted here. In the 17th century, the Polish city of Gdańsk was an important provider of amber to European countries. In 1690, an artisan crafted the first amber chess set here. The beautiful and glossy amber chess sets soon became an in-vogue thing and made their way into the palaces of aristocrats. Some of these masterpieces inspired other artists even centuries after: thus, a 17th-century amber chessboard once owned by members of the Hohenzollern dynasty inspired the logo of Mary Chess perfume products in 1939.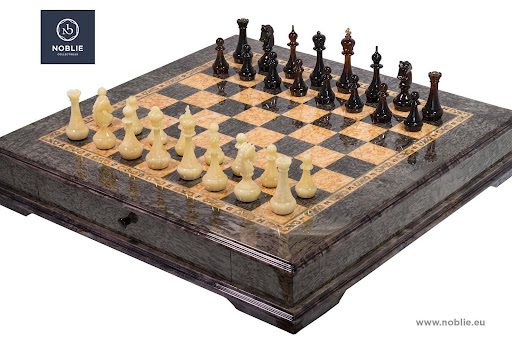 Amber is a very special material – it has a pleasant smell and its sleek texture even gives your hand a pleasant feel. Amber is cool in the heat and warm in the cold. However, amber must be treated with care: this material is inflammable and sensitive, amber figurines should not be dropped.
A stylish handmade amber chessboard is a classy gift for a business partner or an enthusiast of the game. The Noblie gift store has some excellent custom amber chess sets to offer. The "Baltics" amber chess set features classic chess pieces carved of white and brownish amber, covered with multilayer varnish and hand-polished, and the chessboard made of Karelian birch with drawers for storing the pieces. Such a piece of art will definitely make an outstanding gift for a most fastidious lover of chess.
Both novices and seasoned professionals in chess may be looking for a custom chess set that will appeal personally to them. Chess experts say it doesn't really matter what chessboard you use – it's all about enjoying the game and creating pleasant memories.