Amazon has emerged as a global e-commerce giant, with millions of customers searching for all kinds of items. It offers sellers a vast marketplace to reach a global audience and showcase their products. For this reason, Amazon is a golden opportunity to generate substantial income.
By using the right strategies and product choices, we can tap into Amazon's massive customer base. But running a successful online business on Amazon is not easy. The competition is fierce, so you need winning products that stand out. But what are the best items to sell on Amazon?
In this article, we will explore the top product niches and provide you with a list of the best products to sell on Amazon. Additionally, we'll give you insights into dropshipping suppliers and a roadmap to kickstart your Amazon business.
Top Amazon Product Niches
To thrive in the world of e-commerce, selecting the best niches for dropshipping is vital for success. By concentrating your efforts on specific products, you can effectively stand out in the sprawling Amazon marketplace.
Choosing a niche allows you to become an expert in that particular field. Thus, by focusing your efforts on specific products, you can delve deep into the trends and customer preferences within that category.
A dropshipping niche enables you to tailor your product offerings to a specific target audience. This customization helps you understand the unique needs and desires of your potential customers.
The Amazon marketplace is huge, with countless sellers vying for attention. Focusing on specific products grants you a competitive edge. You can stand out in a crowded market by offering products targeted at specific consumer segments. 
A well-defined dropshipping niche simplifies your marketing efforts. Running targeted marketing campaigns becomes easier when you know your audience and what people want.
In addition, it is essential to stay current with market trends. A focused dropshipping niche enables you to closely monitor trends within your chosen category. You can swiftly adapt to changing consumer preferences, introduce trending products, and adjust your inventory accordingly.
With this in mind, here are the best niche products to sell on Amazon:
Beauty & Personal Care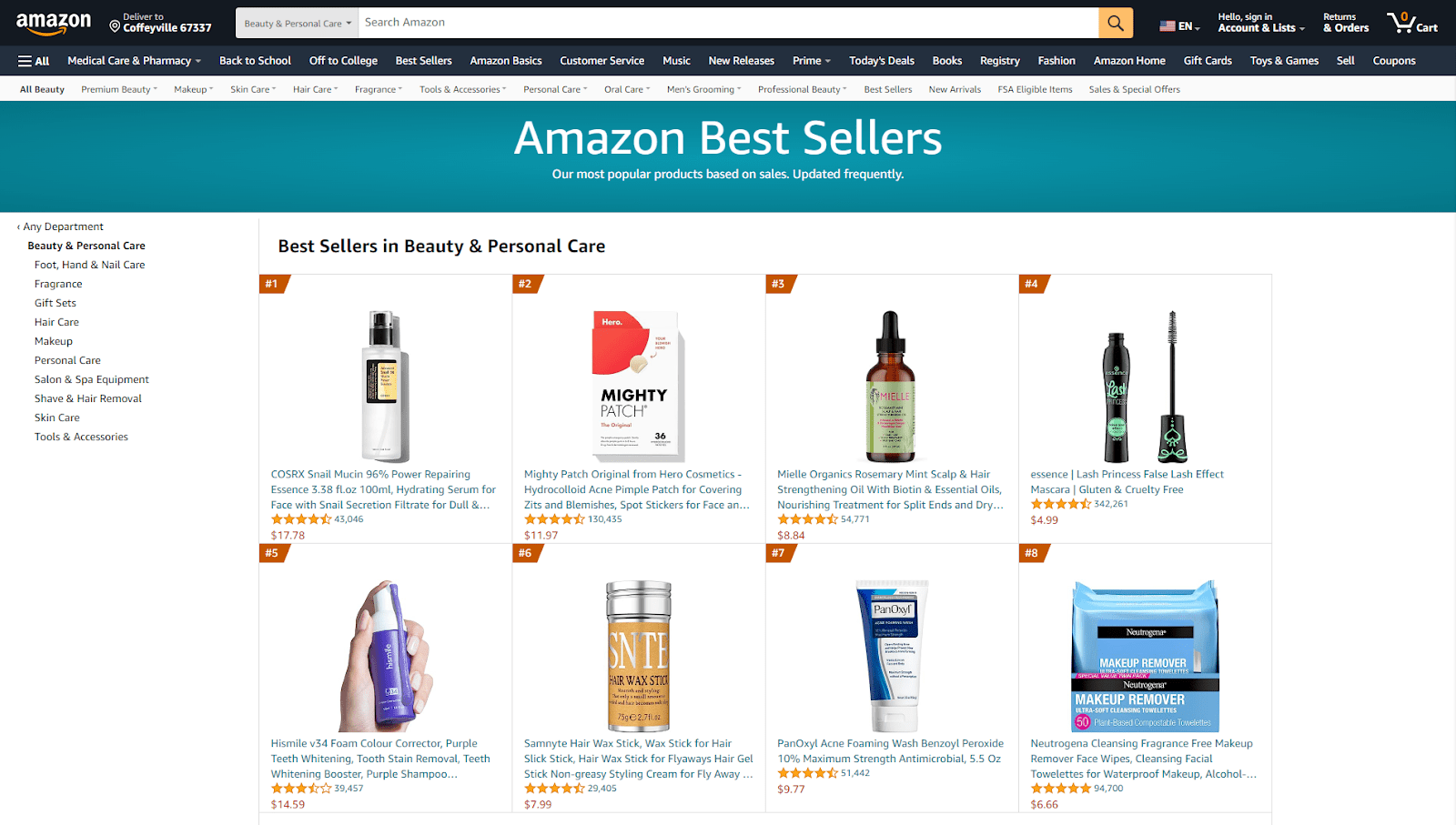 The Beauty & Personal Care niche remains a steady contender in the e-commerce world. With the growing interest in self-care and wellness, items like skincare, makeup, hair care, and grooming accessories are among the best products to sell on Amazon. The allure of feeling and looking good remains a constant. Therefore, this niche is an attractive option for sellers.
Phone Accessories
In a world that relies heavily on smartphones, Phone Accessories are always in trend. Phone cases, chargers, screen protectors, and wireless earbuds have become integral to modern life. With constant demand, these are always the best items to sell on Amazon.
Kitchen Utensils & Gadgets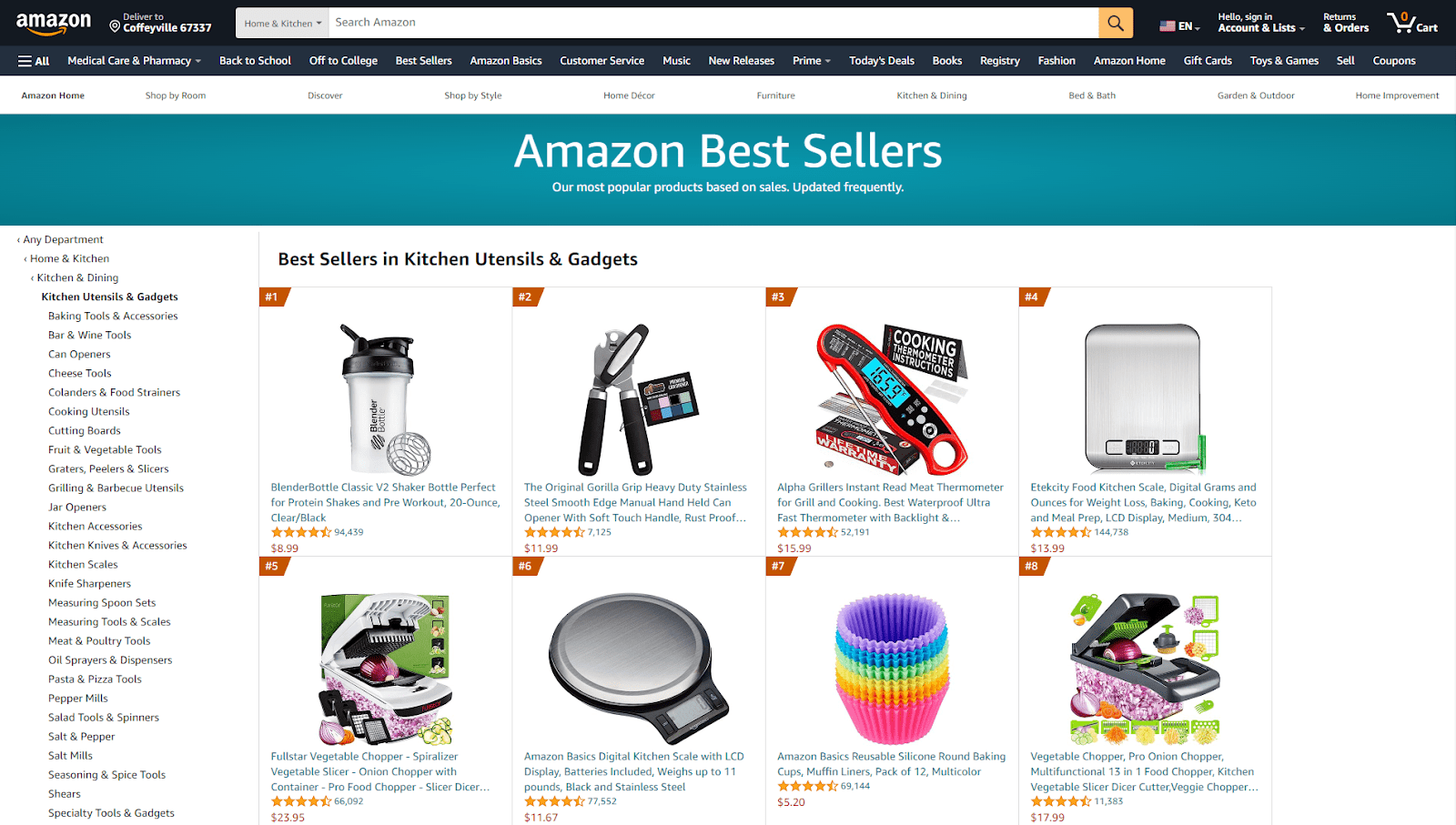 As more people cook and bake at home, the need for high-quality Kitchen Utensils & Gadgets and supplies is booming. This niche caters to the growing trend of culinary exploration and experimentation.
Some of the top selling items on Amazon from this niche are can openers, cooking thermometers, kitchen scales, vegetable choppers, measuring cups, etc. Offer products that make culinary experiences more convenient and enjoyable.
Clothing, Shoes & Jewelry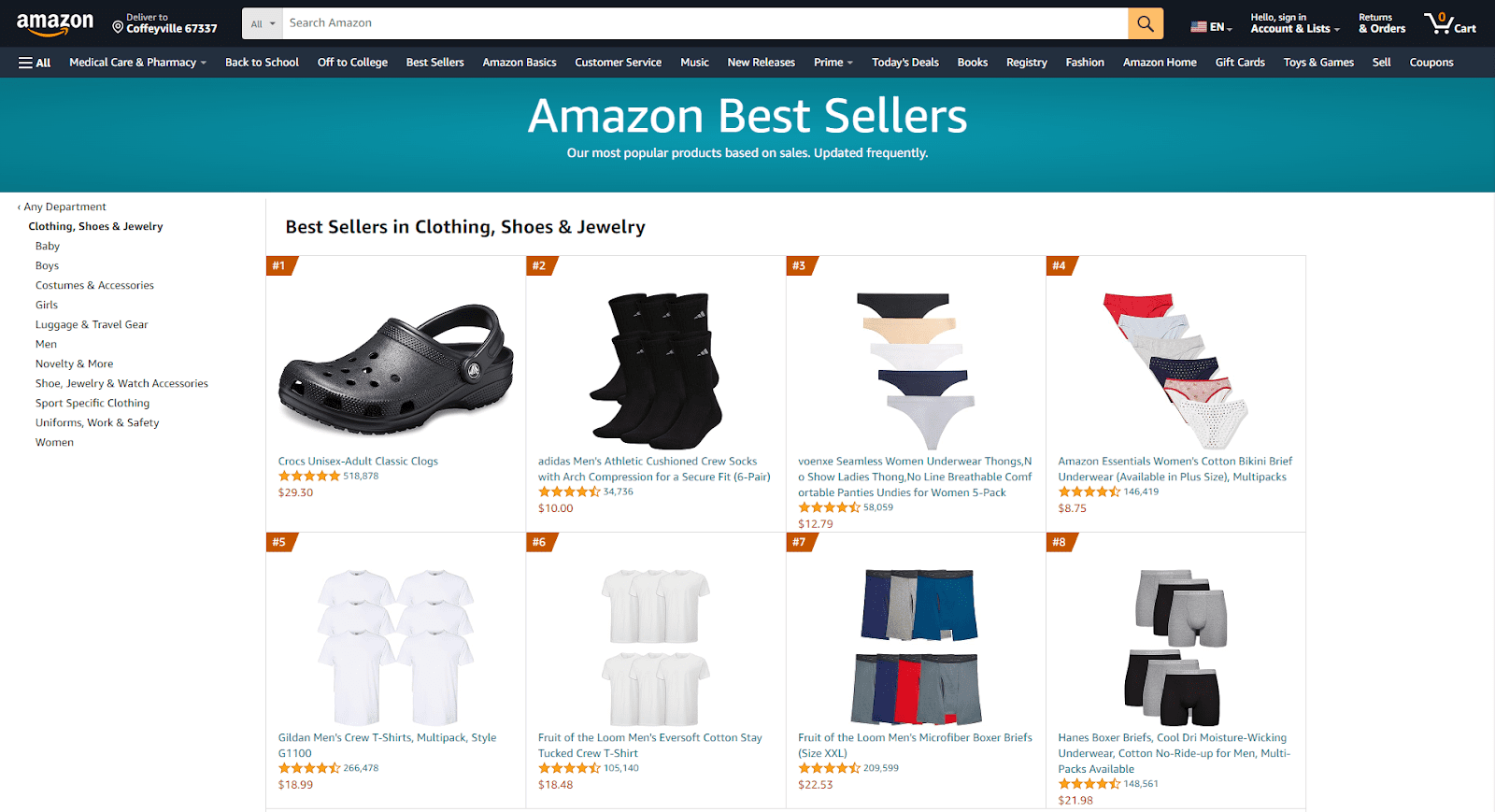 The Clothing, Shoes & Jewelry niche offers an array of compelling reasons for sellers to consider. Products here cater to varied tastes, allowing us to target various audiences.
This niche lets you ride the waves of fashion trends, meeting high demand for current styles. Furthermore, cultural inclusivity and diverse offerings make this niche a hit among a global audience.
In addition, online shopping convenience matches seamlessly with fashion and accessories. Both luxury pieces and everyday essentials ensure a steady stream of customers.
While this niche includes some of the best products to sell on Amazon, we must constantly rotate our store offerings based on seasons and trends. For example, dresses and T-shirts are popular during warm months but don't bring sales in autumn and winter.
Furniture & Home Decor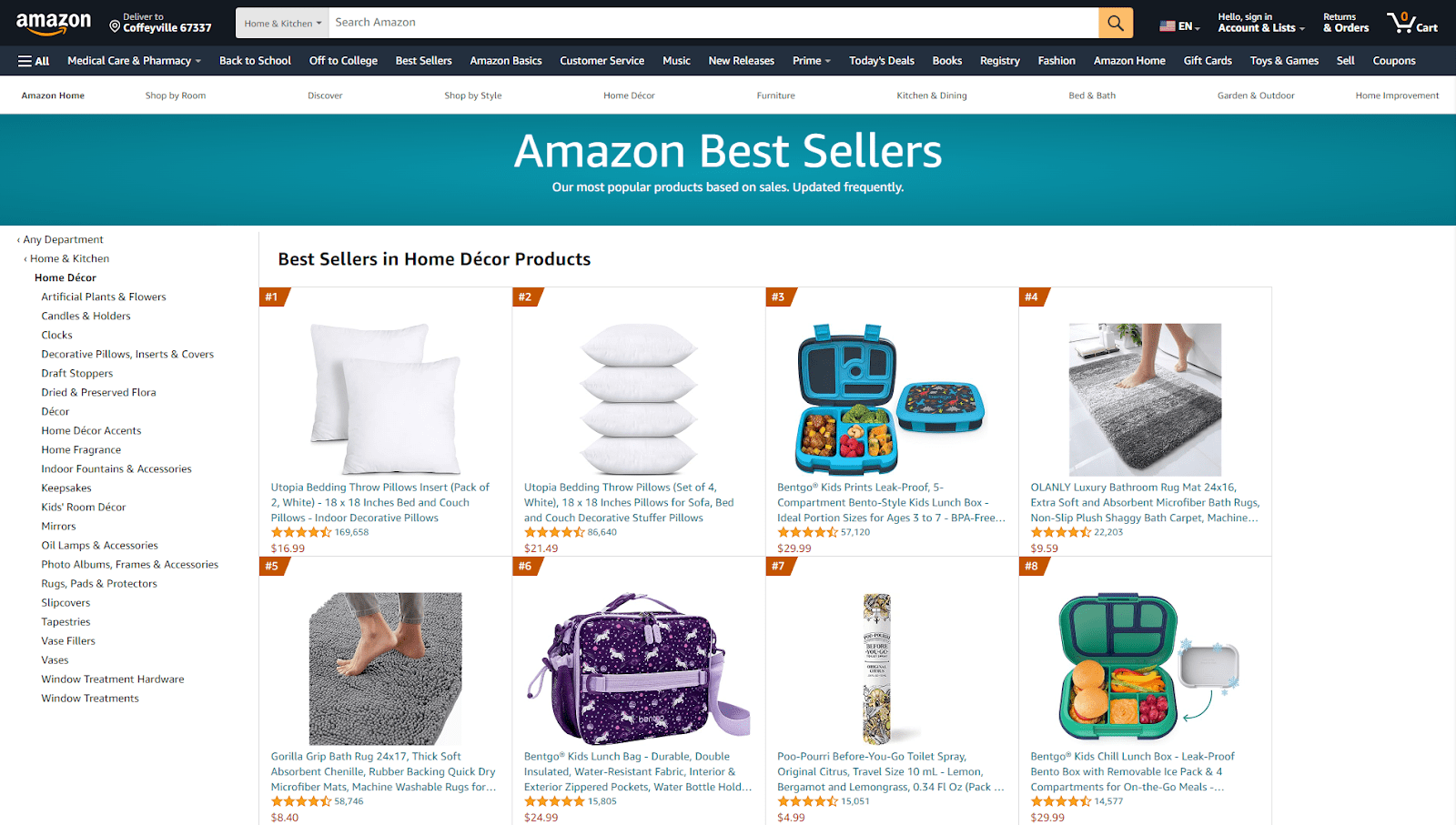 Products from Furniture & Home Decor categories are always top selling items on Amazon. The trend of home improvement and interior design saw a significant boost during the COVID-19 pandemic. Even after, these products are still in high demand as people seek to refresh their living spaces.
Home improvement and interior design enthusiasts are always on the lookout for unique furniture and decorative pieces. Consider items that enhance living spaces, from stylish furniture to aesthetically pleasing decor.
Toys & Baby Products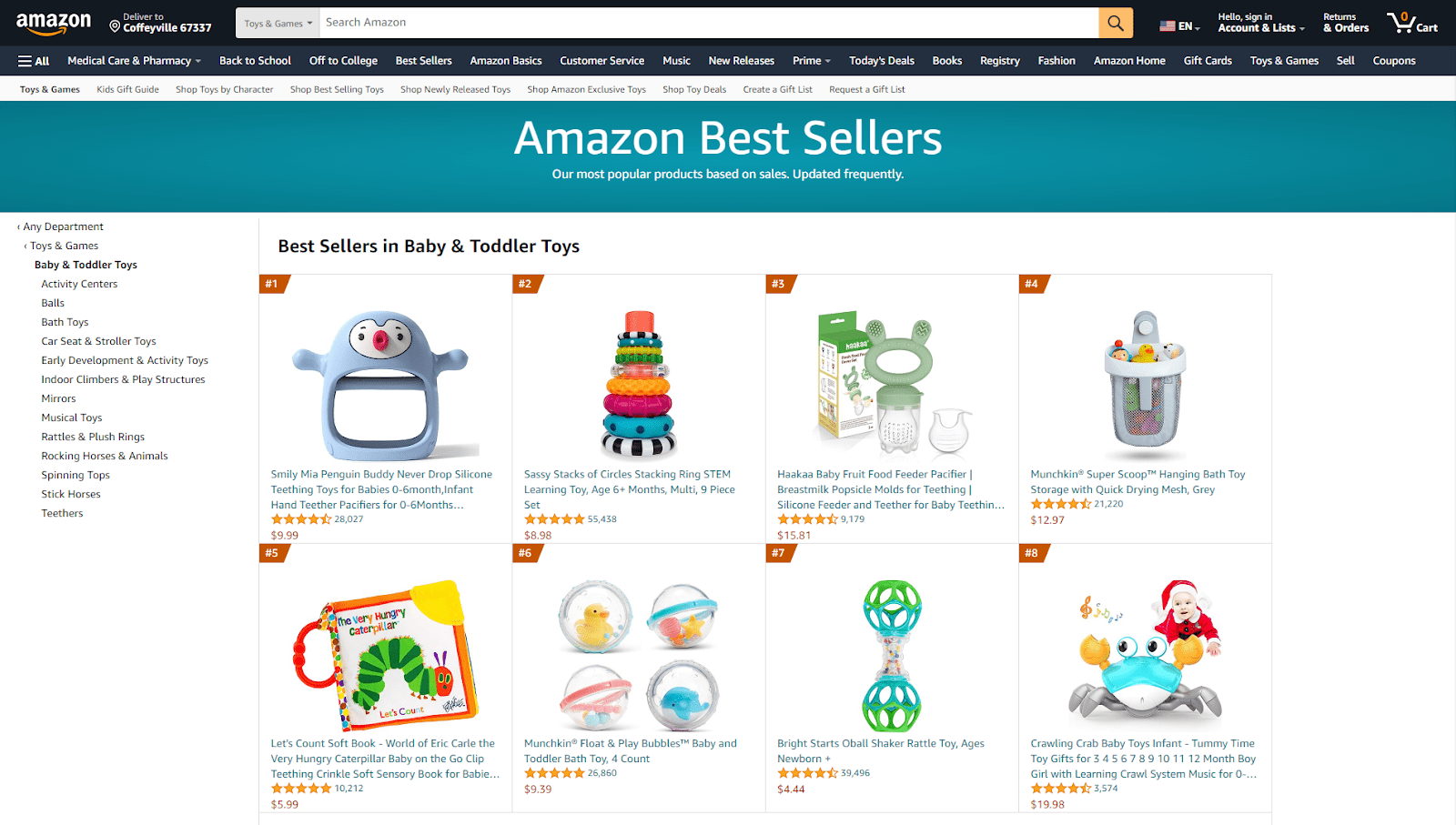 Parents always search for toys and products that foster child development and entertainment. From educational toys to baby care items, Baby and Toys categories are consistent performers.
Products in this niche contribute to children's growth and learning. They are essential for parents who seek educational and engaging options. Universally valued, these products cater to families across diverse cultures and demographics. Moreover, the convenience of online shopping resonates with busy parents, who can easily browse and select products that cater to their child's needs and preferences.
Some of the best items to sell on Amazon from this niche are:
teething toys

rattle toys

bath toys

educational toys & games

stroller accessories

diaper bags and organizers

no-touch thermometers

potty trainers

baby carriers

portable folding beds
It is important to realize that low-quality items might be dangerous for children. Therefore, ensure the products you sell are high-quality and safe.
Exercise & Fitness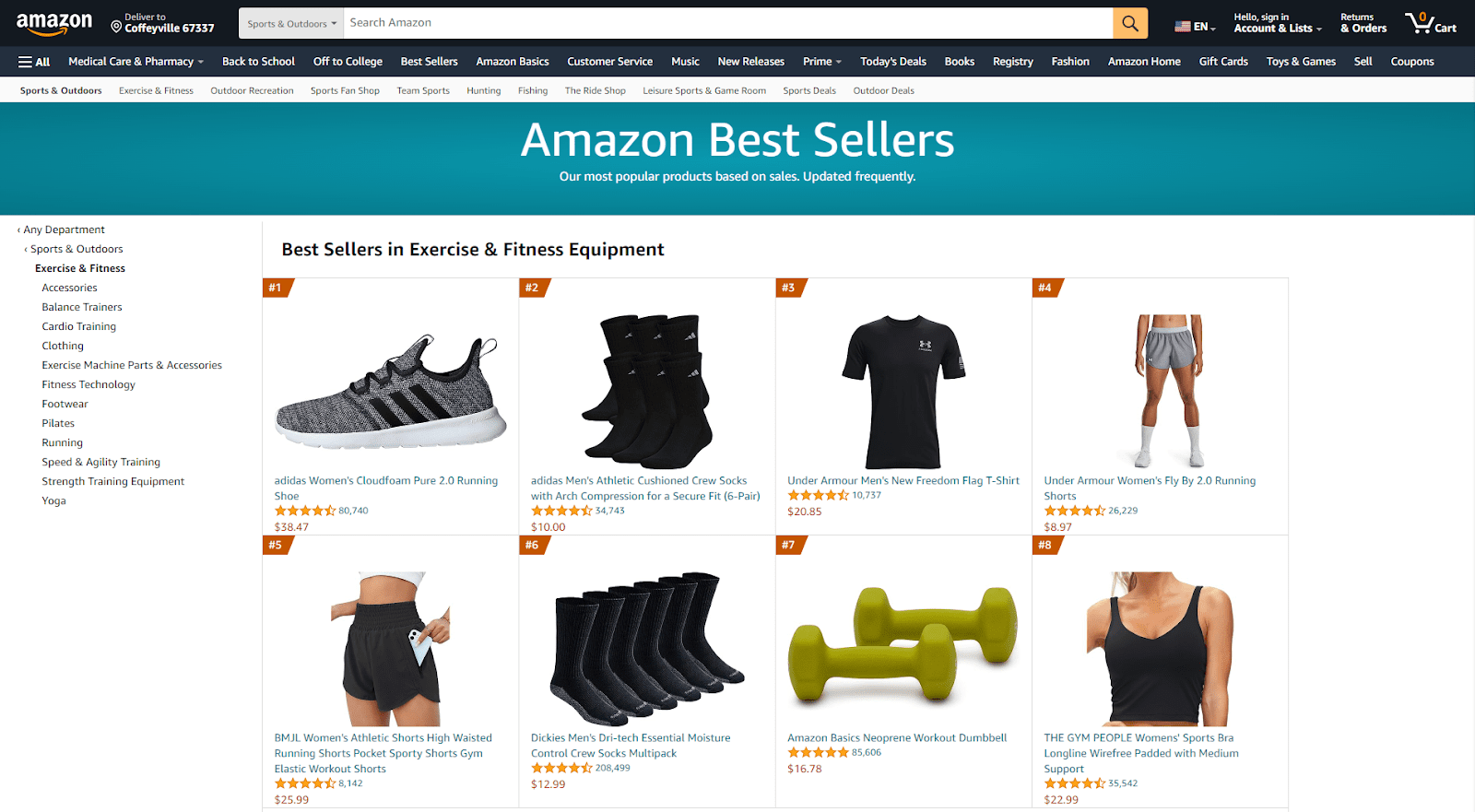 Fitness isn't a passing trend; it's a lifestyle embraced by millions. People prioritize their physical well-being. Thus, Exercise & Fitness equipment are among top selling items on Amazon. Capitalizing on this trend can yield substantial benefits for sellers.
Delving into this Amazon niche presents an enticing opportunity for sellers. The consistent demand for exercise equipment ensures a stable customer base. Moreover, fitness journeys are ongoing and lead to repeat purchases as customers upgrade equipment or seek new challenges.
This niche spans a wide range, from large equipment to resistance bands and yoga mats. You can curate a diverse product range that caters to different preferences and budgets. Because of this, the niche offers upselling and cross-promotion possibilities. You can bundle related products, such as workout attire, nutrition supplements, or fitness trackers, enhancing your product offering and boosting sales.
Pet Supplies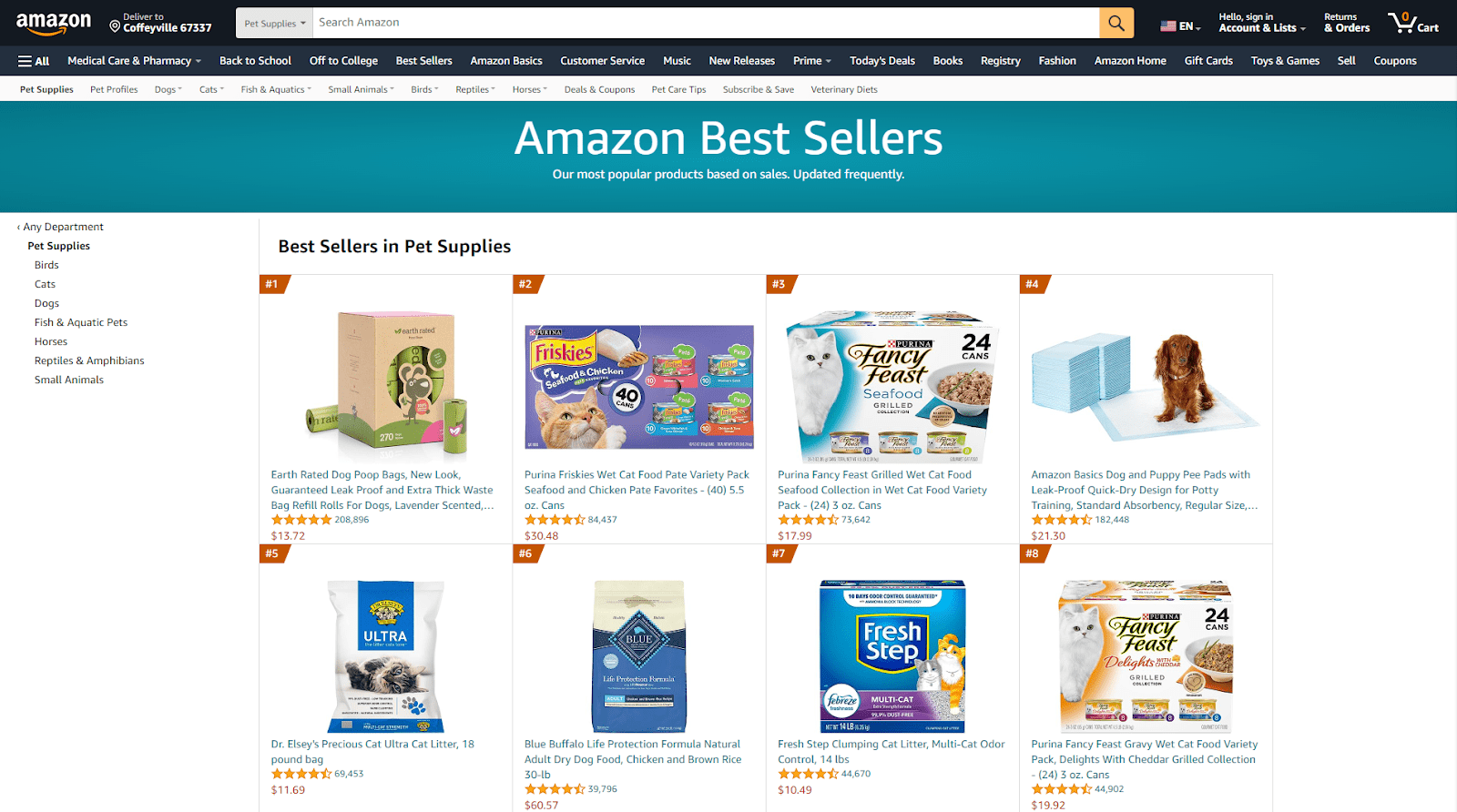 Pet owners spare no expense when it comes to their furry friends. Pet Supplies like food, accessories, grooming products, and toys are among the best products to sell on Amazon.
This niche encompasses various products, from food and treats to toys and grooming tools. We can offer a comprehensive product catalog catering to various pet types and needs. 
Because owning a pet is a lifelong commitment, it ensures a consistent demand for pet products. Moreover, pet supplies are consumables and essentials, leading to repeat purchases.
The niche provides ample upselling and cross-selling opportunities. Customers looking for essentials might purchase higher-end or specialized products. In addition, you can bundle complementary items, such as food and toys.
These are the top niches to sell on Amazon. Next, we will provide you with the best products to sell on Amazon.
15 Best Products To Sell On Amazon
Identifying the best items to sell on Amazon requires a strategic approach that balances market trends, demand, and competition.
These tips should help you find your own winning products:
Market Research:

Research Amazon's Best Sellers. Look for products with consistent demand, favorable sales rankings, and positive customer reviews. Use keyword research tools, like Google Trends, to identify high-volume, relevant search terms.

Product Research Tools:

Solutions like AutoDS Marketplace offer winning products curated by eCom specialists. Other tools, like Jungle Scout or Helium 10, provide valuable insights into product trends and performance.

Trend Analysis:

Keep an eye on emerging trends in various industries. Monitor social media to see what is popular. Use tools like TikTok Spy to gain valuable insights and product ideas.

Customer Needs:

Prioritize products that fulfill specific customer needs or solve common problems. Products that provide practical solutions tend to have constant demand.

Competition Analysis:

Study your potential competitors. Assess their product offerings, pricing strategies, and ad campaigns. Identify gaps in the market so that you can introduce unique or improved products.

Supplier Selection:

Find reliable suppliers that offer quality products and competitive prices. Order a few products in order to test if the supplier meets your expectations.

Profit Margin Evaluation:

Calculate potential profit margins. Consider product costs, shipping fees, Amazon fees, and other expenses. Ensure that your chosen products offer a reasonable profit margin.

Branding:

Create a brand that sets you apart. Consider private labeling and branded packaging. In addition, you must provide excellent customer service to create a memorable shopping experience.

Test and Adapt:

Monitor sales, customer feedback, and market trends. Then, correct and adapt your strategy based on these insights.
To inspire you, we prepared a list of winning products from each niche provided earlier. Here are the 15 best items to sell on Amazon:
1. Stainless Steel Water Bottles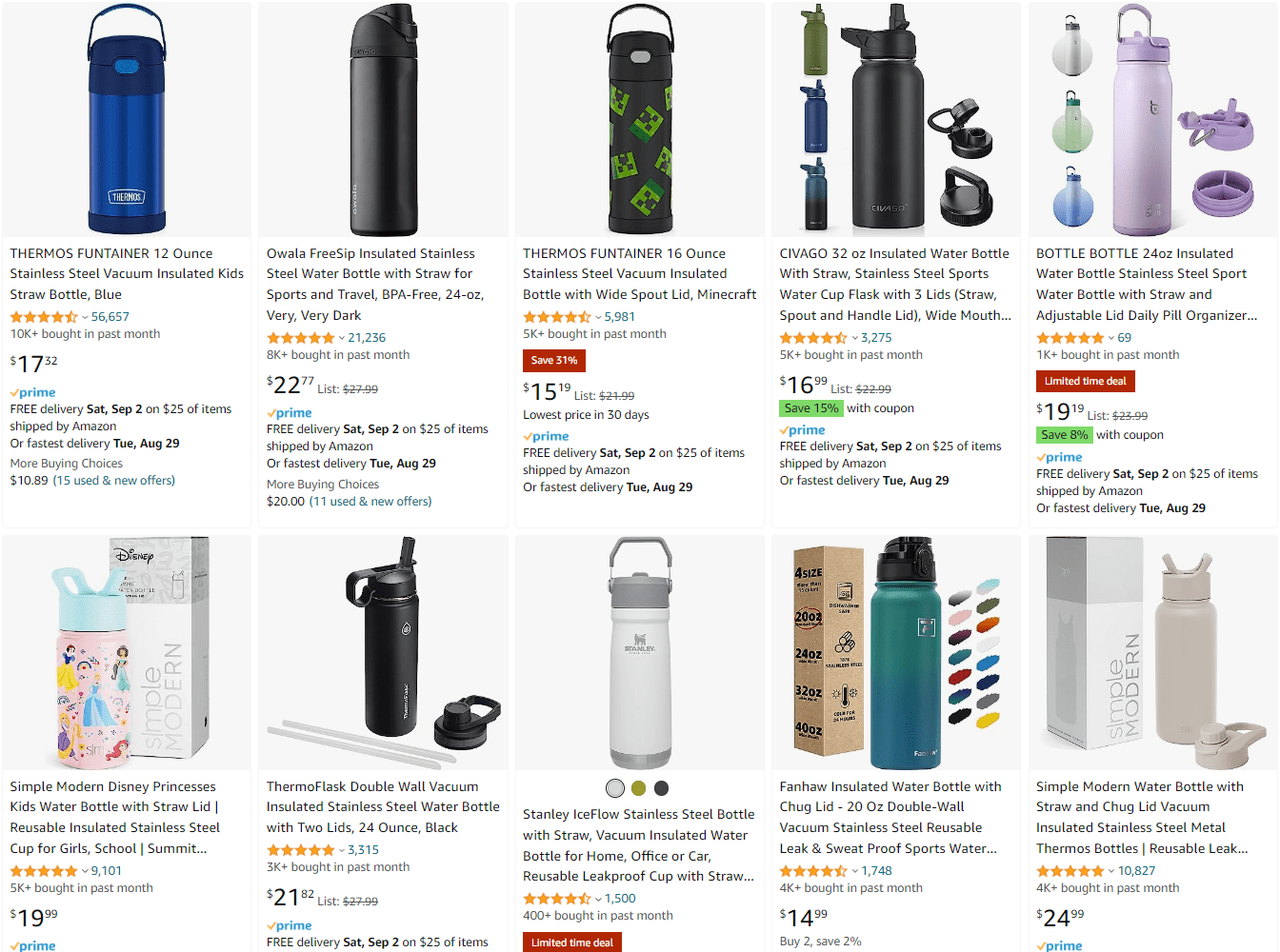 Stainless Steel Water Bottles appeal to a wide customer audience and have a constant high demand. You can offer colorful designs for kids, ergonomic bottles for travel, leak-proof sports bottles, insulated variants, and more. Their durability and trendy designs make them a must-have item in your Amazon store.
2. Dog Poop Bags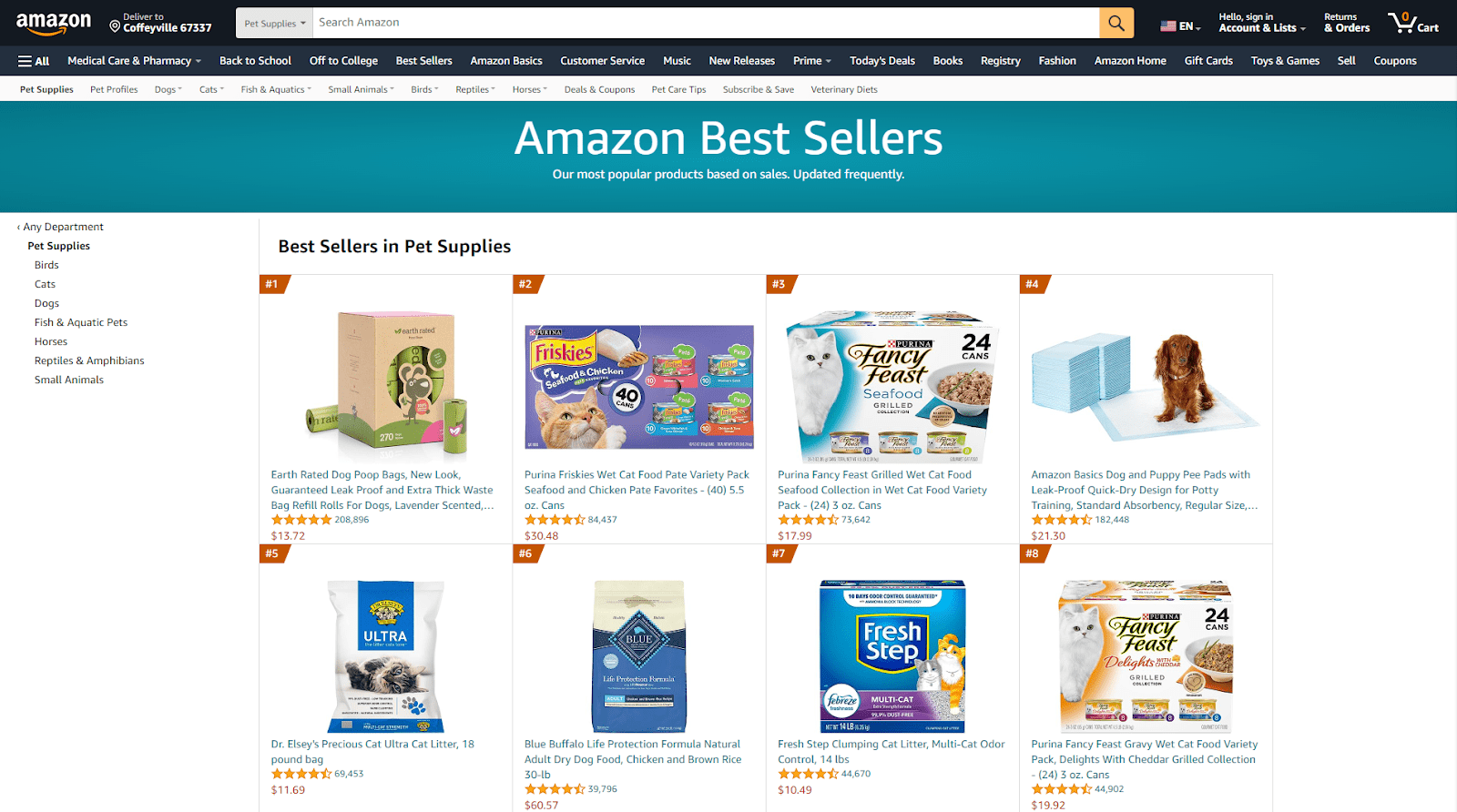 This is probably not something you expect, but dog poop bags are top selling items on Amazon. As responsible pet ownership gains traction, these bags fulfill a critical need for cleanliness. With a consistent market of pet owners, the recurring demand for these bags ensures steady sales and customer loyalty.
In addition, these products are lightweight and easy to ship. This benefit saves shipping costs and aligns perfectly with the convenience of online shopping. They are a convenient choice for both sellers and buyers.
3. Workout Mats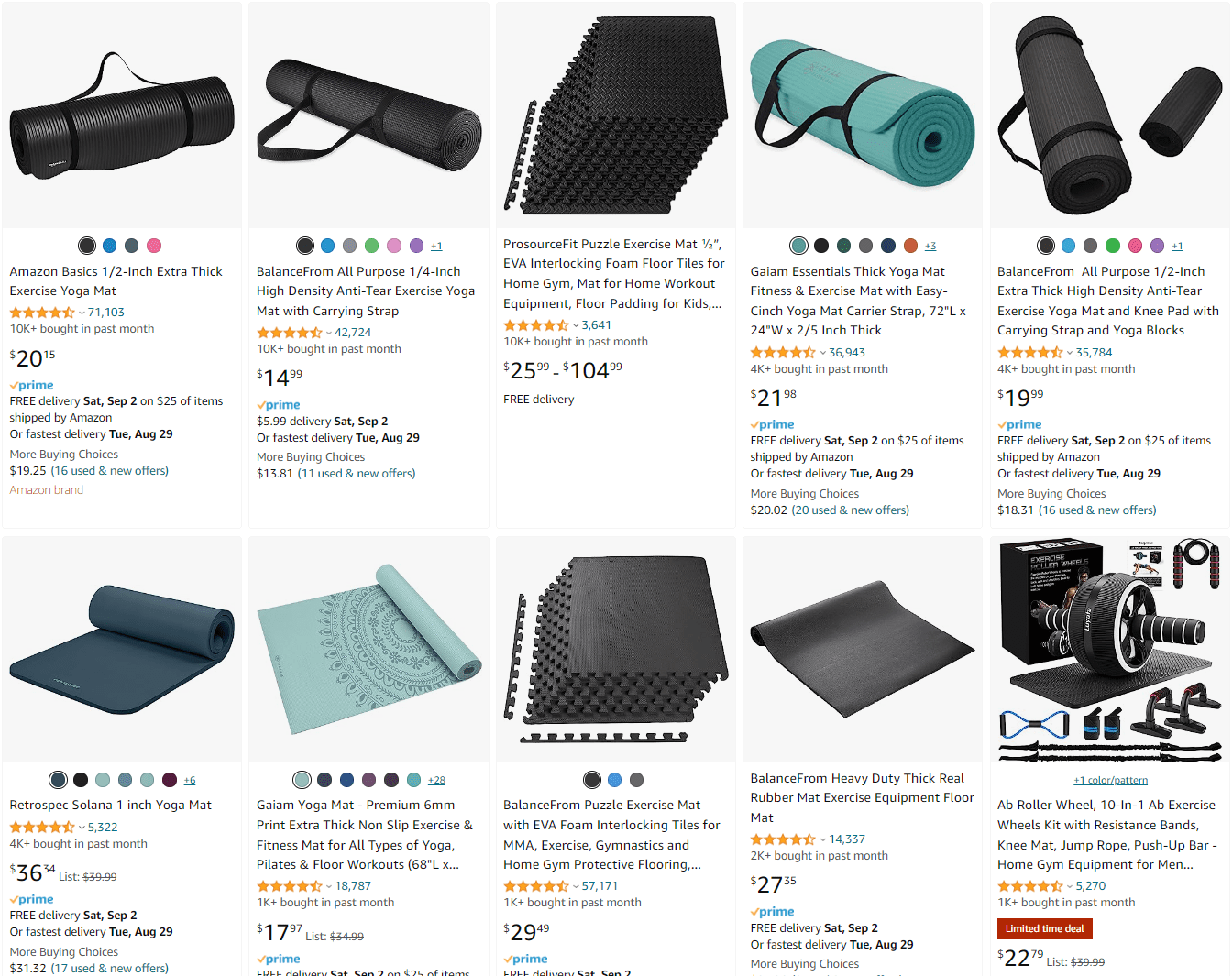 As fitness trends continue to rise, exercise mats cater to the growing demand for home workouts and studio sessions. They come in various shapes, sizes, and colors, thus covering a wide customer audience.
From yoga to high-intensity training, workout mats offer versatility and address various customer needs. Their portable form also aligns well with e-commerce, allowing for easy shipping.
Nowadays, you can find workout mats almost in any home, which makes them the best products to sell on Amazon.
4. Silicone Cooking Utensil Sets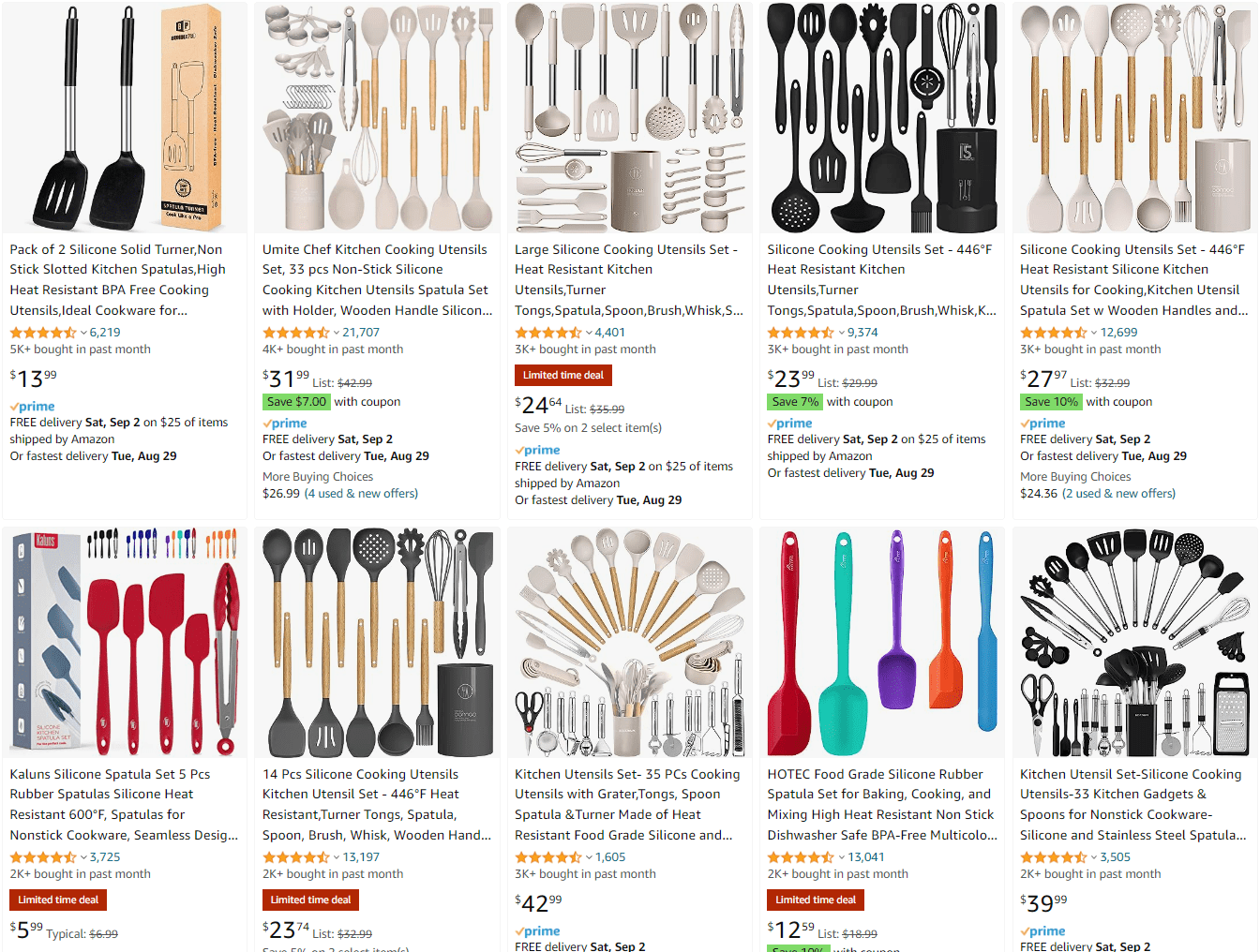 Cooking follows the shift towards healthcare and fitness. Similarly, silicone cooking utensil sets align well with healthier, safe, and non-stick cooking practices. Their versatile use appeals to home cooks and professional chefs alike, creating a broad market.
Their durable, easy-to-clean, and space-saving attributes make them must-have items in any kitchen, creating a constant demand. Furthermore, such tools wear out, thus encouraging repeat purchases and fostering customer loyalty.
5. Fitness Tracker Watches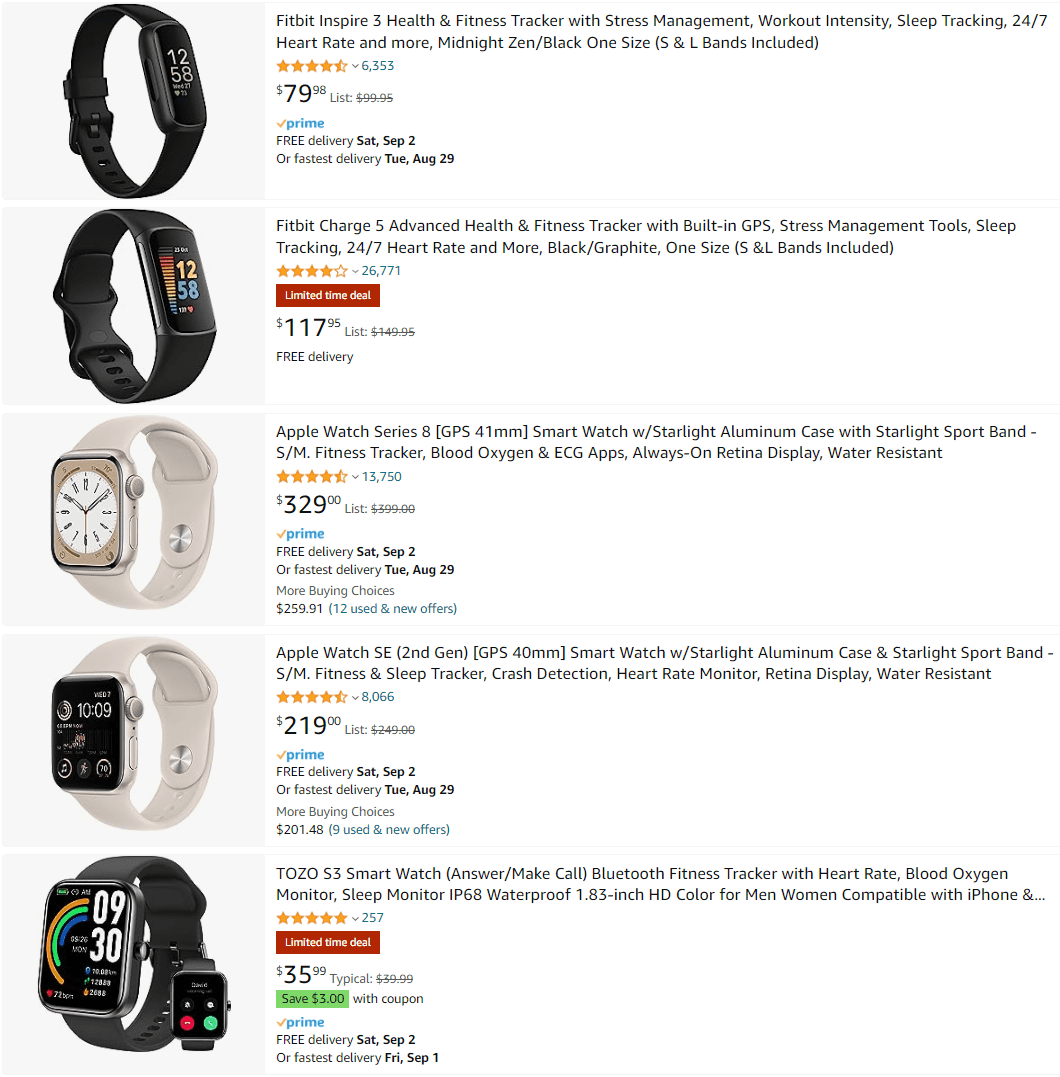 Here is another example of top selling items on Amazon related to health and fitness. Therefore, the demand is constantly high. Fitness trackers monitor user's daily activity, sleep, and overall well-being. Thus, they are a must for any fitness fan.
Because these watches offer versatile functionality, they cater to a broad market appeal, spanning fitness enthusiasts, professionals, and casual users. They vary in price range from under $25 to over $300 and more, so you can target different consumer groups.
6. Massage Guns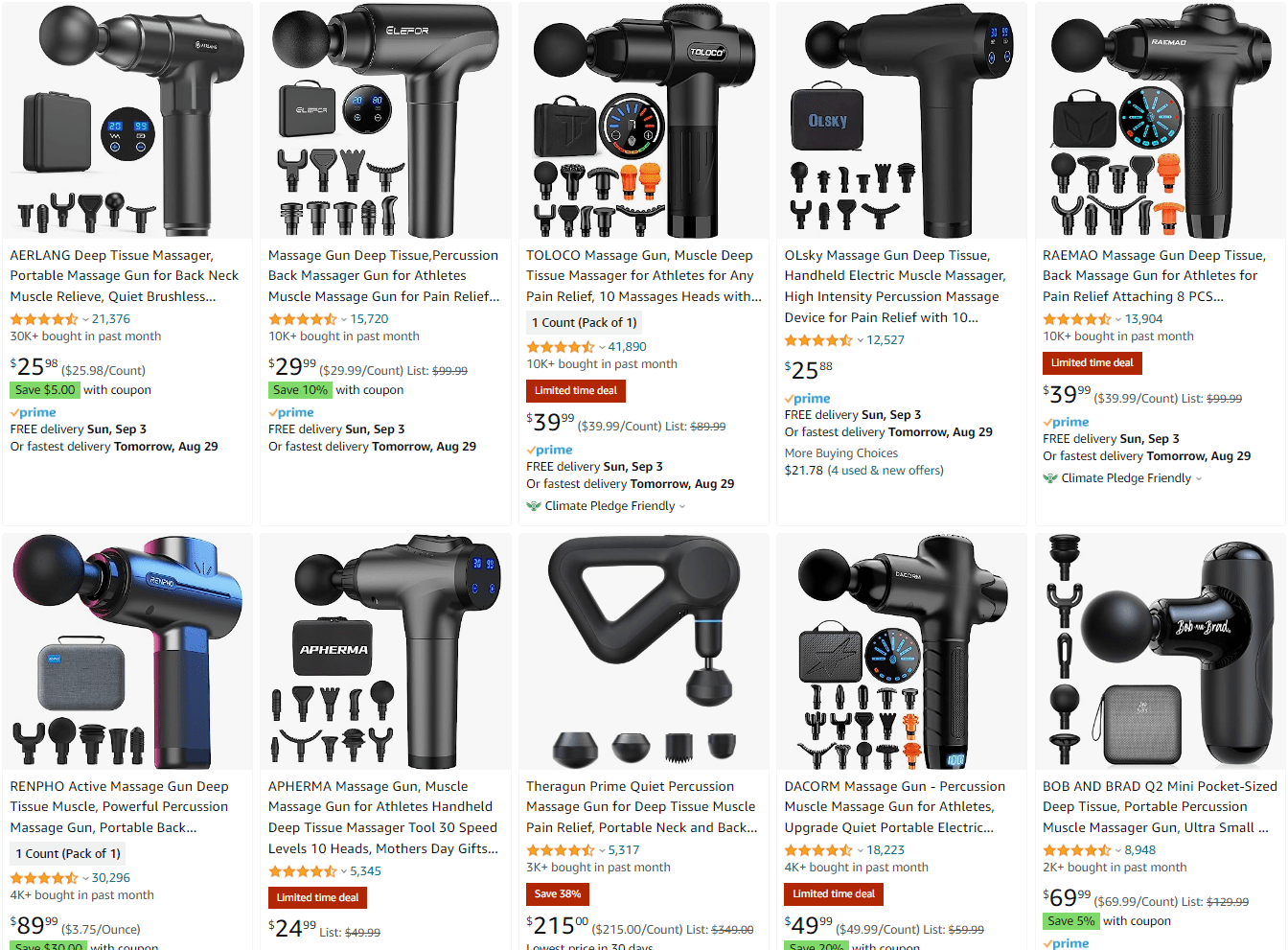 Next on the list of best items to sell on Amazon are massage guns. Fitness enthusiasts value massage guns for post-workout muscle recovery, creating a niche market with a dedicated demand. Beyond fitness, people buy these devices for physical therapy, like stress and pain relief.
Massage guns often come with adjustable intensity levels and various attachments. Their versatility, portable design, and customizable settings attract a wide range of customers. Thus, you will get a consistent demand and repeat purchases.
In addition, massage guns are great for cross-selling. You can combine them with products from categories like Beauty & Personal Care, Exercise & Fitness and boost your overall sales.
7. Facial Cleansing Brushes
Facial cleansing brushes cater to the skincare-conscious shoppers. As skincare routines gain prominence, these brushes offer a thorough and effective cleansing experience. They address specific skin concerns and provide a spa-like treatment at home. Also, they require a periodic change of brush heads. All this ensures repeat sales and customer loyalty.
Facial cleansing brushes offer an innovative approach to skincare, attracting tech-savvy consumers seeking advanced beauty tools. Thus, they are perfect for upselling. You can offer them to shoppers looking for more basic items, like silicone face scrubbers.
Because regular use enhances skincare product absorption, these brushes are a complementary addition to beauty routines. You can offer them to customers purchasing health and beauty products, which is a great cross-selling opportunity.
8. Baby Swaddle Blankets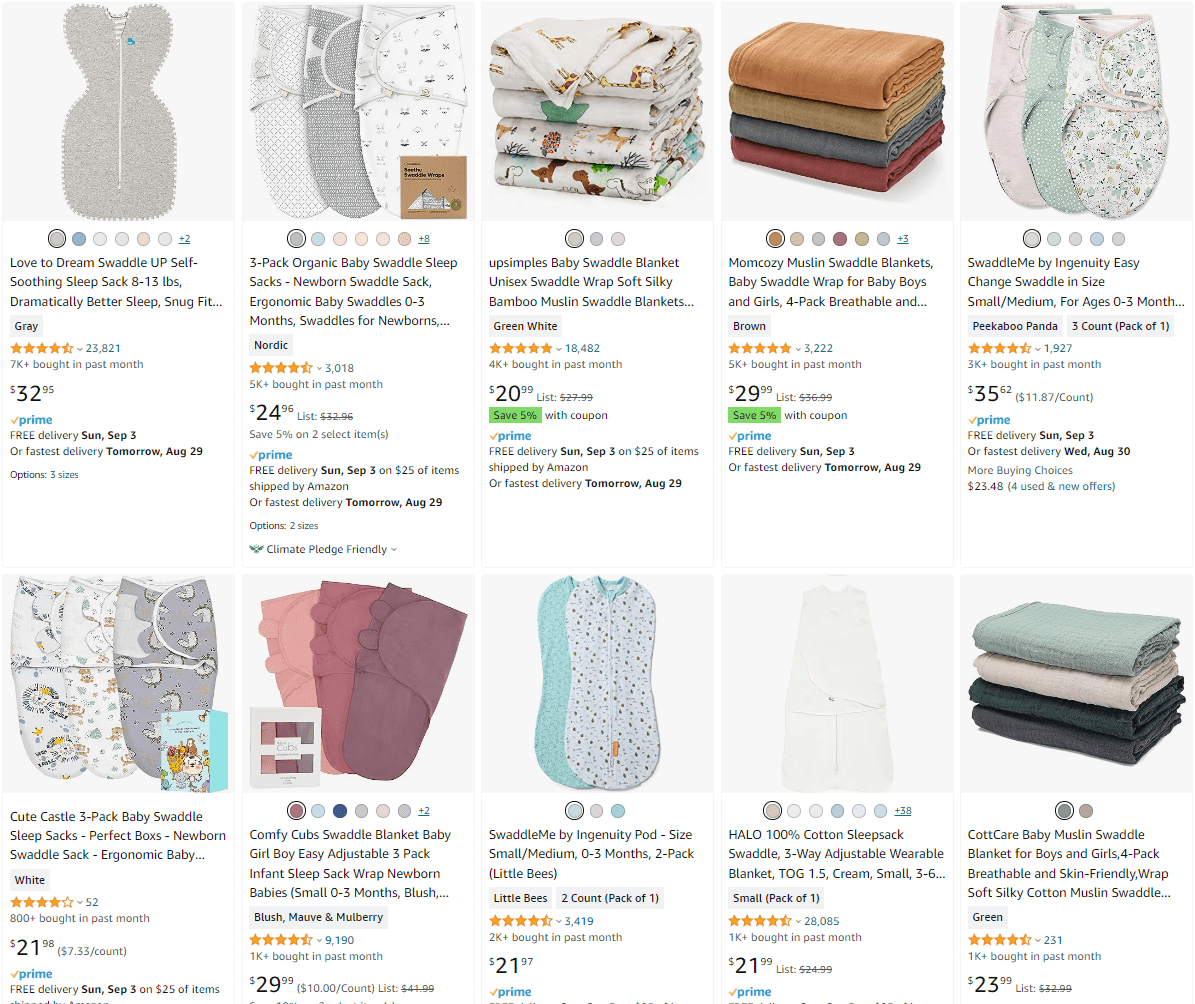 Baby swaddle blankets are essential for new parents. They ensure comfort and sleep for newborns, creating a steady market demand. These blankets serve as multi-purpose items, from swaddling to stroller covers, thus providing added value to parents.
With various designs and materials, they appeal to a wide range of parents seeking quality baby products. Furthermore, diverse patterns and materials allow for personalization.
Swaddle blankets are popular choices for baby shower gifts, creating additional sales opportunities. Needless to say, they provide huge upselling and cross-selling opportunities. For this reason, they are the best items to sell on Amazon.
9. Women's Leggings
Women's leggings are a wardrobe staple with enduring appeal. They offer comfort and style for various activities. Because of their versatile nature, from workouts to casual wear, they create repeat purchases, making them top selling items on Amazon.
Leggings seamlessly transition from activewear to casual wear, allowing for versatile styling and appeal. Various styles, lengths, and thicknesses address seasonal needs, from workout leggings in summer to cozy options in winter. 
There are also maternity leggings, which offer comfort during pregnancy and create a niche market for expectant mothers. In addition, leggings are perfect for cross-selling with fitness and baby products.
10. Portable Power Banks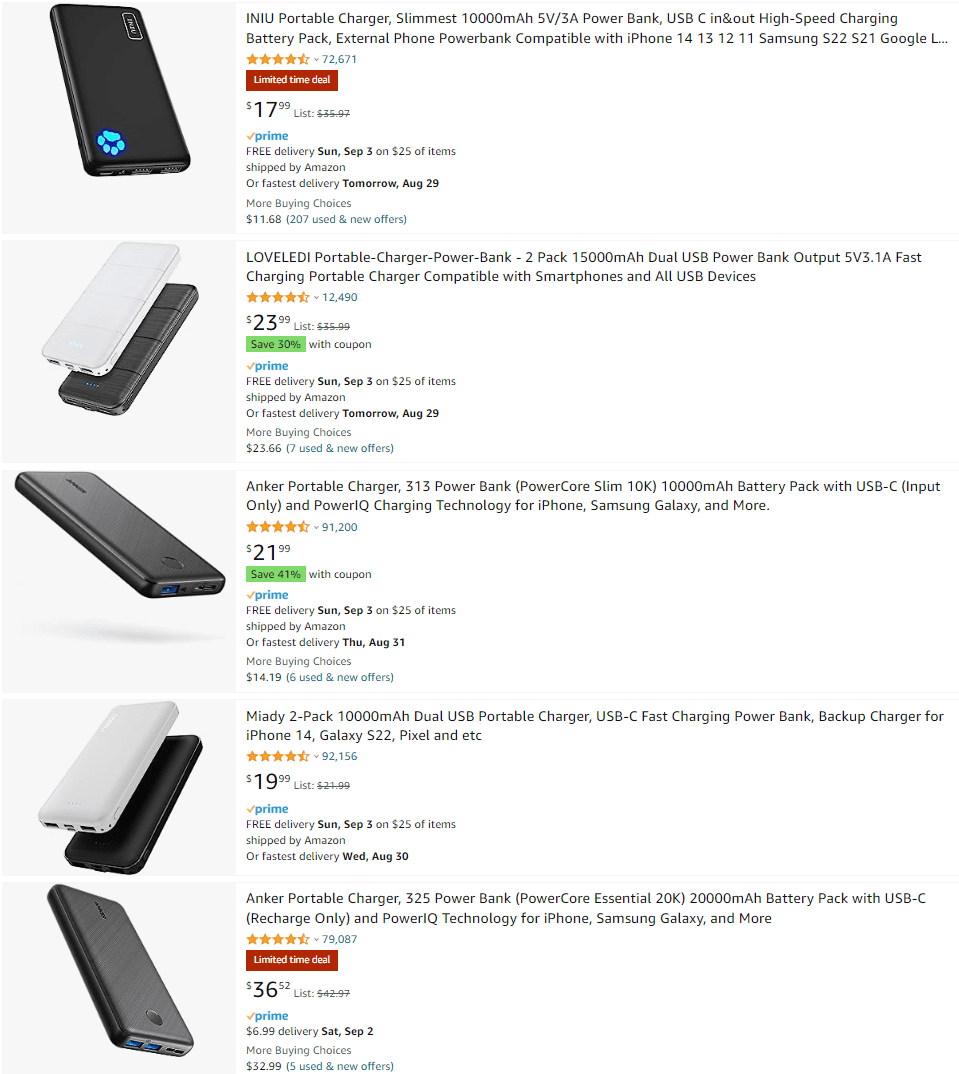 Portable charging power banks address the universal need for mobile device charging on the go. Tech-savvy consumers value power banks as convenient accessories to maintain device functionality. They are essential for travelers, catering to shoppers seeking reliable device charging while on the move.
Since smartphones are integral to daily life, these accessories offer convenience and peace of mind. Their compatibility with various devices ensures a broad customer base and repeat sales. Every home has a power bank or two. Hence, such high demand makes them the best products to sell on Amazon.
11. Dog Harnesses & Leashes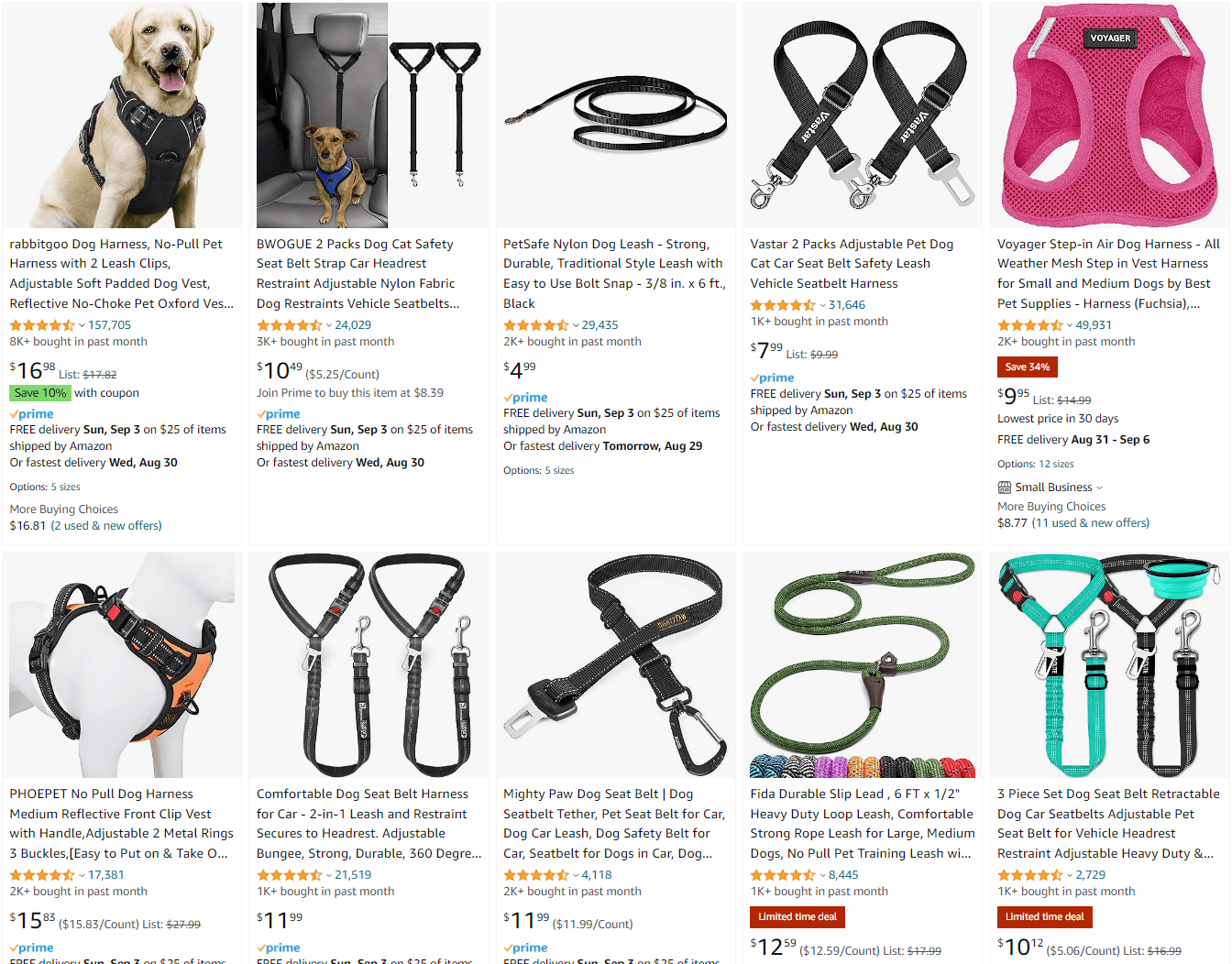 Dog harnesses and leashes are essential pet care items. Catering to pet lovers, they ensure control and safety during walks. With a consistent demand from pet owners, these are top selling items on Amazon.
Offering harnesses and leashes tailored to different dog breeds enhances comfort and safety, catering to specific needs. Furthermore, creative designs and colors resonate with pet owners aiming to express their pets' personalities.
12. Makeup Brush Sets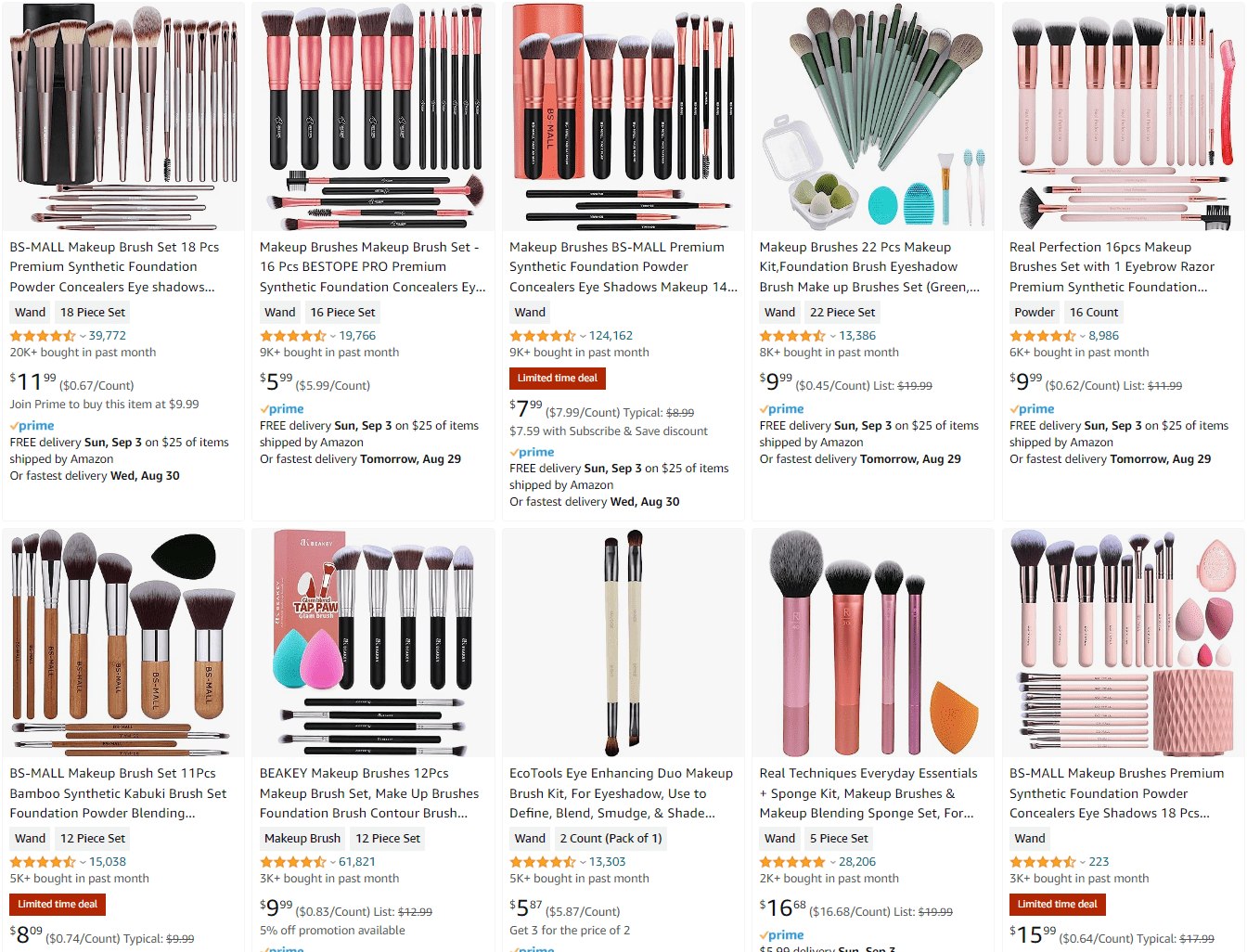 Makeup brush sets target beauty enthusiasts, professional stylists, and makeup artists. These sets are essential tools for achieving flawless looks. Thus, they have constantly high demand.
What makes them the best products to sell on Amazon? Their durable design and versatility appeal to makeup lovers, resulting in repeat purchases. Furthermore, selling various brush types provides upsell opportunities. You can offer larger sets with more brush types to shoppers looking for basic sets. In addition, makeup brushes have huge cross-selling potential for selling other beauty products.
13. Baby Teething Toys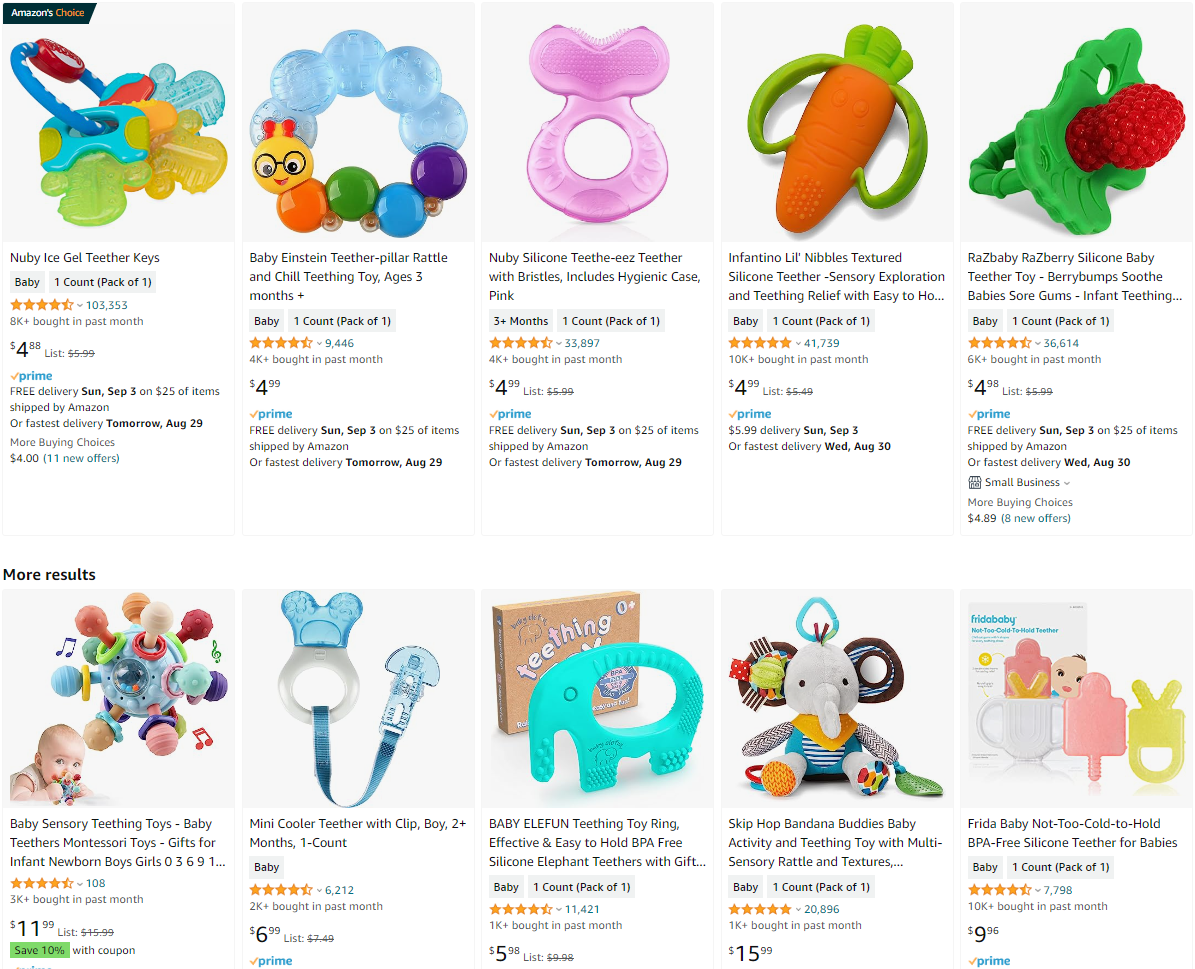 Baby teething toys are indispensable for parents during the teething phase. These toys soothe discomfort and engage babies. Therefore, they have high demand. This demand for safe and effective teething solutions also ensures repeat sales, making them top selling items on Amazon.
Teething toys offer a safe way to soothe babies' discomfort, creating a loyal customer base of parents seeking effective solutions. Furthermore, some teething toys incorporate textures and shapes that aid in sensory and cognitive development. There are also compact teething toys that are ideal for travel and outings.
14. Building Blocks Sets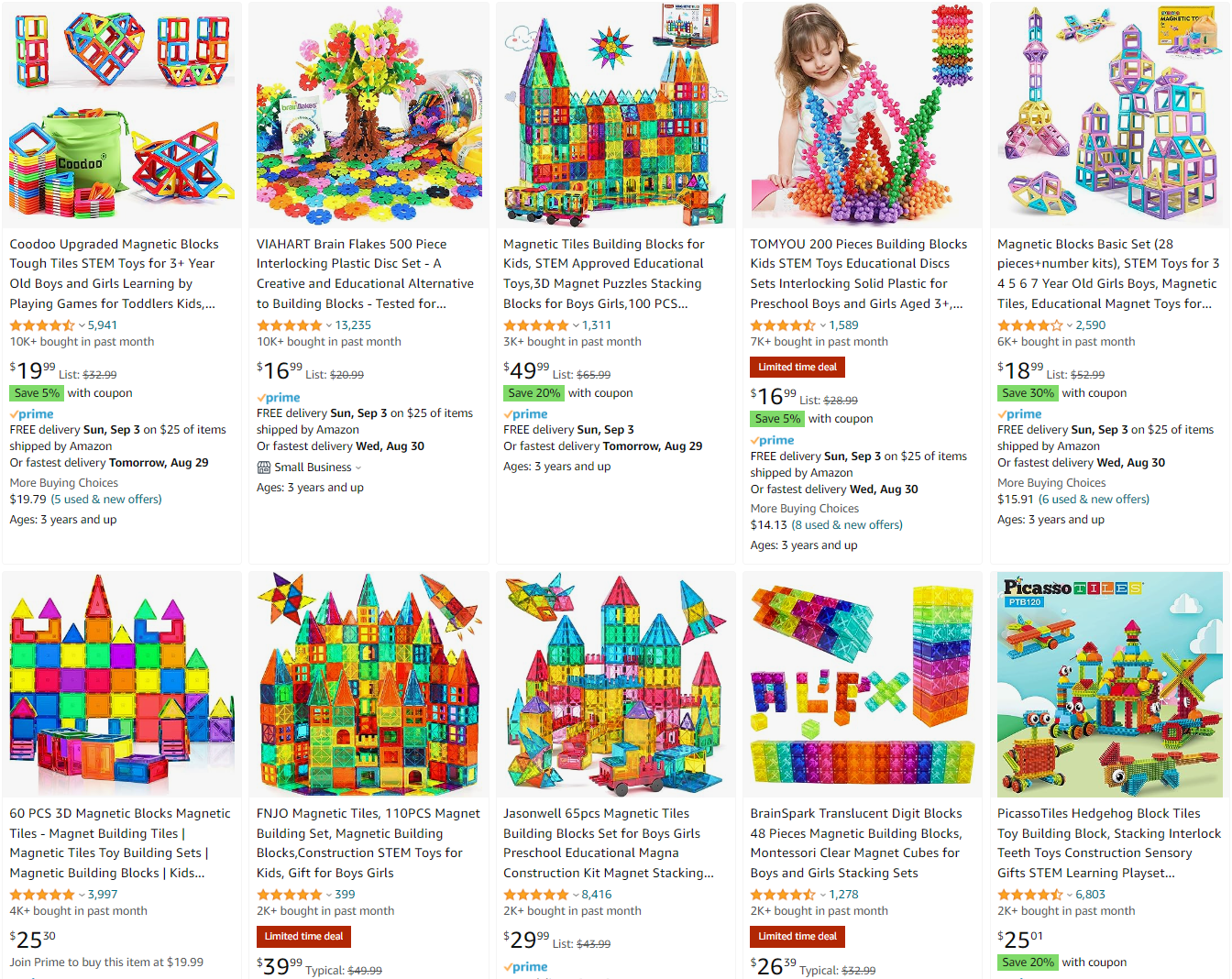 Building blocks sets offer educational and creative play for children. They foster creativity and problem-solving skills, attracting both parents and educators. Therefore, their role in cognitive development and imaginative play ensures consistent demand.
These toys are affordable and come in a variety of sizes and forms. They also have enduring play value, ensuring extended use and durability. As a result, you can attract a broad audience of parents.
Building blocks are also a popular gift option, thus increasing the target audience. Furthermore, they provide plenty of upsell and cross-sell opportunities with other toys and baby products. As a result, building blocks sets are among the best items to sell on Amazon.
15. Decorative Cushion Covers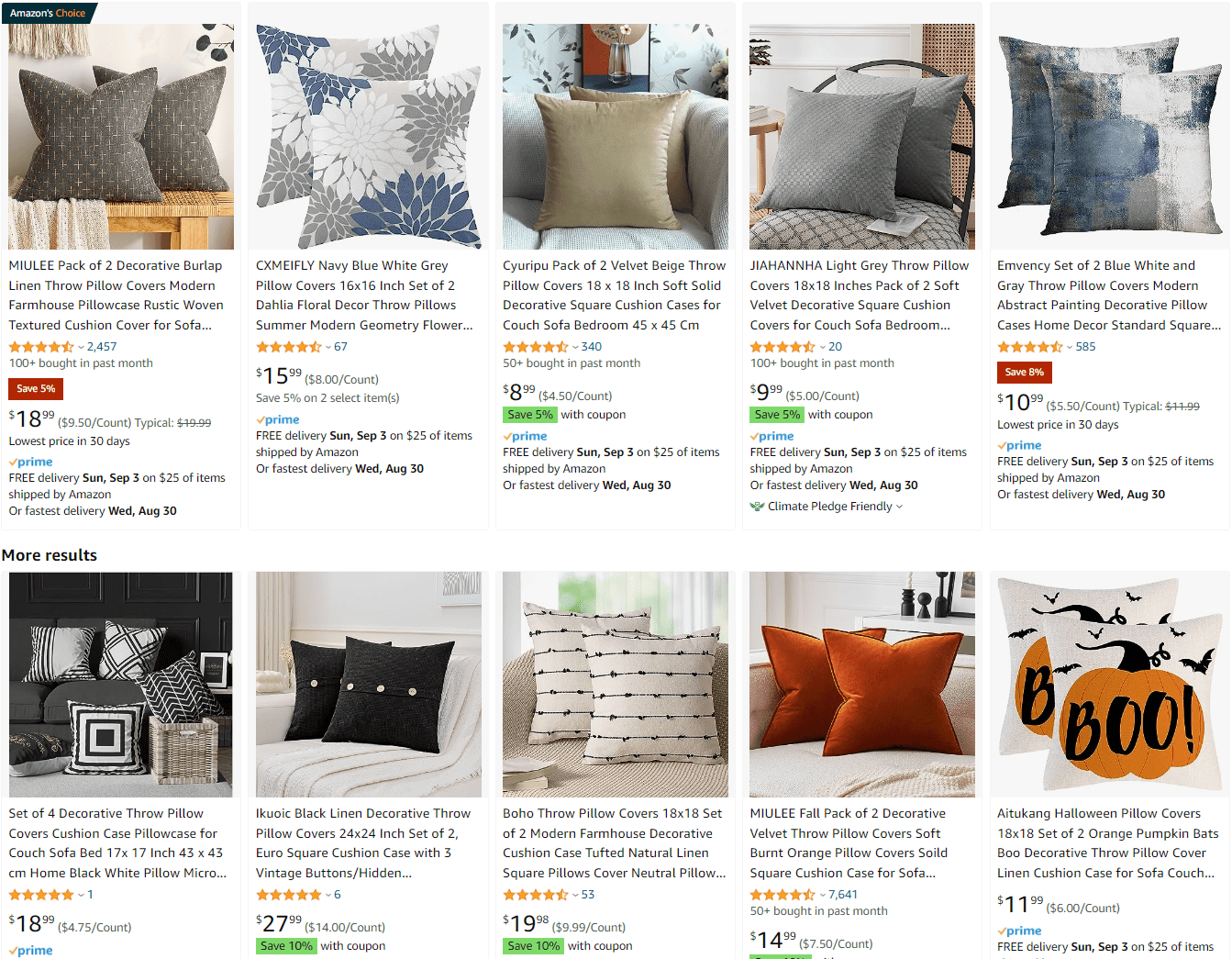 Decorative cushion covers cater to home decor enthusiasts seeking to refresh their spaces. What makes them popular is how they change the look of a room without major investments. They allow for seasonal home decor updates without complete furniture replacements. For this reason, cushion covers are always trending and have high demand.
Cushion covers provide an affordable way to transform interiors, catering to style-conscious customers on a budget. Furthermore, customers can mix and match different cushion covers to create diverse looks. As a result, all this opens room for vast cross-selling opportunities. This seasonal and aesthetic versatility makes them the best products to sell on Amazon.
That's it! These are the 15 best products to sell on Amazon. To summarize, each of these items has its advantages that make it a winning product. Some fulfill essential needs, while others capitalize on trends or solve problems.
Explore these products further to understand the unique appeal and practical benefits of each item. It will help you in identifying winning products for your online store.
The Definitive List of Amazon Dropshipping Suppliers
Knowing the best items to sell on Amazon is not enough. You also need to know where to source them. Choosing dropshipping suppliers is just as important for the success of your online business.
We won't delve into how to find trustworthy providers. Instead, we provide you with a list of the most popular and reliable dropshipping suppliers.
Walmart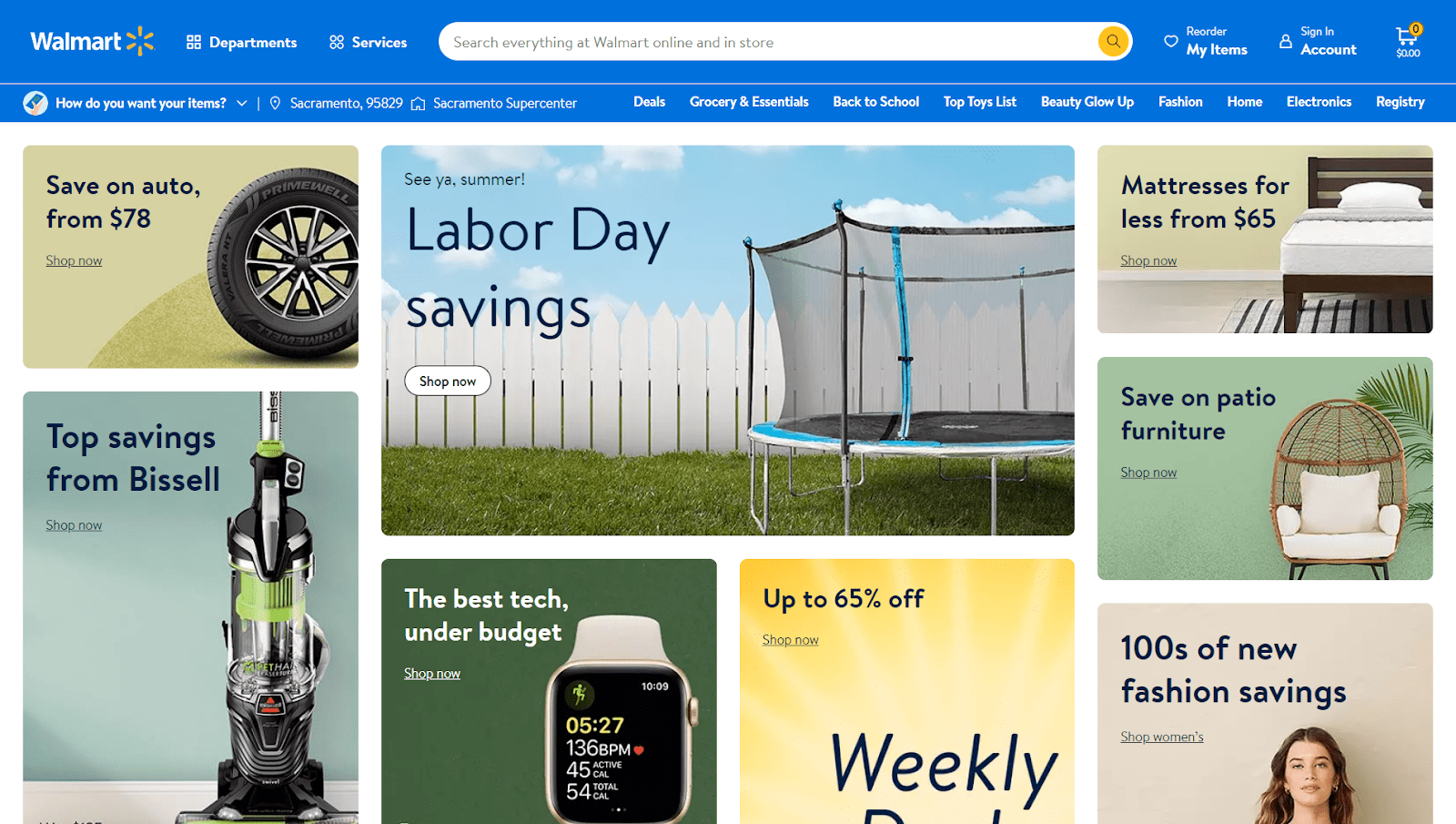 Walmart is one of the world's largest retail giants, renowned for its vast product selection across numerous categories. From groceries to electronics, Walmart makes a formidable presence in the global retail landscape.
Key features:
Free & fast shipping

Vast product range

Dropshipping program

Exceptional customer support

Price match policy
Walmart is one of the best dropshipping suppliers, especially when your target market is the USA. In this case, we can offer our customers next-day delivery and free shipping.
Another huge benefit is the price match policy. If a product gets discounted within the return period, you can reach Walmart support and request a refund of the price difference. In addition, Walmart has a dropshipping program with perks like better pricing and order tracking.
AutoDS Warehouse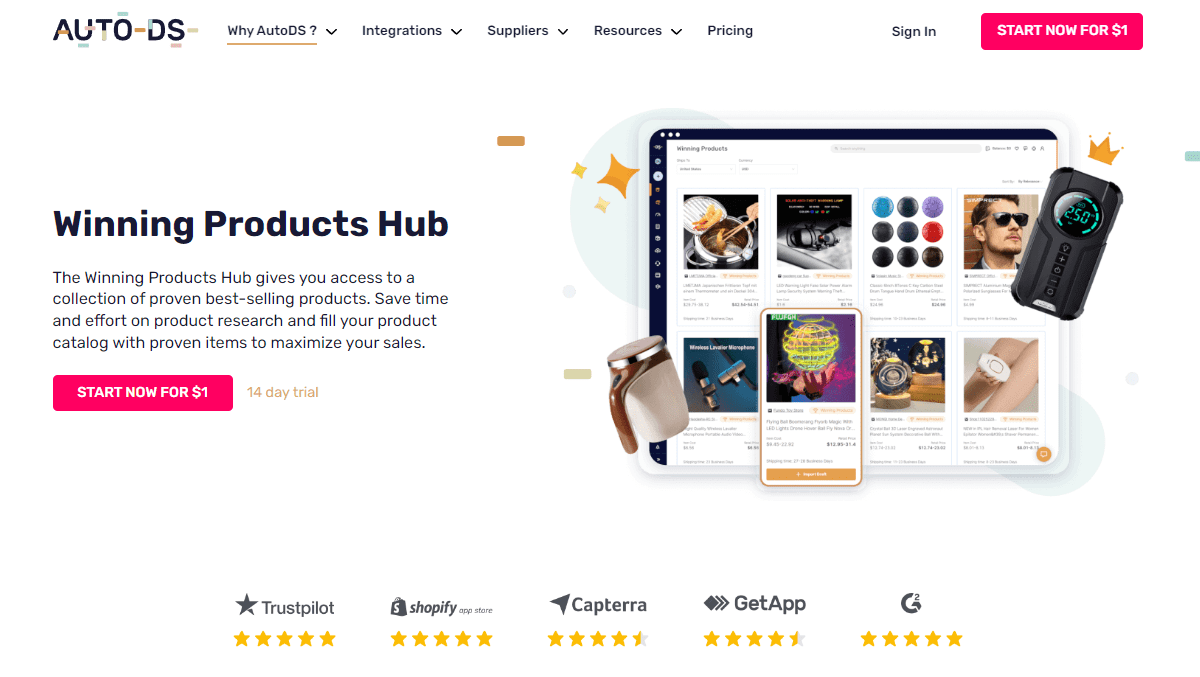 AutoDS is an all-in-one dropshipping solution for automating your dropshipping journey, finding winning products, and more. You can browse products from the US, China, and private suppliers, comparing costs, shipping time, reviews, etc. In addition, the platform allows you to import products with a few clicks.
Key Features:
Dropshipping automation

Winning products

25+ reliable suppliers

Fast shipping (private suppliers)

Fulfilled by AutoDS
AutoDS saves time and helps effortlessly discover, research, source, and import winning products from the best dropshipping suppliers. Furthermore, it offers private suppliers, giving access to unique, high-quality products with faster shipping times.
Moreover, the platform offers the Fulfilled by AutoDS Service. With it, AutoDS handles all your orders automatically and processes them through its accounts with an unlimited credit amount. Thus, you can forget about getting your selling account locked and sell just about anything. Another key point is that AutoDS will handle your product returns.
Kohl's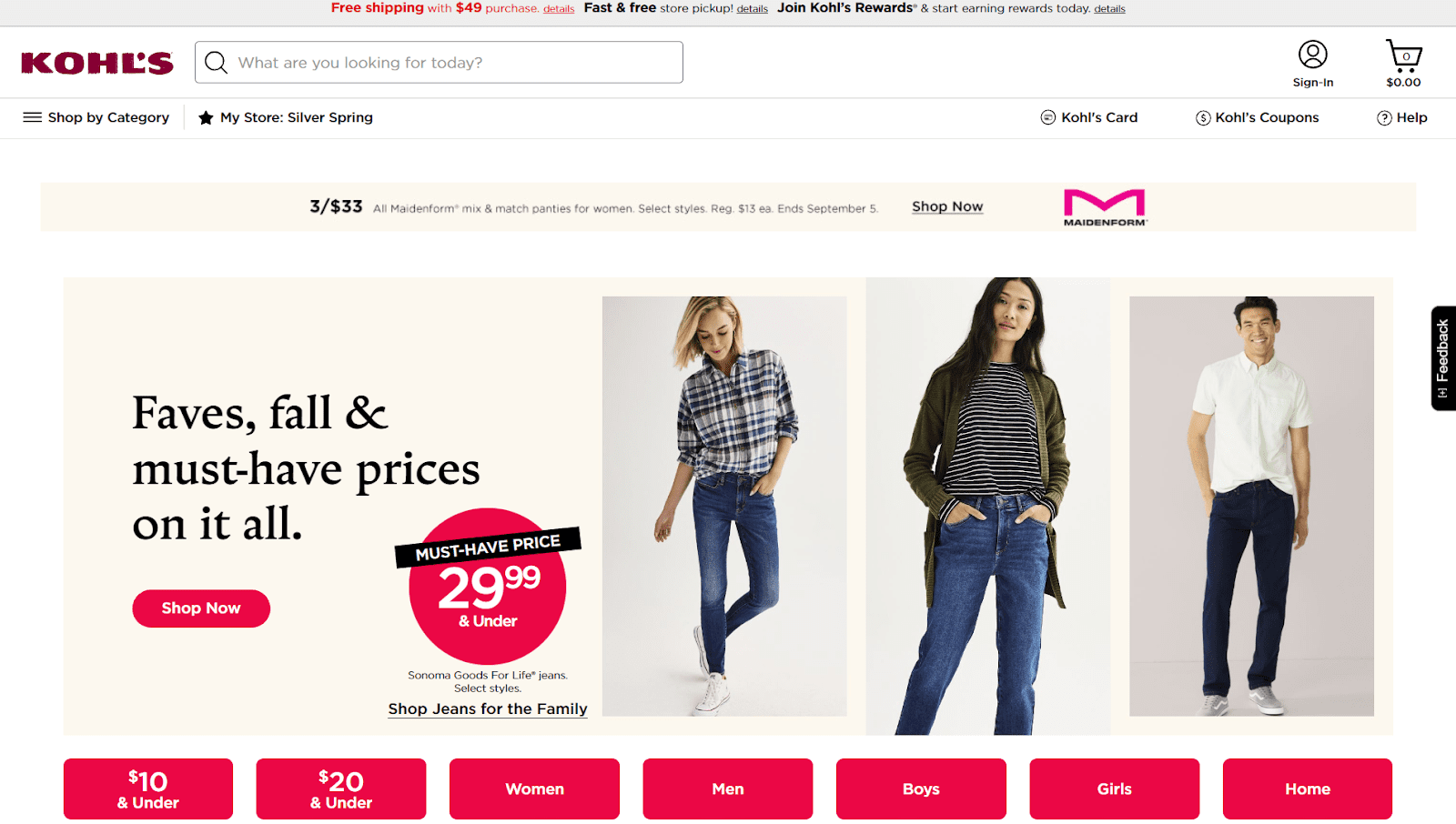 Kohl's is a well-established American retail chain specializing in high-quality clothing, accessories, home goods, and electronics. It is one of the biggest retailers in the US, with over 1100 stores in 49 states.
Key Features:
High-quality products

Fast shipping

Exceptional customer service

Lenient returns
Kohl's focuses on high-quality products and exceptional customer support. Moreover, their return policies are very friendly. You can return an item within 180 days of purchase, with or without a receipt. Therefore, by working with Kohl's, we ensure our Amazon dropshipping business's reliability. And, in case we have issues, Kohl's will handle them as smoothly as possible.
Furthermore, Kohl's extensive network of local stores ensures our customers get fast shipping options.
Etsy
Etsy is famous in that it offers unique products you can't find anywhere else. There, you can source handmade items, art, vintage and retro items, and other unique pieces sold by artists, crafters, and collectors.
Key Features:
Unique products

High-profit margins

Free shipping
The main advantage you get by sourcing from Etsy is the unique product range. If you want to stand out from competitors, Etsy is your supplier. On the other hand, uniqueness means limited product quantity, which you should note.
Products you can find on Etsy are more expensive, especially handmade and vintage items. At the same time, this means you can make higher profits by selling rare pieces.
Most Etsy sellers provide fast, free shipping. Note that each seller has their own selling policies regarding shipping terms and returns. Therefore, you must check them before sourcing from a particular seller.
Macy's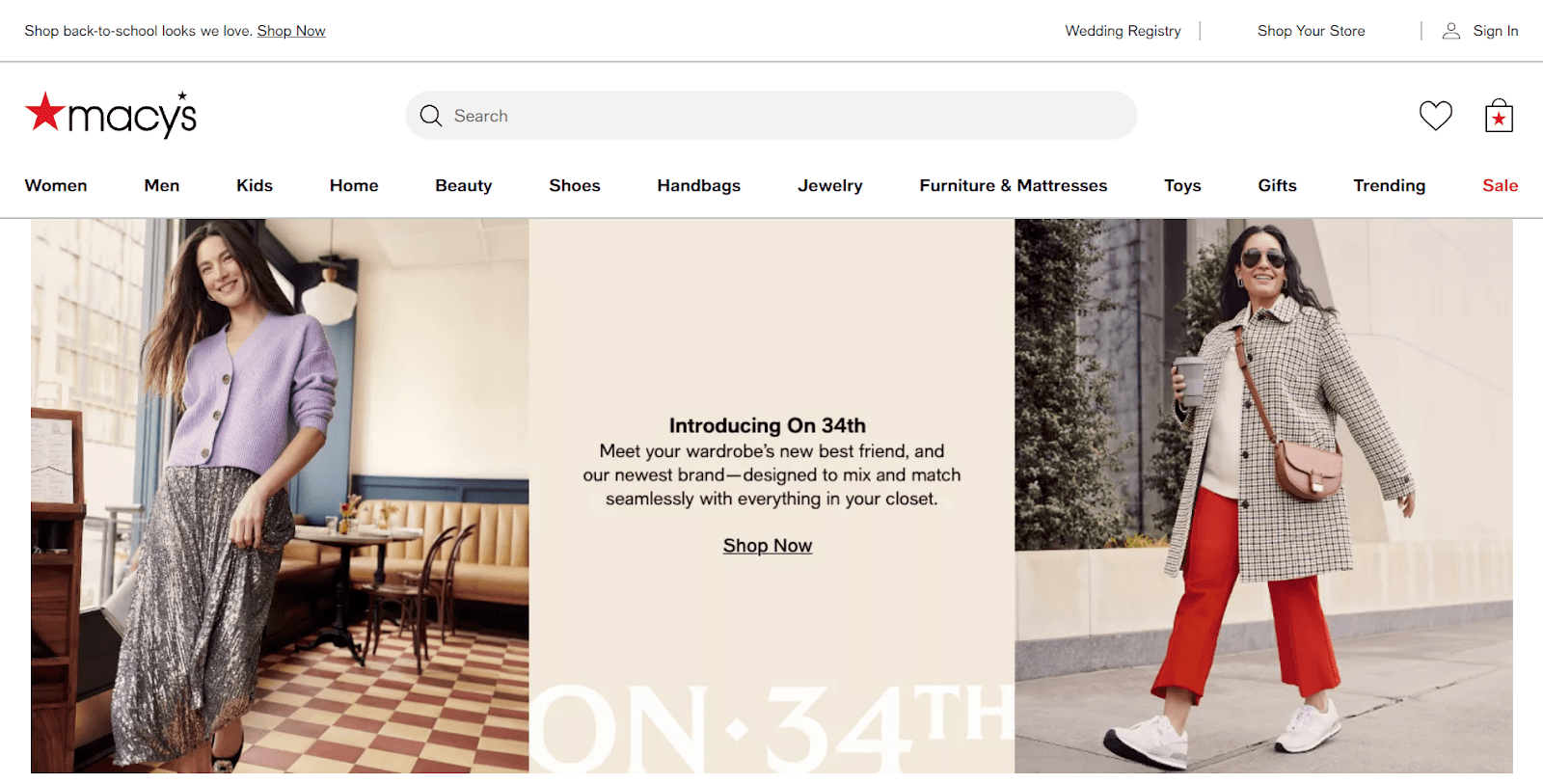 Macy's is a renowned American department store chain known for its diverse product range spanning fashion, home goods, beauty, and more. Operating both in-store and online, Macy's is a trusted retail brand. It is the largest department store company in the US in terms of sales.
Key Features:
High-quality product

Same-day delivery

Excellent customer service

Macy's Star Rewards
Macy's provides high-quality products and features items from top fashion brands like Ralph Lauren, Calvin Klein, Clinique, and Levi's. Therefore, you need to search for products that are cheap enough to be competitive on Amazon and provide good profit margins.
Macy's offers same-day delivery for orders over $25 and free shipping at $49. You can enroll in Macy's Star Rewards, which offers free shipping and returns, discounts, and more benefits based on annual purchases.
Costco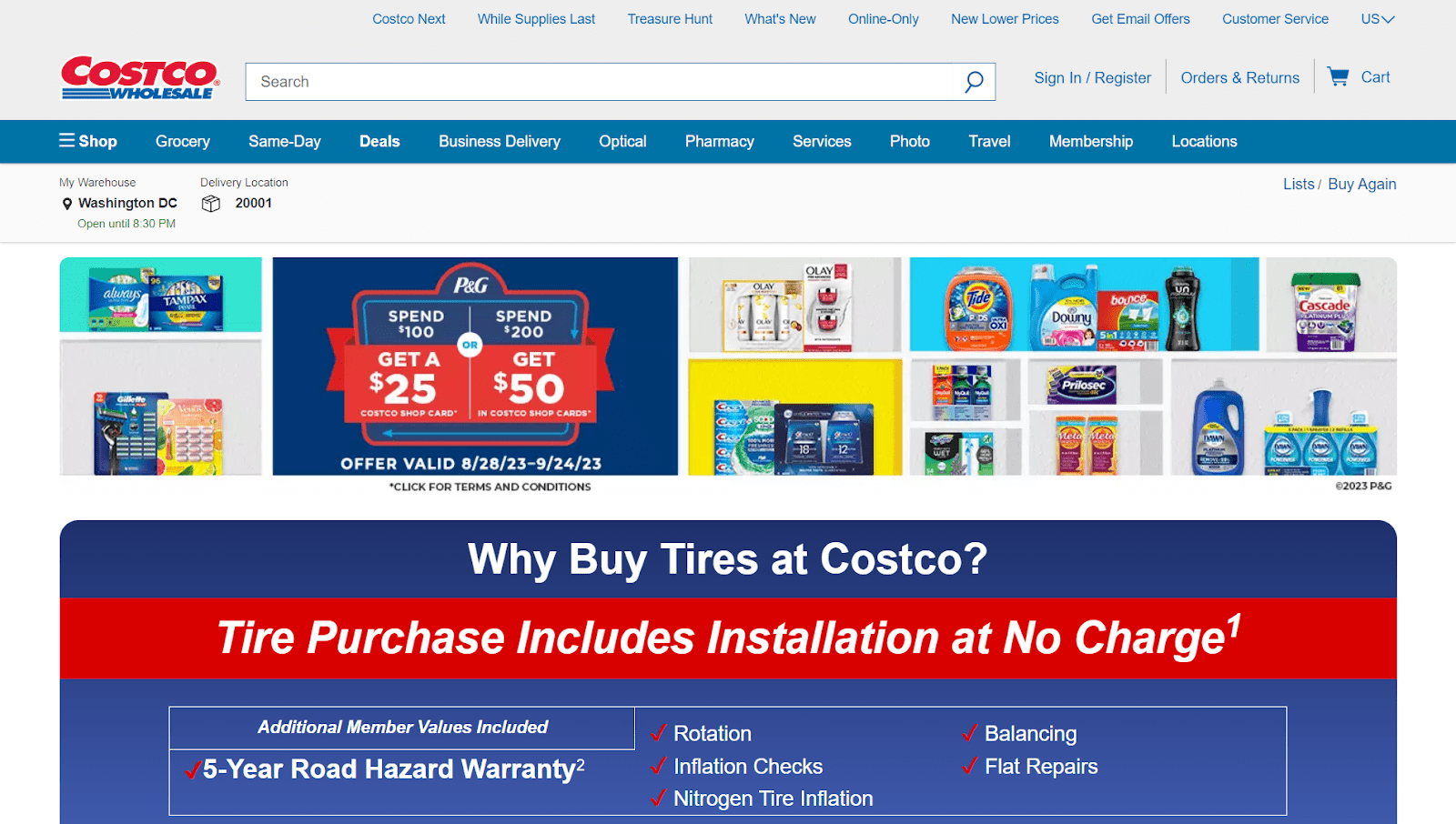 If you are interested in good deals and wholesale purchases, Costco is your choice. One of the oldest and biggest US wholesalers, Costco is among the best dropshipping suppliers for selling on Amazon.
Note that Costco is a member-only retailer; therefore, only members can purchase from them. 
Key Features:
Wholesale pricing

Massive product catalog

Frequent discounts

Exceptional customer support

Friendly return policy
Costco offers a wide range of products from over 20 categories, including groceries, electronics, home goods, and more. Unlike other retailers, the company makes money from its membership program instead of actual sales. Because of this, Costo has wholesale pricing on most products offered.
With Costco, you get free shipping on orders over $75 and same-day delivery within the US. In addition, the company offers a friendly 90-day return policy.
AliExpress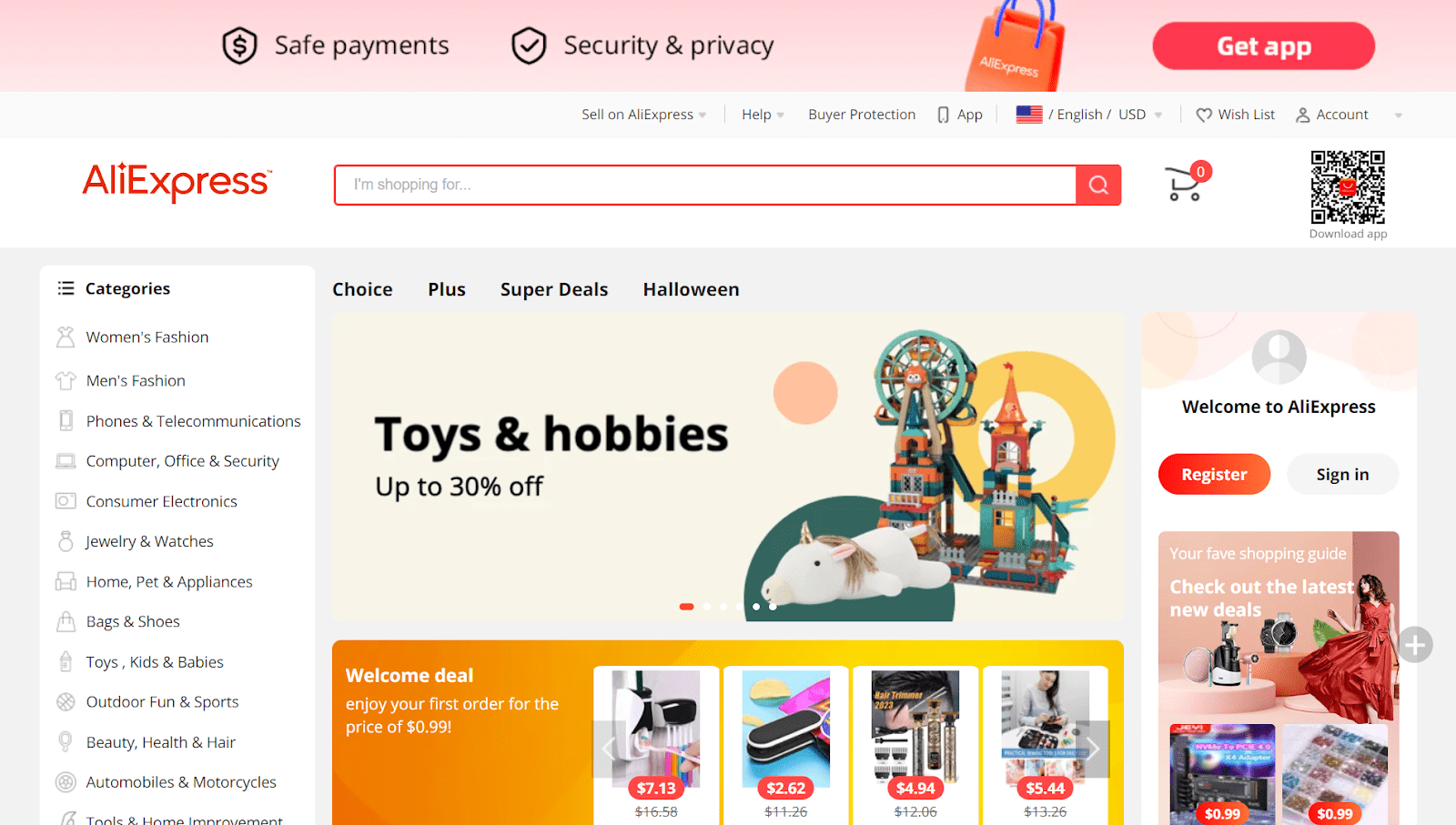 Owned by the Alibaba group, the eCommerce giant based in China, AliExpress is one of the most popular online stores in the world. It is a marketplace that connects shoppers around the world with manufacturers and suppliers from China.
Moreover, AliExpress is among the most dropshipping-friendly suppliers. Actually, many of the top selling items on Amazon come from AliExpress.
Key Features:
Huge product selection

Low-cost pricing

Free international shipping

Dropshipping center

Buyer protection
With AliExpress Dropshipping Center, specifically designed for dropshippers, we can find the best products to sell on Amazon among the 100M+ products on the platform. In addition to low prices, AliExpress offers free shipping to most countries.
And while AliExpress lacks quality customer support due to language barriers (sellers are from China), the platform provides buyer protection in case of issues like lost packages or disputes with sellers.
Banggood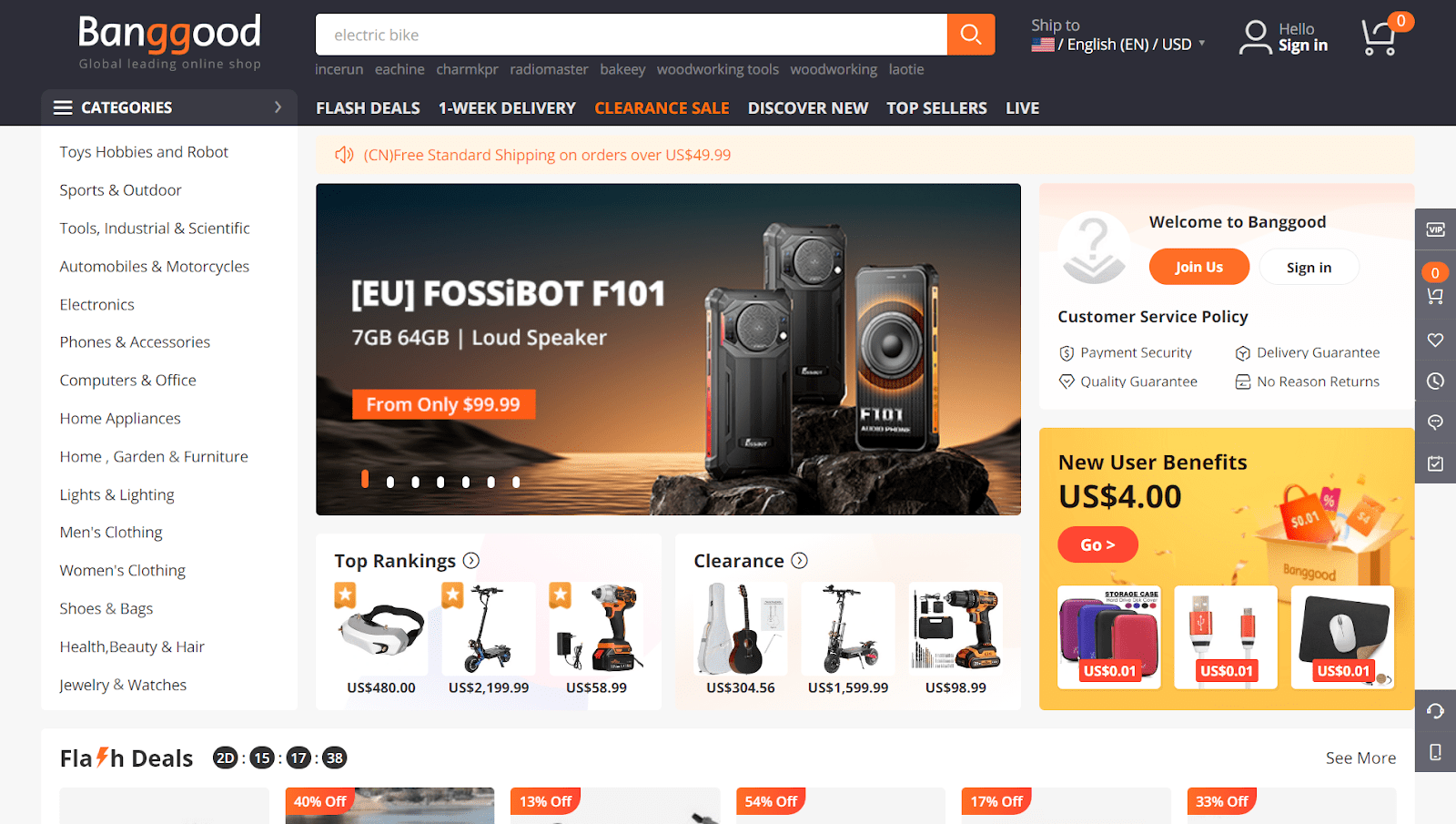 The last on the list is Banggood, another popular Chinese marketplace. While the product catalog is smaller than that of AliExpress, Banggood still features over 1M products, including electronics, gadgets, fashion, and more. It is famous for its competitive pricing and extensive product variety.
Key Features:
Extensive product offering

Low prices

Product quality guarantee

Dropshipping program
Often considered the main alternative to AliExpress, Banggood offers features that set it apart. Unlike AliExpress, where products are sold by third-party sellers, Bangood sells all the products it offers. As a result, Banggood has quality control and offers a product quality guarantee. Moreover, Banggood doesn't suffer from the large quantity of counterfeit items.
While Bangood doesn't offer free shipping, its international shipping options are still affordable. In addition, the platform offers a dropshipping program.
Now you know where to source the best products to sell on Amazon. These are some of the well-established and reliable dropshipping suppliers to work with.
How To Start Your Amazon Business
Starting an Amazon business can be an exciting and lucrative venture, offering access to a vast customer base. Here's a roadmap to help you navigate the process successfully:
1. Market Research
To begin with, determine the product niche you want to focus on. Research current trends, customer demands, and competition to find a profitable niche.
2. Business Model
Then choose between selling your own products (Private Label) or using existing products (Retail Arbitrage or Dropshipping).
3. Legal and Financial Setup
Register your business and obtain any required licenses and permits. Then, create an Amazon seller account and choose between an Individual or Professional plan.
4. Product Sourcing
Source products that align with your chosen niche and business model. Consider factors like quality, demand, and profit margin. Use the best products to sell on Amazon in this guide as examples.
If using Private Labels, find reliable suppliers for manufacturing. For Dropshipping, partner with trusted suppliers like the companies provided earlier in the article.
5. Branding and Packaging:
Design a unique brand name, logo, and packaging (if your supplier allows it). Branding helps differentiate your products.
Ensure the quality of products meets your standards in order to maintain customer satisfaction.
6. Listing Creation:
Create compelling and informative product listings. Use high-quality images, clear descriptions, and relevant keywords for SEO.
7. Fulfillment Strategy:
Decide between Fulfillment by Amazon (FBA) or Fulfillment by Merchant (FBM). FBA handles storage, shipping, and customer service.
8. Pricing and Profitability:
Set competitive prices while factoring in product costs, Amazon fees, and potential advertising expenses.
Ensure your profit margin is sufficient to cover all costs and leave room for growth.
9. Launch and Marketing:
Execute a launch strategy that involves optimizing your listing, running promotions, and gathering initial reviews.
Utilize Amazon's advertising tools like Sponsored Products to drive traffic and sales to your products.
10. Customer Service:
Provide excellent customer service to maintain positive reviews and ratings. Address customer inquiries and issues promptly.
11. Automate Your Dropshipping Store:
Consider using automation software like AutoDS to streamline order processing, inventory management, and price updates for dropshipping.
12. Scaling Your Business:
Introduce new products within your niche to diversify your offerings and capture a broader audience.
Analyze sales data, customer feedback, and trends to make informed decisions for business growth.
13. Continuous Improvement:
Finally, stay updated with changes in Amazon's policies, algorithms, and customer preferences. Continuously refine your strategies.
Success on Amazon takes time and dedication. Therefore, building a reputable brand and fostering customer trust is crucial for long-term growth.
Remember, you will require the best items to sell on Amazon, reliable suppliers, and efficient marketing to succeed. Furthermore, consider automation to streamline your operations and continuously learn from your experiences.
Frequently Asked Questions
Is Dropshipping On Amazon Profitable?
Dropshipping on Amazon can be profitable, but success depends on factors like product selection, pricing strategy, supplier reliability, and effective marketing.
What Is The Best Way To Find The Best Products To Sell On Amazon?
Research market trends, check Amazon's Best Sellers page, analyze competitor products, and use product research tools to identify potential best-selling items.
What Are The Best Products To Sell On Amazon?
The best products to sell on Amazon vary based on trends and niches. Popular categories include beauty products, health items, home decor, fitness equipment, pet supplies, and baby products.
Conclusion
Amazon offers sellers huge opportunities to run a successful online store. It is not easy, but hopefully, this article will help your e-commerce journey.
In summary, you need winning products, reliable suppliers, and powerful marketing efforts to succeed on Amazon. With this in mind, we provided you with the best products to sell on Amazon, reliable suppliers, and tips on how to start your dropshipping venture.
Just remember, success is not something that comes instantly. Therefore, you must learn from your experiences, adapt your strategies, and grow your eCommerce skills.