What Is Alto IRA?
Founded in 2018 by Eric Satz, Alto IRA is an innovative platform for investors looking to put their retirement money to work in alternative investments. It supports Traditional IRA, Roth, and SEP accounts, and you can easily transfer your funds from your bank or a retirement account.
Alto IRA offers access to alternative investments – like real estate, farmland, and startups – through partnerships with different platforms. It makes it easy for the average investor to control everything from the Alto dashboard. This platform is available for accredited and non-accredited investors, but some specific investments may have stricter requirements set by the particular platform.
In 2020 Alto IRA launched, in partnership with Coinbase, a dedicated crypto account, the Alto CryptoIRA. It supports 200 of the largest cryptocurrencies and complies with security protocols and regulations set by the New Mexico Financial Institutions Division.
In this quick Alto IRA summary, I will go over all the best features of this platform. If you want to read a more in-depth analysis, check out our full Alto IRA review.
Pros & Cons Of Alto IRA
Pros
Supports traditional, SEP, and Roth IRA accounts
Access to 9 different types of alternative investments
Available for accredited and non-accredited investors alike
Access to tax-advantaged investments
Very low administrative fees (just $10/mo)
Insured by the FDIC and licensed in New Mexico
Supports 200+ cryptocurrencies through Coinbase
Cons
Some investments are only accessible to accredited investors
You can't invest in the stock market
Alto IRA Features & Benefits
1) Choose From An Alto IRA Or CryptoIRA Account
When setting up your Alto account, you can choose from an Alto IRA and an Alto CryptoIRA account. The main difference is the investment options available; with an Alto CryptoIRA account, you can access hundreds of crypto assets offered through their partnership with Coinbase. An Alto IRA account offers access to most other alternative investments, including real estate, private equities, farmland, and more.
Both accounts allow you to choose your preferred IRA type – Traditional, Roth, or SEP – so you can increase your return on investments and minimize how much you pay in taxes. Whether you go for an Alto IRA or an Alto CryptoIRA, funding your account is very easy; you can transfer funds from a bank account, or you can transfer directly from an existing retirement account.
Keep in mind that Traditional and SEP accounts pay no taxes until you get your first distribution – and Roth IRA accounts pay no taxes on gains.
2) Access Diverse Investment Options With Your Alto IRA Account
With an Alto IRA account, you can invest in 9 different asset classes. Investment opportunities will largely depend on the current Alto Investment Partners, so it's worth regularly checking for any addition.
With this account, you will have complete, self-directed control over your investments. This can be good if you have some experience investing; if you don't, keep in mind that Alto is not legally allowed to give financial advice and only functions by connecting you to investing opportunities.
Here are some of the unique investing opportunities available through the Alto IRA dashboard:
AngelList (Venture Capital)
EagleBrook Advisors (Crypto)
Capital Engine (Private Equity)
AcreTrader (Farmland)
Equifund (Private Equity)
CalTier Fund (Real Estate)
Minimum investments and availability for accredited vs. non-accredited investors are determined by the company partnering up with Alto. Most investments have a minimum ranging from $25 to $5,000, but some can go as high as $15,000 or $25,000.
If you're an accredited investor, you will have access to all the investment opportunities, but there are plenty for non-accredited investors as well. Keep in mind Alto is not a marketplace, and you will not be able to purchase individual company shares – you will need a broker or a robo-advisor like Betterment to buy fractional shares.
3) Invest In 200+ Cryptocurrencies With Alto CryptoIRA
If you'd rather try your luck with cryptocurrencies, Alto has you covered. Alto CryptoIRA launched in 2020, and it is their dedicated account for crypto investing. With this account, you can invest in over 200 of the biggest cryptocurrencies and tokens instantly – thanks to Alto's partnership with Coinbase, one of the largest crypto exchanges in the world.
Some of the cryptocurrencies supported by Coinbase include Bitcoin, Ethereum, Doge, and Polkadot. They're constantly adding new crypto assets to their offerings, so make sure to check regularly. Alto's seamless interface makes it very easy to purchase crypto without leaving the dashboard.
After you make a purchase, your crypto assets are held securely by Coinbase in cold wallets – offline wallets virtually immune to hacking – and a fraction goes to hot wallets to maintain liquidity in the exchange. Coinbase provides insurance for up to $320 million per incident, plus a $3 million cybercrime insurance policy.
Alto Security And Licensing
Alto keeps IRA funds and other assets from investors separate from their assets, so there's no risk to investors in case of default. If that were to happen, you could simply move your assets to a different custodian. Alto is registered and licensed by the New Mexico Financial Institutions Division Regulation and Licensing Department, and all transactions are overseen by state regulators.
Cash held in Alto as part of your IRA is insured for up to $250,000 by the Federal Deposit Insurance Corporation (FDIC). They also comply with anti-money laundering and all their employees follow strict information security policies.
Alto Fees
Alto IRA
Administrative Fee: $10/month (or $100/year)
Investment Fee: $10
Account Closure Fee: $50
Wire Transfers Fee (Withdrawal): $25
Custodian Fee: Free
The investment fee is applicable whenever you invest in the Alto IRA dashboard.
Alto CryptoIRA
Trading Fee: 1%
Account Closure Fee: $50
Wire Transfer Fee (Withdrawal): $25
Custodian Fee: Free
The 1% trading fee applies to the total amount of crypto you're investing in.
Sign-Up Process
Alto IRA is available for accredited and non-accredited investors in the US, and the sign-up process is very quick. To start the process, you just have to visit Alto IRA's website and fill in some basic information, starting with your email.
If you use this link to sign-up, you'll get a $50 bonus credited to your CryptoIRA account or a $50 rebate off your Alto IRA administrative fees. Additionally, if you use our link, you will unlock your referral code, which you can use to refer friends and earn a generous commission.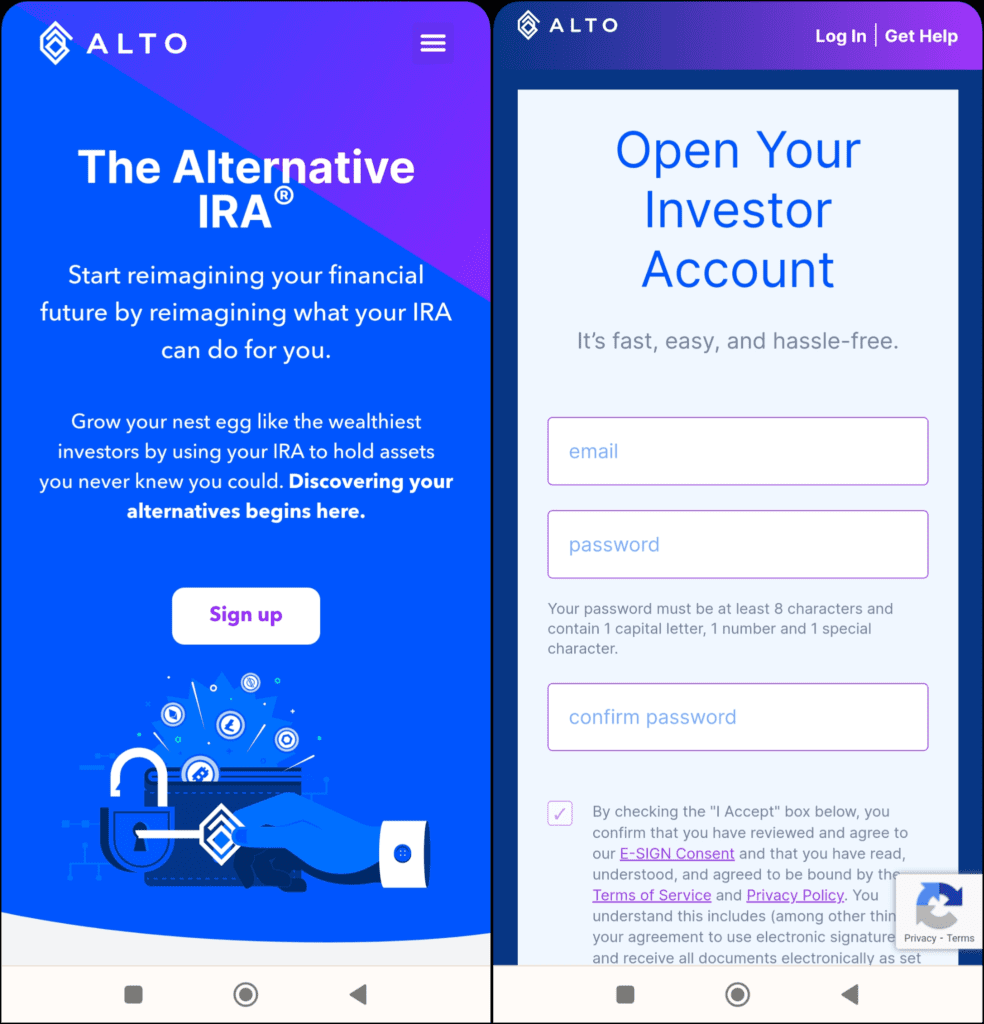 Trustpilot Reviews
Alto IRA has excellent reviews from its users averaging 4.4 on Trustpilot. Most positive reviews center around outstanding customer support and an easy-to-use interface. Here are some of the things users had to say:
"Very easy to set up the account. The transfer of funds went very smoothly. My first two investment transactions were executed flawlessly. So, great experience with no hassle. Highly recommended!" – Frank R.
"Service is relatively new, so still experiencing some growing pains but a) the customer service is responsive and b) the variety of alternative investments is growing." – M. A.
"I love these guys! Very simple and easy to sign up and invest in. Great customer service as well when I had a few questions. I highly recommend it!" – John O.
"Very helpful customer service. It took some time to transfer my funds from my 401k to my Crypto Roth IRA, but everyone has been very helpful along the way!" – Bertrand E.
If you'd rather invest in the stock market, there are plenty of low-cost investment apps out there that can help you pick winners. We recommend M1 Finance as one of the most cost-efficient platforms out there. Some of its best features include customizable portfolios and one-click rebalancing.
Final Thoughts
Alto IRA is an investing platform for self-directed investors who want to put their retirement money to work. It's a great option if you have previous experience with investing platforms, but even if you don't, its extremely user-friendly interface and top-of-the-line customer support mean that, as a beginner, you will never feel like you're on your own. Alto IRA charges very low fees – unheard of in this type of investing platform – and you will gain full access to all the features and investing opportunities for just $10/month.