There are many online quiz competitions going on in India. Even when you make a quick search on Google, your screen will be flooded with banners and options from top to bottom. But none takes the position that KBC offline Quiz has.
When we make this claim, there are a number of reasons to prove it. But as you read the full article, you will be able to judge it yourself. For that, you will have to go through each line and don't skip even a minor detail.
If you are in India, it is easy for you to become a millionaire, just by playing this quiz. The proof of this quiz is in its details. Because after reading it thoroughly, you will be in a position to start your journey right away and try your luck.
What is KBC Offline Quiz?
 With the masculine voice of Amitabh Bachchan, the Kaun Banega Crorepati glued the audience across India to their television screens, as he asked a tantalized participant question after question while they drove closer and closer to winning bumper prize.
Thanks to mobile technology, now you can get the same feeling on your mobile phone screen. Here even you can get the feeling of sitting on the chair in front of the great Big B. Yes, we are talking about the KBC Offline Quiz.
The Kaun Banega Crorepati 2021 season premiered on August 23, 2021, and there are a few more days before the season concludes. So if you have not participated already, or don't know what it is, we will explain all the details in this blog.
There is something special about this edition of Kaun Banega Crorepati. That is, here the viewers also get the opportunity to win amazing prizes right from the comfort of home. This you can do by answering the questions from your home.
But for this, you must have great knowledge of a diverse field of subjects. These include general knowledge, sports, history, entertainment, geography, and many other areas. If you think you are a Google in yourself, it is time for you to shine.
For this, you will have to download the Sony LIV mobile app and head directly to the KBC 13 Play-Along section. So right from your couch or terrace, it is time to try your luck. With KBC you can be "Har Din Lakhpati". So if you want to try your luck it is time to play.
When you get the app, you can see there are two options, the regular and the Gold. The former is for everyone who has no subscription to the app. While the Gold is reserved for people with a SonyLIV subscription.
How to Participate in KBC offline Quiz
This is a talent-based online quiz. So based on the concept of rapid-fire, here you have only thirty seconds to answer a given question. To make it easier, you have four options given on your screen. Now your part is to choose the right one.
Let us tell you that millions of people try their luck here, only those who are willing to take risks and at the same time want to learn continuously are the luckiest. So if you too believe you have enough knowledge, here is how you can be the next winner.
The first step is to get the official application. For that, you will have to head to the Apple App Store for your iPhone and if it is Android, Google PlayStore is your destination. Here you will have to search for the Sony LIV app, find it and download it on the device.
Once the process of download and installation is done, it is time to open the application.
Now is the time to sign up, here you will be asked the general details as you are asked in any other sign-up option including your name, date of birth, etc.
Later you have to choose between your email address and active mobile phone number to sign up.
Once entering the app, you can see the interface open up for you. Here you will have to head to the Play-Along section where all the exciting activity takes place.
Here you have the previously mentioned options of Play-Along Gold (only for subscribers) Play-Along Gold (nonsubscribers).
When you pick the relevant option, a prompt will ask for language selection, and enter the arena to play your favorite quiz.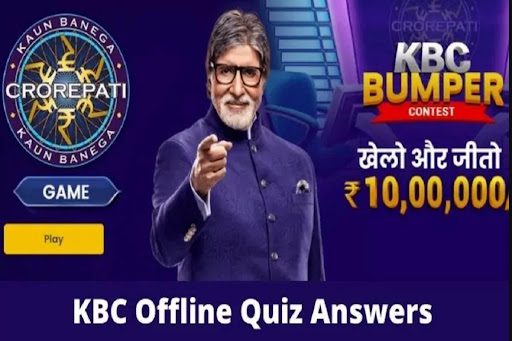 Things to Know
The essential information that you must know before entering the game is summed up for you in this section.
The KBC Offline Quiz starts at 10:00 am every day from Monday to Friday.

You will have to correctly answer 10 questions.

To give the right response, you have only 30 seconds window.

You will be knocked out if any answer is wrong, thus it is important to give the right response to move to the next level.

You have an option to use a single lifeline.
Conclusion
This is all the information and details that you need to know about KBC Offline Quiz. Ensure your participation and get a chance to win INR 100,000 each day. Opportunity is here and all it needs is your interest.