The Blue Sapphire gemstone is among the most well-known natural gemstones, and it is also called Neelam in Hindi, which depicts its blue color. The Neelam stone is one of the nine Navratan and is associated with the planet Saturn. Blue Sapphires get their color due to the availability of iron and titanium in their chemical composition, which gives these stones a sparkling blue shade. If the quantity of iron and titanium is higher in the Blue Sapphire, then it becomes darker in the shade. Knowing the origin of the Blue Sapphire is necessary as it affects both the price and the quality of the Neelam stone. There are various places where Blue Sapphires can be found. The most extraordinary ones are from Kashmir and called Kashmiri Blue Sapphire, as they offer a glamorous cornflower blue shade. The Srilankan and Burmese Blue Sapphires come in deeper blue shades, and the Thai Blue Sapphires are often heat treated, making them dark in color as compared to other Blue Sapphires.
Blue Sapphire: Meaning and History
The Neelam Stone comes from the corundum mineral species, and it is available in various different blue tints such as cornflower blue, royal blue, light blue and deep blue. The difference in the color tints is due to the variety of origin places from which the stones are located and their chemical composition. The hardness of the Natural Blue Sapphire on the Mohs scale is depicted as 9, which makes it one of the sturdiest gemstones available in the market. Hence regular usage of this gemstone is preferable due to its sturdiness. These stones are also known as mystical stones, as they change the lives of the wearers in a positive manner. 
Blue Sapphire Price
The Blue Sapphire prices fall between 25$ to 11000$ per carat. The prices of Blue Sapphires vary due to various quality parameters like color or cut. There are various treatments available for Blue Sapphires, such as heat treatment, glass filling with cobalt, and lattice diffusion. These treatments are done to stones with low-quality parameters so as to improve their color and clarity, which in turn leads to increasing their price.
Benefits of Blue Sapphire
Generally, people born in September are favored to wear these stones, and apart from them, people from Aquarius or Capricon zodiac signs prefer to wear these Neelam stones. This astronomical gemstone gains its power from Saturn and is well-known as an influential gemstone. For a person for whom this Neelam stone is favorable, there will be a lot of benefits, whereas, for people who are not favorable to wearing this, it may destroy their lives. Also, the Blue Sapphires to be worn for astronomical purposes should always be natural and untreated, as treated Blue Sapphires don't have any astronomical benefits associated with them.
As we know, the planet Saturn (Shani) is associated with this stone, it offers extraordinary healing properties. These Blue Sapphires help the wearers in staying healthy and making more wealth. These also assist in offering a positive approach to life by reducing the negative thoughts from the minds of the wearer so as to let them reach their highest potential. Another benefit of these Neelam stones is that they protect the wearer from all evil things and make the wearer focus on his/her goals in life rather than being hindered.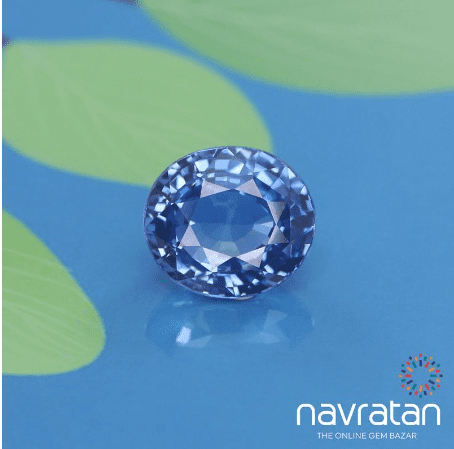 Astrological Benefits of Blue Sapphire
From an astronomical viewpoint, the Neelam stone also helps in dealing with the Shani placed on the wearer's birth chart. This can prevent any negative situations that come in the wearer's life due to the presence of Shani. Financial stability is another important benefit of the Neelam stone as it helps in making the wearer wealthy by offering clarity in important life decisions.
Best Place to Buy Blue Sapphire
Customers can easily purchase natural and Certified Blue Sapphires from Navratan without worrying about the authenticity of the gemstones as the company has been in this business for more than 80 years, and it has been providing certificates for the gemstones so that customers can make an informed decision while making a purchase. The information provided on the gemstone certificates has been verified by expert professionals to build trust within the market of gems. All kinds of gemstones are offered by Navratan at affordable prices without compromising their quality, as making the customers happy with their purchase is our first priority.