Businesses, warehouses, and healthcare institutions try to find new ways to enhance operational efficiency. Many of them prefer to use autonomous mobile robots (AMRs) to help them with everyday tasks, and this common phenomenon can be verified by official data. According to statistics, the global market size for autonomous mobile robots was valued at USD 2.52 billion in 2021 and is estimated to expand at a CAGR (Compound Annual Growth Rate) of 16.8% from 2022 to 2030.
With the versatile nature, high automation, and ease of integration of these autonomous mobile robots, they have become essential parts of industrial manufacturing and commercial business. That's why more merchants intend to invest in this profitable market of autonomous mobile robots. Therefore, this blog elaborates on common types and applications of autonomous mobile robots for your reference.
Common Types of Autonomous Mobile Robots Used in the Market
Generally, many types of mobile robots are used in the market, but these two are the most common ones to enhance working efficiency.
Picking Autonomous Mobile Robots
They are autonomous navigation mobile robots that can pick and place items in packing, sorting, or consolidation areas with certain instructions. An order-picking robot moves between storage areas and workstations with automation, increasing productivity and ensuring the safety of workers and goods.
Moving Autonomous Mobile Robots 
Cart and pallet transport for industrial manufacturing and intralogistics is a common example of moving AMRs. Traditionally, it was done by forklifts or pallet trucks, causing many injuries to industrial workers. On the contrary, autonomous material pick-up and drop-off can facilitate industrial goods' movement, maximizing productivity and reducing operating costs.
Top 3 Benefits of Autonomous Mobile Robots
Equipped with the biggest advantage of automation, AMRs can effectively empower the workforce and overcome labor shortages. Besides that, let's quickly look at other wonderful benefits of AMRs.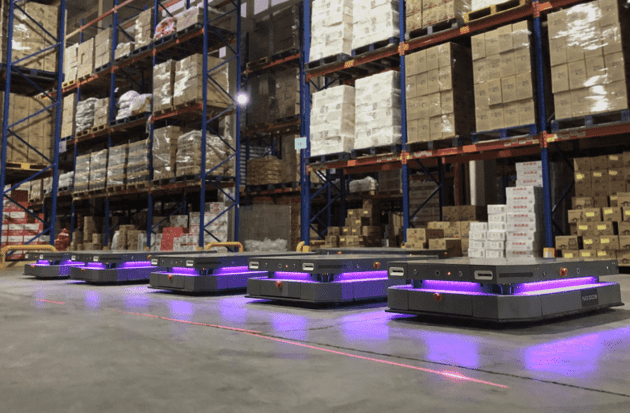 Increase Flexibility 
Autonomous mobile robots can do well in all environments without much intervention, increasing their flexibility to be used in any condition. Moreover, they can collaborate with human operators and successfully finish dull and tedious tasks without errors, allowing human employees to be more flexible in doing other valuable and complicated tasks.
Enhance Efficiency
One of the biggest perks of autonomous mobile robots is that they can work 24 hours with their optimized working process. With the growing demand for fulfillment and distribution combined with the worldwide labor shortage, autonomous mobile robots increase working efficiency while decreasing the labor dependence of industrial units and other facilities.
Reduce the Operation Cost
Autonomous mobile robots save costs by reducing labor, training, and recruitment costs and increasing productivity (UPH) by 50%-200 % compared with traditional manual workflows. Therefore, this worldwide approved benefit helps many companies to solve troublesome pain points by increasing picking and moving efficiency and reducing the operation cost.
Common Applications of Autonomous Mobile Robots
By providing numerous benefits, autonomous mobile robots can be effectively applied in many different industries to boost their productivity and yields. Here are some common applications of autonomous mobile robots in different areas you like to know:
Third-Party Logistics (3PL):3PL providers can pursue more responsive and effective workflows using autonomous mobile robots. These high-performance autonomous mobile robots reduce working errors and the need for as many inventory checks as possible.
Warehousing of Automotive Components: The autonomous mobile robot is a great solution for the warehousing of automotive components since they allow employees to use different types of mobile robots to transport goods between different positions with lower invalid walking time and higher accuracy.
Retailing: The autonomous mobile robot is an assistant for retailers for inventory automation, product picking and moving, etc. It helps streamline retailers' business and improve their user experience.
ForwardX MAX Series: Your Reliable Choices
Since there are a copious number of companies providing autonomous mobile robots of various qualities, it's hard for you to make a wise buying decision among many choices. However, ForwardX is your trusted partner for your AMR business.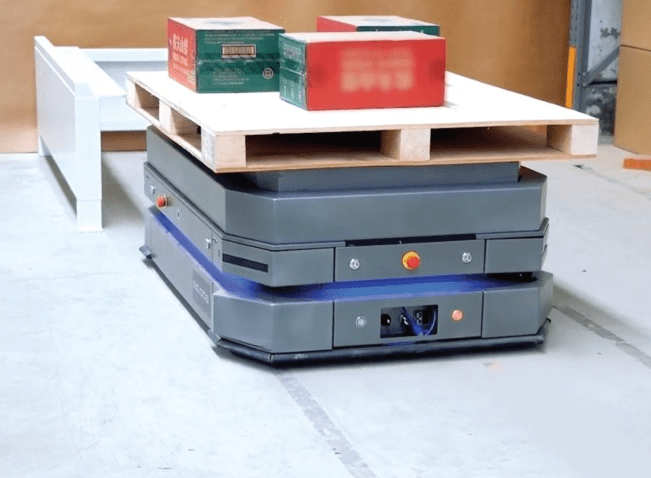 ForwardX provides a series of wonderful AMRs that are favored by people worldwide. For instance, the Max Series autonomous mobile robots offer a high payload capacity to support various case-load and pallet-load movements on the industrial set-up. And the following are the outstanding features of Max Series AMRs for your consideration:
360° Obstacle Detection: Complete 360° obstacle detection and avoidance using laser scanners, depth cameras, and 2D cameras to guarantee complete safety.
Autonomous Rack & Pallet Movement: Lift functions of pallets and racks enable autonomous lifting and reduce labor intensity significantly.
Round-the-Clock Operation: Autonomous charging allows the robot to work 24/7 without stopping and without much human operation.
Versatility: A high payload capacity of up to 2645 lb payload makes the Max series suitable for the case and pallet loads.
Adaptability: Multiple tech configurations with RFID scanners, multi-level workspaces, printers, and others to promote the seamless adaptability of the AMR.
All in all, ForwardX AMRs decrease labor dependency and costs while creating a conducive working environment in the facility. Therefore, feel free to contact ForwardX now to explore a range of AMRs!