Switching from an Android to an iPhone? The process can be exciting, but it also brings up some concerns – like how to move all your data seamlessly. Among the many things to consider is how to transfer WhatsApp from Android to iPhone, as your messages, media files, and chat history are valuable. Fortunately, there's a reliable way to do it, and it's easier than you might think. So, today, we'll discuss using iToolab WatsGo – WhatsApp Transfer, Backup & Restore as a fail-safe method to make the transfer simple and worry-free.
Why Would You Need To Transfer Whatsapp From Android to iPhone
?
When it comes to making the switch from an Android device to an iPhone, transferring your WhatsApp data is often at the top of the list of priorities. For most people, WhatsApp is more than just an instant messaging app; it's a digital vault that holds years of memories, business conversations, photos, videos, and even important documents. Here's why ensuring a seamless transfer of your WhatsApp account from your old Android device to your new iPhone is essential:
Continuity in Personal and Professional Conversations
For many users, conversations on WhatsApp don't happen in a vacuum. Whether it's a long-running chat with a loved one or an ongoing project discussion with colleagues, you'll want to continue from where you left off. Transferring your chat history allows for a smooth continuation of both personal and professional dialogues without any awkward gaps or lost threads.
Preservation of Memories
As we mentioned, WhatsApp doesn't just store text messages; it also holds a treasure trove of memories in the form of photos and videos shared over the years. Transferring these media files ensures that you don't lose any sentimental or valuable content.
Avoiding Information Loss
Apart from personal chats, we often receive important information via WhatsApp, such as travel itineraries, e-tickets, work files, and even medical reports. A seamless transfer is crucial to ensure that you don't lose access to vital information that you may need later.
Upholding Network and Group Memberships
Being a part of various WhatsApp groups – whether for work, family, or social activities – is common. Transferring your WhatsApp account preserves your memberships in these groups, saving you the hassle of re-joining them or losing out on ongoing conversations and updates.
Streamlining the Transition Period
Imagine having to inform all your contacts about your change in device and inability to continue on previous chats – sounds cumbersome, doesn't it? A successful transfer nullifies this inconvenience, allowing for a smoother transition to your new device.
Legal and Official Requirements
In some professions, WhatsApp chats can serve as a form of documentation. For legal or contractual reasons, it may be imperative to maintain a complete record of certain conversations when you switch devices.
How to Use iToolab WatsGo
Follow these step-by-step instructions to ensure a smooth transition of your WhatsApp data between devices.
Step 1: Download, Install, and Launch WatsGo
To get started, click the download link and install the WatsGo software on your computer. After launching the application, you'll see various options on the left panel. Choose "WhatsApp," and then select "WhatsApp Transfer."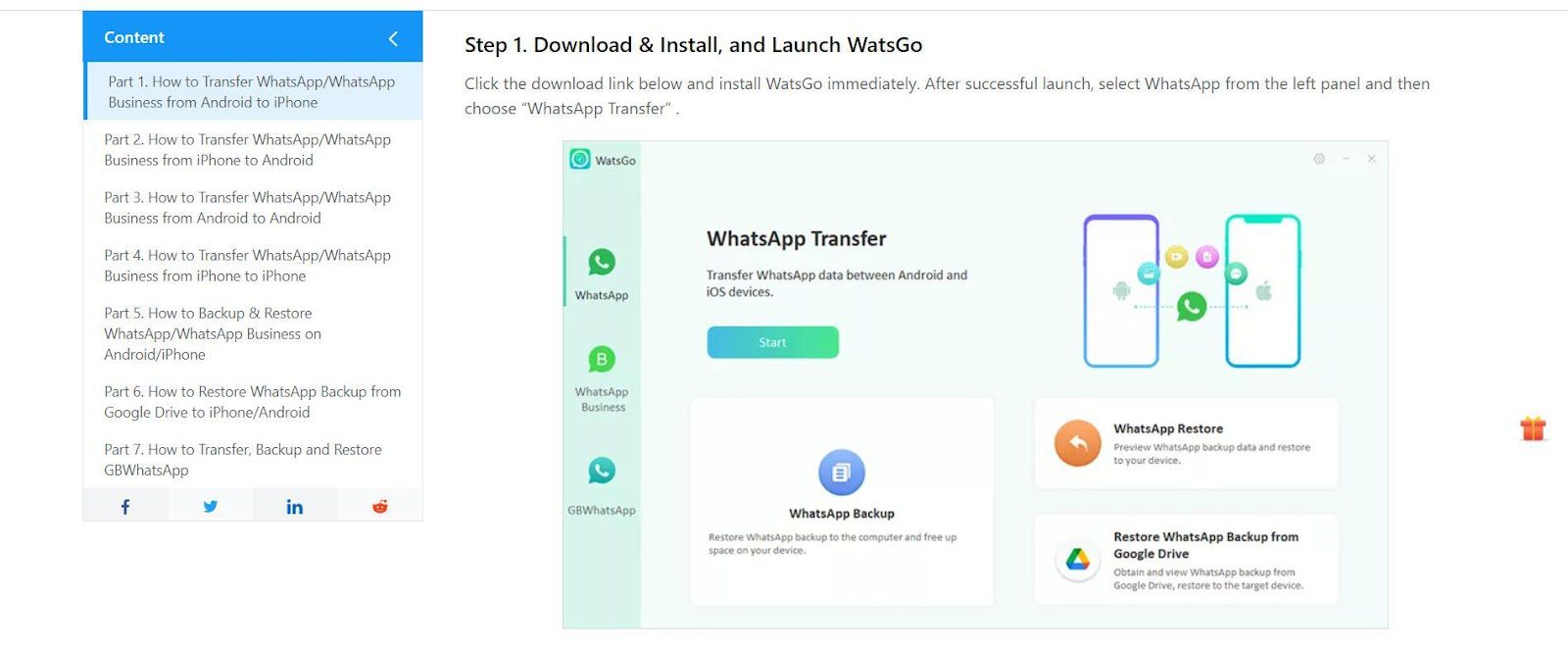 Step 2: Connect Your Android and iPhone Devices
The next step is to connect your source Android device and your target iPhone to the computer. If the devices are not correctly arranged, you can click the arrow to flip their positions.
Device Requirements:
For Android:

A prompt will appear asking you to enable USB debugging. Follow the instructions to allow USB authorization on your device.

For iPhone:

You'll need to tap "Trust" on your iPhone when it connects to the computer for the first time. Also, disable the 'Find My iPhone' feature and unlock the iPhone passcode.

Just beware that a message will remind you that the target device data will be overwritten. Ensure you've backed up any crucial data.
Step 3: Turn On End-To-End Encrypted Whatsapp Backup And Verify With Password.
After a successful connection, you'll be prompted to enable end-to-end encrypted backup for your WhatsApp on the Android device. Remember to take a screenshot to save the encrypted backup password.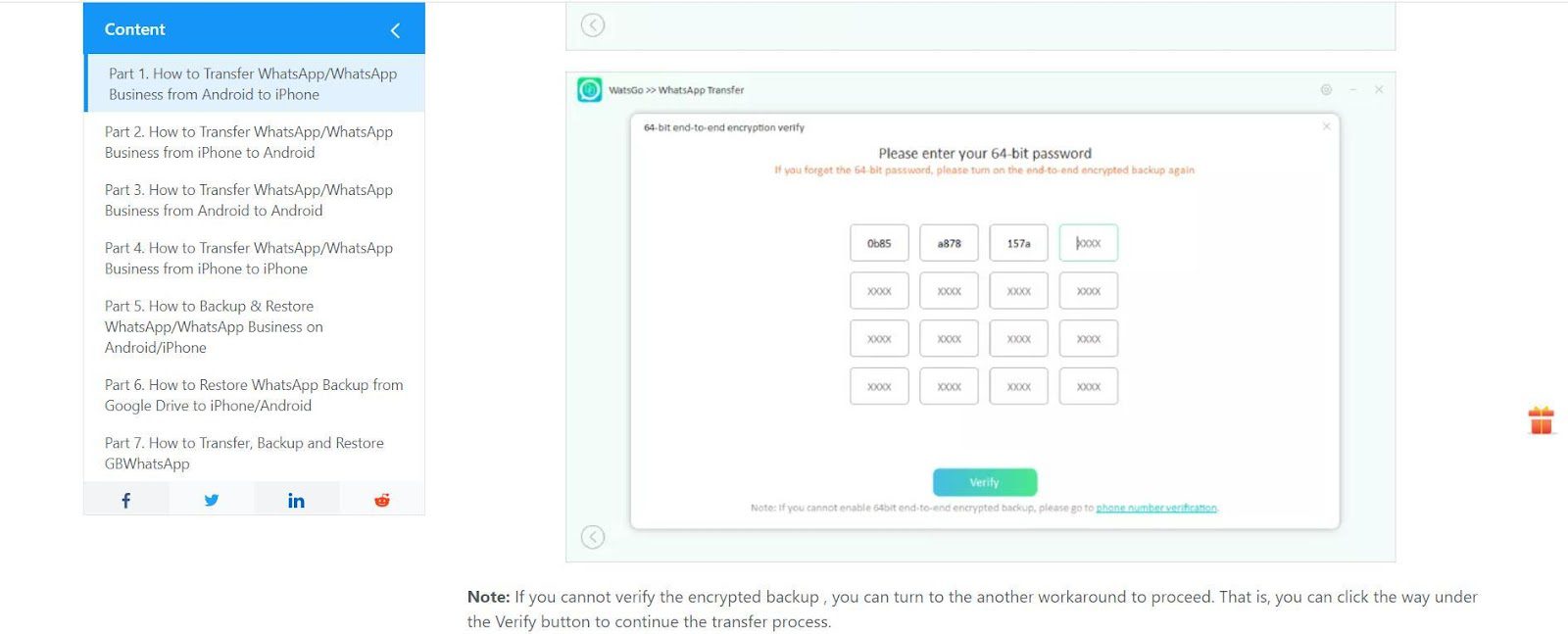 If you run into issues with password verification, you have an alternative:
Manually backup your WhatsApp data and remember to disable encrypted backup.

Verify the phone number used for the previous WhatsApp backup.
Step 4: Generate WhatsApp Backup for iPhone
Once you're past the verification, the software will convert the Android WhatsApp backup into a format compatible with iPhone. This process might take some time, but once it's complete, the data will begin restoring to your iPhone.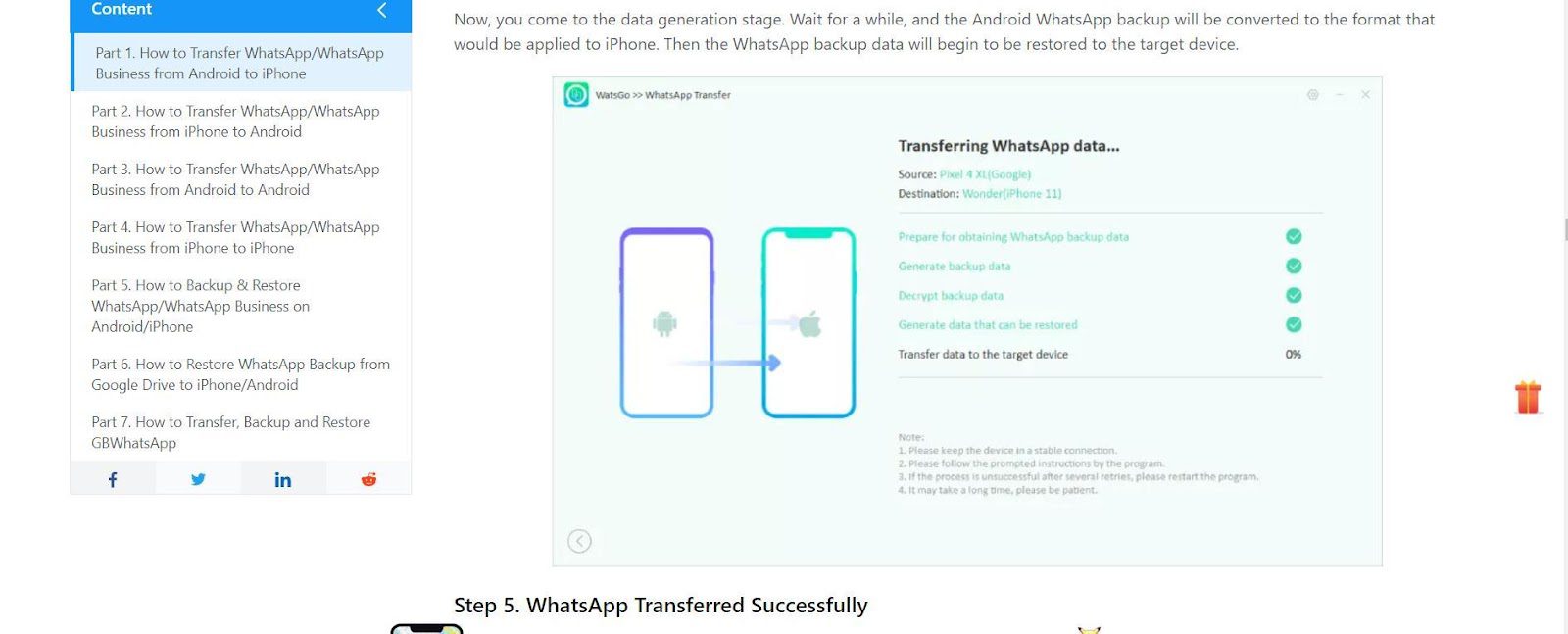 Step 5: WhatsApp Transferred Successfully
After the process is complete, a success interface will appear, indicating that the transfer was successful. Your iPhone will reboot, and you can now check to confirm that all WhatsApp data has been transferred.

And that's it! You've successfully used iToolab WatsGo to transfer WhatsApp from Android to iPhone. 
Why iToolab WatsGo Stands Out for WhatsApp Transfer
When it comes to transferring WhatsApp data between Android and iPhone devices, iToolab WatsGo emerges as a comprehensive solution that simply outshines its competitors. Let's delve into the reasons that make it the most reliable and efficient choice for users who seek hassle-free data transfer.
User-Friendliness
One of the most appreciated features of iToolab WatsGo is its user-friendly interface and easy operation instructions. Whether you're a first-time user or a seasoned tech enthusiast, navigating through WatsGo's options is a breeze.
Versatility in Data Transfer
While some solutions offer limited types of data transfers, WatsGo provides multi-directional transfer options. You can move data from Android to iPhone, iPhone to Android, or even between devices running the same operating system. This kind of versatility is rare and particularly beneficial for users with varying transfer needs.
Backup and Restoration
iToolab WatsGo allows for one-click backup and restoration of your WhatsApp data without relying on Google Drive or iCloud. This saves not only time but also device space. And what's more, is that you can also learn how to restore WhatsApp backup from Google Drive to iPhone for even more flexibility in restoration options.
Variety of Data Types Supported
From text messages and call history to multimedia attachments like images and videos, WatsGo supports an extensive range of data types for transfer. This ensures that nothing of importance is left behind during the migration process.
High Success Rate
WatsGo boasts a high success rate of up to 90%, making it one of the most reliable options for transferring WhatsApp data. This attribute alone sets it apart from most other solutions available on the market.
Selective Data Transfer
Another compelling feature of WatsGo is its selective data transfer capability. This means you can choose what to keep and what to leave behind when transitioning between devices, providing you with a personalized and efficient data transfer experience.
The Final Word
Switching between Android and iPhone can be a complicated process, but when it comes to transferring your essential WhatsApp data, iToolab WatsGo makes it a breeze. From its user-friendly interface to its high success rate, WatsGo ensures you don't lose anything important along the way. So, if you're planning to make the switch, give WatsGo a try. It's the reliable, worry-free choice that simply makes sense.