According to Fact.MR, recent market analysis, the expanding use of air springs in luxury passenger vehicles continues to provide manufacturers with new potential opportunities. End-user preferences for comfort, glide ride, and suspension modification are influencing where money is moving in the air springs landscape, which was formerly limited to huge commercial vehicles. If stakeholders in the air springs industry are to quickly react to the new status quo, they must evaluate market evolutions.
During the projected period, the air springs market is expected to increase at a moderate rate of 5%. (2020 and 2030). The need for air springs has increased dramatically due to the widespread use of air suspension systems in the automotive industry. Air spring sales will be fueled by changing terrain conditions and a strong user preference for convenient and effortless driving, as they efficiently regulate chassis height, especially on uneven terrain.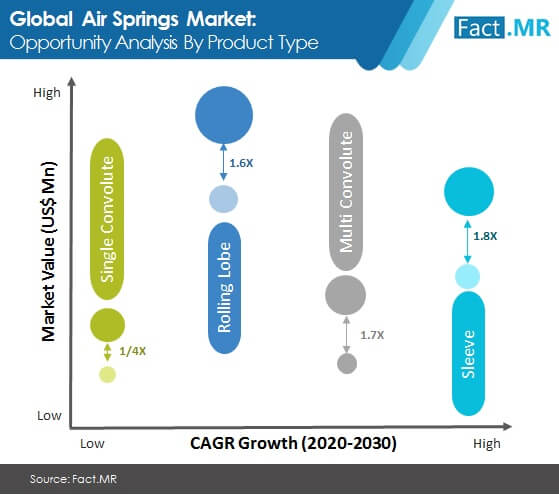 Global Air Springs Market: In-Depth Assessment on Key Segments
The global air springs market is segmented on the basis of product type, sales channel, application, forces and region.
Product Type
Single Convolute
Multi Convolute
Sleeve
Rolling Lobe
Sales Channel
Application
Passenger Cars
Buses
Trailer & Trucks
Light Commercial Vehicle
Railways
Industrial Lifts & Earthmovers
Force
Less than 1500
1500-2100
2100-3300
3300-7300
7300-8800
8800-10000
Above 10000
Region
North America
Latin America
Europe
East Asia
South Asia & Oceania
Middle East & Africa
This taxonomy, as well as the comprehensive TOC that was created, is private and intended only for the individual or entity with whom it is shared. It is illegal and banned to read, disseminate, distribute, or copy this to anyone other than the addressee(s).
Insights on the Air Springs Market
Commercial vehicle production has been gradually expanding over the world. Increased trading activities, which entail the movement of commodities, and a growing desire for local transportation, such as buses, are driving this rise.
The market for air springs is predicted to rise as commercial vehicle manufacturing increases, particularly in emerging economies and a few countries in Eastern Europe. The need for air springs for trucks is extremely high. Truck racing has grown in popularity, with major corporations investing in championships and putting on events.
Highly tuned vehicles with additional safety features, including the integration of air spring suspensions, are used for such events (typically convoluted bellows). Advanced air springs are also being developed by manufacturers to provide for improved air suspension for racing trucks.
Click Here To get a Sample Report (Including Full TOC, Table & Figures):-https://www.factmr.com/connectus/sample?flag=S&rep_id=716