Yext is on a mission to transform the enterprise with AI search, and with Support Answers, they are another step closer to realizing that mission. In this interview with TechBullion, Marc Ferrentino, Chief Strategy Officer at Yext shares more details about this AI search project and what they have in their robust roadmap and plan to bring additional AI-powered search solutions to the market.
Please tell us more about yourself and your journey as a Chief Strategy Officer?
I'm Marc Ferrentino, Chief Strategy Officer at Yext, a NYC-based search company. I'm responsible for everything from corporate strategy and product management, to user experience and our work in different industries, like financial services. 
I'd always been active in the NYC tech scene, at different points working as a senior executive for high growth companies like Salesforce and even founding my own. But what drew me to Yext was the realization of just how ubiquitous search is in our daily lives, and how ripe this area was for disruption.
I've been at Yext for more than five years now, and in that time, I've seen the company experience tremendous growth — going public, launching new products, establishing integrations with the likes of Google, Facebook, and Amazon Alexa, and more. Today, we're continuing to transform the search experiences of some of the biggest brands in the world every day. 
What is Yext and what unique services do you provide?
Yext is an AI search company, and our mission is to transform the enterprise through search. That means we build AI-powered search solutions that businesses can implement into a number of key areas, including the customer-facing website, support help center, and employee intranet.
Regardless of whether you're a consumer, a customer support agent, or an employee, search is at the heart of everything we do. It's how we make appointments, find out what time a location closes, understand a workplace or store return policy, discover how to troubleshoot an issue, and so much more. But because of an outdated technology called keyword search, the experience is often lackluster. Keyword search simply scans for the keywords in your query and returns a list of irrelevant hyperlinks rather than actual answers. 
Yext wants to eradicate keyword search and the frustrating experiences that come with it. With our AI-powered Answers platform — which can actually understand questions and deliver direct answers through a Google-like experience on a company's website and search experiences — we're helping more and more businesses around the world say goodbye to outdated search technology. 
What do you mean when you say Yext can deliver a Google-like experience? 
Yext is modeled after the best aspects of Google's AI-powered search experience, so we like to say we are giving a business their very own Google-like experience on their own website or behind their firewall. 
To do this, we leverage powerful natural language processing with a multiple-algorithm strategy that is constantly evolving to understand the nuances and context behind search queries and surface the best results. We also enable businesses to store all of the information they need to answer questions in their own unique knowledge graph, a brain-like database of facts that's specially structured for search. 
While nearly all other search technologies are based on outdated keyword search that serves lists of hyperlinks as results, we can deliver direct answers in dynamic forms, like featured snippets, maps, calls to action, and more.
With the recent launch of Yext's Support Answers, you expanded your AI-powered search platform to new use cases. Can you elaborate more on this new solution?
There are so many ways a company can use AI search to make vast improvements to different parts of their business, and customer service or support is an area where organizations are constantly looking to optimize. Yext has been supercharging business websites with Answers for almost two years now, and we were thrilled to expand into customer support use cases with Support Answers.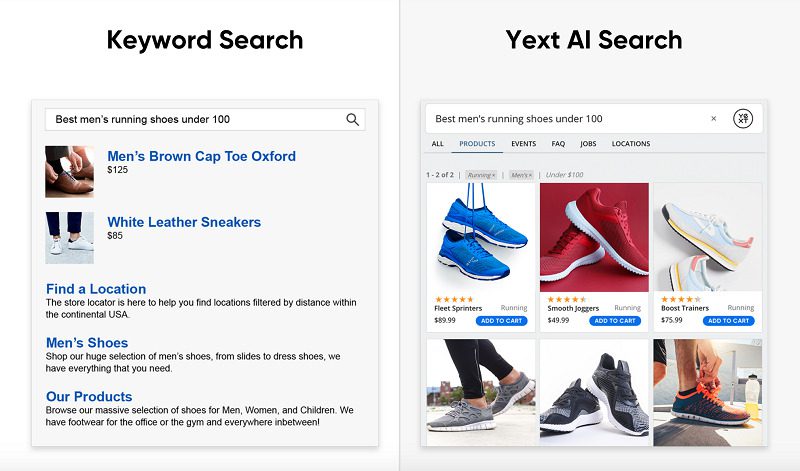 With Support Answers, we aim to streamline the resolution journey for both customers and support agents by making it easier to find the information they need. But it's more than just the ability to implement an AI-powered search experience on a business's help site or in a support agent's internal portal — it also enables businesses to create their own knowledge base of support-related information, implement an in-app digital concierge that expands into a search experience, deflect customer support tickets by suggesting relevant answers before a customer submits one, and even increase the chances of appearing as a featured snippet when a customer looks for answers on a third-party platform like Google.
What trends or problems was Yext seeing in the area of customer support that led you to identify the need for Support Answers and develop the solution?
Aside from the obvious — that calling into customer service tends to be really frustrating — we saw some fascinating data both internally and externally that confirmed AI-powered search could really change the paradigm. 
On the customer side, more and more customers are asking questions of businesses online, and they are asking those questions in increasingly varied ways, such as voice search. Harvard Business Review estimates 81% of all customers attempt to take care of matters themselves. But the reality is that the majority of them don't get the answers they need because of the poor search experiences on business websites.
This leads customers into live support interactions, such as a phone call, email, or chat message. But each of those costs a B2B company $13 on average. And in many cases, those channels are unhelpful in resolving an issue — so much so that Forbes reported that poor customer support is costing businesses a whopping $75 billion a year. 
At Yext, we realized that with our AI-powered search platform, we could not only give customers a better experience that solved simple requests and spared them from contacting customer support, but also help businesses run more efficiently and save a bundle in costs.
Businesses continue to be overwhelmed by the volume of support calls that their customer support departments receive. What effect has the pandemic had on this?
The onset of the COVID-19 pandemic last year only accelerated what was an increasing trend in customers reaching out to customer support. In fact, our clients saw an 88% growth in customer questions from February 2020 to April 2020. The average business website isn't equipped to handle even the most basic questions, so you can imagine how bad it was when a surge of COVID-specific queries came flooding in. Businesses simply weren't equipped to use their best asset — their own website — to answer questions at scale, and this left customers with no other option but to pick up the phone or open the chatbot to talk to customer support in overwhelming numbers. The situation further underscored just how important it is for businesses to reevaluate their customer support strategy and offer a more nimble, self-serve solution where people can find information to resolve issues themselves — or risk maxing out their support volume and budget.
Have you seen any results from brands that have implemented Yext's support solutions so far?
Yes! Brands from around the world, like Samsung, Altice, BBVA USA, Krispy Kreme, and Three UK, have implemented Answers and are poised to see significant reductions in call volume and cost. Just two weeks after implementation, Three saw a 42% reduction in customers who clicked "contact us" after using its Yext-powered site search experience. Three's Head of Omnichannel and Digital First said Yext was a "game-changer" for the company.
Where can our readers go to learn more about Yext's Support Answers?
We've outlined all of the features and benefits of Support Answers on our website at www.yext.com/solutions/support. For those who want to learn even more and see the solution in action, I highly recommend watching our webinar, "How AI-Based Search Will Transform the Customer Support Experience," and seeing our new Head of Industry for Service and Support give a demo.