Look at it this way! You hired people to be great at what they do and not be a robot. Their value comes from their experience and skill and their ability to deal with new challenges. It's the people who drive a business' efficiencies.
Automation can take the labor-intensive tasks away from teams and get them firing on all cylinders through time saved, feedback given, and happiness built.
And that's precisely why Cristian Ignat created Aggranda, a business on a mission to help save time in companies and people's lives with the help of software robots – using Robotic Process Automation (RPA), AI, and Machine Learning on the UiPath Platform.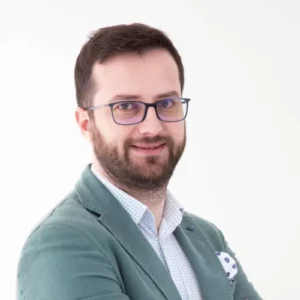 Aggranda has been working with HR departments to remove repetitive and mundane tasks. Their success in this area has meant that HR departments spend more time with their companies' employees, focusing on helping them develop skills and reach their potential.
Many standard HR processes such as onboarding, offboarding, payroll, expense reports, selection, recruitment, and employee data management tasks can be automated. Automating them means your HR department spends less time keying and re-keying in data and more time developing skills, so everyone feels better at work.
When we spoke to Cristian this is what he had to say
I started the business with the mindset of helping humans to do something more valuable for themselves with their time. Aggranda stands for the verb to aggrandize, which means to amplify, magnify, and increase. And we create time in companies and in people's lives. We do this with the help of these software robots that take the mundane and their repetitive work from them. This way, humans will do something more valuable with their time for themselves and also for the companies. Companies will also scale faster and will have fewer human errors.
The success of Aggranda can really be seen from what their clients have to say. Recent reviews in G2 highlight that when Eugen Predescu from Canopy started working with the Aggranda team this is what he thought;
After we started working with Aggranda, we reduced errors to zero and the invoices are always sent on time. Also, our marketing results have improved significantly with our clients after we started to use Rosy – the robot built by them. The robot helps our team of specialists to identify the first thing they should optimize in the Google Ads accounts. This robot uses a Lean Six Sigma principle – this was an idea that came from Aggranda.
Aggranda recently developed a software robot for the First Bank team that supported them with the onboarding process. Check out this video to see more:
There is a bundle of use cases that Aggranda has which can be seen here. 
If you're interested in finding out more about Aggranda then you can connect with Cristian Ignat on his LinkedIn.