With the vast amount of websites and online advertisements, the job of marketers, specifically those who work online, has become increasingly difficult. Traditional ways of marketing using email and SMS have lost their relevance. Some people may argue that using these channels is no longer effective. This has left marketers looking for a new form of promotion with higher success and conversion rates. This search leads to web push notifications, a highly effective way for marketers to reach their audiences. In this article, we will discuss what web notifications are, why they are important, and the benefits of using them for online marketing. We will also take a look at Notix, a service that gives you all the tools that you need to get started with web notifications 
Web Push Notifications Defined
Web push notifications, also known as browser push notifications or website push notifications, are messages that are sent to the subscriber's device in real-time. These notifications can even be sent if the subscriber is not presently visiting your site. 
This is an entirely permissionless solution. So, before you can start sending out notifications to people who visit your website, you will have to ask their permission. After they have accepted to receive notifications from your website or brand, they will become your subscribers and you can simply start sending them web push notifications.
As mentioned at the beginning of this article, web push notifications are a more effective form of online marketing. In fact, according to AdWeek, push notifications capture almost double the click-through and open rates than that of email marketing.
If web push notifications are used wisely, they can add immense value to your online business or website. To better understand why we'll take a look at some of the major benefits of using web push notifications.
Benefits of Web Push Notifications
High Opt-in Rate
Unlike other forms of online marketing, such as pop-ups, web push notifications do not require any personal information like an email address from the people that visit your site. The process for people who visit your website to become subscribers is a lot simpler and also less invasive. All that a website visitor has to do to start receiving newsletters or promotional offers is simply become a subscriber at a click of a button. This is why web push notifications have a higher opt-in rate than email marketing. Another key piece of insight is that the opt-out rate of web push notifications is also significantly lower.
Real-time Quick Delivery
Web push notifications are real-time, so any information or update is sent to your subscribers as soon as the notification is distributed. This enables a high real-time reach, perfect for announcing events such as a flash sale if your business is an e-commerce platform.
Higher Engagement
Before, in SMS and email marketing, users were redirected to the desired URL mentioned in the message body. Now, however, users can be redirected simply by tapping the web push notification. By enticing your audience with a catchy notification title, you can expect a noticeably higher engagement rate. A tip is to avoid using click-bait headings and instead create triggering content. This will drive a higher engagement rate from your audience.
Increased Website Traffic
One of the main benefits of web push notifications is that it increases website traffic on your website. For better results, it is recommended that you send content to your subscribers that is worth their attention. Tempting messages and notifications, that also appeal to your audience, will result in a substantial boost in web traffic on your website. The real-time nature of web push notifications can also drive traffic when you host a limited-time event, such as a limited-time sale.
Visitors Becoming Subscribers and Subscribers Become Customers
Web push notifications have proven to be the best way to attract customers to your online business and encourage them to purchase either services or goods on your website. You can quickly grab a user's attention with web push notifications and don't stand the risk of the notification going unread or ignored, as is the case with SMS and email marketing.
It can be said that visitors who opt to receive notifications from you have visited your website and liked what they saw. They are impressed by your offering, whether it's a service or a product range, and want to stay up to date with any specials or receive the latest updates. These people are better prospects for purchasers as compared to other website visitors.
Increased Conversions
As soon as you make updates to your product or service offering, or run a promotion, web push notifications can help drive a higher conversion rate to the changes you make or the promotions you run. For example, say a user has been eyeing a product on your site for a while and waiting for the price to go down a bit, they will receive the notification of either a promotion or a lowered price of that product as soon as it happens. This will make your site more interactive, which will lead to a higher conversion rate.
No Need For A Mobile App
In today's age, you can be 100% certain that the people you are targeting have mobile devices. If you're a startup or want to keep business expenses low, then a mobile app might be out of the question given the high costs associated with creating one. The great thing about web push notifications is that you can reach your target audience without a mobile application as long as the user has an Android device.
Notix Overview
Notix is a platform that gives you all of the tools that you need to successfully implement web push notifications on your website. Notix offers support for both mobile and desktop devices across all of the major internet browsers and enables users to re-engage with their audience with their web push notification service. E-commerce platforms, affiliates, media agencies, website owners, and any other type of online business can integrate with Notix to grow and actively engage with their content consumers.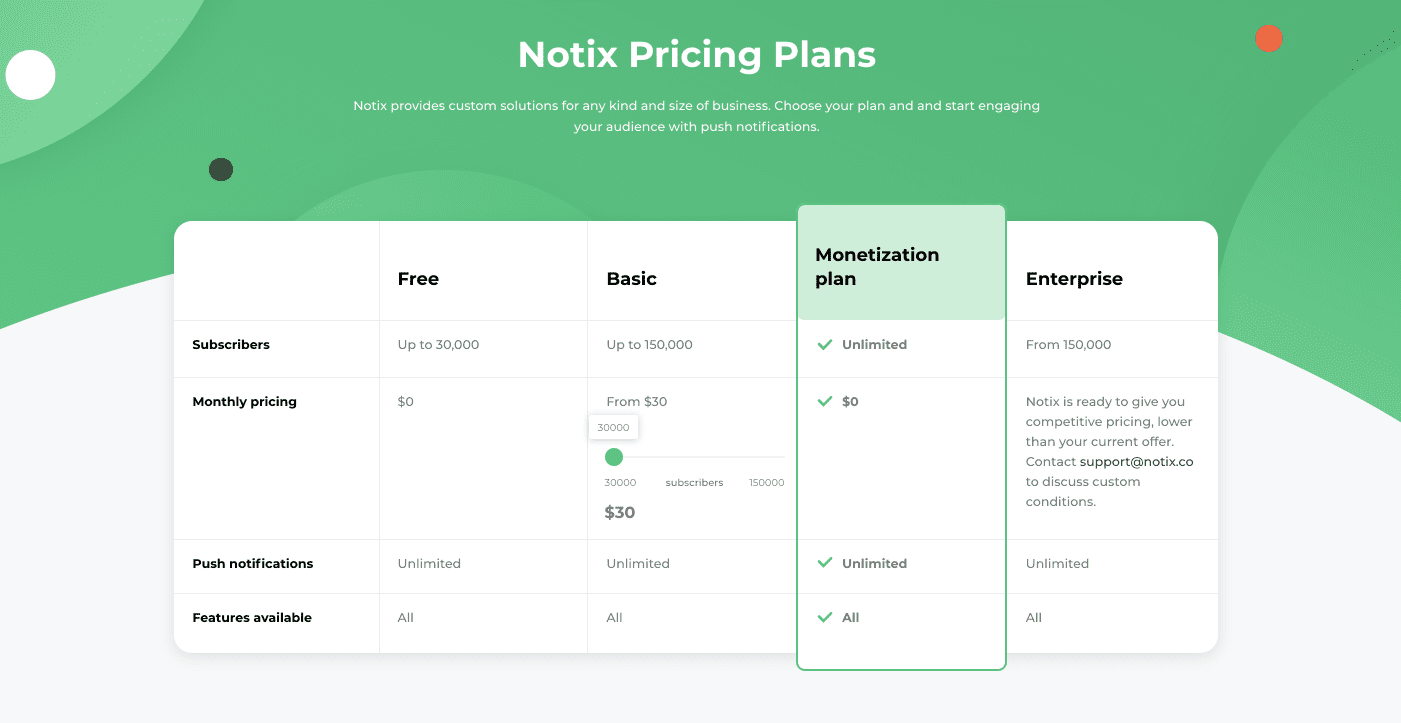 Features
Seamless Integration and Real-Time Statistics
Notix offers you multiple ways to integrate with their service. You can seamlessly integrate by either using their API or WordPress Plugin. You can also migrate your database of subscribers from a previous provider to Notix. Furthermore, you receive real-time statistics of your marketing strategy.
Analytics
For any marketing strategy, it's important to analyze the statistics of notifications and users who engage with them. Analytics on Notix help to identify the effectiveness of noifications, find the most engaging ones and the ones with the highest click-through rates. 
Timezone-Specific Marketing
Do you have subscribers that live in multiple time zones? Now you can time notifications to reach your audience at the ideal time no matter what their time zone is, thanks to Notix!
Audience Segmentation
To achieve better results within your target audience, you can segment your target audience according to custom parameters.
Parallel Testing
You can test the performance of Notix in parallel to your current provider to see if the provider you're currently with is generating the best possible results.
Emoji Support 
You can make your messages or notifications stand out more by now by including emojis in them. This will make your messages more catchy and can also lead to a higher conversion rate.
Case Study
Several websites dedicated to social games and quizzes are run by Mallu Browser Games. The platforms have managed to gain 200,000 subscribers with push notifications providers. However, a lot of these subscribers were inactive and there was a lack of activity on behalf of push service providers. This is when Mallu Browser Games decided to switch to Notix.
Using the Monetization plan, there wasn't any need for payment to send push notifications. The Mallu Browser Games team chose to send 1-2 push notifications to its traffic to keep users engaged right after they have subscribed as well as to make users return to the website. In the meantime, all traffic was monetized by sending visitors offers from finance, eCommerce, and media verticals.
In one month, with a safe and steady campaign, Mallu Browser Games have acquired 30x more active subscribers and 30% more in overall revenue. His subscriber total went from 200,000 to 6 million. 
Take Advantage of Web Notification Marketing
Web notifications are a new form of online marketing that has proven to be highly effective, with better conversion and click-through rates than SMS and email marketing. You can easily get started using web notifications by visiting Notix. It provides you with all of the tools and support that you need to get started. Features such as simple subscriber migration, parallel testing, emoji support, and much more are all at your disposal when you sign up with Notix.