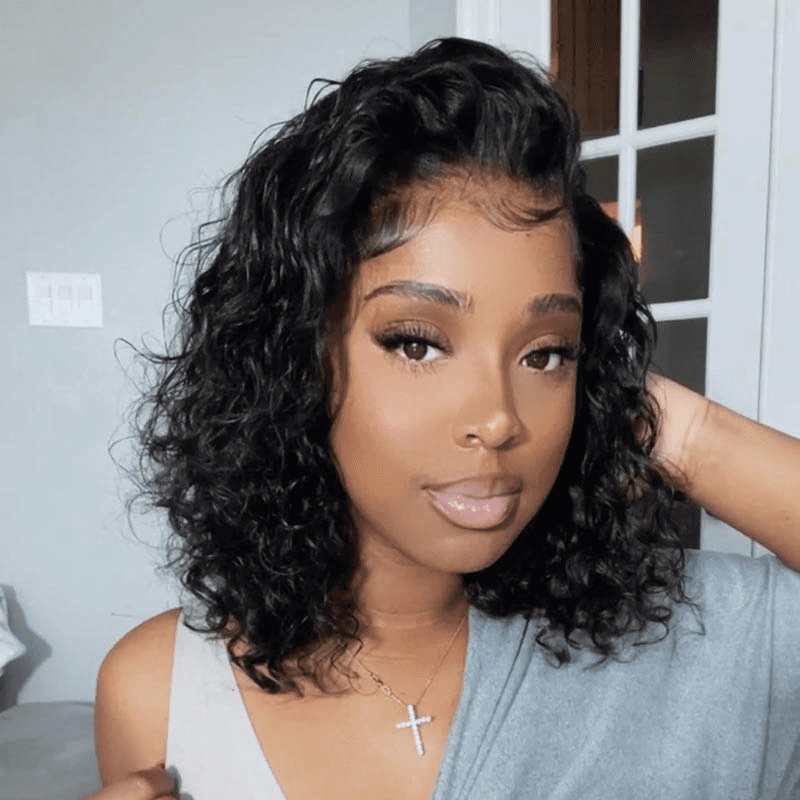 With the growing popularity of wigs, the availability of different types of wigs in the market has increased. One such type is the body wave wig. But what exactly are body wave wigs, and how can you care for them? Furthermore, why should you consider choosing a body wave wig over other options?
This article will explore these questions and provide insight into the benefits of choosing a body wave wig.
Body Wave Wig Definition and Key Features
Body wave wigs are created using bundles of hair that have a distinctive large S-shaped pattern that flows naturally through the hair. This type of wig creates a subtle, authentic-looking wave that can easily pass as your natural hair, especially for black women. In particular, HD lace wigs and 13*6 lace frontal wigs have become increasingly popular among wig enthusiasts. Although it doesn't hold curls for long and straightens after washing, you can recreate them using a curling rod or iron. Besides being low maintenance, body wave wigs are easy to style according to your preferences.
Essential Care Tips for Maintaining Body Wave Wigs
To ensure that your body wave wig lasts a long time and maintains its lustrous appearance, proper maintenance is essential. Here are some essential tips to help you take care of your hairpiece and keep it looking beautiful.
The importance of regular cleaning
Regular washing is essential to maintain the cleanliness of your body wave wig. It is recommended to wash it every two to three days, especially if you wear it often, to remove product build-up, dirt and sweat. Using a moisturizing shampoo and conditioner will help keep hair hydrated and prevent dryness.
An essential step: Air drying your body wave wig
To prevent heat damage to your body wave wig, it's important to avoid using hot styling tools as often as you would with natural hair. After washing your wig, air drying is the best option instead of using a blow dryer. Place it on a wig stand and keep it out of direct sunlight to dry naturally.
The Importance of Moisturizing Your Body Wave Wig
Moisturizing your body wave wig is crucial to maintaining its longevity and reducing frizz. When washing your wig, it is recommended to deep condition it and apply a natural oil such as coconut or olive oil to keep it shiny.
Proper storage for your wig
How to properly store your body wave wig is important to its longevity. You can invest in a wig stand or mannequin head to hold the curls. Alternatively, you can hang it on a mini hanger and store it in a wig bag to protect it from dust and damage.
Reasons to choose a body wave wig
Body wave wigs provide versatility as they can be worn for any occasion. Apart from this, there are several other benefits of wearing these wigs:
Ways to increase hair volume
Many women use wigs to add volume to their hair, which their natural hair cannot achieve. With their soft wave, body wave wigs add extra texture and fullness to hair. Wearing a wig like this allows you to achieve a voluminous hairstyle that may be difficult with your natural hair.
Looking younger with a wig
Body wave wigs have a special quality that makes them easy and comfortable to wear. It could be their glossy texture, thickness, or the extra volume they provide when worn. Adopting this relaxed and natural look can make you look younger and more vibrant. The carefree and effortless look of body wave wigs can do wonders for your overall look.
Make hair styling a breeze
Opting for body wave wigs is a great choice because of their ease of styling. This wig style is somewhere between straight and wavy, making it easy to change into any look. If you prefer straight hair, you don't have to worry because the curls will form again when you use the curling rod. Likewise, you can easily achieve tight curls by styling waves. Whatever look you want, completing it with a body wave wig is a breeze.
Why Beautyforever?
After learning about the benefits of body wave wigs, we can feel your excitement to get your hands on one. For premium quality body wave wigs, we recommend shopping at Beautyforever. Here are some great reasons why buying your hairpiece from Beautyforever is the best decision.
Human Hair: Our body wave wigs are made using 100% human hair obtained from a donor, ensuring that the cuticles remain intact.
Different Inches: For those who enjoy experimenting with different lengths, Beautyforever offers body wave wigs in multiple sizes ranging from 14 to 32 inches.
Durable: Thanks to the use of 100% human hair, our body wave wigs are durable and can last for more than a year with proper care.
Variety: We offer a variety of body wave wig types, including closure wigs, glueless wigs, and more. Additionally, we provide body wave hair bundles that are ideal for sewing.
In summary, body wave wigs are a great choice if you are looking for a wig that is easy to style and maintain. We trust that you now have a better understanding of how to care for and extend the life of your body wave wig. For high-quality cheap wigs, visit beautyforever.com.