History of Coloured Heels
The concept of women wearing coloured heels dates back thousands of years. Women in Ancient Rome and Greece used to wear brightly coloured shoes, and these were a status symbol. The colour of the shoe would indicate the woman's rank within society. In the Middle Ages, wealthy women wore brightly coloured heels as a way to stand out from the crowd and demonstrate their wealth. 
In Europe during the 18th century, pastel colours such as pink, yellow and blue became popular for footwear – particularly with young women who wanted to make a fashion statement. It was around this time that men also started wearing brightly coloured shoes – with red being one of the most popular choices. 
Throughout history, coloured heels have been associated with royalty and aristocracy; Queen Mary II was known for her fondness for pink satin slippers in particular! During this period there was also an increase in mass production of shoes so more people had access to them than ever before – although these were usually only available in brown or black leathers or fabrics due to cost constraints at that time. 
By the 20th century, vibrant colours were commonplace for both men's and women's shoes alike; tennis players began wearing white sneakers with bright accents on them during tournaments.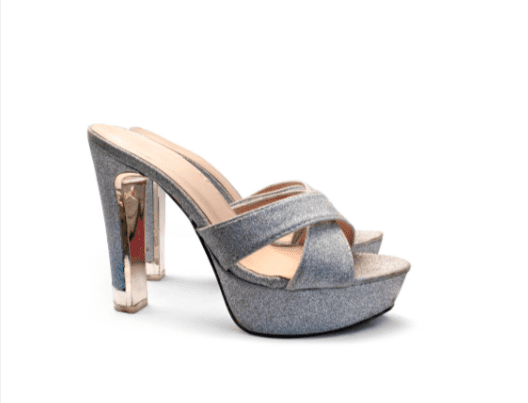 Types of Coloured Heels
In today's fashion world, it seems like coloured heels are everywhere. From the classic black and white to bold and vibrant hues, they come in a variety of shades that can add a fun touch to any outfit. But what exactly are coloured heels and what type should you choose?
Coloured heels are high-heeled shoes in any colour other than black or white. They can range from subtle pastels to bright neons, so you're sure to find something that suits your style. Whether you opt for a single colour or multiple tones, these eye-catching shoes will help you make a statement wherever you go. 
One popular type of coloured heel is the slingback heel. These have straps at the back of the shoe that wrap around your ankle for extra security as well as support when walking. Slingbacks come in all sorts of colours and styles – from strappy sandals to pointed toes – making them perfect for adding some pizzazz to an otherwise plain outfit. 
Another great choice is the platform heel which offers both height and stability thanks to its thick sole base. Platforms come in all sorts of designs such as block heels, wedges or stilettos – but regardless of their shape.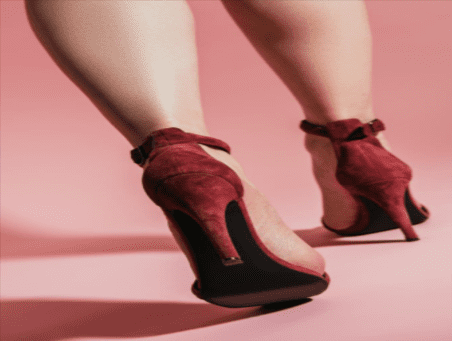 Benefits of Wearing Coloured Heels
If you are looking for a way to add some spice and color to your wardrobe, then why not consider wearing coloured heels? Coloured heels have been a style staple in the fashion scene for quite some time, and they offer many benefits that make them worth wearing. Here are just a few of the advantages of sporting coloured heels.
The first benefit is that it provides instant colour and style to an outfit. Coloured heels can easily work with many different types of clothing, from casual jeans to formal dresses. They help create an eye-catching look that stands out in any crowd. In addition, they come in all sorts of styles and colours so you can pick the pair that best compliments your outfit.
Another great thing about coloured heels is their versatility. They can easily transition from daywear to evening wear with minimal effort . You can wear them with jeans during the day then switch them up with a dress or skirt for night time events . This allows you to get more use out of your shoes without having to buy multiple pairs for different occasions . 
Furthermore, coloured heels are comfortable enough for long days on your feet yet stylish enough for special occasions like date nights or parties.
How to Choose the Right Coloured Heels for Your Outfit
Finding the perfect pair of heels is a challenge for any woman. With so many options available, it can be difficult to narrow down your choices. But when it comes to picking the right coloured heels for your outfit, there are a few guidelines you should keep in mind. 
Consider the colour palette of your outfit. If you're wearing an all-black ensemble, try adding a pop of colour with brightly coloured heels such as hot pink or electric blue. Neutral shades like nude and beige also work well with black and are often more versatile than brighter colours. If you're wearing a bright or colourful dress, opt for toned down hues like black or grey that will help to create balance within your look. 
Consider the occasion or event you'll be attending when choosing coloured heels for your outfit. For example, if you're attending an important business meeting then muted tones would be more appropriate than flashy ones; however if you're going out on a date then bolder colours can help add personality to your ensemble. 
Conclusion
Coloured heels are a great way to add a pop of colour to any outfit. They can be worn with casual or formal attire, and they give an instant boost of confidence and style. Whether you're looking for something bold and daring or subtle and chic, there is a coloured heel that will fit your style perfectly. With so many options available, it's easy to find the perfect pair of coloured heels for any occasion.