Acre Gold is a platform that provides the opportunity to acquire gold bars starting from as little as $50 per month.
In this Acre Gold review, we'll discover how easy and practical it's to start acquiring Gold with as little as $50 of your monthly savings.
Why should I buy Gold?
In times of geopolitical tension, consumers tend to look for ingenious ways that allow them to protect their savings against risks that appear with economic instability.
However, there aren't many ways for small budgets to accumulate enough money to enjoy the benefits offered by one of the most traditional and effective vehicles to protect our savings during uncertain times: gold.
Historically, gold is a tangible asset that has been used to protect capital against losses caused by inflation and as a refuge when uncertainty causes other investments to experience poor performance.
How does Acre Gold work?
It's straightforward.
Acre Gold is a platform that offers a monthly subscription to buy physical gold.
With a $50 subscription, the platform accumulates your monthly payments "until your account reaches the price of a 2.5g Acre Gold Bar".
At that point, Acre Gold will send you the bar to your preferred address and add the balance of your account to purchase your next gold bar.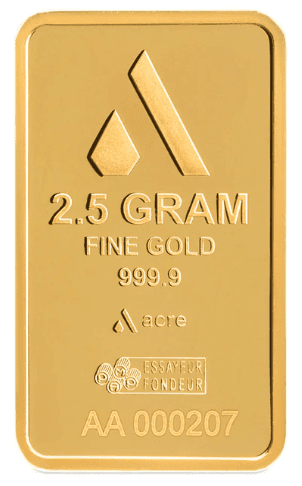 Bar characteristics:
Bars are designed in California and minted in Switzerland.
Each bar contains 5 grams of .9999 fine gold.
Individual bars are presented in a sealed package with an assayer's authentication inside a premium, soft-touch box.
Additionally, Acre Gold offers monthly subscriptions of $100 and $250 to buy 5g bars and 10g bars.
The platform accepts payments from major credit cards and Facebook Pay and gives you total control to cancel or change your plan at any time.
If you are eager to obtain more information about Acre Gold before investing in this precious metal, here is another excellent review of Acre Gold.
Alternatives to Acre Gold: Money Metals Exchange
Money Metals Exchange is an online bullion dealer that offers the opportunity to buy gold and silver to small and large investors "at very competitive prices."
Also, you can sell your metals to them, regardless of whether you purchased from them or not.
The company offers monthly plans for small investors, similar to Acre Gold's, starting at $100. Still, this plan includes the possibility of buying other products than gold bars, including silver bars and coins, and U.S., Canadian, and Australian gold coins.
Money Metals Exchange will send your metals to your preferred address, with the option to deliver them for free if their value is above $1,000.
Additional services: Storage Facility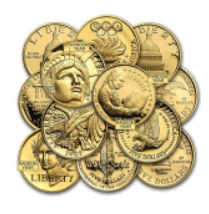 Money Metals Exchange also offers its secure storage service for investors who don't want to keep their metals in their homes or offices.
This service represents an affordable and convenient option for storing your physical holdings of precious metals while avoiding shipping and insurance costs.
Their storage facility uses state-of-the-art UL Class 3 vaults, and its content is fully insured by Lloyd's of London.
As an additional service, if you decide to store your metals with them, you could access cash loans secured by your holdings in their facilities.
Further options for more prominent investors
For larger investors, Money Metals Exchange offers a starter pack consisting of 120 ounces of silver and 1.1 ounces of gold coins in one purchase.
In this category, the company allows choosing among various metals like silver, gold, palladium, palladium, platinum, rhodium, and copper; in different presentations like bars, coins, rounds, and bullets.
Also, investors can select pre-made portfolios containing the most popular and widely traded bullion with a low bid/ask spread.
Another differentiating ingredient: News and Education
In addition to its vast catalog of products and services, the Money Metals Exchange site is a source of news and education for its customers.
Its Weekly Market Wrap Podcast intends to give light to investors in the metals markets.
At the same time, in its Education Center, you can find guides about "The Best Way to Buy Gold and Silver" or "How to Test Gold & Silver at Home: 5 Proven Bullion Testing Methods".
Here you can find another independent review about the products and services provided by Money Metals Exchange.
Conclusion
Acre Gold is an excellent option to start buying gold as a mechanism to protect your savings.
The small monthly amount you have to compromise every month makes it affordable to almost every budget size.
However, for investors looking for more options regarding the kind of metal they want to purchase or who can't store the metals in their own homes, Metal Markets Exchange could be a better option.
If you are ready to start saving in gold using a small monthly payment, visit Acre Gold.