Today, all industries see no future without digitalization. Businesses embrace new technologies and solutions to manage operations and customer relationships effectively. The insurance industry is no exception – it also adopts global digital trends to offer its customers new products and services and stay competitive. Let's examine how insurance can benefit from digital channels like customized chatbots, web portals, and mobile applications.  
Are digital and online the same? 
Often, insured people confuse the notions "online" and "digital" by using the latter to explain anything happening online. However, that's wrong. Let's figure it out. When people buy policies on the website or send their documents to the insurance company, these actions shouldn't be reviewed as "digital." Instead, when they file a claim, and this claim is reviewed by special software that assesses the level of damage (if it's car insurance), this capability can be considered as a "digital" one. Another example is checking your symptoms with Symptomate (a special AI-powered health checker) that can guide you to which doctor you should reach out to.  
One more example is underwriting in insurance. Special software assesses the risk you present to a particular insurance carrier. Instead of professional underwriters, risk management solutions can review all the criteria to check if it's possible to provide you with a given policy plus what coverage you are eligible to get.  
Introducing digital capabilities to insurance organizations is quite a complicated task, as human work can't be eliminated entirely here. Nevertheless, digital solutions can simplify the work of insurance agents significantly. So, let's find out what benefits technology brings to insurers.  
Advantages of digital channels for policyholders 
The customer-facing approach is one of the critical pillars of any modern business. As in many other industries, insurers put a customer in the center. They try to understand what their consumers want, need, and like. Below are some essential things people expect to get from a modern insurance company: 
To do a significant part of insurance-related operations on a mobile phone 
To have access to all products and services anytime and anywhere 
To understand clearly and intuitively what they should do to get what they need 
To quickly have a chat with a consultant 
To receive personalized and cost-effective offerings 
If the carrier ensures all this, customers will definitely prefer the company's services over the competitors.  
Advantages of digital channels for insurance companies 
Digitalizing insurance services presents unique challenges due to the sheer volume of individual clients and the diverse policy types involved. While digital channels can't fully encompass all aspects of insurance-related operations, skilled human staff are essential. The channels they utilize can serve as supplementary tools to support and simplify some repetitive tasks. Furthermore, the larger the enterprise, the more limited the effectiveness of a purely digital strategy is. So, what are the key advantages of digital solutions for insurers?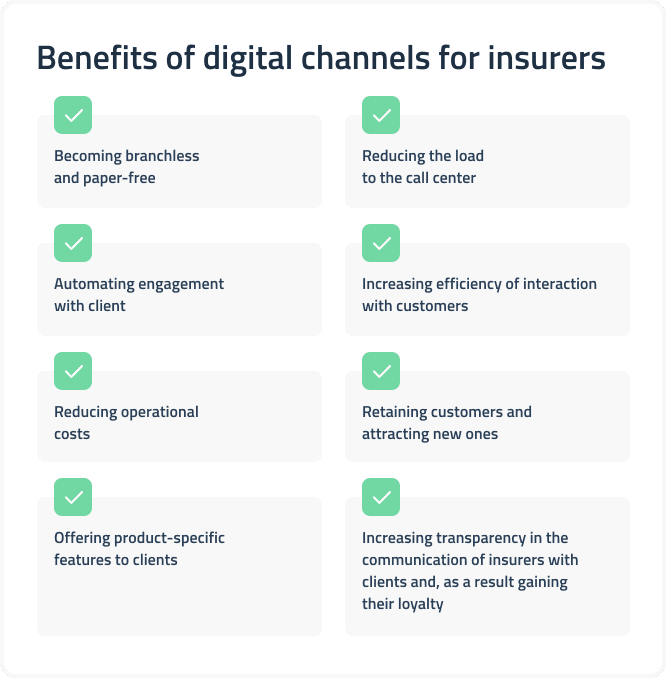 Embracing a paper-free and branchless approach 
Simplifying the work of call centers 
Improving customer engagement 
Enhancing customer loyalty 
Creating personalized offerings 
If looking at the retail services, they will likely be provided online soon. This line of business will fully benefit from digital transformation because not much human staff is needed to manage digital channels.  
What other benefits are there?  
Would you believe if we say that it's possible to lower the cost of the tariff with the help of digitalization? Obviously, it costs much to custom-develop software for enterprises, but in the long term, it will bring you many rewards, including more accurate risk and coverage calculations.  
Most jobs can be delegated to artificial intelligence so that you will no longer need many employees to perform various tasks. Human resources are the first point where you can save costs. And that goes not only about direct expenditures on salaries, benefits, sick leave days, etc. More accurate risk assessment allows insurers to create and offer personalized offerings for their clients where tariffs can be different and depend on the person's driving history, behavior, or number of car accidents that happened, for instance. Personalized offerings, in their turn, attract more customers.  
Do all insurance companies consider digitalization as a change enabler? 
Unfortunately, not all insurers are ready for the change. They face many hurdles to overcome, such as legacy core systems, monolithic architecture, lack of skilled IT staff, etc. However, a system upgrade is critical for providing the service level expected by consumers, especially in the voluntary sector, where clients want to quickly and seamlessly interact with an insurance company. To be prepared for the change, professional consulting is required. Such consulting can be provided by software vendors with a focus on insurance solutions. For example, DICEUS provides end-to-end guidance and development services for those who need to develop a customized web portal, mobile app, or chatbot. These solutions are the best ways to improve customer engagement and loyalty by communicating with people at every touchpoint of the user journey.  
Key takeaways  
In a landscape where numerous industries are embracing innovative technology to boost efficiency and enhance customer relationships, the insurance sector has been relatively conservative in its adoption. However, forward-thinking players are adopting innovation by integrating online and digital channels into their business workflows. Using mobile apps, web portals, and chatbots, insurance companies can cut costs, fine-tune pricing strategies, expedite service delivery, minimize paperwork, and maintain round-the-clock customer communication.