Dubai has established itself as a thriving hub for decentralized finance and digital currencies in the Gulf region. The UAE government has also played a critical role in introducing a robust regulatory framework for the Dubai crypto market, including the Virtual Assets Law.
Nevertheless, even experienced investors may find trading cryptocurrency a risky endeavor due to its volatile nature. It is, therefore, crucial to find a trusted, reliable, and reputable cryptocurrency exchange in UAE. 
Crypto trading is unavailable through traditional banking channels in the UAE, but citizens can purchase digital assets through legitimate crypto exchanges in Dubai. Local exchanges have made it possible for residents to buy crypto in Dubai using cash or bank transfers.
Crypto Desk is one such trustworthy platform for crypto trading in Dubai. This Dubai-based website provides a seamless and hassle-free experience for trading cryptocurrencies, including risk-free OTC (over-the-counter) trading. With unique features to ensure fast and secure crypto transactions, the exchange platform caters to novice and experienced investors.
Crypto Desk, founded in 2015, facilitates high transaction volumes at the most affordable exchange rates available, and there are zero transaction fees to encourage more fiat-to-crypto and crypto-to-fiat exchanges. With over seven years of experience, Crypto Desk has become the go-to platform for residents looking to buy and sell crypto in Dubai for fiat currency. It boasts a user base of over 20,000 active traders and is known for offering the industry's lowest fees.
Crypto Desk offers a safe and reliable platform to trade cash for over 600 different cryptocurrencies available, including Bitcoin (BTC), Tether (USDT), Ethereum (ETH), Solano (SOL), and Cardano (ADA). 
This comprehensive guide will take you through the step-by-step process of safely buying and selling cryptocurrencies on the Crypto Desk. Let's learn how you can easily buy and sell crypto in Dubai with Crypto Desk:
1. Visit Crypto Desk Website 
The first step to buying and selling cryptocurrencies with Crypto Desk is to visit the Crypto Desk Website. You can access the website here. Upon clicking the link, you'll be taken to a page similar to the one below: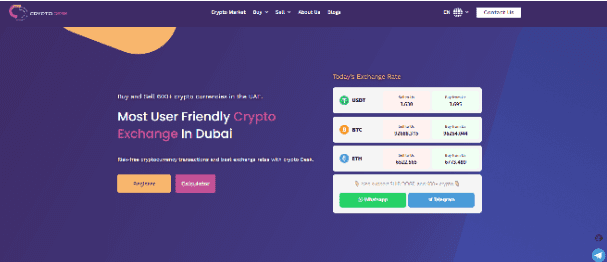 2. Check the live prices 
Next, check the live prices of the cryptocurrencies you wish to buy or sell. For that, click over to the Crypto Market page, which you can access right from the Crypto Desk homepage, as shown below.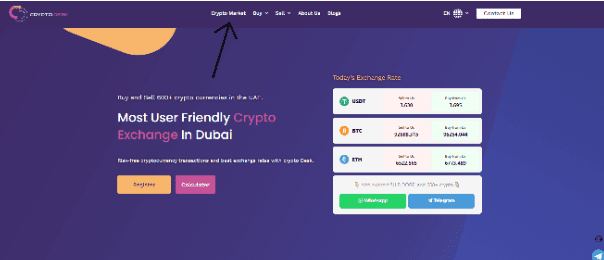 It is also possible to access the Crypto Market page directly from here. 
The Crypto Market page will display a list of various cryptocurrencies with their respective conversion rates once you enter the portal.
With the 'Buy' and 'Sell' options on the above section of the page, you can view the conversion rate for buying or selling a particular cryptocurrency.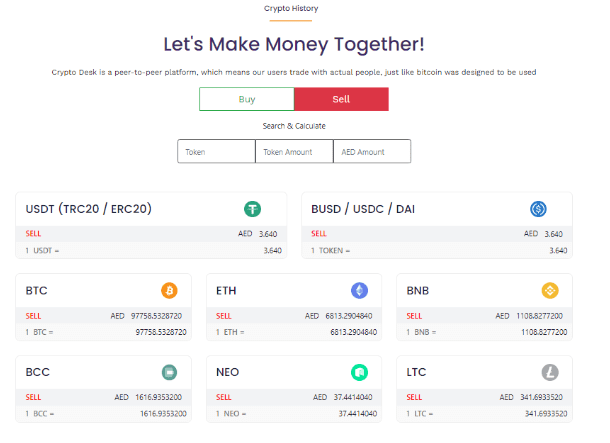 Alternatively, you can type the ticker name of the desired cryptocurrency you want to assess in the upper portion of the screen. Then, in the 'Token Amount' box, type the amount of the token you want to see converted into AED for selling the particular crypto. Simply type the amount of AED you wish to utilize in the box, and the amount of tokens you will receive will appear in the adjacent box.
For instance, we want to buy Bitcoin in Dubai and want to know the current conversion rate for buying $BTC. In the box, we enter BTC as the ticker name. Suppose we wanted to determine how much $BTC we could obtain with 1000 AED. Thus we type in the AED amount in the adjacent box, and below we can see that we can receive a 0.0105071 amount of $BTC with 1000 AED.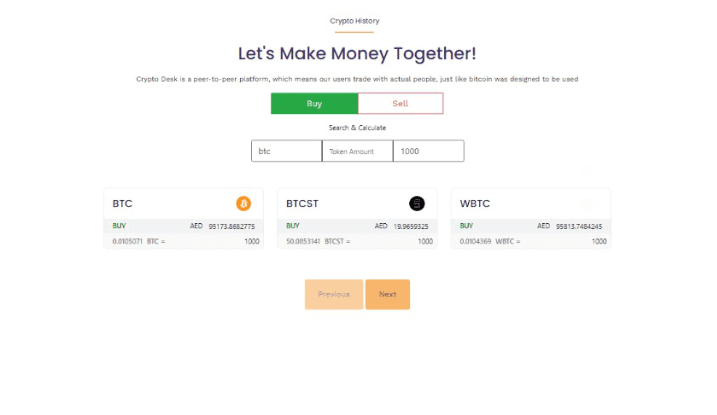 3.
Contact Our Customer Support 
After you have checked the cryptocurrencies and the exchange rate you want to buy or sell, the next step is to contact Customer Support. You can find all the contact details here. You can contact either via landline or Whatsapp or simply send an email. Alternatively, you can fill out the contact form in the lower part of the page and leave your comments.
4. Make an Appointment 
The next step would be to schedule an appointment once you have the contact details. You can easily do it by a call or sending a message via Whatsapp. You can also send an email with your choices of cryptocurrencies you would like to buy or sell. The Crypto Desk support staff will always be present to help you with any queries. 
5. Bring Your Cash or Crypto Alongside Your KYC Documents
After you finalize an appointment date and time, the next step is to visit the Crypto Desk office. But before that, you need to ensure that you come prepared with your cash and your necessary KYC (Know Your Customer) documents. 
Crypto Desk strongly emphasizes customer safety, privacy, and regulatory compliance. Therefore, adhering to the KYC process is crucial to ensure a secure and trustworthy trading environment.
6. Visit Crypto Desk's Office
Now it's time to visit the Crypto Desk office. Head over to Office 1602, Tower 1, Downtown Boulevard Plaza. The Crypto Desk is at the heart of Dubai. It is close to the Burj Khalifa and Dubai Mall, two popular landmarks in the city. This allows traders from all parts of Dubai to conduct transactions on the same platform conveniently. 
Crypto Desk's professional staff will be present there to guide you through each step, answering any questions you may have.
7. Get Cash or Bank Transfer For Selling Crypto
When it comes to selling your cryptocurrencies on Crypto Desk, you can receive payment in cash or via bank transfer. 
If you prefer to receive cash for your crypto, Crypto Desk facilitates secure and hassle-free transactions. The platform will guide you through the steps to complete the transaction smoothly. Depending on the desired cryptocurrency's market price, you can pick up your funds directly at their office. 
Alternatively, if you prefer to receive payment via bank transfer, Crypto Desk also supports this option. During the selling process, you can provide your bank account details to facilitate a direct transfer of funds. This method offers convenience, especially for larger transactions, as the funds will be securely transferred to your designated bank account.
8. Pay Cash to Crypto Desk to Buy Crypto 
Crypto Desk provides up-to-date exchange rates on their platform, allowing you to calculate the equivalent value of the desired cryptocurrency you want to buy. If you prefer to pay in cash when buying cryptocurrencies on Crypto Desk, the platform offers a convenient and secure process to facilitate your transaction. 
Crypto Desk will guide you through the steps to complete the transaction smoothly. Once you've made the payment, the crypto will be transferred to your digital wallet within minutes. However, you may need to wait for the blockchain to confirm the transaction. 
Conclusion
Finding a trusted and reliable exchange platform is paramount if you're a new crypto investor looking to buy and sell crypto in Dubai. With Crypto Desk, you can expect a customizable approach to swiftly and securely exchange cryptocurrencies. In addition, the platform accommodates various types of exchanges, including fiat-to-crypto and crypto-to-crypto, across a wide range of listed coins.
Further, as a reputable cryptocurrency exchange in Dubai, Crypto Desk has a large liquidity pool that proves especially valuable in the Altcoin markets, even for coins with a low market cap. Transactions occur within the platform's secure ecosystem and take a few minutes to complete. There's no need for third-party involvement, setting up new wallets, or waiting for blockchain confirmations.
Crypto Desk maintains a stringent KYC process for every customer in compliance with UAE's crypto regulatory framework. This approach helps protect the ecosystem from scammers, impersonators, cybercriminals, and third-party troubles.
Don't miss out on the opportunity to buy and sell crypto in Dubai at the best exchange rates available. Head to Crypto Desk today and experience a seamless, secure, and efficient crypto trading journey in Dubai.