Copy Trading is the latest innovation on the Cryptocurrency market. An entirely unique trading method, that allows users to benefit from the experience of expert traders and make profit from their knowledge.
The copy trading option is designed for beginners who have not learnt how to trade. In the copy trading option, you do not need to be an expert on cryptocurrencies to make profit on them, in fact you do not need to know much about Cryptocurrency trading to make money, all you need do is follow expert traders with an amount of capital and make money off their trades.
The copy Trading option also provides beginners interested in Cryptocurrency trading, with an opportunity to learn, as they are able to observe the trades made by experts they follow, and this gives them a chance to analyse successful trades and incorporate the experts trading style.
Bityard a fully licensed and regulated exchange is one of the very few elite Cryptocurrency-exchanges that have pioneered the copy Trading option, and is the best pick for beginners who want to start copy trading.
A Step by step guide to the copy trading process
Registration:
The first step is to register on Bityard this is a very simple process and will not take more than a minute. To register, click this Link, input your email, click send below the email and a verification code will be sent to your email.
Next you put a password of your choice, preferably a combination of letters and alphabets and one with good security. You click register and that's it, your account is ready. Follow this Link to register.
Deposit:
The next step after registration is to fund your account.
The bityard trading platform supports deposit via different Cryptocurrencies.
For mobile users, to deposit into your account, look at the bottom right corner of the page, you will see an icon labelled assets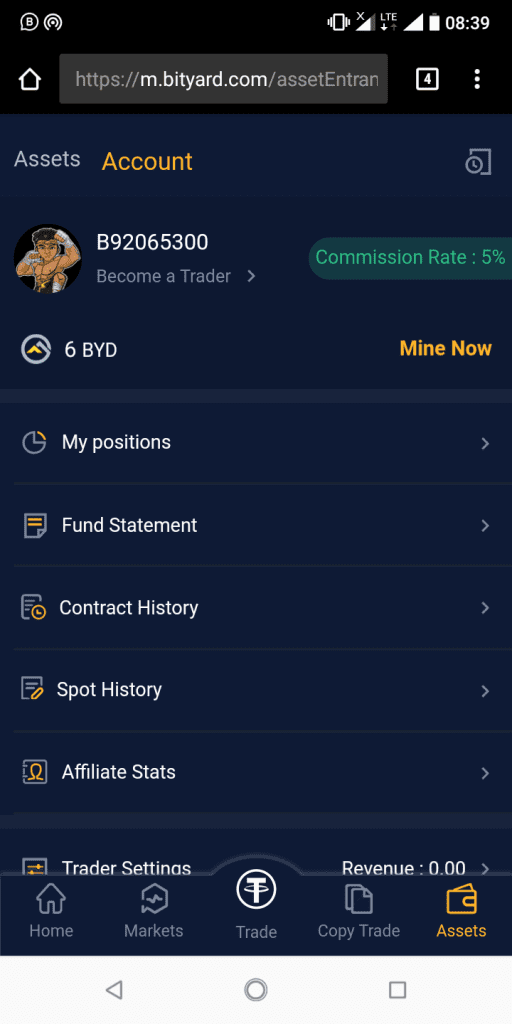 click on it, then go the top left corner of the page that is opened, you will see an option of account and assets, click on the assets option, this will bring out the asset management page, there you will see a deposit option.
Click on the deposit option, this opens a page with a list of Cryptocurrencies you can deposit, pick your desired Cryptocurrencies, copy the wallet address. Deposit into the wallet address and you're set to go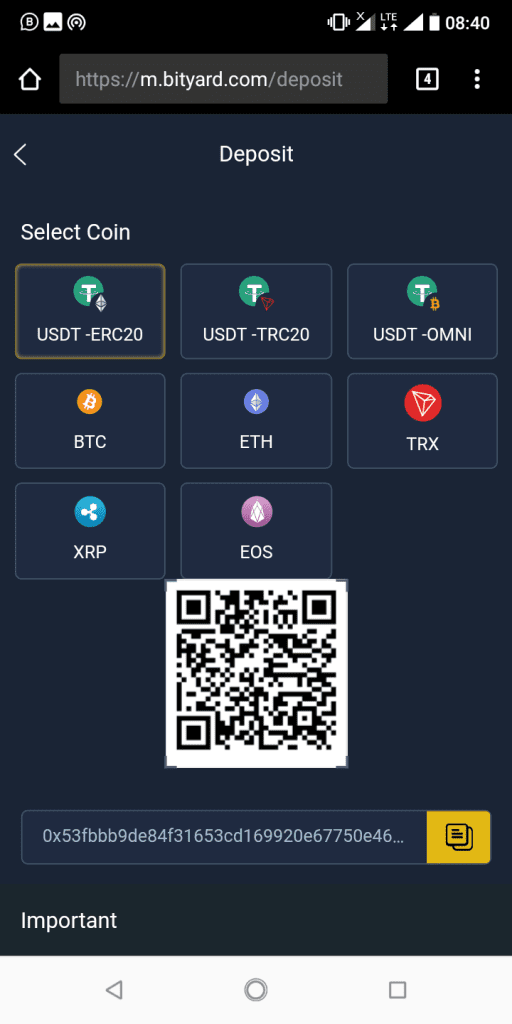 Note: The minimum deposit is 15USDT.
For PC users after you login, at the top of the page you will see an asset option, click on it and it will bring a Dropbox with the deposit option, click on deposit, select a Cryptocurrency of your choice, copy the address and deposit into the address.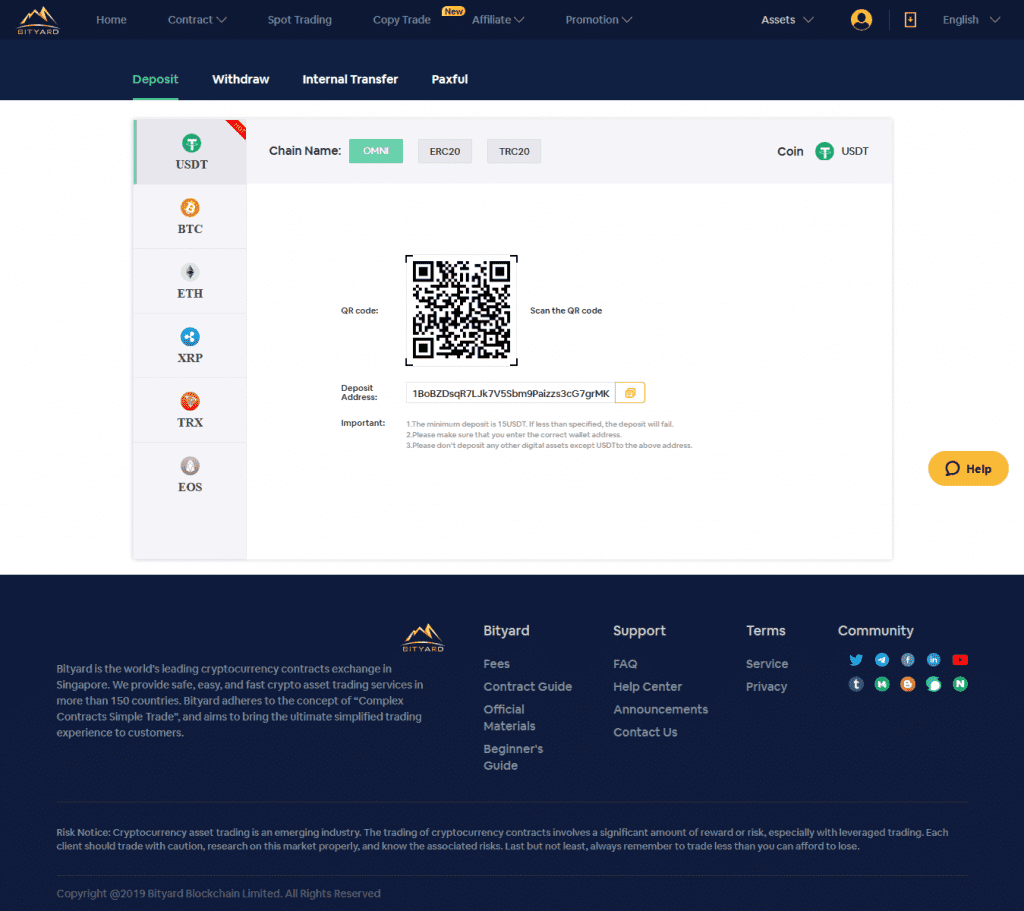 Pc web version deposit page
Choosing a Trader:
After you have deposited funds into your account, you can now choose a trader of your choice
Simply click on the Icon for the copy trade option. This opens the page for the list of traders. Each trader has statistics that show a trader's performance and helps you better understand the trader's trading style or pattern.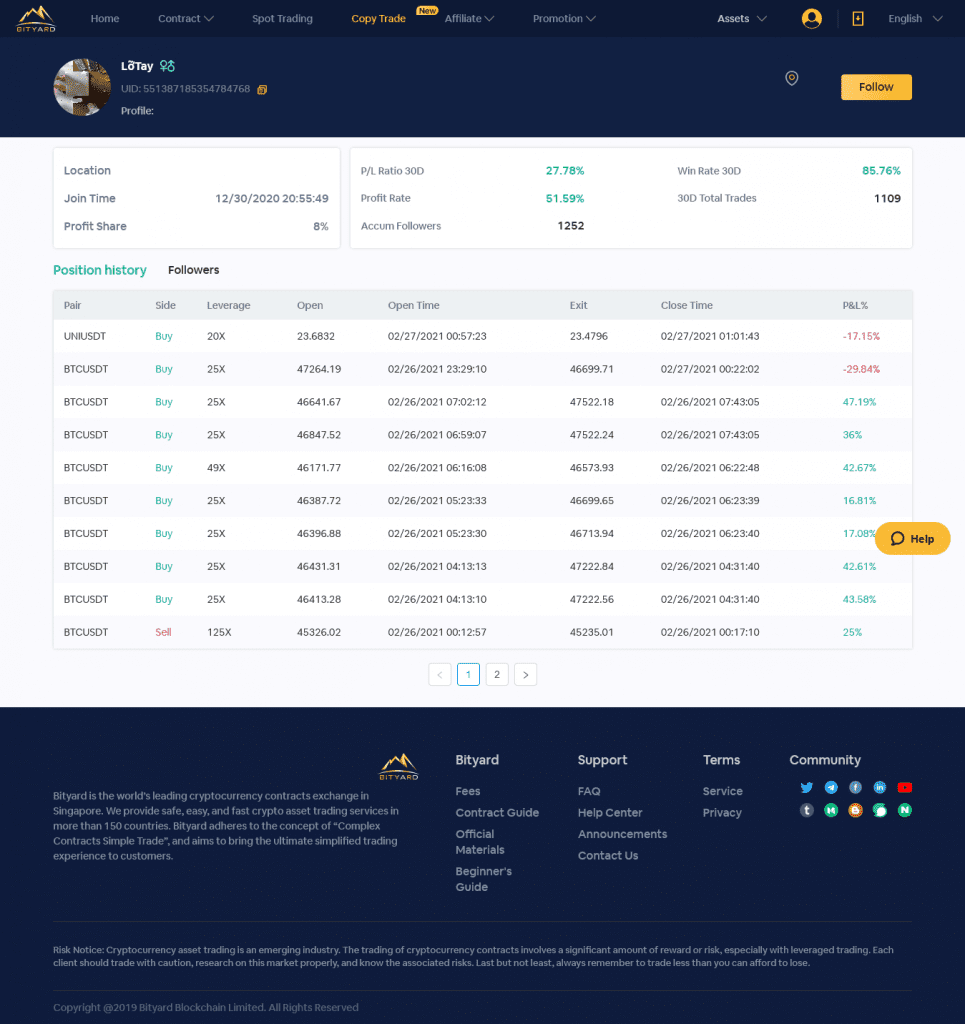 Here I will explain what each Stat means and what it signify.
Win/rate 30D : shows the number of positive completed trades in the past 30days, that is the number of trades that end as the trader predicted. A higher win rate signifies that most of the trades, made end successfully.
30D Total trades: Shows the number of trades a trader has made in the last 30 days. A higher number signifies the trader is a frequent trader, a lower number shows the trader trades seldom
P/L ratio 30D: shows the percentage of profit as opposed to loss made by a trader. A positive percentage signifies that a Trader has made profit overall in the last 30 days, a negative percentage signifies that overall in the last 30 days the trader has made loss.
Profit Rate: shows the percentage profit on the capital. A higher percentage signifies a trader makes a high profit on average.
Accuum followers: The number of people who copy a particular trader. A higher number shows a lot of people are comfortable with the trader and might reflect good trading skills
Profit share: The percentage of the profit the trader takes as his trading fee, when you copy him/her.
After going through the list of traders and finding one whose statistics are favorable to you, the next step you take is following the trader.
Following a Trader:
After choosing a trader and clicking on the follow option, a page showing the trading settings pops up.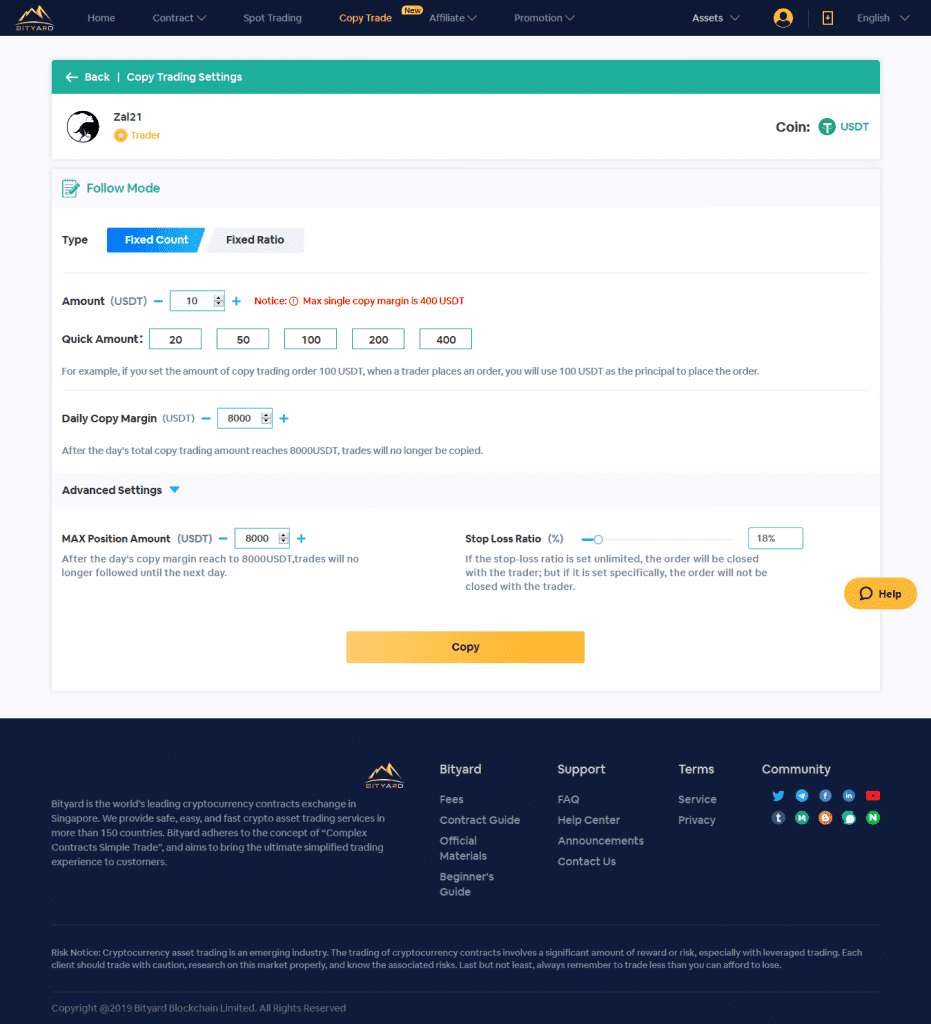 Amount: Allows you to set the amount that is to be used for each trade copied from the master trader. When setting the amount, you consider your general principal/investment and you set an amount that will allow you copy the trader even if he/she opens multiple trades at once.
Note: Maximum copy amount per trade is 400USDT
Daily margin: Allows you set a limit for daily trades. Once the trader makes those amounts of trades in a day, you automatically stop copying for the day
Stop loss ratio: Allows you to set a percentage of loss that is allowable in a trade once a trade reaches that amount it automatically closes. If this is set to unlimited then the trade closes whenever the master trader decides to close the trade.
Note: all trades automatically close at a 90percent loss rate.
After all these have been set, you click copy and start making money.
You can always choose to unfollow/stop copying a trader at anytime you choose.
You can also follow more than one trader, but when following multiple traders, you do so with respect to the amount of capital you have, to ensure a smooth and successful trading process.
Click this Link to register and Copy trade on BITYARD.