The blockchain-gaming industry has seen a lot of interest in the crypto-gaming markets, mostly from younger investors. Games like Axie Infinity have been top-rated, and experts predict this trend to continue with the next generation of cryptocurrency market participants being Millennials. Axie Infinity (AXS) was first listed in November 2020 at $0.14 and is a Pokemon-inspired game where users earn tokens through gameplay, staking, and specific actions to help the ecosystem.
During the start of the De-Fi bull run (February 2020), the price of AXS exploded as the De-Fi-gaming craze took off in the crypto market and is currently the #1 Ethereum game by daily, weekly, & monthly active users. In February, the market cap was about $54M, and (6) six months later, AXS is now the forty-fifth (45th) biggest crypto by market cap at $2B. 
The market cap increased by 37x in six (6) months, and the AXS token itself is up +30,800% at writing.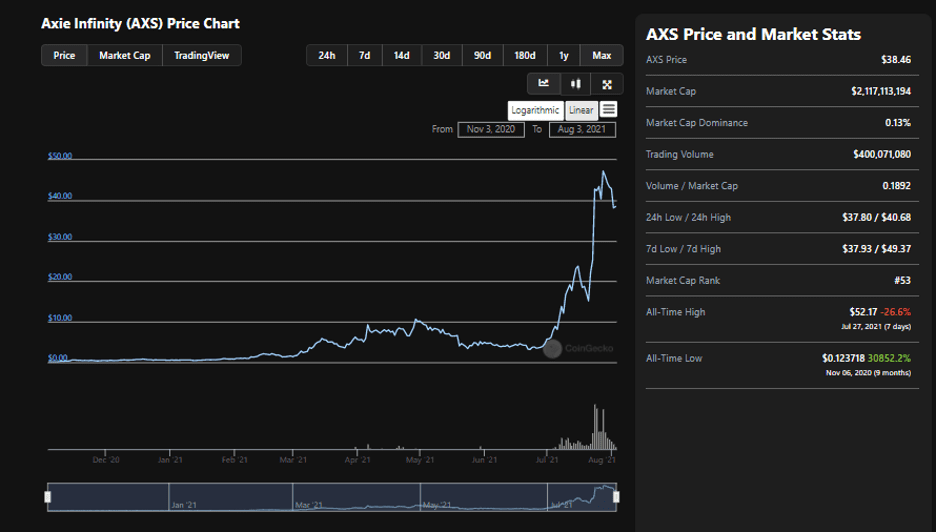 More than just a fun game, its impressive success is only possible due to a strong community and a 'Play2Earn' gaming model.Play2Earn lets gamers play video games for a chance to earn crypto without putting any funds at risk. Nobody has to ever worry about losing anything while still having chances to win prizes in crypto.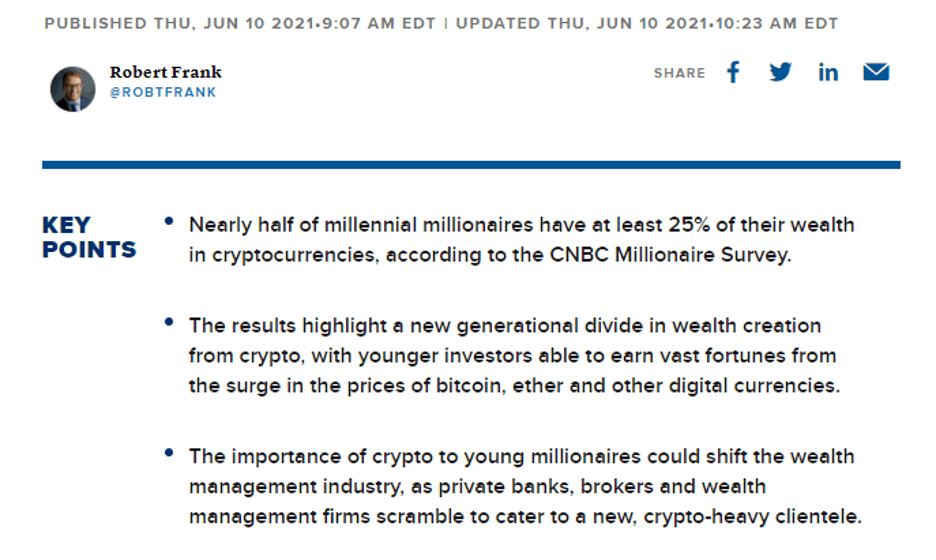 The results from a recent poll are very telling. The CNBC Millionaires Survey clearly shows crypto investments are already prevalent amongst Millennial millionaires, especially when compared to the older generations who are less tech-savvy.
What is DFS Gaming?
Game-Fi is a new phrase that is gaining popularity. It combines gaming and De-Fi to allow gamers to earn crypto. Decentralized Finance (De-Fi) is indeed becoming popular, and some say it will make Ethereum more popular than bitcoin in the future. This is due to the ability to earn yields (or profits), even if the price of a token goes down. De-Fi lets you make profits no matter what the market conditions look like.
DFSocial Gaming ($DFSocial) is a blockchain-based, NFT-powered (Non-Fungible Tokens) gaming platform that's tournament-centered. Gamers can play and earn based on their gaming skills. DFSocial empowers the players – and is the opposite of the inefficient "Pay2Play" business model that forces Gamers to spend large amounts of money on virtual items that become useless once the game gets old and boring.
Smart contracts automatically settle & manage all rewards on the Binance Smart Chain (BSC) and Ethereum blockchain to ensure that all transactions are secured and effortless.
Currently, the nine (9) games offered are League of Legends (LoL), Call of Duty – Warzone (CoD), Counter-Strike: Go (CS: GO), Brawl Stars (BS), Poker, Chess, Rocket League (RL), Valorant, & Minecraft.
In the DFS ecosystem, there are two roles. The Gamer will earn and keep all gaming rewards. The Sponsor will essentially hire a gamer to play on their behalf while splitting the gaming rewards; this is suitable for those who do not play, do not have time, or know someone more skilled to have a better chance of winning the big prizes. It's easy to sponsor a gamer, which might be your own wiz-gamer kid! 
Real-time help can always be found in the Discord channel if you ever need assistance.
To participate, users need to lock DFSocial tokens that are ALWAYS returned to the users' wallets, done automatically via smart contracts. No need to ever pay out-of-pocket to compete for gaming rewards!
DFS Rewards Structure:
45% – Gamer
45% – Staker
10% – DFS future reserves
These funds will ONLY be used to increase gaming bags, reinvest in marketing and future development, increase liquidity, ensure long-term sustainability, with the added flexibility to plan further ahead in the future, with little to no delays going forward.
The Exponential Growth of DFS
In the first seven months since the DFS platform was launched, the team completed most of the plans on the roadmap. The first set of NFTs (Collection 1) was a hit, with most of the proceeds immediately being reinvested in buy-backs! A select few were able to snag some of the rarest NFTs in the ecosystem.
The DFS Streamers' Warzone Event was a huge success attracting many streamers, with the total prize pool being $5,500 in $bDFSocial tokens. A big thanks goes to Cxrrupt, a content creator with 45K+ followers on Twitch and two million+ on TikTok!
Chainlink was the logical oracle solution for DFSocial because it is the most widely used, time-tested, and easy-to-integrate oracle network in the industry. Chainlink's VRF (Verifiable Random Function) is a provably fair and verifiable random number generator (RNG) purpose-built for smart contracts. VRF allows smart contracts to access randomness in a transparent, secure, and unbiased manner to all players. Chainlink VRF tech will be applied in nearly all future implementations of new features in the ecosystem that require randomness. DFSocial will leverage Chainlink's VRF to improve security/stability vastly, generate Random NFTs, Giveaways, Mystery Boxes, and Random Draws – among others!
Recently, DFS reached the #1 and #2 rankings (by 24 hrs. on CoinGecko) as a gaming project and low-cap NFT project. Our brand awareness is growing in leaps and bounds by the week.
DFS is giving the most significant rewards of any blockchain-gaming project. In the 'Only-Pro' tourneys, twenty (20) $bDFSocial tokens (at current prices, $6K in value) are distributed in prizes. Last month, DFS held eight (8) tourneys with a total of 364 gamers and 121.3 $bDFSocial tokens in rewards distributed (about $36,400).
Read about these milestones and new developments in detail on our Medium page.
The Future of DFS Gaming
As much as we've accomplished thus far, we're looking even more forward to the final five months. Here's what our community can look forward to:
– AMA Live Session, DFS Twitch: August 14th!
– Mobile App Launch: Coming soon!
– New BSC Staking pool: Coming soon!
– New Games on DFS: Coming soon!
– New DFS Offices: We just moved in!
– Dedicated Wallet: To Be Announced!
– DFS (De-Fi / NFT-based) Game Launch: To Be Announced!
We're looking forward to the future of Game-Fi and the next evolution in video games for years to come and hope you'll be joining our community soon; game on!
Don't forget to visit DFSocial's website and our socials:
Discord, Telegram, TikTok, Instagram, Twitter, Youtube