This article is a review of several FIFA Ultimate Team player cards with chemistry style recommendations. It covers Harry Kane, Casemiro, Ruben Dias, Saliba, and Reece James. We provides insights into each player's performance and suggests appropriate chemistry styles for optimal performance.
Harry Kane: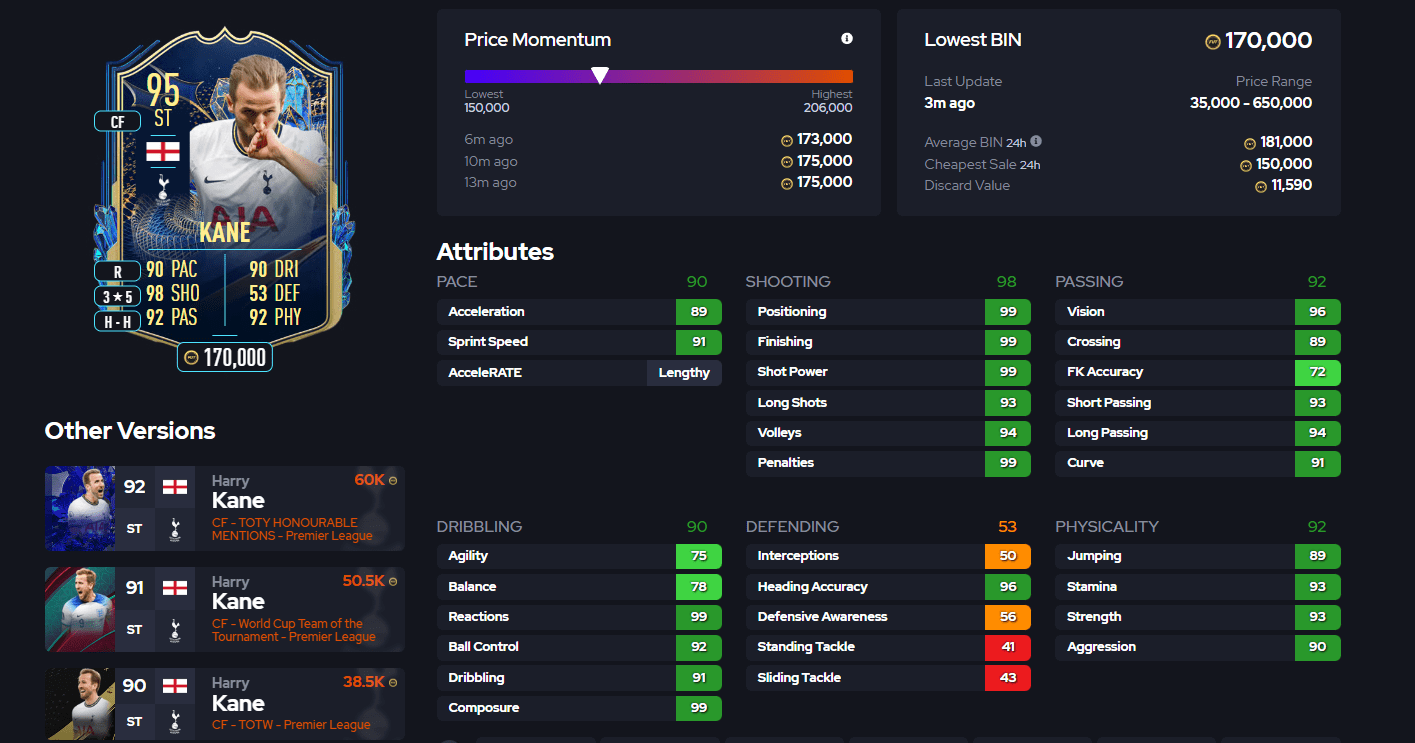 Kane is still Kane.    When it comes to shooting, there may be few opponents in this game who can match him.    He can even go head-to-head with Ronaldo and Eusebio at times, and even surpass them.    In terms of physicality, Kane is also very strong.    His Unique model is particularly large, and ordinary players can't push Kane away, only Van Dijk can compete with him.    However, the problem is still the same, he is slow and almost purely a striker, but once Kane shoots, something big is likely to happen.    Of course, Kane is also good at passing, and utilizing his physicality to hold off defenders and pass is also a way to play him.    But his heading ability is not as good as Abraham's.    In short, I love Kane, but I don't really like some of his gameplay.
Chemistry style recommendation: Catalyst for faster speed, Engine for better handling.
Casemiro: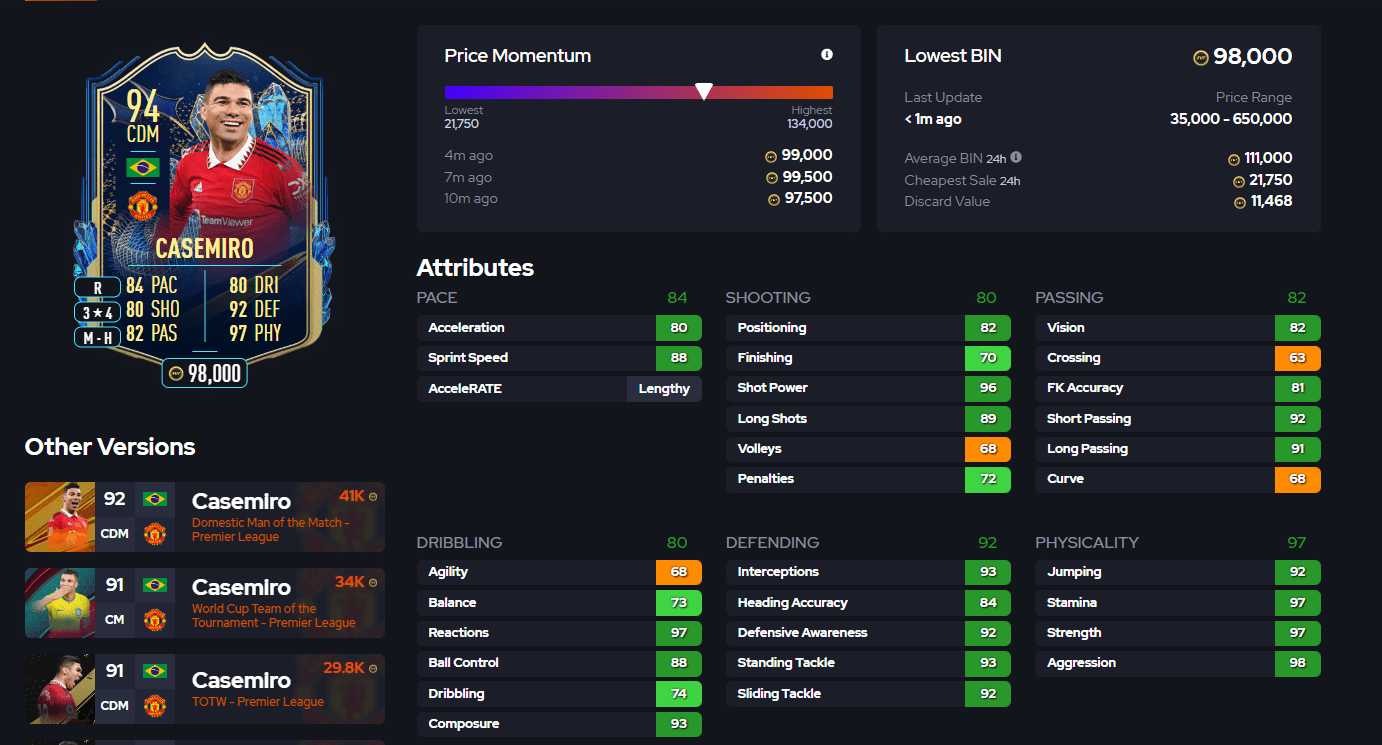 Actually, I did underestimate Casemiro a bit.    I thought he was a good defender but weak in attack, and that's what I found after using him.    However, his defense is really good, almost on par with Viera, which may be related to his exclusive model.    He is solid and has a high tackle success rate, which gives a sense of security in defense.    But his attacking ability is really poor, with only 82 vision, 80 dribbling, and 68 agility, which makes it difficult for him to create chances (EA should watch more football!    Casemiro's first-touch ability in real life is really strong!).    Although he has a 4-star weak foot, he is still not as good as 3-star TOTW Ramos in terms of dribbling and passing, and Ramos is also good at defending.    Overall, if you need a defensive midfielder, Ramos or maybe even a high-rated Viera is better than Casemiro, but I personally prefer these two over World Cup Viera.
Chemistry style recommendation: Shadow.
Ruben Dias: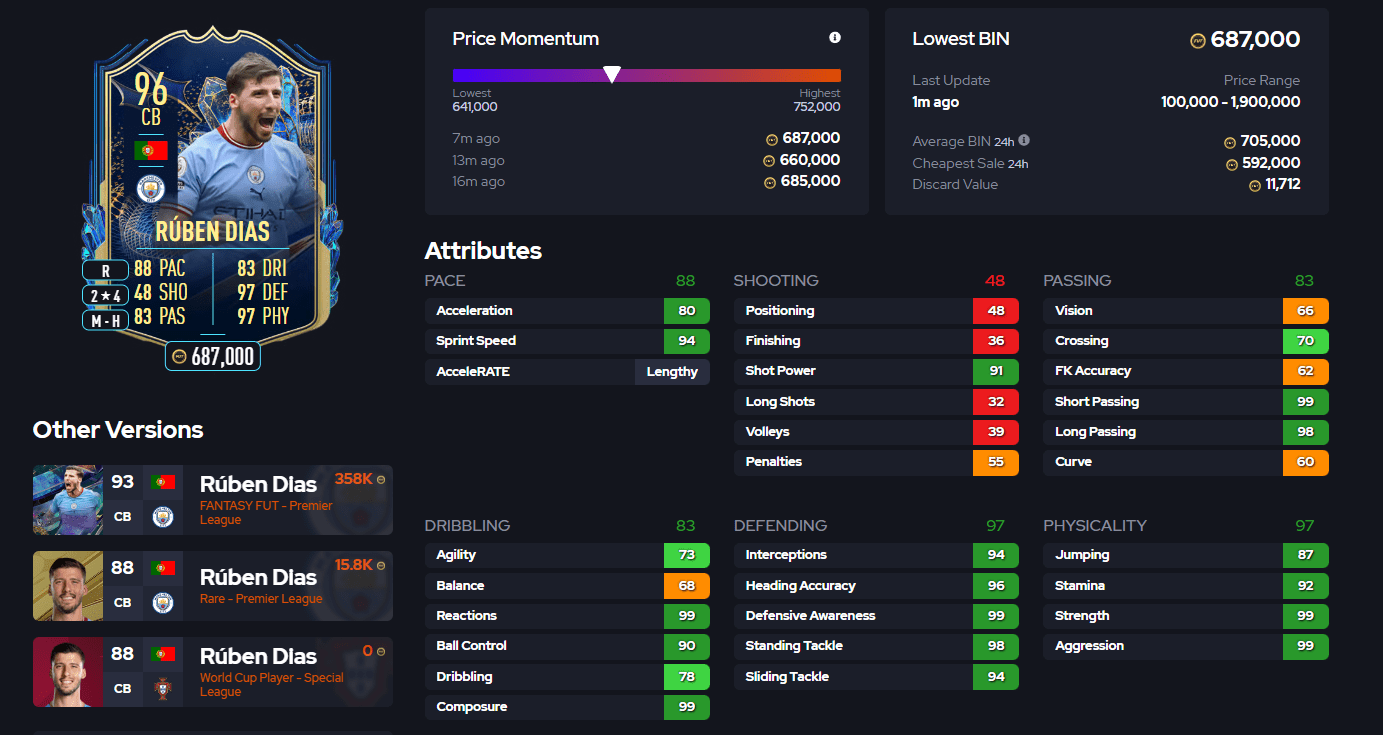 This card is particularly strong, I think he is slightly weaker than the annual Van Dijk, but much stronger than a bunch of so-called "top five center-backs" in my concept.    His data is almost flawless, except for his acceleration, with 99 strength, 99 reactions, and 99 composure, perfect defensive stats, and almost full passing stats.    The three words that describe him are just too stable!    Don't challenge him in defense, or you'll be the one who loses!    As for chemistry style, I still prefer Shadow to max out his defensive stats, because Catalyst doesn't really improve Dias' passing much without boosting his vision.    Maxing out his defense with Shadow really gives a sense of security.    I haven't tried the blue center-back Varane in the other season yet, but he should be strong too.    Overall, it should be hard to find an opponent for Dias at this price point.
Chemistry style recommendation: Shadow.
Saliba: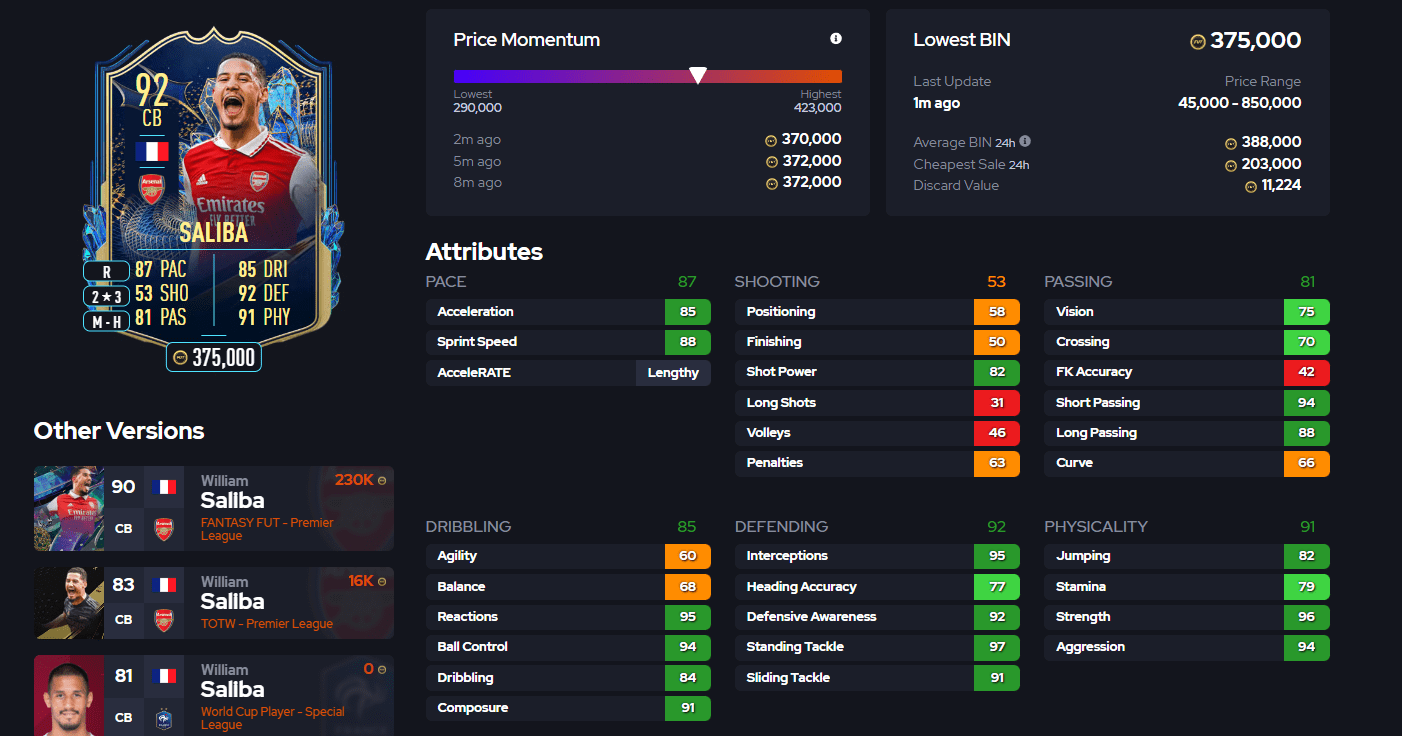 Compared to the Dream Saliba, he sacrificed some agility and balance, but gained more physicality and interception, which makes him even stronger.    However, for some reason, he looks thinner than Dias with the same Height and Agility model.    I even gave a close-up chemistry comparison for the audience to see, and everyone agrees.    Overall, he is still very good at this price point, but not in the top three.    He's probably hovering around the top 10-15.
Chemistry style recommendation: Shadow.
Reece James: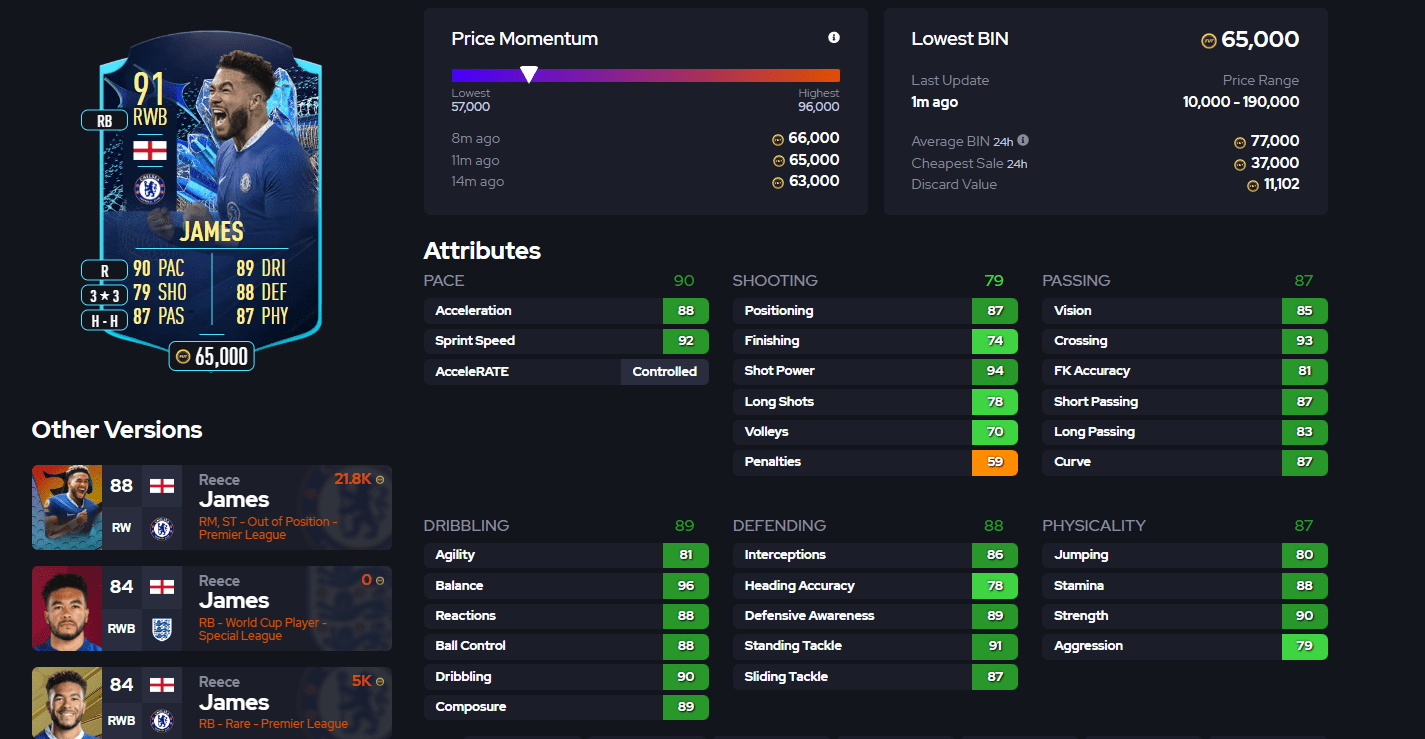 This is a very cost-effective full-back, he's a steal at within 100k.    He has a good model and physique, great defense, and decent passing ability (even comes with the 45-degree cross skill, which is great for those who like to call for long passes).    His handling is average, but not the top tier among full-backs.    He's not as good as Zambrotta if you're looking for the best full-back, but if you need a Premier League/England player, he's very comfortable to play with.    He's currently in my starting lineup.    Pretty good.
Chemistry style recommendation: Shadow, but Anchor is also an option for more physicality.
In conclusion, this article provides valuable insights into various FIFA Ultimate Team player cards and suggests chemistry styles to enhance their performance on the pitch. The author's reviews of Harry Kane, Casemiro, Ruben Dias, Saliba, and Reece James offer a comprehensive analysis of each player's strengths and weaknesses. By following the recommended chemistry styles, players can optimize their team's performance and dominate their opponents in the game. Overall, tIf you want to buy these players, our review should help you.As the FIFA 23 season comes to a close, it's only a matter of time before EA FC 24 is released. For those looking to purchase FIFA 24 coins, be sure to check out buymmog.com.