SONOFF, renowned for its dedication to the smart home industry, recently introduced a new addition to its product line – the NSPanel Pro. Drawing from the design of the previous NSPanel, the NSPanel Pro is a refined, more advanced smart home control panel. 
Yet, the NSPanel Pro goes beyond merely controlling your devices, it offers a range of functionalities such as power consumption statistics, a thermostat, call intercom, and more. With the user in mind, the NSPanel Pro is designed to transform your life, so let's take a closer look at it. 
Key Specifications of the NSPanel Pro
This smart home hub is designed with a focus on both aesthetics and functionality. Its 3.95-inch full touch screen display, with a resolution of 480*480P, offers a smooth and user-friendly interface. Here's a look at some of the additional specifications of the product: 
Supported Protocols
In terms of connectivity, the NSPanel Pro is quite flexible. It supports WiFi, Zigbee, Bluetooth, and eWeLink-Remote protocols, providing a broad compatibility range with various smart devices.
Hardware Features
On the hardware side, the NSPanel Pro comes equipped with a built-in 1W speaker and a two-way digital microphone. Moreover, its ICC light sensor allows for automatic screen brightness adjustment, catering to different environmental conditions.
Software Foundation
The NSPanel Pro's software is built on eWeLink, allowing you to control all eWeLink-supported devices and manual scenes directly from the panel's touch screen.

More Than Just Specifications
While technical specifications provide an overview, the true measure of a device like the NSPanel Pro lies in its real-world features and their practical applications. Here's a closer look at the features it offers:
Versatility and Compatibility
The NSPanel Pro's support for an unlimited number of SONOFF devices, including smart lights, cameras, security sensors, and switches, makes it a unique addition to your smart home setup. Its compatibility with Zigbee 3.0 protocol devices from other brands allows for centralized control of your smart home, simplifying automation.
Call Intercom Feature
With its built-in microphone and speaker, the NSPanel Pro offers a call intercom system. This feature transforms it from a simple wall switch into a communication hub that can be placed anywhere in your home.
Energy Monitoring and Thermostat Function
An upgrade from previous models is the NSPanel Pro's power consumption statistics. Coupled with the SONOFF smart power meter switch, you can monitor real-time power consumption and view up to six months of hourly consumption history.
In addition, the NSPanel Pro functions as a thermostat, offering temperature adjustments with a single touch and controlling your heating or cooling systems via the SONOFF smart temperature & humidity switch.
Integration with Security Cameras
The NSPanel Pro integrates with security cameras, offering real-time home monitoring. It supports not only SONOFF cameras but also other cameras supporting RTSP. With the addition of ESP32-CAM and the eWeLink Camera app, you gain a wide array of enhanced home security options.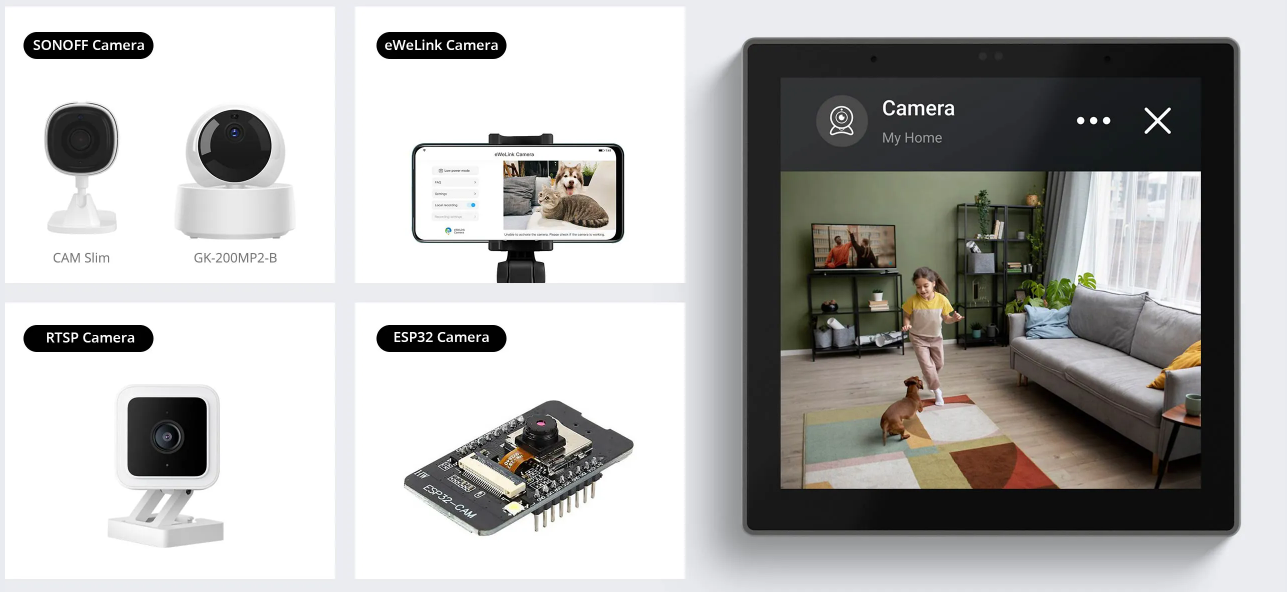 How Can SONOFF NSPanel Pro Help Your Home?
So, you may be wondering how a product such as the SONOFF NSPanel Pro can help streamline your life. Here are just a few ways: 
Centralized Control
The ability to centrally manage all your smart devices is a game-changer. Instead of juggling multiple apps or remotes, NSPanel Pro provides one interface from which you can control every device in your home, including smart lights, security sensors, cameras, and switches. Whether it's adjusting the brightness of your living room lights or checking the security cameras, all it takes is a few swipes and taps on the NSPanel Pro.
Enhanced Communication
The NSPanel Pro's built-in microphone and speaker system redefines in-home communication. Need to call your kids down for dinner? You can do it straight from the panel, saving you the hassle of running upstairs or shouting across the house. This feature extends to mobile phones, allowing you to communicate with your family even when you're away from home.
Energy Efficiency
With its power consumption statistics feature, the NSPanel Pro gives you direct insight into your home's energy use. By understanding which devices are using the most energy, you can make informed decisions to lower your energy consumption, helping you save money and live more sustainably.
Comfort Management
The NSPanel Pro's thermostat function helps maintain the perfect temperature in your home. The device can control your heating and cooling systems, allowing you to adjust your home's temperature with just a few taps. Plus, with its ability to source temperature data from external devices, the NSPanel Pro provides precise climate control.
Enhanced Home Security
By integrating with your security cameras, the NSPanel Pro allows real-time monitoring of your home right from its screen. Whether you're checking who's at the door or keeping an eye on your backyard, the NSPanel Pro gives you peace of mind knowing that your home is secure.
Customization and Personalization
The NSPanel Pro also supports custom wallpapers, meaning you can add a personal touch to the panel display. This makes it not just a utility device, but a stylish addition to your home décor.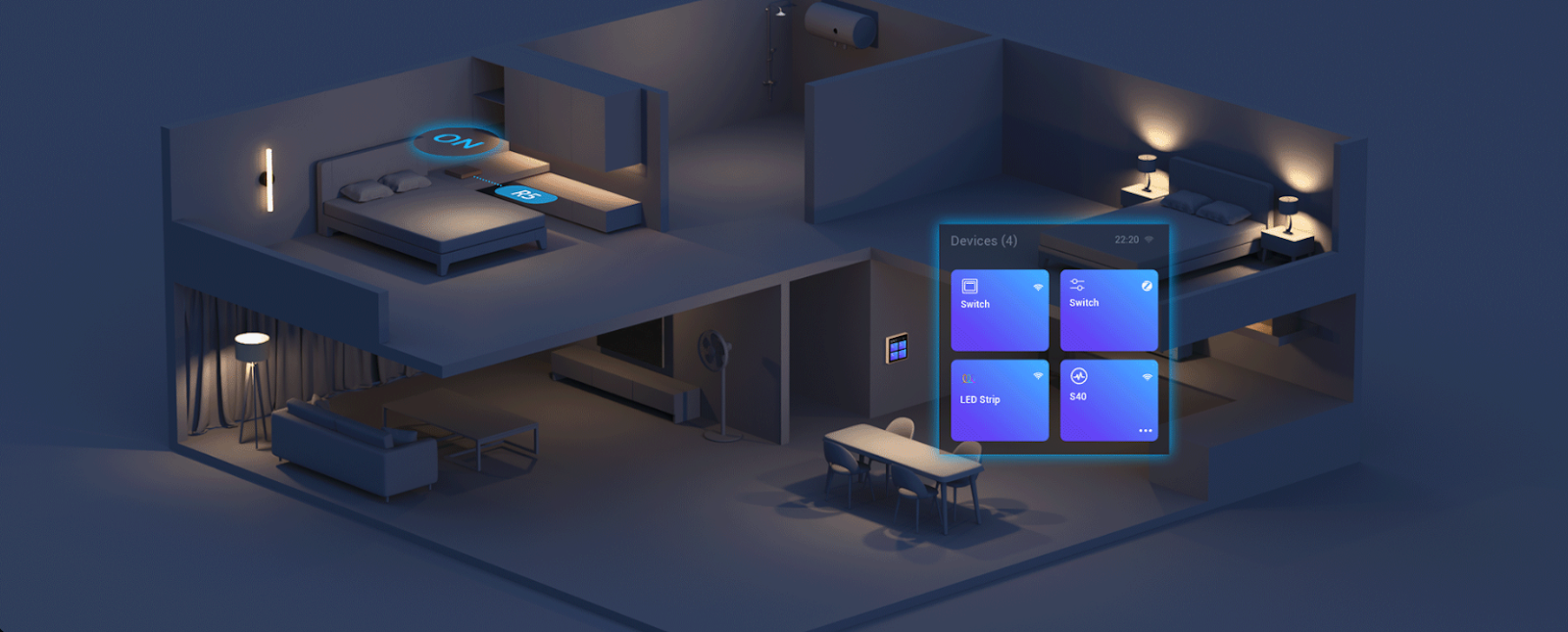 How to Use SONOFF NSPanel Pro
Setting up and using the NSPanel Pro is a simple process. Here are the steps you should follow: 
Installation:

Install the NSPanel Pro at a convenient location in your home, following the manufacturer's instructions.
Device Setup:

Connect the NSPanel Pro to your WiFi network and pair it with your eWeLink account.
Adding Devices:

Directly add Zigbee 3.0 devices to the NSPanel Pro. For WiFi devices, add them to the eWeLink App first, then sync them to the NSPanel Pro from the NSPanel Pro configuration in the App.
Scene Setup:

Customize and set up user-defined scenes.
Intercom:

Use the built-in microphone and speaker for panel-to-panel or mobile to panel calls.
Power Consumption:

Add the SONOFF smart power meter switch to monitor real-time power consumption.
Thermostat:

Configure the thermostat settings using the smart temperature & humidity switch.
Security Cameras:

Enter the IP address of your RTSP supported camera for real-time monitoring.
Remember to keep your NSPanel Pro updated to enjoy the latest features and improvements.
Final Verdict
The SONOFF NSPanel Pro is not just a smart home hub – it's a revolution in home automation. It offers a variety of features and the promise of future updates make it a valuable long-term investment. For anyone looking to centralize and streamline their home automation, the NSPanel Pro is a fantastic choice.