Anthony Magaraci is the Founder and CEO of Trinity Packaging Supply and developer of SupplyStream. Trinity Packaging Supply launched in 2010 as a buyer/supplier middle-man; it has doubled its revenue every two years since to become a $100M company and winning awards like America's Most Innovative Companies, Inc 5000 Fastest-Growing Companies and Inc Best Workplaces for 4 years in a row. In this interview with TechBullion, the CEO will be sharing with us more insights on how Trinity, powered by SupplyStream created a marketplace for packaging just like Uber did for rides – and how businesses are benefiting from it.

Please tell us more about yourself and your journey so far in the logistics and supply chain industry.
My name is Anthony Magaraci. In 2010, I founded Trinity Packaging Supply and this year we launched www.trinity.global, an e-commerce website that offers packaging's largest catalog of packaging, janitorial, sanitary, safety, and office supplies with low pricing and the quickest lead times based on the shipping zip code. 
I created the idea for Trinity while I was working for a packaging supplier straight out of college. I realized that, by leveraging a drop-shipping distribution model with suppliers, I could skip the second distribution phase and save on additional warehousing and freight charges by providing customers with quality packaging supplies directly from the manufacturer. So, from my home office in 2010, on the heels of a recession and with my first baby on the way, I took a leap of faith and founded Trinity. 
What is Trinity Packaging Supply, what unique features and services do you provide?
Trinity Packaging Supply's new e-commerce website is powered by SupplyStream™, a custom product information management system (PIM) we created that standardizes data from hundreds of supplier catalogs to find the lowest prices and quickest lead times for stock and custom packaging supplies based on its shipping zip code. 
Our proprietary algorithm allows companies to make purchasing decisions instantly as opposed to waiting on suppliers to provide pricing. Because of our proprietary technology, we're able to lower the barriers to entry by leveraging the drop-ship policies of suppliers as opposed to holding inventory. We're enabling suppliers to grow their sales by giving them business opportunities where they can sell their products on a national scale. 
In addition to the website, Trinity offers services that find operational efficiencies and reduce packaging costs, like our National Pallet Program, Packaging Consultations, Sustainable Packaging Solutions, and more. 
What motivations or inspirations led to this e-commerce platform for packaging and industrial supplies, what was missing before Trinity?
Data is broken in the wholesale packaging industry, which makes the process of understanding pricing per market for packaging supplies inefficient. For example, if the suppliers have their entire catalog listed and priced out, the specifications could either be listed in the metric or imperial system, depending on the supplier, even if it's the exact same product specification. Not only is the data not standardized, but it takes days to get quotes on wholesale products and wait for reps to respond with their best pricing for different regions, which is frustrating because this data already exists. Through SupplyStream™, Trinity standardizes data across the packaging industry to help businesses find low prices and the quickest lead times on the wholesale products they need in an instant instead of days or months.

Could you give us an overview of the packaging and industrial supplies landscape and market in America and what makes Trinity the most in-demand platform?
There is currently one industry leader in the packaging industry that has a standardized packaging catalog, and this business model is rare because it requires billions of dollars in warehousing and inventory to deliver products nationwide with next-day delivery. This high barrier to entry prevented suppliers from selling on a national scale—until now. 
Through Trinity, we're leveraging the drop-shipping policies of regional suppliers to provide the best prices and next-day delivery on packaging supplies without having to put capital into warehousing, inventory, or distribution. This allows us to directly compete with billion-dollar national suppliers while empowering local suppliers with a way to grow their sales. Through our proprietary algorithm, Trinity provides customers with pricing and shipping data that enables them to make decisions in an instant instead of waiting days or months for traditional wholesale quotes.
Trinity aggregates and standardizes multiple packaging and supplies catalogs into one e-commerce shop with the largest offering of over 80K products, how do you do this?
The software we needed to standardize data and aggregate supplier catalogs for Trinity didn't exist on the market, so we created SupplyStream™, a custom product information management system (PIM) featuring a Shopify-style e-commerce storefront and an enterprise resource planning (ERP)-style management system for suppliers to track orders. SupplyStream™ powers Trinity's e-commerce website and automatically finds the lowest prices with next-day delivery on any product in our system based on the shipping zip code.
The Trinity shop empowers businesses to find the lowest price across suppliers in one place, could you give us a walkthrough of how this works?
Through SupplyStream™, we have aggregated data from hundreds of supplier catalogs to create one main catalog that automatically finds the best pricing and quickest lead time from the local supplier closest to their shipping zip code. 
SupplyStream™ allows us to have redundant suppliers per SKU. In order to achieve this, we had to standardize millions of lines of data. Once the data was standardized, our proprietary algorithm could then find the lowest price and quickest lead time from that data set. We've been doing business with these suppliers since 2010, and each supplier is vetted by our Lean Six Sigma Black Belt-led supply chain team.
Trinity's redundant suppliers not only help businesses find the quickest lead times on products but also help circumvent shortages. How does this work, and what are the benefits?
Now that we have standardized millions of lines of data, we have multiple suppliers to source supplies from. This allows us to have multiple suppliers for one SKU, and provides us with the ability to fulfill an order from a backup supplier.
On the Trinity website, businesses can buy from local suppliers reducing carbon footprint, what impact do you foresee this making?
By providing regional suppliers with a platform to sell their products nationally, Trinity will help significantly reduce the packaging industry's historically high carbon footprint in several ways. First, it will reduce the need for long-distance transportation, which minimizes emissions and lowers energy consumption. Supporting local suppliers also promotes regional economic growth and improves sustainability efforts in local communities.
Not only does our website help promote sustainability, but Trinity has a commitment to zero landfill waste, and we have developed a variety of services and programs designed to reduce packaging waste, including our National Pallet Program and National Packaging Program. In 2022, we saved over 400,000 pounds of plastic (the equivalent of 16.2 million plastic bottles!) from ending up in landfills by converting customers to high-performance stretch wrap. 
So, not only does Trinity's new website contribute to an eco-friendlier business landscape, but it will also help us continue to reduce the packaging industry's overall carbon footprint.
Is Trinity available only in America, what are your future plans and mission for the company? Any available opportunities for investors and partnerships at Trinity? 
While our website currently only ships within the contiguous United States, our wholesale division supports the United States, Canada, and Mexico. However, we plan on being an international company in the near future.

Trinity is currently 100% self-funded, but we are open to raising funding that would allow us to grow our teams to further build out the SupplyStream™ technology and break into other wholesale verticals. 
Would you like to share some of your success stories with us and explain why Trinity ranked 89th on Fortune's list of America's Most Innovative Companies, won Inc.'s Best Workplaces four times, and earned a spot on the Inc. 5000 Fastest-Growing Companies list seven years in a row?
Creating a company culture that treats employees, vendors, and customers like family while continuing to scale is incredibly important to me. At Trinity, we have a highly innovative and open work culture where everyone is encouraged to be their authentic selves. I welcome everyone's feedback, from the administrative assistant to the COO, because I believe we thrive when all voices are heard. This commitment to creating an open, employee-first culture is one of the reasons why we've been a four-time winner of Inc.'s Best Workplaces in America and have landed a coveted spot on the Inc. 5000 list for seven years in a row.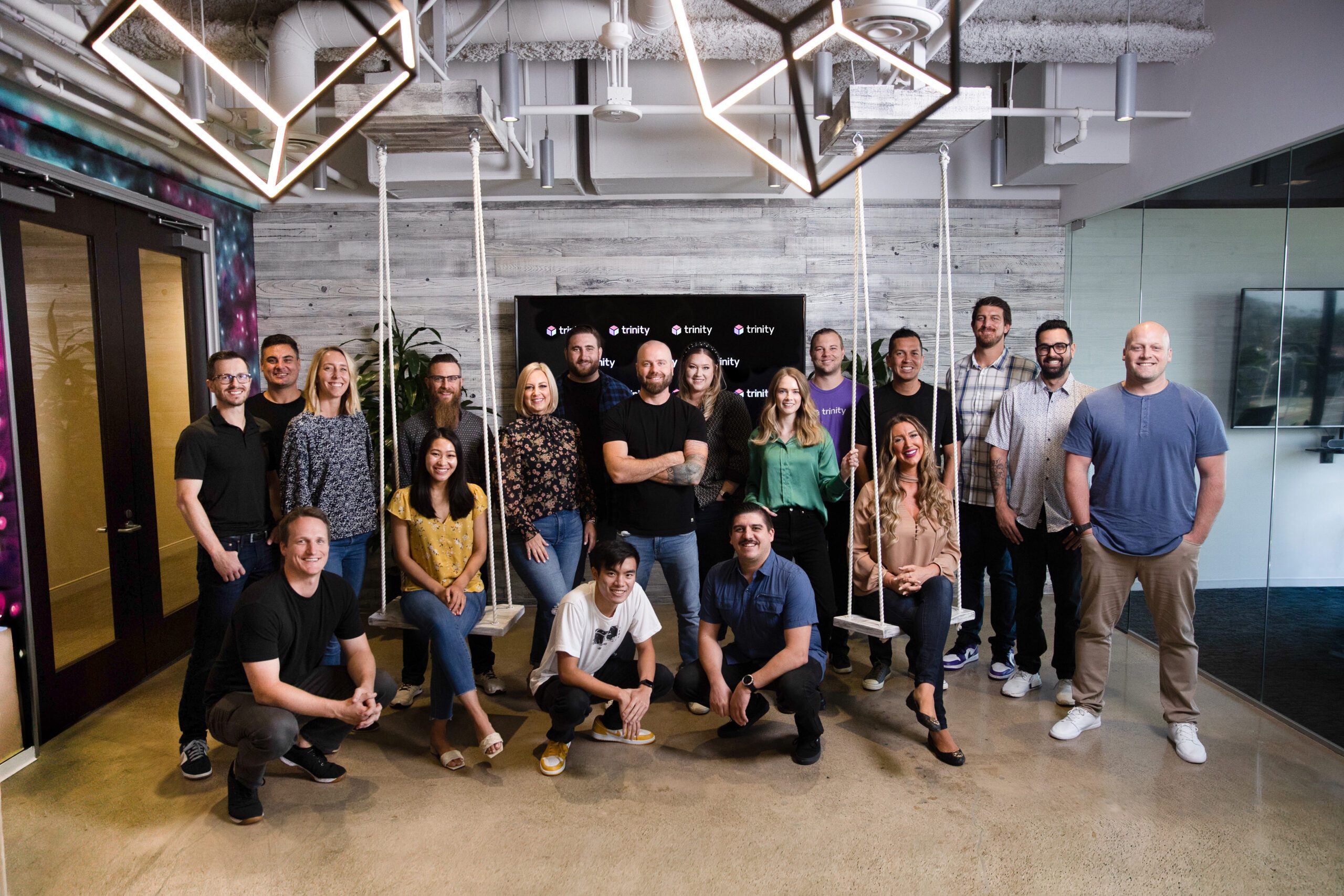 For more information, visit https://www.trinity.global/