Moving into a new home is an exciting milestone in anyone's life. Whether it's a couple settling into their first house or a family upgrading to a larger space, it's always nice to celebrate this achievement with a thoughtful gift. If you're searching for the perfect present for new homeowners, look no further! In this article, we've compiled a list of eight gift ideas that are sure to make their house feel like a home.
Home Sweet Home For New Homeowners
Customized Doormat
Give a warm welcome to the new homeowners with a personalized doormat. This thoughtful gift adds a personal touch to their entrance, making their house feel more inviting. You can have their family name or a sweet message printed on the doormat, creating a unique and practical gift they'll appreciate every time they step through the front door.
Kitchen Essentials Gift Basket
The kitchen is often the heart of a home, so why not help the new homeowners stock up on essential tools and gadgets? Put together a gift basket filled with high-quality kitchen utensils, oven mitts, a set of measuring cups and spoons, a cookbook with delicious recipes, and some gourmet spices. This gift will not only be practical but also inspire them to create culinary masterpieces in their new kitchen.
Indoor Plants
Bring a breath of fresh air into their new home with some beautiful indoor plants. Not only do plants add a touch of greenery and style to any space, but they also purify the air and create a calming atmosphere. Choose low-maintenance plants like succulents or snake plants that are easy to care for, even for those without a green thumb. This gift will bring life and serenity to their new abode.
Smart Home Devices
In this digital age, smart home devices are becoming increasingly popular. Help the new homeowners transform their houses into tech-savvy havens with smart devices such as a voice-controlled virtual assistant, smart thermostats, or wireless security cameras. These devices not only add convenience but also enhance the home's efficiency and security.
Personalized Wall Art
Help the new homeowners decorate their walls with personalized artwork. Consider getting a custom-made canvas or a framed print featuring their family name, a meaningful quote, or a map of their new neighborhood. This gift will add a personal touch to their home decor and serve as a lasting reminder of this special time in their lives.
Home Maintenance Toolkit
Moving into a new home often comes with minor repairs and adjustments. Help the new homeowners tackle these tasks by gifting them a home maintenance toolkit. Include essential tools like a hammer, screwdriver set, pliers, and a tape measure. You can also include a helpful home maintenance guidebook with tips and tricks for DIY repairs. This practical gift will come in handy and save them a trip to the hardware store.
Housewarming Wine Set
Raise a toast to their new home with a housewarming wine set. Include a couple of bottles of their favorite wine along with elegant wine glasses, a wine opener, and a wine aerator. This gift is perfect for celebrating and relaxing after a long day of unpacking and settling in. It's a thoughtful gesture that will surely be appreciated.
Portable Power Station
A portable power station is a practical and versatile gift that every new homeowner will appreciate. It provides a reliable source of power during emergencies or when they're on the go, making it ideal for camping trips or outdoor activities. With multiple outlets and USB ports, it can charge smartphones, and laptops, and even power small appliances. This gift ensures that they'll never be caught off guard by a power outage and can stay connected wherever they are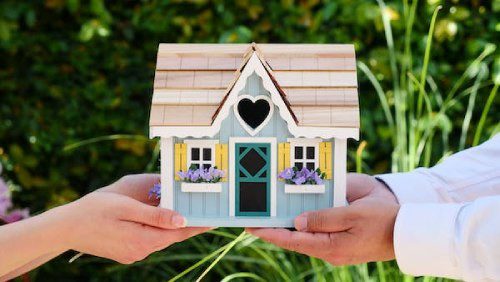 Conclusion
Finding the perfect gift for new homeowners doesn't have to be a daunting task. With these thoughtful gift ideas, you can congratulate them on their new home while providing them with practical and meaningful presents. Whether it's a personalized doormat, kitchen essentials, or smart home devices, these gifts will help them create a warm and comfortable space to build new memories.