Whether you're just getting started in your investing journey or an experienced DIY investor looking for the best research tools and real-time data – choosing the right stock research platform can be the difference between financial independence and losing your hard-earned money in dubious investments. This is particularly true for beginners looking to follow actionable recommendations – if you're following the advice from experts, you may not realize a downwards trend before it's too late. Again, choosing the right team of experts is paramount for any investor.
In this review, we considered the eight best platforms for beginners and experienced investors; all these platforms have years in the business and are very well established in US and global markets. You can't go wrong if you pick any of these, but some may fit you better than others. Keep in mind all these are paid services – to check out some free, more limited options check out this post.
#1 Motley Fool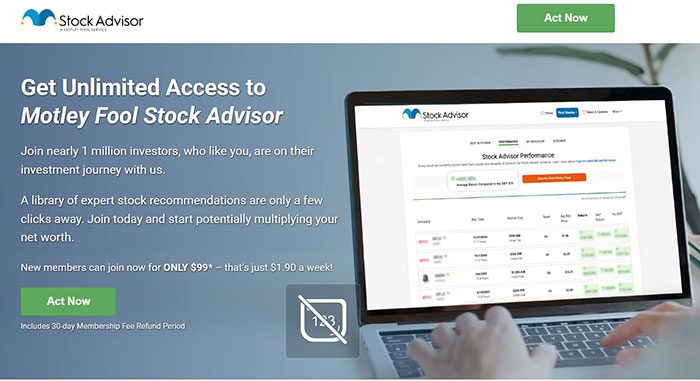 Founded in 1993 by David and Tom Gardner, The Motley Fool is an American company that offers investing and financial advice. Motley Fool uses a subscription-based system and supports dozens of different products, ranging from very specific products like real estate stocks, long-term prospect stocks, and biotechnology stocks to the more established ones like Stock Advisor, Rule Breakers, and Everlasting Stocks.
All Motley Fools subscriptions come with access to 25 foundational stocks that every investor should have and monthly recommendations based on the service you choose. You will also receive an exclusive newsletter and access to the Official Ratings.
For new investors, there are a lot of educational resources and even a podcast that breaks downs all the thought processes behind each pick; this is very helpful if you want to become a better investor. Keep in mind Motley Fool's investing philosophy is based on long-term growth: they recommend that you buy and hold for at least five years.
In terms of performance, two of the biggest Motley Fool services – Rule Breakers and Stock Advisor – have consistently beaten the S&P 500 index by almost 3x for over 20 years – to read all the details check our in-depth review of all Motley Fool products.
Features
Dozens of services to choose from
15 monthly Best Buys and monthly recommendations
Automatic alerts for Timely Opportunities
Access to Motley Fools 25 foundational stocks
9 bonus reports per month and expert insight videos
Educational resources and access to the Motley Fool podcast
30-day free trial on all of its subscriptions
Subscriptions
Stock Advisor: $199/year
Rule Breakers: $299/year
Everlasting Stocks: $299/year
Real Estate Winners: $249/year
Sign up with this link and get a 60% discount on your first year
#2 Zacks Investment Research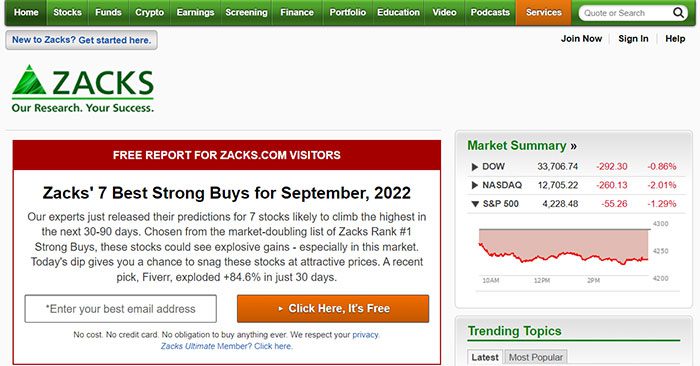 Zack Investment Research is an investment company founded in 1978 by Len Zacks. It provides investors access to financial data and professional analysis to make better investing decisions. Zacks Investment Research works by aggregating expert information and data feeds from over 200 brokerages and 9,000 publicly traded companies and combining them into a list of the stocks with the highest potential.
Zacks Investment Research offers three main products; Zacks Premium has full access to Zacks #1 Rank List, screening tools, and daily updates. Zacks Investor Collection and Zacks Ultimate are bundles that include several products like Stocks Under $10 Strategy and Home Run Investor. Keep in mind all services come with a 30-day free trial; you can read more about all the services in our full Zacks Investment Research review.
This platform uses a ranking system with five actionable options ranging from Strong Buy, Hold, and Strong Sell. Zack Investment Research's Strong Buy recommendations have averaged annual returns of 25% over the past five years.
Features
Access to charting and screening tools
Mutual funds and ETFs rankings
Daily updates to the Zacks #1 Rank List
Backtest environment using accurate data to try out how different strategies perform (data from 2001)
Actionable ranking system (Strong Buy, Buy, Hold, Sell, and Strong Sell)
Sign up to access a 30-days full-access free trial – money back guarantee
Subscriptions
Zacks Premium Subscription: $249/year
Zacks Investor Collection: $59/month (or $495/year)
Zacks Ultimate Subscription: $299/month (of $2,995/year)
#3 Morningstar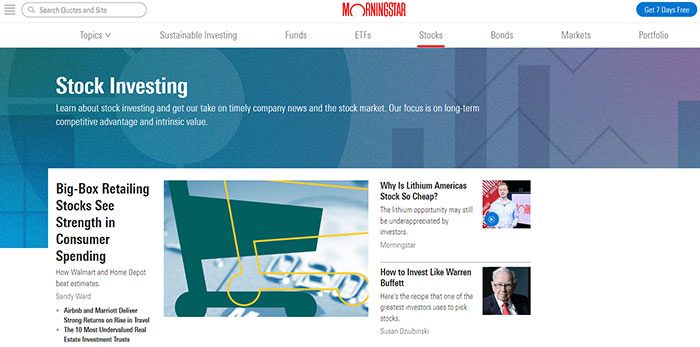 Morningstar is a US-based financial services provider with headquarters in Illinois. Morningstar's primary goal is to connect users with the most complete investing information and research tools available to ensure they have the best starting point.
Morningstar offers three main categories of services based on investing experience. For beginners and business owners, there are Managed Investment Products, and for experienced self-directed investors, there are Individual and Professional Products, which include data, research, and expert insights. Choosing the right product can be difficult – especially if you're a beginner. In this post we break down all the benefits of each, so you can choose the right one for you.
Compared to other investing platforms, Morningstar has information on most up-and-coming and obscure stocks, which may be helpful if you're looking for the next big thing. It's also a great platform if you have investments across different brokers; with Morningstar, you can sync all your assets and keep track of everything from the dashboard.
Features
Access to charting and screening tools
A proprietary Stock rating system
7-day free trial
Morningstar Portfolio X-Ray
Sync all your investment accounts and manage them from the Morningstar dashboard
Access to Stock Screeners
Receive stock news & newsletters to your email
Subscriptions
#4 Seeking Alpha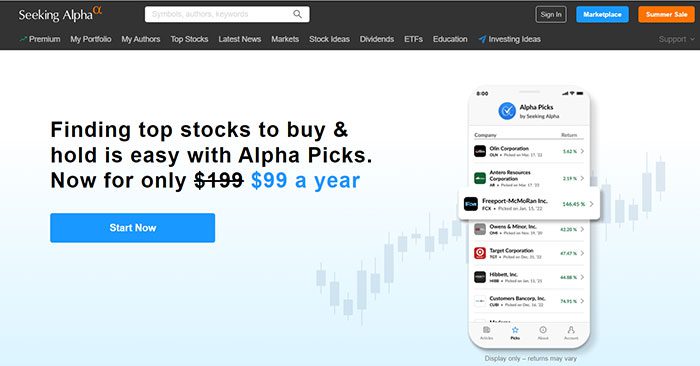 Seeking Alpha is an investment research service provider based in Ra'anana, Israel. It was founded in 2004 by David Jackson, and it's a unique investing platform in that it doesn't rely on a small group of experts that give financial advice. Instead, Seeking Alpha leans on the collective knowledge of its community to make recommendations and compare strategies.
With this open approach, Seeking Alpha relies on building experienced individuals who will then contribute to growing the platform – we outline this unique (and very successful) approach here. As of 2022, Seeking Alpha has thousands of contributors and over 21 million active users.
Seeking Alpha's proprietary ranking system, Quant, ranks stocks from Strong Sell to Strong Buy, and over the last 12 years, its Strong Buy recommendations have outperformed the S&P500 by a wide margin. The Quant algorithm considers variables like collective value, growth, EPS revisions, and price momentum.
Both Seeking Alpha premium plans are compatible with the largest brokerages in the US. Through its partnership with Plaid, it offers synchronization across all your investments while maintaining a high level of security. After you subscribe, you will also gain complete access to the financial statements of most companies out there (this data goes back ten years).
Features
Access to Quant, a proprietary ranking system
Official ratings
Sync all your investment accounts in one place
14-day free trial with complete access if you use this link to sign up
Direct access to financial statements from the last ten years
Stock and Stock Idea screeners
Subscriptions
Seeking Alpha Basic: Free
Seeking Alpha Premium: $29.99/month (or $239/year)
Seeking Alpha PRO: $299.99/month (or $2,388/year)
#5 Benzinga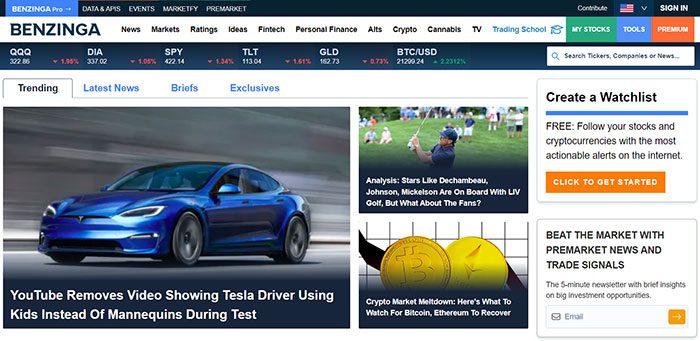 Benzinga is one of the biggest and most renowned investment research platforms in the US. It has over 20 million monthly visitors and 12 years of experience in the market. Benzinga delivers timely news and relevant information on all investing opportunities.
The best of all is that its free plan will give you an excellent idea of what the premium plans offer – with the free program, you will have access to Nasdaq Basic Quotes (15-minute delay), BZ Wire Newsfeed, and Key Stock Stats. One downside is that you won't have access to Daily Movers, which are great for capitalizing on daily fluctuations, especially for day traders.
Some features included only on the premium plans are Sentiment Indicators, which are short-term predictions based on historical data and news; Signals, which can notify you of changes by filtering prices and trading volume; and Audio Squawk, quick audio alerts and communication.
One feature that is very unique and is only available for the Benzinga Essential plan and up is the Unusual Options Activity. If you're an options trader, this is ideal for you: it triggers when there is an unusually large number of options trading for a particular stock; this can indicate someone is making a bet on a stock, and a timely notification can make you a considerable profit. If you sign up with this link you will gain exclusive access to all the features for 14 days, completely for free.
Features
Sentiment Indicators
14-day free trial
Real-time alerts and Signals
Access to Newsfeeds, Watchlists, and Daily Movers
Premium users can access Benzinga's proprietary Unusual Options Activity
Subscriptions
Benzinga Free Plan: Free
Benzinga Basic: $27/month
Benzinga Essentials: $177/month
Benzinga Options Mentorship: $347/month
#6 TrendSpider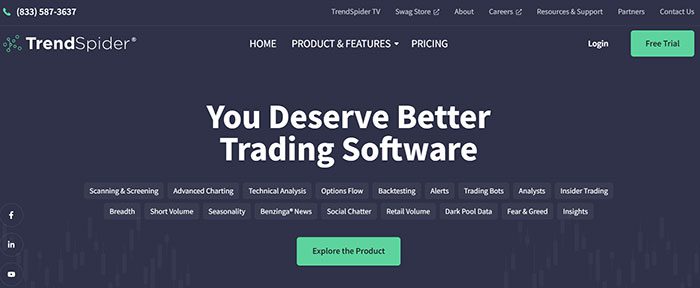 Launched in 2016, TrendSpider is a highly customizable stock advising platform that focuses on automating repetitive tasks so investors can spend more time choosing the right investments and finding the next groundbreaking stock.
Among its many research tools, there is a Market Scanner that tracks your investments across markets and industries, Smart Charting, Dynamic Watchlists that are updated daily, and Strategy Tester, a backtesting environment where you can test your strategies before investing real money. In total, TrendSpider tracks over 60,000 securities, including stocks and ETFs, as well as forex and crypto. Here's a full list of all the securities it tracks.
TrendSpider is an ideal platform for you if you are a DIY investor with previous investing experience. TrendSpider offers the tools, but you need the know-how to make the most out of them – they even have a full 7-day trial where you'll have complete access to all the tools; just make sure to use this link for the money-back guarantee.
Features
Market Scanner (supports US securities, forex, and crypto)
Tracks 60,000+ assets across markets and industries
Raindrop charts and data charting tools
Dynamic Alerts with multiple variables and triggers
Access to a backtesting environment (Strategy Tester)
7-day free trial
App available on Android and iOS
Subscriptions
TrendSpider Premium: $44/month(or $397/year)
TrendSpider Elite: $87/month (or $697/year)
TrendSpider Advanced: $131/month (or $897/year)
#7 TradingView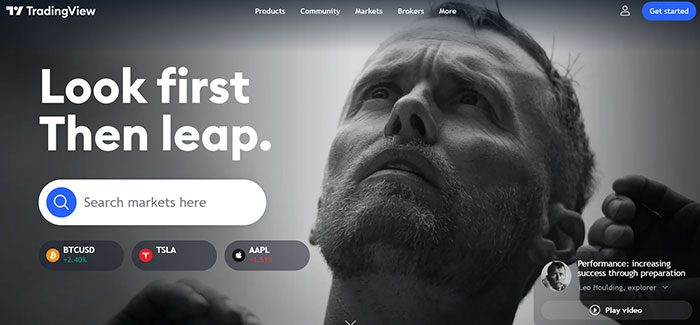 TradingView started as charting and stock research platform in 2011, but they quickly realized that it could offer something most other platforms couldn't: full integration with brokerages. This isn't just that you can sync your investments and track them in real-time – with TradingView, you can place orders directly and sell/purchase stocks without the hassle of switching to your brokerage. They are always partnering up with new brokerages, so if your brokerage is not currently supported, keep checking – it may be very soon.
TradingView supports securities from markets worldwide, as well as digital assets, thanks to its partnership with major crypto exchanges. Some of TradingView best features include Predefined Strategies, complete historical data on the major world markets, and Paper Trading (backtest environment).
TradingView has over 30 million investors worldwide and offers access to the most prominent global markets. Unlike most platforms listed here, it is not exclusive to US citizens.
Features
Complete integration: Buy and Sell stocks directly from the TradingView app
Access to global markets
Supports crypto and digital assets
Expertly made Predefined Strategies
Backtesting and Paper Trading environment
Subscriptions
TradingView Basic: Free
TradingView Pro: $14.95/month ($155/year)
TradingView Pro+: $29.95/month ($299/year)
TradingView Premium: $59.95/month (or $599/year)
#8 Stock Rover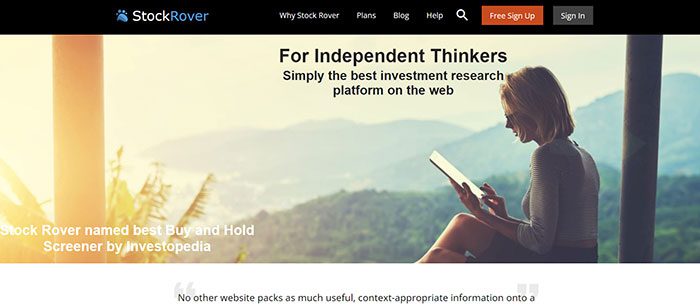 Stock Rover brands itself as an advanced web app that simplifies investing and makes the stock research process more manageable. It was launched in 2008, and currently, it is only available for investors in the US.
Stock Rover best suits experienced traders looking for a cost-effective investment analysis platform. With Stock Rover, you can track over 8,500 US stocks, 4,000 ETFs, and 40,000 mutual funds and use their proprietary Custom Equations, which are highly customizable alerts and notifications that use multiple triggers; for example, you can set it up to look for stocks with an ROI of at least 3% over the last 6-year average that is trading below $30. And it can quickly get more complex. With Custom Equations, the sky is the limit when you use Stock Rover.
Stock Rover can be synced with your brokerage account – but only to keep track of your assets – and you can compare it in real-time with market benchmarks. You can also pay an additional fee to access research reports for over 7,000 stocks, including the Dow 30.
Features
Stock, ETF, and Ranked Screening
Automatic Portfolio Rebalancing
Alerts and notifications with multiple triggers (Custom Equations)
Dozens of watchlists to choose from
Research reports for the Dow 30 stocks
Free 7-day trial if you sign up using this link
Subscriptions
Stock Rover Free Plan: Free
Stock Rover Essentials: $7.99/month (or $79.99/year)
Stock Rover Premium: $17.99/month (or $179.99/year)
Stock Rover Premium Plus+: $27.99/month (or $279.99/year)
Research Reports (Unlimited access to 7,000+ reports): $49.99/year
Conclusion
All these platforms are slightly different and better suited for different types of investors. Beginners may want to look at platforms like Motley Fool, which give easy-to-understand actionable information, while experienced investors may look at platforms like Seeking Alpha and Stock Rover. No matter the platform you choose, rest assured that all eight recommendations we make here are solid options that will help you become a better investor and achieve your long-term goals. Our last recommendation is to take advantage of the trial periods of these platforms – it's a great way to get acquainted with the platform before committing long term.