As we age, our bodies change. These physical changes in the body affect our diet because our body doesn't readily absorb nutrients like it's used to. It could be hard to know whether we meet the recommended daily intake of essential nutrients, like vitamins and minerals.
A well-balanced diet is vital in keeping you healthy and energized as you age. Getting enough nutritious foods can lower the risk of developing chronic conditions like diabetes and heart disease. In addition, serving a healthy diet for older adults help lower and maintain weight.
If you're looking for a week of healthy meals, follow our 7-day meal for seniors, which provides proper meal planning to meet your nutritional requirements while enjoying healthy foods.
7-Day Meal Plan for Elderly
Before we go with the healthy meal plan, here are some things to take note of:
This meal preparation provides 2000 calories per day. Every person has different energy and nutrition requirements because it varies by health status, height, weight, and amount of physical activity. 
You may consult a registered dietitian if you want to tailor your meal prep. 
This meal plan provides 2.5 servings of dairy per day.

Lisandra Fields, a health expert

, recommends that males aged 70 and over need an extra serving of dairy daily. Meanwhile, women 60 years and above require an additional 1.5 servings daily

This meal plan provides seven eggs per week and a minimum serving from each core food group.
Day 1
Breakfast: Make porridge by mixing rolled oats with 1 cup of milk, a drizzle of honey, and 1 piece of fruit.
Lunch: 1 serving of egg tortilla and 1 tub of greek yogurt.
Dinner: Make a beef burrito bowl. Pan-fried 100 g of lean beef with onion, cherry tomato, and sliced cucumber. Serve it with 1 cup of cooked brown rice topped with tzatziki sauce and feta cheese. Squeeze lemon juice.
Dessert: 1 scoop of ice cream.
Snacks: 1 cup of fresh fruits with pumpkin seeds.
Day 2
Breakfast: Make a nut butter roast with wheat toast and nut butter. Then a glass of nonfat milk and a serving of fresh berries
Lunch: Prepare a turkey and salad sandwich from whole wheat bread, sliced turkey, tomato, romaine lettuce, and cheese.
Dinner: High-quality protein isn't only about lean meats; you can also get a good source of protein from fish. Hence, for dinner, make a baked salmon with a side of sweet potato mash and roasted vegetables. Squeeze lemon juice.
Dessert: Serve a variety of fresh fruits and cheese.
Snacks: Mixed nuts.
Day 3
Breakfast: Prepare a balanced breakfast of a bowl of whole grains cereal sprinkled with linseeds and a cup of nonfat milk. Serve a cup of fruits.
Lunch: Add healthy fats by making a whole wheat toast topped with smashed avocado, drained tuna, feta cheese, and a sprinkle of paprika.
Dinner: 1 serving of fried rice with scrambled eggs.
Dessert; Chicken salad with fruits and vegetables.
Snacks: 1 glass of orange juice.
Day 4
Breakfast: Hard-boiled egg and 1 cup of yogurt.
Lunch: Cook a beef soup from beef stock, lean beef, vegetables, and beans. Serve with wholemeal bread.
Dinner: You can also make protein-rich foods by adding lean meat like pork. For dinner, cook pork stir fry using 100 g of pork with 2 cups of vegetables, such as broccoli, peas, onion, bell pepper, and 2 teaspoons of olive oil (an excellent source of monounsaturated fats). Serve with a cup of cooked brown rice.
Dessert: If seniors don't have dietary restrictions, you can enjoy chocolate-drizzled strawberries for dessert.
Snacks: 1 tub of yogurt with linseeds.
Day 5
Breakfast: Whole wheat french toast with nonfat milk and a dash of cinnamon. Serve with orange juice.
Lunch: Salad with sweet potatoes, kale, and chicken with peanut dressing.
Dinner: Grilled chicken kabobs, 2 tablespoons of hummus, and 1 whole wheat bread.
Dessert: One medium apple and 2 tablespoons of peanut butter.
Snacks: 12 dried walnut halves.
Day 6
Breakfast: 1 serving of smoothie with blueberries and leafy greens.
Lunch: 2 slices of wheat tuna with mayo and relish. One serving of baked potato chips and banana.
Dinner:1 dish of whole wheat pasta, ¼ cup olive oil, shrimp, 1 cup spinach, and ½ cup Parmesan whole wheat bread.
Dessert: 1 cup of yogurt and muesli sprinkled with nuts.
Snacks: 2 tablespoons of peanut butter, celery sticks, and nonfat milk.
Day 7
Breakfast: 1 serving of spinach omelet.
Lunch: 1 serving of chicken salad sandwich with baked chips.
Dinner: Roasted chicken breast with a side of mashed potato, green beans, and carrots.
Dessert: Smoothie made of milk, walnuts, and small mango.
Snacks: 2 wholegrain crackers with cucumber slices and hummus.
Good Habits for Healthy Aging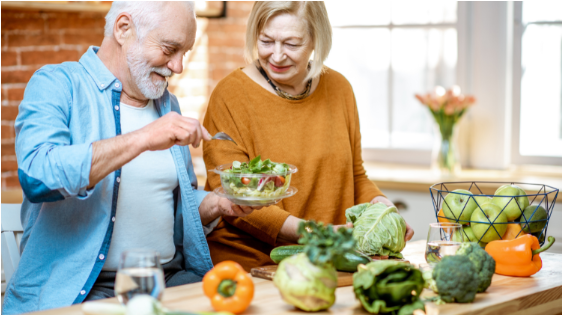 If you want to establish a healthy lifestyle as you age, start eating healthy. Therefore, here are some healthy eating tips for seniors:
Follow a Mediterranean diet
The Mediterranean diet has been shown to improve overall health, including heart health, diabetes, and inflammation. Research shows that it can protect the brain and strengthen the bones, which makes an excellent choice for senior diets.
Find ways to destress
Managing stress can play an essential role in reducing wrinkles and gray hair. Moreover, when it becomes severe, it could have a negative impact on your overall health. If you need valuable suggestions on how to reduce stress, Geeks Scan is definitely a good source.
Up your nutrient intake with vitamins
Proper nutrition for seniors can't be easily achieved, especially if they are picky eaters. Hence, an excellent recommendation posted from https://www.healthcanal.com/nutrition/ritual-review highlighted the use of multivitamins to ensure any nutrient gaps in their diet are filled. Moreover, improve their eating habits by focusing on nutrient-rich foods.
The Final Words
Planning meals for the elderly may seem a tough job. It can be a struggle to maintain healthy eating habits to keep up with your nutrient intake at that age. 
Follow our meal plan above to give you an idea of the foods to serve for a week. These meal ideas can interchange depending on the availability of the ingredients.