Are you seeking the best security solution for your WordPress website? Research points towards an overwhelming security problem in the WordPress ecosystem so you are certainly not alone. 
Whether it's a plugin or a remote online scanner, security measures for your website are essential to ward off malware, brute-force attacks, and hacking attempts. These solutions are engineered to thwart attacks, provide comprehensive security reports, and ensure the safety of your WordPress site.
In this article, we'll introduce you to some of the premier WordPress security plugins and remote or online scanners to safeguard your website. But, more importantly, we'll shed light on why a web-based scanning solution could potentially outperform a plugin-based approach.
Why is a Security Solution Necessary for Your WordPress Site?
As per statistics, millions of websites fall prey to malware each week, with an average site facing 94 attacks daily. This alarming rate of attacks isn't confined to just WordPress but spans across all types of websites.
A security breach can inflict severe damage on your business, for instance:
Hackers could pilfer your data or your users' and customers' information.

An infected website might distribute malicious code to unsuspecting users and other websites.

You might lose access to your website, your data could be destroyed, or held hostage.

Your website could be defaced or destroyed, impacting your SEO rankings and brand reputation.
You can scan your WordPress site for security breaches at any given time. However, restoring a hacked WordPress site can be daunting for non-technical users without professional assistance.
To avert such cyberattacks, adhering to security best practices is paramount. We have curated an easy-to-follow, step-by-step WordPress security guide for beginners.
One of the significant steps towards fortifying your WordPress site is to deploy a WordPress security plugin. Such plugins bolster WordPress security and impede brute force attacks on your website. However, a web-based scanning solution like SecureWP.net has certain advantages.
Why Choose a Web-based Scanning Solution Over a Plugin?
Web-based solutions like SecureWP.net provide a more user-friendly, efficient approach to security. Since these do not rely on a potentially faulty website to operate, they reduce the risk of execution errors. You can generate a comprehensive report on your website's security status within just 30-45 seconds, making it a swift and reliable choice. Although primarily targeted at WordPress, SecureWP.net is effective in detecting and managing spam, malicious content, and defacements on any platform.
Web-based solutions also don't run the risk of causing conflicts with other plugins or overloading your website with additional code. This reduces the chances of your site slowing down or encountering bugs, making web-based solutions a potential better choice for your WordPress security.
Now, let's explore some of the most reliable WordPress security plugins and web-based solutions to bolster the defense of your website or blog.
1. SecureWP.net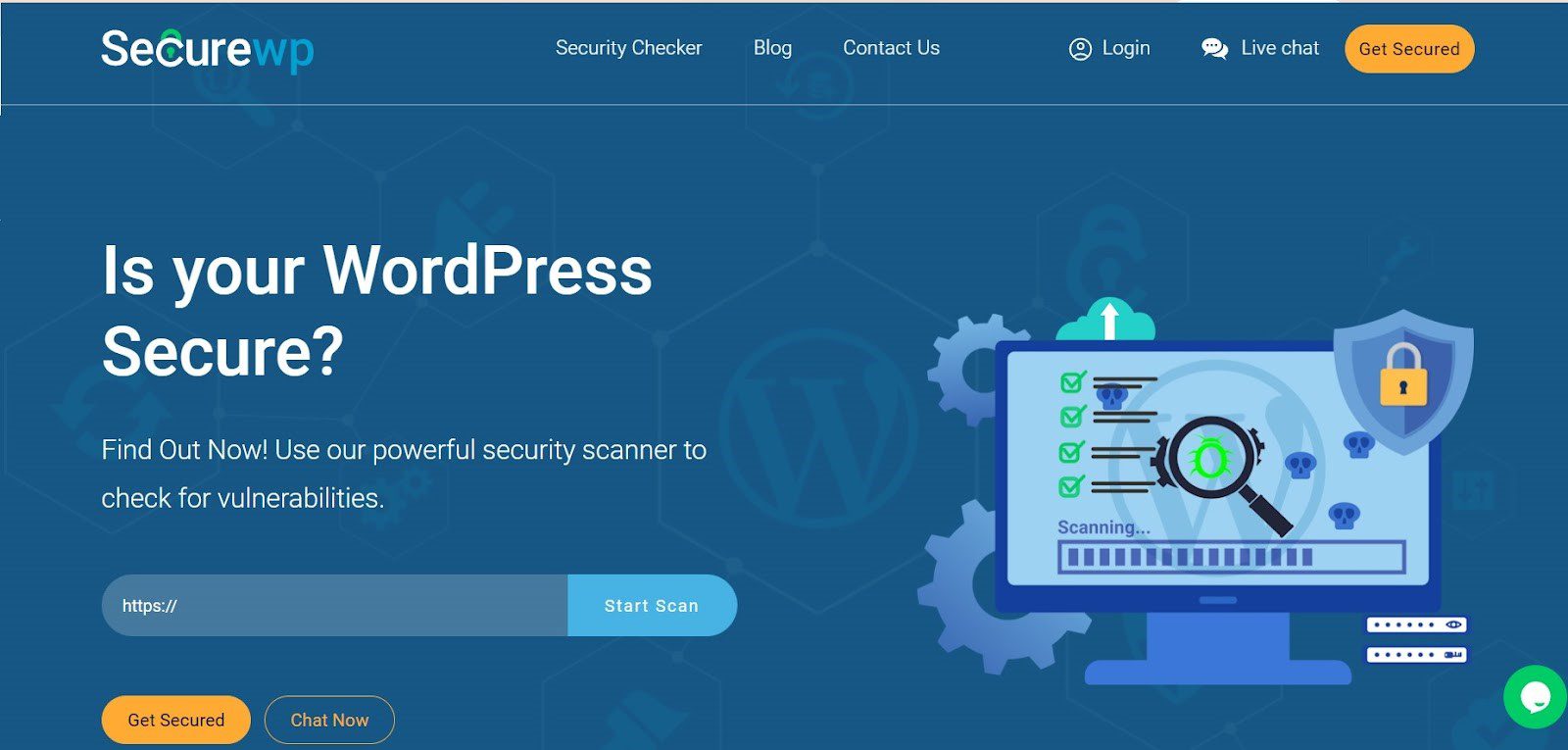 SecureWP.net stands out as one of the best options, backed by world class responsive support. As a remote scanner for security and malware detection, it boasts a user-friendly, web-based interface and does not rely on a potentially broken website to function. It swiftly generates a comprehensive report on your website's security status within just 30-45 seconds. Although primarily intended for WordPress, SecureWP.net efficiently detects and handles spam, malicious content, and defacements on any platform.
Key Features:
Malware, spam, and defacement detection

WordPress core, plugin, and theme vulnerability detection

Domain blacklist status check

External link blacklist verification

Detection of harmful hidden links

Server and PHP version check

Directory listing assessment

SSL certificate analysis

Security headers inspection

Hosting reputation and geolocation information

Brute force login page protection

Username enumeration
2. Sucuri
Sucuri is an industry leader in WordPress security that provides a basic free Sucuri Security plugin to help harden WordPress security and scan your website for common threats. Their paid plans include a superior WordPress firewall protection, which alongside boosting security, also accelerates your website's performance. It is also used as a CDN service, so some features may be a bit excessive if all you need is a security scan without the upsell. 
Website Firewall: Sucuri's website firewall filters out bad traffic before it reaches your server. It helps block brute force and malicious attacks from accessing WordPress.

Malware Scanning and Removal: Sucuri's security plugin scans your website for common threats and provides cleanup services if your site is infected with malware.

DNS-level Firewall with CDN: Apart from security, Sucuri provides a DNS-level firewall with a content delivery network (CDN) to enhance your website's performance and speed.

Website Hardening: Sucuri Security plugin helps to harden WordPress security, making it more resistant to attacks.

Post-Hack Security Actions: Provides guidance and measures to implement after a security breach.

Security Activity Auditing: Keeps track of every activity happening on your site to monitor for suspicious behavior.

File Integrity Monitoring: Checks your website files to identify if any of them have been modified and alerts you of potential risks.

Remote Malware Scanning: Scans your website remotely for signs of malware.

Blacklist Monitoring: Checks whether your website is blacklisted by any platforms due to phishing, spam, or spreading malware.

Effective Security Hardening: Offers a range of hardening techniques to further secure your website.

Professional Support: Provides professional support to guide you through resolving security issues.

Free Website Malware and Security Scanner: Offers a free scanner to detect malware, website errors, and check website security.
3. Wordfence
Wordfence offers a free version of their plugin which includes a potent malware scanner, exploit detection, and threat assessment features. It automatically scans your website for common threats, but you can also initiate a full scan anytime. Wordfence includes a built-in WordPress firewall but is less effective than a DNS-level firewall.
4. iThemes Security
iThemes Security is a product of the team behind the popular BackupBuddy plugin. It features a clean user interface with many options including file integrity checks, security hardening, the ability to limit login attempts, strong password enforcement, 404 detection, and brute force protection.
5. All-In-One WP Security
All-in-One WordPress Security is a powerful WordPress security auditing, monitoring, and firewall plugin. It helps you to apply basic WordPress security best practices on your website, including features like login lockdown to prevent brute force attacks, IP filtering, file integrity monitoring, user account monitoring, and more.
6. Anti-Malware Security
Anti-Malware Security is a useful WordPress anti-malware and security plugin that comes with actively maintained definitions to help detect common threats. It offers a malware scanner that enables you to scan all files and folders on your WordPress site for malicious code, backdoors, malware, and other known malicious attack patterns.
7. WPScan Security
WPScan is a unique WordPress security plugin. It uses its own manually-curated WordPress vulnerability database, updated daily by dedicated WordPress security specialists and community members. WPScan scans your site for over 21,000 security vulnerabilities in WordPress plugins, themes, and core software.
Security is paramount
Securing your WordPress website is not just a need, it's an absolute necessity in today's digital landscape. Whether you choose a security plugin or a web-based solution like SecureWP.net, the goal remains the same – to protect your website from harmful attacks and secure your and your users' data.
However, as we've seen, remote online scanner solutions can often provide a more robust and user-friendly security solution, without the risks of plugin conflicts or site overload. Despite this, the ultimate choice depends on your specific needs, your technical capability, and your website's requirements.
Remember, no solution can offer 100% security; it's the combination of good security practices, regular updates, strong passwords, and a reliable security solution that creates the best defense against potential cyber threats. Stay informed, stay updated, and most importantly, stay secure.