In the realm of offline events and print media advertising, figuring out the return on investment (ROI) was like playing a guessing game. Fortunately, technology has come to the rescue, allowing marketers to track and analyze offline activities alongside their other marketing efforts. How? By entering the QR Code world. 
With QR Codes, you can quantitatively capture online page visits stemming from your print materials. This is where the worlds of offline and online media collide, offering a wealth of insights into how people interact with your business at any offline event: be it a trade show, conference, recruitment function, or even regular paid print media.
If you're organizing an offline event and looking for the ultimate QR Code generator, you've arrived at the perfect destination. In this blog, we'll unveil the top seven QR Code generators meticulously designed for offline events.
Why Use a QR Code Generator for Offline Events?
Using a QR Code generator for offline events offers several benefits and can enhance the overall experience for participants. Here are some reasons why QR Code generators are helpful for offline events:
Contactless Interactions:

Attendees can scan QR Codes using their devices , reducing the need for shared surfaces or physical materials such as brochures or tickets.

Easy Information Access:

QR Codes can provide quick access to detailed information. For instance, attendees can scan a QR Code to instantly view event schedules, speaker bios, venue maps, or promotional materials. 

Seamless Registration and Check-in:

Attendees can receive a personalized QR Code upon registration, which can be scanned at the event entrance to validate their attendance. This simplifies check-in, reduces waiting times, and enhances overall efficiency.

Real-time Updates:

QR Codes can be dynamically linked to online content, allowing organizers to update information in real time. They can be modified to reflect the updates, ensuring attendees have the most accurate information about last-minute changes to the event schedule or venue..

Enhanced Engagement and Interactivity:

QR Codes can ease interactive experiences. They can be linked to surveys, polls, or feedback forms, enabling attendees to provide instant feedback and engage in interactive activities. QR Codes can also be integrated with social media platforms, encouraging attendees to share their experiences and generate buzz about the event.

Data Collection and Analytics:

By integrating QR Codes with registration systems or event apps, organizers can gather valuable data about attendee behavior, preferences, and interests. This data can be used for post-event analysis, improving future event planning, and tailoring marketing strategies.
Now that we've grasped the significance of QR Codes for offline events, it's time to dive into the exciting task of selecting the perfect QR Code generator. 
Factors to Consider When Choosing the Best QR Code Generator for Your Offline Event
When it comes to choosing the best QR Code generator for your offline events, here are some key factors to consider:
Ease of Use:

Look for a QR Code generator with a user-friendly interface and intuitive experience. Pro Tip: You should be able to create your first dynamic QR Code in no time after signing up! 

Customization Options:

Consider the level of customization the QR Code generator provides. This includes the ability to change colors, add a logo or image overlay, and adjust the shape and style of the QR code. Some generators even offer advanced design customization, such as gradient colors, patterns, and artistic effects.

Scalability:

If you anticipate multiple QR Codes for different purposes (e.g., registration, sessions, exhibitors), ensure that the QR Code generator can handle scalability. This should include bulk generation or automation features, integration, and have a cloud-based infrastructure for flexibility.

Dynamic QR Codes:

Opt for a QR Code Generator that supports creating dynamic QR Codes. Dynamic QR Codes can be updated in real-time, allowing you to modify the linked content even after the codes are distributed. This can save tons on reprinting costs you might incur with static (uneditable) QR Codes.

Analytics and Tracking:

Consider whether the QR Code generator offers built-in analytics and tracking features. The ability to gather data on scans, interactions, and user behavior can provide valuable insights into attendee engagement and help you measure the success of your event marketing campaigns.

Compatibility with Multiple Devices:

Verify that the generated QR Codes are compatible with a wide range of devices and QR Code scanning apps. 

Security:

The QR Code generator should prioritize data privacy, secure hosting, and backup measures to protect your event and attendee information.
By considering these factors, you can choose a QR Code generator that aligns with your campaign requirements, enhances the attendee experience, and helps you achieve your event goals efficiently. 
We've compiled a list of seven best QR Code generators that will help you decide better. 
What Are The Best QR Code Generators for Offline Events?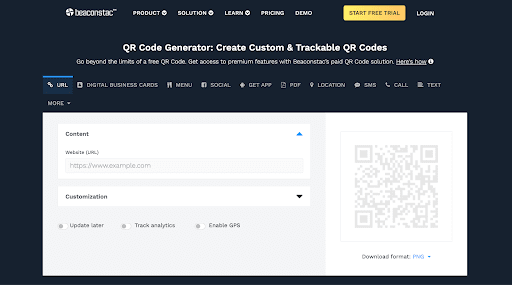 Beaconstac's QR Code generator reigns supreme as the go-to solution for enterprise-ready QR Code needs. Countless users, including esteemed brands like Deloitte, Nestle, and The New York Times, have placed unwavering trust in its capabilities.
Beaconstac is also the safest and most user-friendly QR Code generator by  G2. With a G2 review score of 4.9 out of five, Beaconstac has repeatedly proven that it's popular and reliable.
One of Beaconstac's standout features is its ability to seamlessly tailor every aspect of your QR Codes to match your brand's unique identity. Gone are the days of generic and uninspiring QR Codes – Beaconstac empowers you to create stunning and eye-catching QR Codes that leave a lasting impression on your audience. 
Features:
User-friendly Interface.

Its "real-time scannability score" ensures that your QR Codes are always reliable. 

Seamlessly integrates with Google Analytics and 4000+ tools.

Scale and personalize with ease following your event and branding.

Explore enterprise-specific features, including advanced retargeting, enterprise Single Sign-On (SSO), white labeling, and much more.

Safe and secure as Beaconstac is SOC-2 and GDPR compliant. 
Pricing:
At Beaconstac, you get a 14-day free trial period to try the solution out. The subscription starts at $5/month, billed annually. Beaconstac offers plans for individuals, small businesses, and enterprises.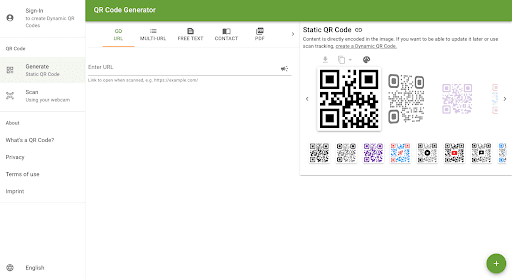 When it comes to free QR Code generators for events, The QR Code Generator is quite a popular and widely used tool. Its user-friendly interface makes creating and using QR Codes a breeze. 
With The QR Code Generator, you can add various types of content that can be encoded into a QR Code. This includes website URLs, plain text, email addresses, phone numbers, SMS messages, Wi-Fi network credentials, vCard contact information, calendar events, and social media profiles. Let's dive into why The QR Code Generator is the top choice for QR Code enthusiasts.
Features:
Simple to use and navigate.

Offers a range of templates and design elements, allowing you to create customizable QR Codes.

Monitor the performance of your dynamic QR Code campaigns with basic tracking and analytics.

Produce high-quality QR Codes specifically designed for printing purposes during conferences, formal events, etc. 

Download your QR Codes in vector formats such as SVG and PNG, allowing you to choose the sizes and resolutions that suit your event needs.
Pricing: 
The QR Code Generator offers a free plan for both static and dynamic QR Codes. For enhanced features such as ad-free, easy shareable options, you can choose one of the paid plans starting from $5/month.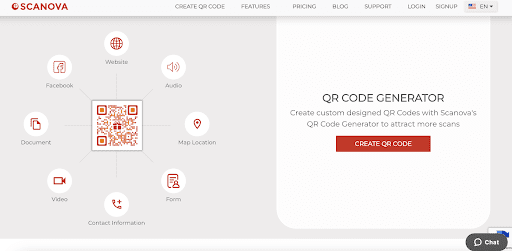 Scanova is another popular QR Code solution for creating, designing, managing, and tracking QR Codes that empower you with an array of powerful features. You can also create QR Codes for event registration, ticketing, feedback forms, surveys, and more. 
With Scanova QR Code, you can effortlessly create, design, host, and link mobile-optimized landing pages for your QR Codes within minutes. You don't need any programming skills or a developer to get started. Let's dig deeper into Scanova's features.
Features:
Produce high-quality QR Codes suitable for your events.
Effortlessly modify links and other information without having to change the QR Code itself.

Use Scanova's simple DIY tool and tailor QR Codes as per your event.

Gain valuable insights into your QR Code campaigns with Scanova's tracking and analytics feature. 

Generate landing pages without the hassle of coding.
Pricing: 
Sign up for a 14-day free trial of Scanova to experience some of its helpful features. The monthly subscription fee starts at $15.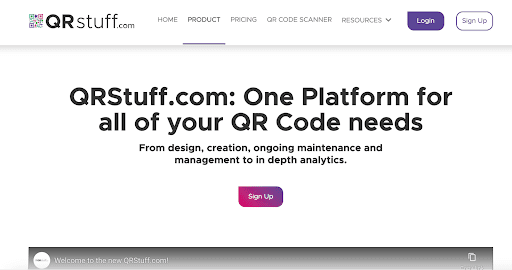 QRStuff  is known for its user-friendly interface, boundless customization possibilities, and a refreshing absence of ads. Another striking feature is its innovative Dynamic URL System that helps you to redirect your QR Codes to any destination you desire, allowing you to adapt and update them on the fly. 
If you need to generate a large number of QR Codes for your, QRStuff typically supports batch processing. This feature allows you to create multiple QR Codes at once by uploading a CSV file with the required data. It saves time and simplifies the process of generating QR Codes in bulk. Let's discover QRStuff and its features a little more for your offline events.
Features:
Spacious and easy-to-use layout.

Ad-free codes for a professional touch.

Offers a customized dashboard where to conveniently group and manage your QR Codes.

Personalize your QR Codes to align perfectly with your brand or event-specific requirements.

Generate unlimited high-resolution QR Codes for event banners or standees.

Supports over 25 data types and mobile device actions.
Pricing: 
With QR stuff, you can create ten dynamic codes for free. The subscription price henceforth starts at $12.95/month.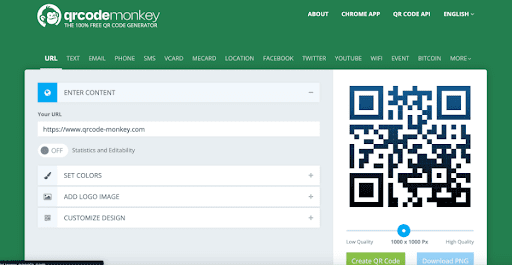 QR Code Monkey is a user-friendly and versatile online tool that allows you to quickly create, customize, and generate QR Codes. This QR Code solution is an ideal choice for print and commercial marketers who value efficiency and convenience. 
The best part, you ask? QR Code Monkey offers free QR Code generation and lifetime validity. Let's dive into its crisp features.
Features:
Simplifies the event registration process.

User-friendly interface.

Allows for an indefinite lifespan and scans of your QR Codes.

Measure event success with its tracking and analytics feature.

Match the QR Code design to your branding or incorporate visual elements.

Generate QR Codes in bulk.
Pricing:
QR Code Monkey is entirely free. You can simply create an account and login in to use the service.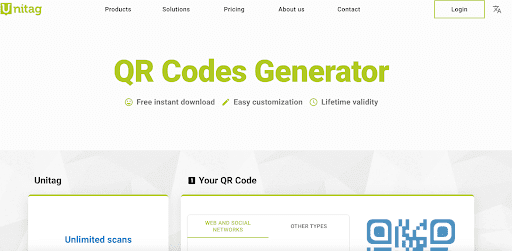 With a client base of over 10,000 companies, including industry giants such as Unilever, Chanel, and Krispy Kreme Doughnuts, Unitag has earned the trust of businesses worldwide for its easy-to-use interface and unlimited scans.
Also, Unitag offers pre-designed templates to help users create visually appealing QR Codes quickly. These templates come in various styles and themes, making it easier to choose a design that aligns with your branding or event. Let's explore some of Unitag's features. 
Features:
Easy customization options.

Lifetime validity.

Free instant download.

Unlimited scans.

Create compelling digital content, such as event surveys or contests.

Offers scalable analytics.
Pricing:
Unitag offers three plans – standard, gold, and platinum starting from $17.28/month.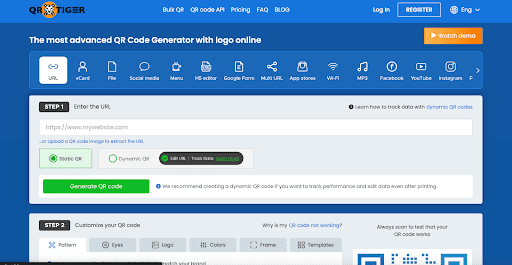 Designed with businesses in mind, QRTiger combines an intuitive interface, customizable design options, and a focus on speed, safety, and privacy compliance. 
The best part is that QRTiger provides adjustable error correction levels for QR Codes. Event organizers can choose the appropriate error correction setting based on their requirements, ensuring the QR Code remains scannable even if it's partially damaged or distorted. Here's why QRTiger is the ideal choice for streamlining QR Code creation.
Features:
Create up to 1,000 new branded links per second for your event.

Generate safe and secure QR Codes.

Real-time data tracking.

Easy integration with CRM software and analytics tools.

Bulk QR Code Generation.
Pricing: 
With QR Tiger, three QR codes can be created for no cost, and the basic subscription starts at $7/month.
Key Takeaway
Incorporating QR Codes into offline events can greatly enhance attendee engagement, simplify processes, and provide valuable insights for event organizers. The QR Code generators mentioned above offer exceptional functionality and customization options for offline events. By using these tools, event organizers can create QR Codes for event registration, ticketing, feedback forms, surveys, and more.
Remember to select a QR Code generator that aligns with your event objectives, offers reliable scanning capabilities, and provides intuitive customization features. With QR Codes, you can shake up your offline events, streamline interactions, and deliver memorable experiences for your attendees.